Disclaimer: I bought this lingerie with my own money and Miss Mandalay did not request a review.
Today I'm reviewing a set I bought back in April when I was 8 months pregnant and in desperate need of some cheap (but, of course, pretty) lingerie to fit my new bra size for those last few weeks of pregnancy. Miss Mandalay was running a Groupon deal at the time so I picked this set up for a fraction of the usual cost, and I'm incredibly glad I got it. I like to think of this as my 'magic bra' because no matter what size I am, it always seems to fit, but more on that in the review below.
Although now sold out in orange, the set is still available in navy blue.
Appearance
Orange is not a colour I normally wear, but it was the only one available at the time and I liked the cut of the bra enough to buy it anyway. Unfortunately though it is a lot brighter in real life than it looked on the website – verging almost on lurid! I guess it's a hard colour to photograph because even in my images here it looks almost tomato-coloured but it's not.
Colour aside, the black lace on this is gorgeous and looks high-quality, and the straps are made from a pretty, ruched elastic which is continued from the base of the strap at the back to the closure – an unusual and great-looking touch!
The cut of the thong is nice too – not too big, not too skimpy.
Verdict: 7 / 10
Construction
The bra cups are constructed from stretch lace, with a sheer mesh backing on the lower two-thirds of the cup, and a separate satin 'sling' at the outer side of the cup which Miss Mandalay say is to push the bust forwards.
Miss Mandalay specialise in fuller-cup lingerie so it's nice to see them use a relatively wide band made from powernet at the back of this bra which offers a lot of support.
The bra and thong are both really well put-together and they've held up well over time. I can't fault the construction!
Verdict: 10 / 10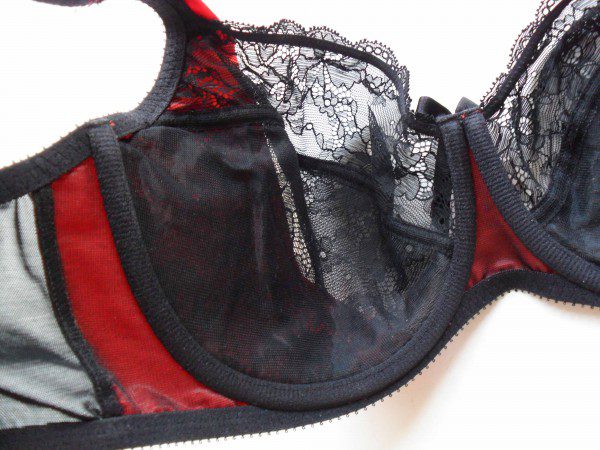 Fit
I bought a 30G which was my bra size at the time due to pregnancy, and a size extra-small thong (a UK 8 according to the brand's size chart, which is my usual dress size).
As mentioned above, the fit of this bra is pretty awesome! As a 30G it was a great fit but now that I'm mostly wearing 30Fs, i.e. two cup sizes smaller, it still fits me really well with no gaping. Because the cups are made from such a stretchy lace I'm basically filling out the cups as they are un-stretched, but they can stretch comfortably to accommodate a larger bust size too.
The band is very comfortable and supportive. Also, unlike my previous Miss Mandalay bra which was another style, the centre-gore of this one sits perfectly and doesn't dig into the skin.
The thong is a perfect fit too, and like the bra is very comfortable all day long.
Verdict: 10 / 10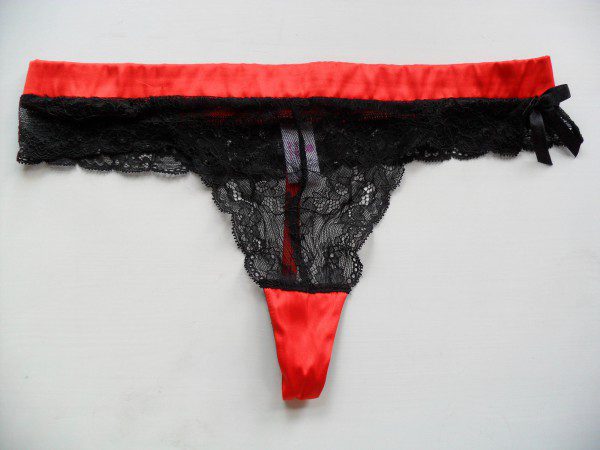 Washability
Both pieces are hand-wash only, although if you machine wash your lingerie I think they'd hold up fine inside a lingerie wash bag. None of the colour leaks when washed.
Verdict: 8 / 10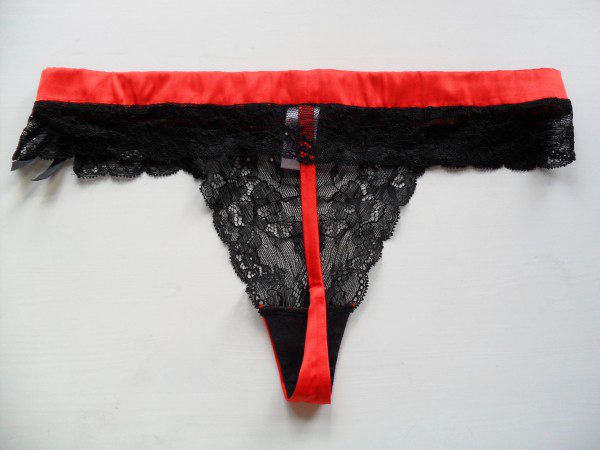 Value for Money
The bra is supposed to be £46 and the thong £30, however I paid £26 thanks to the Groupon Deal. £26 is phenomenal value for money for a set of this quality and with such a great fit!
Verdict: 10 / 10
Would I recommend it?
I like everything about this set except the colour, but as the version available right now is a much easier-on-the-eyes navy blue I see no reason not to recommend it. I'd also recommend just going with your regular size, but this is a great bra for those whose cup size fluctuates regularly.
At £76 it's quite pricey for what I'd consider an everyday lingerie set, but if what you're after above all is fit and comfort then this is worth paying for.
Have you ever bought a Miss Mandalay bra? Were you happy with the fit?