Disclaimer: This blog post contains affiliate links. I bought this set with my own money and Boux Avenue did not request a review.
Boux Avenue is one of those brands that, had it been around a few years earlier I would have drawer upon drawer stuffed with their designs. As it happens they launched at right the same time I was moving away from high street brands like La Senza and Ann Summers and shopping for more luxurious, designer-quality lingerie instead, so although I've kept an eye on their website it's taken 3 odd years for me to get round to purchasing.
This Juliet bra instantly stood out on their website to me because it looks really elegant and classically beautiful. Whereas I look at most of their bras and think "I would have loved that when I was 20″, to me this is a bra that will appeal to women in their 20s, 30s, 40s and possibly even beyond.
It's also available in magenta and right now you can buy either colour bra and get the matching knickers or thong for free!
Appearance
The embroidery on this set is simply beautiful, and it looks like it's from a more expensive brand than it is. I wouldn't have batted an eyelid had I seen the bra on sale elsewhere for £50 or £60. The edges in particular are stunning, where the embroidery overlaps the cup edges and trims the front of the band. I like that there's a little embroidery on the back of the knickers too – something so gorgeous from the front shouldn't just be plain at the back.
Both pieces are topped with black bows featuring a silver charm stamped with the Boux Avenue logo, which is a nice finishing touch along with the unusual cut-out detail at the centre gore.
Verdict: 8/10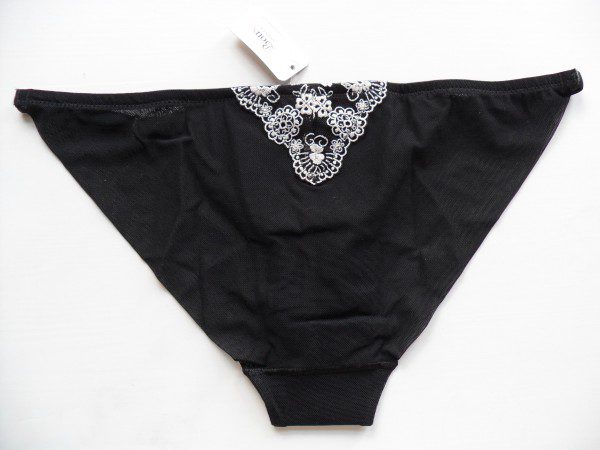 Construction
The knickers are a tanga style with mesh-covered elastic at the sides, attached with silver rings (although the hardware on both pieces looks like metal it doesn't attract a magnet so I think it's not, which is a little disappointing). The embroidery at the front has a mesh lining behind it so that it's not scratchy, and there is also a double layer of mesh at the back which means the back at least is seamless (the one piece of mesh is simply folded over) for a smooth line under clothing.
The bra has moulded cups and a nice, wide band made from two layers of mesh. The stitching everywhere is flawless!
Verdict: 8/10
Fit
I bought a 30F and UK size 8, my usual sizes. The bra fits really well – the band is tight but comfortable and the cups are a perfect fit – although from the side it looks very flat which I don't really like.
The knickers are a fairly good fit, however the elastic-free edging at the back which gives it its seam-free fit also means there's nothing to hold the fabric in place. These are knickers that want to be a thong, which makes me kind of wish I'd bought the thong instead in the first place!
Verdict: 6/10
Washability
Both pieces are machine-washable although I've only hand-washed them. They both look brand new after quite a few wears and washes.
Verdict: 9/10
Value for Money
The bra is £28 and the knickers are normally £14 but they came free with the bra (this offer is still running at the time of writing). As I mentioned, the bra looks like a more expensive one, the quality of both pieces is excellent and the fit is good – for £28 I couldn't have asked for more!
Verdict: 10/10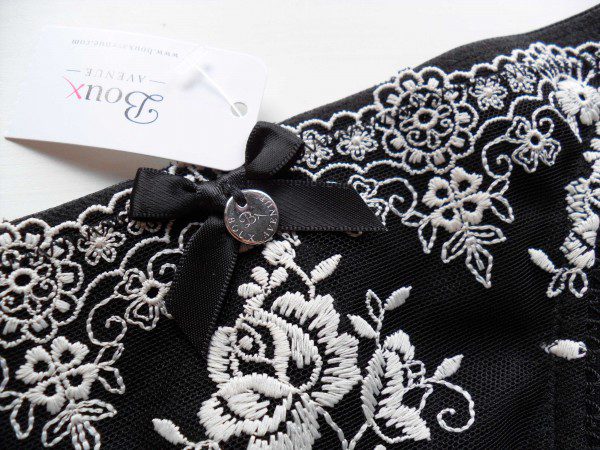 Would I recommend it?
Absolutely! I love this bra – it's timeless and beautiful, and also simple and comfortable enough for everyday wear. The knickers are good for the price.
The knickers are available in UK sizes 6 to 18 and the bra from a 30C to a 38FF. I love that Boux Avenue offers such a wide range of sizes and shows bras that span the full range on both a 32C and 32E model, which for the Juliet bra shows you how the embroidery placement varies (there is more 'blank space' on larger cup sizes due to the width of the embroidery).
What do you think of Boux Avenue's Juliet bra set?