Featured image: Madlene stockings by Veneziana, £6.50
Most grown-ups, especially those reading blogs on lingerie sites, immediately think of hosiery when the word 'stockings' is mentioned, despite it being the yuletide time of year. Our minds think of suspender straps and beautiful hosiery to hang from them, and it makes us smile.
Our love for stockings pre-dates my lifetime, and all of yours too. A garment originally worn by men in the 16th century, stockings were, to start off with, a sock for all intense and purposes. Although women did start wearing stockings themselves not long after, they were worn under their long dresses for warmth. It wasn't until after 1920 that stockings were used to cover exposed legs, as skirts started becoming shorter in length.
In 1940 nylon was introduced for stockings and was much cheaper than existing materials (cotton, linen, wool or for the fortunate few, silk), leading to them being mass-produced. Women loved them, so much so that during World War 2, when there was a shortage of nylon as it was being used for parachutes and ropes, a seam would often be drawn down the back of the leg in order to give the appearance that stockings were still being worn.
Falbala seamed hold-ups with sequin bows, £25
For a garment that has spanned 5 centuries, it surprised me when one of my suppliers said that stockings only made up 5% of their sales. 5% – that's tiny, minute, and most of all highly surprising. Working in a lingerie store, stockings now sell about on par with tights and hold-ups. So, what has caused the decline in sales for our beloved stockings?
As with the decline in most clothing-related items, it is a combination of fashion and technological advances – and for those of you who read my blog on petticoats and slips, you will see a lot of similarities.
Nowadays, women are much more likely to be seen in trousers/jeans/leggings, garments that have no need to have hosiery of any kind worn underneath them. Therefore a decline in all items hosiery related is inevitable – pure and simply, it is no longer needed.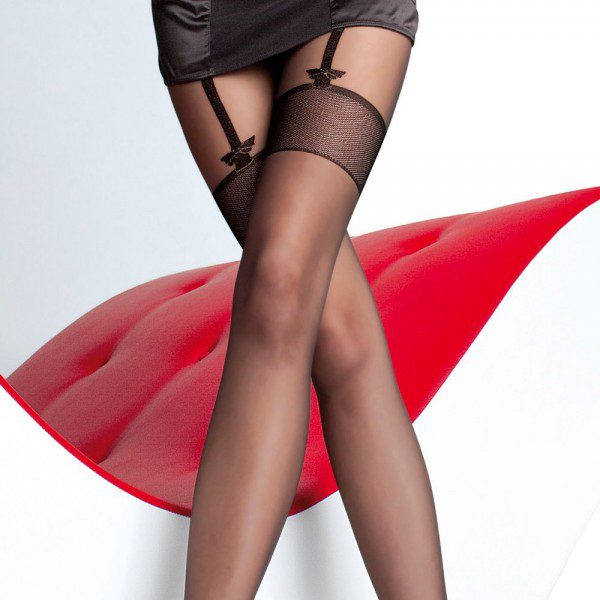 Fiore Sheila imitation suspender tights, £4.50
Plus there is more choice now. Since 1959, tights have been available commercially – an item that doesn't require a suspender-belt and therefore is easier to use. Plus with the continuation in skirt length shrinking, no stocking tops would be seen. Then in 1987, the hold-up came onto the market: the look of a stocking without the need for straps!
If we no longer need stockings, we do we love them so?
One reason has to be based around sex appeal. Sexy lingerie, more often than not, includes a suspender belt and stockings. Tights just don't cut the mustard for most. (Consequently this can also have an adverse reaction, with some people thinking that stockings are 'trashy' rather than classic and elegant).
Another strong reason is vintage revival. The likes of What Katie Did and Kiss Me Deadly have seen a large increase in ladies wanting vintage-look lingerie, and stockings are the only thing that work in this area. Burlesque has had a big revival as well.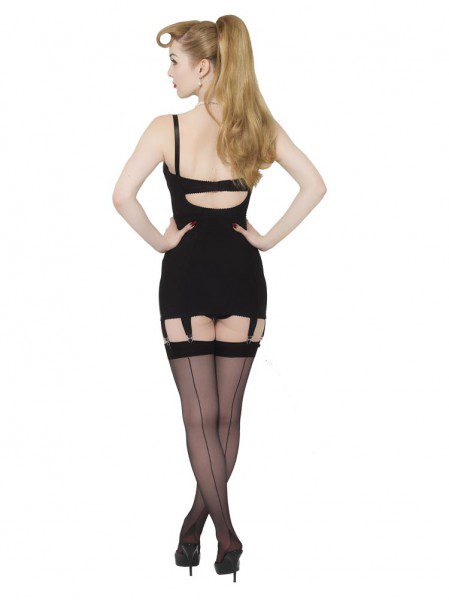 What Katie Did Retro seamed stockings, £8.50
And the last reason I am going to touch on is comfort. For many (myself included) tights are not the most comfortable thing in the world. Stockings don't have to be taken down when going to the toilet either.
I love the look of stockings, and grew up wearing them as a teenager rather than tights. Hold-ups do generally have more of a pull over me for some very simple reasons – I have neither long legs nor a long body, and therefore can find that the straps on a suspender-belt can come up a little long and make stockings sit really low on my legs, looking more Nora Batty than Dita Von Teese! Also there are also no obvious strap bumps if wearing a tight skirt or dress.
However, stockings are something that I am promising myself I will wear more of. I do feel sexy wearing them, even if I do get cold thighs and bum in winter!
If you haven't tried stockings before, or for a long time, why not give them a go? It is the (Christmas) stockings time of year after all. No one needs know, it can be our little secret.
Kirsty, owner of Curvature Boutique.