Disclaimer: This set was bought with my own money and Claudette did not request a review. 
Have you seen Claudette's new Encore shop? It's amazing! Obviously with a ton of stock to clear out, you can buy (I think) all of their previous season styles at crazy, tiny prices – we're talking bras from $9.99/£6.40 and briefs from $5.99/£3.84. And with plenty of sizes left too!
The catch? You can't return anything and they're only shipping within the US (which seems silly to me because I've seen plenty of people saying they'd gladly pay international shipping to get their hands on these, but there must be some business-related reason they've decided to restrict their sales).
Anyway, lucky me, I had a holiday planned to the States last month so I eventually managed to get my hands on a couple of sets – the ever-popular Dessous and this En Dentelle set. Review of the Dessous to follow!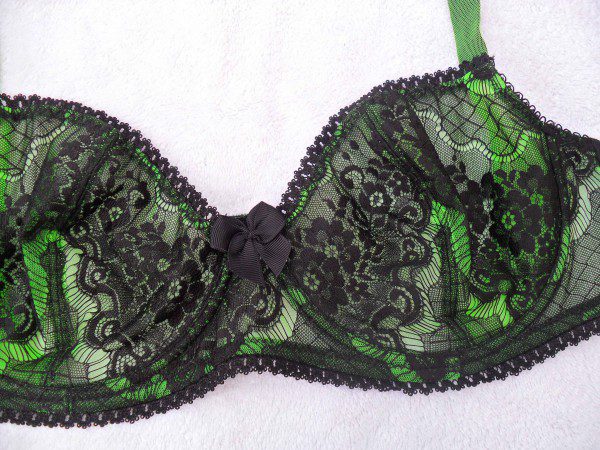 Appearance
Of the two sets, this was the one I loved most in the picture. It turned out not to be my favourite for a few reasons, but what drew me to it was the generous use of really unusual, multi-patterned lace, and the way it uses a neon colour in a way that's striking but not too in-your-face. I loved the knickers with their tufts of eyelash lace at either side too.
Verdict: 7 / 10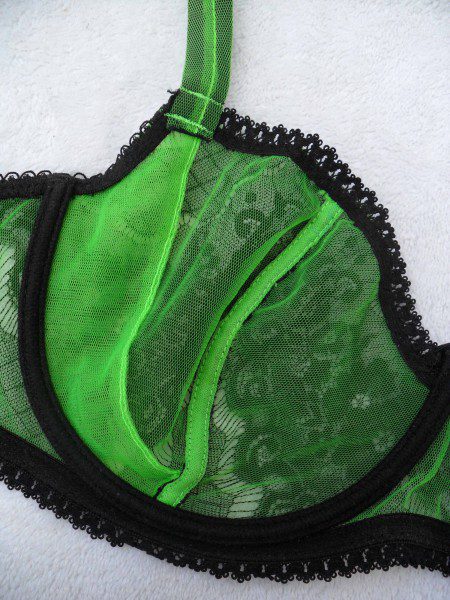 Construction
In terms of how the set is put together, it's neatly sewn as you'd expect from lingerie in this price range (the original RRP, I mean). The lace they've used is even more gorgeous close-up, and though the placement of the lace varies in every picture of the bra I can find (so don't expect it to exactly match the product photo) I love the symmetry on my set.
However, the green mesh they've used is not a soft one. The mesh has been wrapped around the bra straps with a seam on the inner side, and it feels scratchy.
The straps on this set are also much more widely-set than on most bras. This is stated in the product description (which I didn't read, never do) but combined with the scratchy mesh they ended up rubbing against my underarms and really being quite irritating. I wish they'd used a softer mesh or a plush green velvet on the straps instead.
Verdict: 6 / 10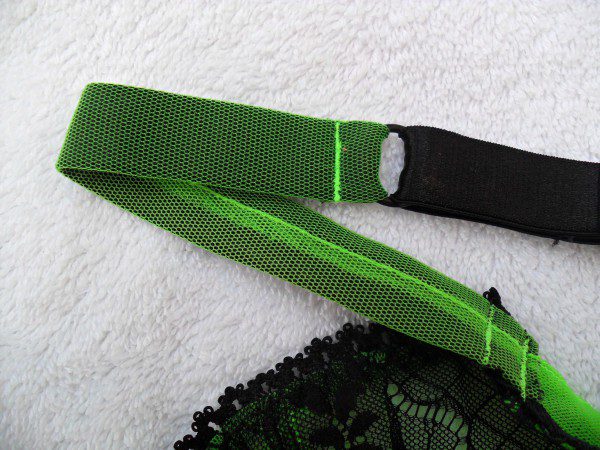 Fit
I bought my usual bra size of 30E and a size XS knicker – Claudette's size guide basically just lists the sizes they offer, so I had to guess here. The knickers fit me perfectly, so they work out at about a UK 6 or 6-8.
The bra, sadly, is not a perfect fit. The band is a great fit and it's very wide so offers a lot of support. However the cups are too small for me, there's definite overspill. Considering that I have a full-on-bottom shape and more often than not have issues with gaping, full-on-top shapes may even need to go up two cup sizes in this bra.
Verdict: 6 / 10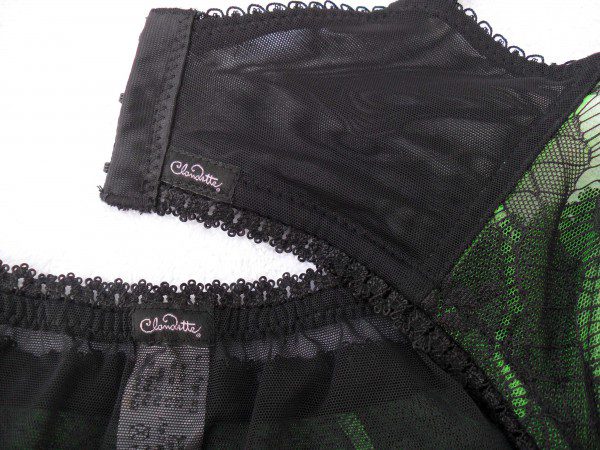 Durability
Both pieces are hand-wash only in cold water, and both are in excellent condition after about 6 wears.
Verdict: 8 / 10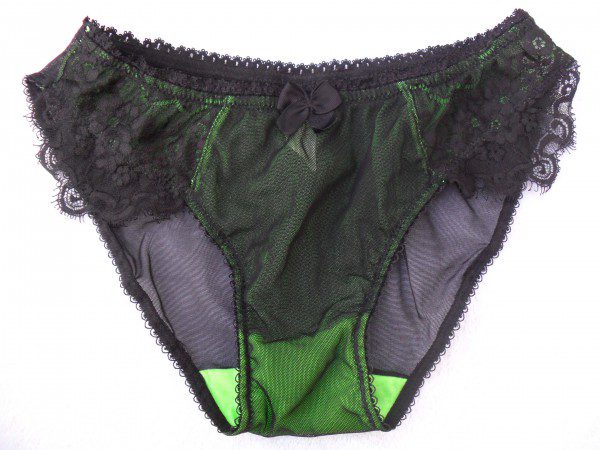 Value for Money
So I always base this on what I paid, and that was $19.98 (£12.79) for the set. That was an offer price at the time but it now looks like that's just what they're selling them for. And well, I really wish the bra fit me but then again… £12.79! For all that decadent eyelash lace! The knickers alone are great value for that price.
Verdict: 10 / 10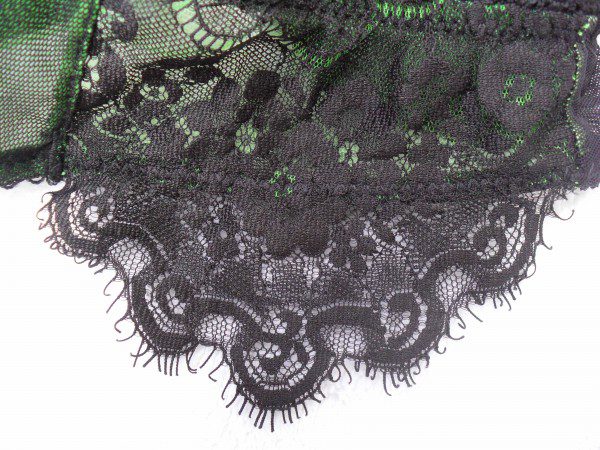 Would I recommend it?
If the bra had been full price I'd probably have said no due to the scratchy mesh, but if you're happy to put up with that (or have plans to add a plush backing to the straps) then go for it – it's an absolute bargain. Just go up a cup size or two. I do recommend the knickers.
En Dentelle Intense is available in green, blue, pink and purple, and there's a non-Intense version available in creamy beige and pale blue too. As well as matching knickers, there's a matching thong with detachable suspenders.
Have you bought Claudette's En Dentelle set? Or anything else from their Encore shop?