Disclaimer: This set was bought with my own money and neither All Undone nor Full Disclosure requested a review.
All Undone is a Wales-based, independent brand that launched in 2012 with a line of sleek and modern bra sets. The brand isn't just based in Britain but manufactured here too which I think is great, and they are one of the few brands creating high-end lingerie that goes down to a 28 band size and up to a GG cup.
I picked this Queenie set up in Full Disclosure's summer sale. A quick note on Full Disclosure 'exchanges' – this wasn't at all clear to me from the website but you actually get store credit to the value of the product, so will have to pay the shipping cost again for the replacement item. Something to bear in mind if you're shopping from the US to where postage is £19 a pop!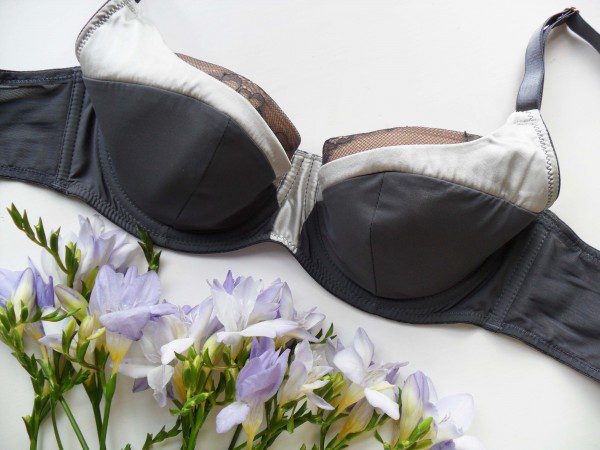 Appearance
All Undone has a really unique aesthetic. In a sea of lacy, floral, pastel-coloured things with bows, their designs are totally pared-back with simple silhouettes and no decoration aside from the functional metal hardware on the straps. That said though, All Undone is anything but boring – luxury fabrics, colour-blocking and, on the Queenie set, a hint of lace keep the look interesting and expensive.
The Queenie set in particular looks almost futuristic to me with its grey and silver panels. I do kind of wish they'd left the lace panel on the bra sheer to match the bottoms (it has a beige lining) but I guess that might have been more to keep the whole bra moulded and smooth rather than an aesthetic decision.
One thing that did disappoint me is the placement of the lace on my particular bra (it's not the case for all Queenie bras, they're all a tad different) – you can mostly just see plain net on one side, and this feels like the type of oversight you shouldn't get on a £79 bra.
Verdict: 6 / 10
Construction
The Queenie bra is made from a lightly-lined, 3-part cup in a smooth, dark grey fabric topped with a flash of silver silk and the lace, which is a French Chantilly one.
The bra's wings are made from a sturdy powernet, and the straps feature gold metal hardware. I love that the strap adjusters are at the front on this bra – both supremely helpful for adjusting the length with the bra on, and a unique design touch.
The bra and knickers overall are well-made with neat stitching and nice fabrics that feel soft against the skin.
Verdict: 9 / 10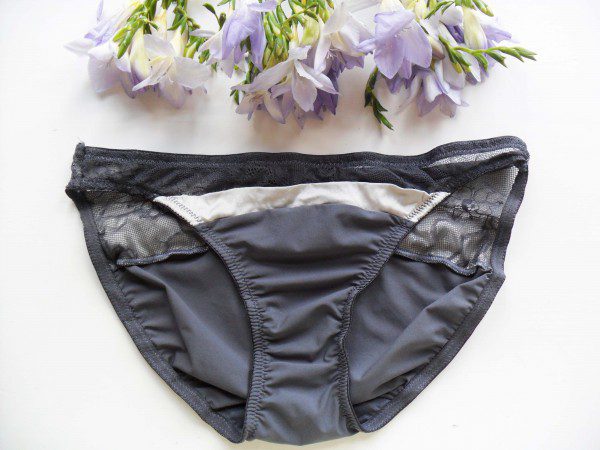 Fit
I originally bought the bra in my usual size of 30E, but my full-on-bottom shape and moulded cup bras don't get along and it was gaping along the top, so I exchanged it for a 30DD.
The 30DD is a good fit though still the tiniest bit big in the cups for me, and the band fits well but I would say it's on the loose side as far as 30 bands go. If you like your bra bands very snug I'd recommend sizing down, and if you're between cup sizes I'd also go for the smaller one.
I did check with All Undone about whether their sizing had changed since the Queenie, which was one of their debut designs, and they said the Lottie bra (which I love – it has something of a sports-luxe vibe going on!) comes up a bit smaller so you may be better sticking with your usual cup size in that one.
Finally, I bought the knickers in an XS which All Undone's size chart says are a UK 8. However I'm between a 6 and 8 and they're quite tight; if I buy from the brand again I'll go for a S for comfort, so I would say size up in these.
Verdict: 6 / 10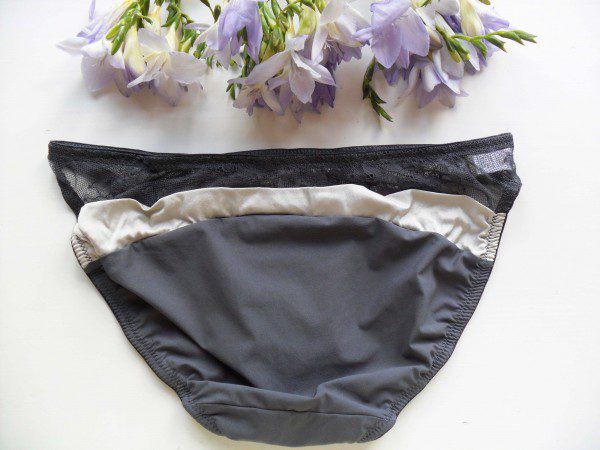 Durability
Although the Queenie set looks like your typical, machine-washable t-shirt bra, with the silk and Chantilly lace elements both pieces are hand-wash only.
Normally I hand-wash all of my lingerie anyway so can't comment on how well they withstand the machine but, horror of horrors, the Queenie knickers got bundled up inside my regular washing and went through hot settings in both the machine and tumble-dryer! They've survived, but the silk looks a tad crumpled and the fabric care label is almost falling out, so this is a delicate set and you'll need to take care of it properly if you want it to last.
Verdict: 6 / 10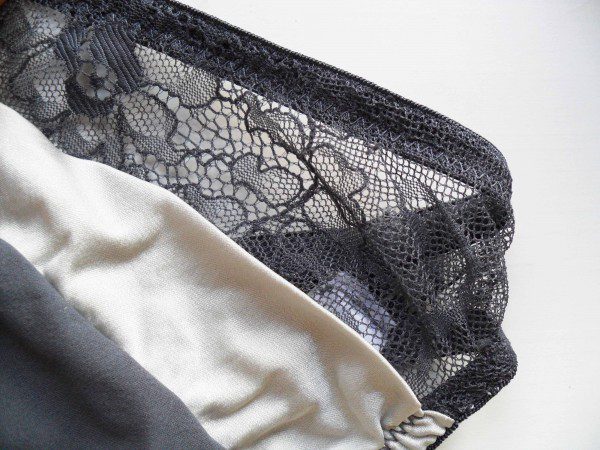 Value for Money
The Queenie bra retails for £79 and the knickers for £42. I got them for the frankly bargain price of £21.50 and £11.50 in Full Disclosure's sale which was excellent value for money. For me, this is a basics set, but a very lovely one.
Verdict: 7 / 10
Would I recommend it?
Yes I would. Whether you're looking for something sleek and modern, or you just want a nice-quality bra that won't show under clothing, I think All Undone has got you covered.
It's more expensive than typical high-street prices, but the combination of nice fabrics and homegrown, British manufacturing makes it worth it – not to mention the fact they're catering to many sizes you won't find on the high-street anyway.
What do you think of All Undone? Are you a fan of the minimalistic design approach?