Disclaimer: I bought this lingerie with my own money and neither Fauve nor Belle Lingerie requested a review.
Have you heard of Fauve? I hadn't, until they closed down and suddenly full-bust bloggers everywhere started lamenting their demise! Apparently, they were pretty awesome (I Googled some pictures – they were)  but the remaining stock that retailers have is dwindling so it's either now or never to get your hands on a bit of Fauve if you see anything you like.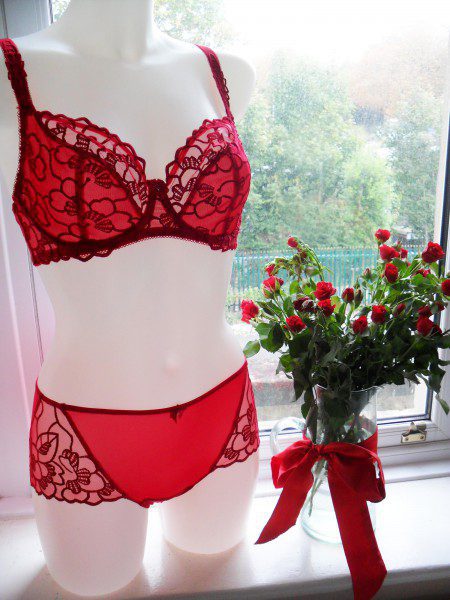 I spotted this Chloe bra over at Belle Lingerie and instantly fell in love. I've been on a hunt for The Perfect Red Lingerie Set for years and whilst this isn't it, it is absolutely gorgeous. Red is my favourite colour by miles but I feel like it's easy to make red look tacky (maybe I've just seen one too many Sexy Mrs Claus sets in my life) so I've somehow amassed a huge lingerie collection that only includes one red set. Until I saw this one anyway.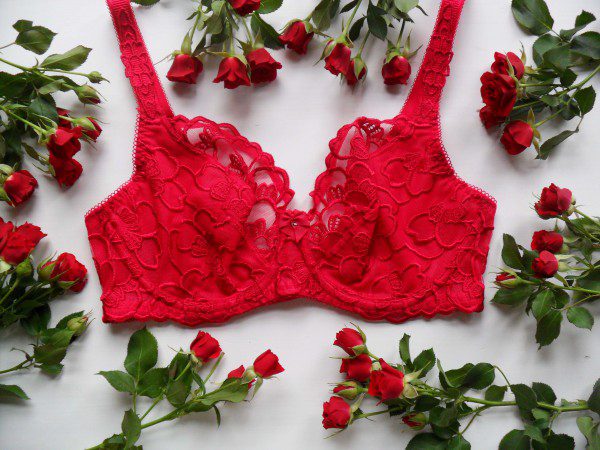 Appearance
The balcony-style Chloe bra has 3-part cups in a floral embroidery which has that one thing that never fails to make embroidery look luxe – thickness. I was a little disappointed though to find that the mesh lining on the bottom 2 cups is opaque – in the product photo on Belle Lingerie, it doesn't even show up so I'd assumed the cups were sheer all over.
The bra has some really lovely finishing touches which set it apart from cheaper brands, like the embroidered flowers on the straps and the way the (really pretty) strap elastic continues at the back of the bra all the way to the fastening.
The matching short is nice too with wide panels of embroidery at either side!
Verdict: 8 / 10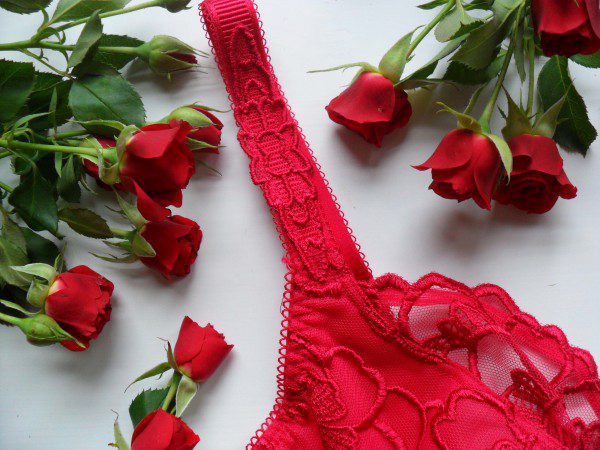 Construction
The Chloe bra and short are both beautifully made, with the one exception of the leg openings on the short just being overlocked. It looks cheap and is starting to fray in a few places already.
The materials though are excellent-quality. In fact, what sticks in my mind most about this set is how soft the knickers are! Normally when I say lingerie is comfortable, I mean it's not uncomfortable, but this short is a delight to wear. It feels like butter!
Verdict: 9 / 10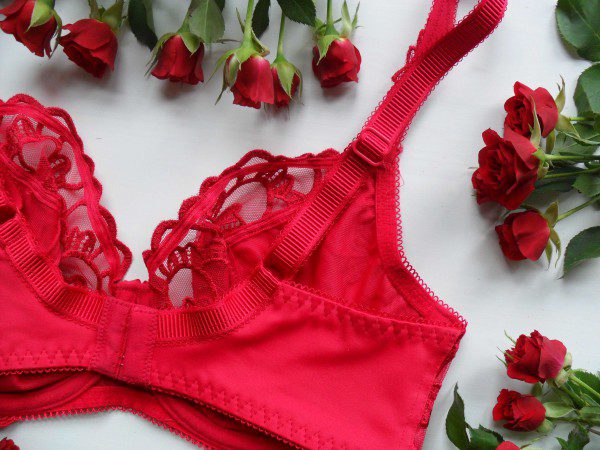 Fit
I bought the bra in a 30E and the short in an XS / UK 8. The shorts looked pretty small when they arrived and I worried they were going to dig in, but that fabric is as stretchy as it is soft and the fit is just perfect.
The bra band is a typical 30 – not too tight, not too loose. The only fit issue I had was with the cups which are a little bit loose on me. The wires fit so well at the bottom though that I think it's more a case of the bra just not being suited to full-on-bottom shapes, rather than me needing to size down. There's a half-cup version that in hindsight might have been better for me.
Also, whilst we're talking about fit, this bra gives a super uplifted, perky shape! If you're used to wearing moulded cups and want a non-wired bra that is going to give a similar shape, this is it.
Verdict: 8 / 10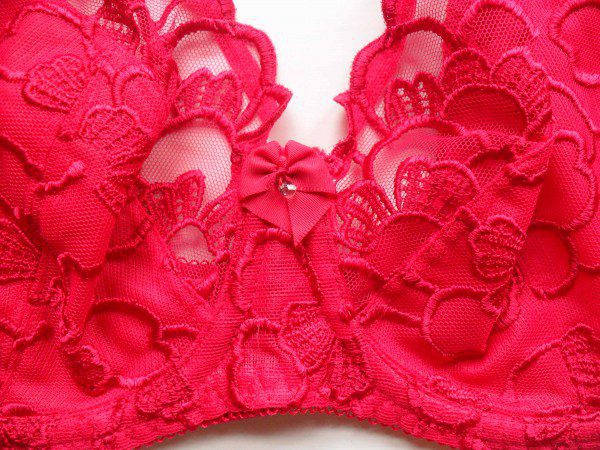 Durability
The Fauve Chloe bra and short are both hand-wash only, so bear that in mind before buying if you tend to stick everything in the washing machine. They don't however leak any colour, which is so often the case with anything bright red, so that's a major plus.
Verdict: 8 / 10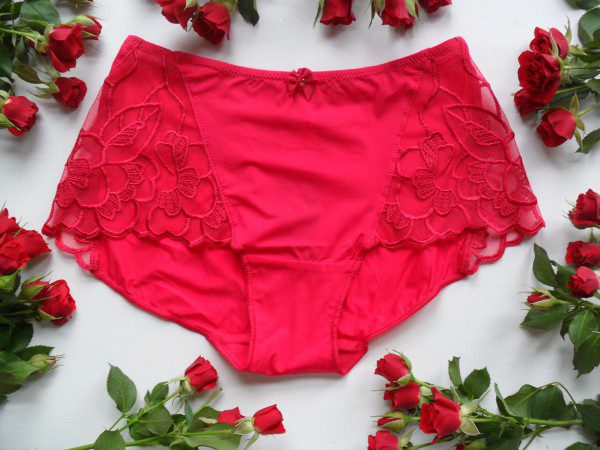 Value for Money
Originally this Chloe set would have cost you £84 so it's not cheap, but as mentioned Fauve has closed down and is on sale pretty much everywhere it's sold. Belle Lingerie has this bra for £16.80 and the shorts for £10.40.
Verdict: 10 / 10
Would I recommend it?
I would highly recommend it, not least because this is well and truly your last chance to buy it. It's a beautiful, glamorous style but also more than comfortable enough for daily wear.
Fauve's Chloe is also available in a bunch of other colours if red isn't your thing – I think I'll be going back for the half-cup version in Passion Pink!
What do you think of the Chloe set from Fauve? Are you sad to see this brand go, or are you excited to try them out now that everything is on clearance?