As I mentioned in my last post, I've just finished my latest in-house collection for Esty Lingerie, Amathia, which launched on Sunday. I intentionally almost never talk about my own designs on this blog (because who wants to hear me rave about things I've made myself?) but I'm rather happy with this new collection and wanted to show it off, so I hope you'll forgive me this one indulgence. 🙂
Apologies in advance if this post is a bit more of a ramble than usual. I just thought I'd talk a little about my inspiration and design process for anyone who's interested.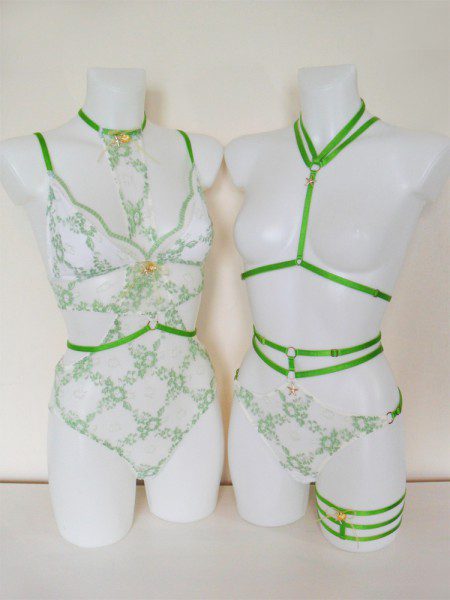 You might recognise this lace from my previous collection, Glimmer – it's the same except for the colour. I have a love-hate relationship with it because its best feature is its sparkliness, but I can never seem to get that glorious shimmer to show up in photos (which are somewhat important when you sell exclusively online!). Mostly though, I love it – it's gorgeous, it's easy to work with, and it's not crazy expensive meaning I can keep my prices relatively affordable, which has always been important to me.
I pretty much always get my inspiration for a collection from its materials, so that was my starting point. Originally, I'd hoped to use the lace in a beautiful white and mint, which I used to make this one-off pair of tap pants, but sadly there wasn't enough available so white and lime it was.
With the lace's shimmering metallic thread and scalloped edging, I was reminded of irridescent osyters and clamshells and a theme started to take shape. I managed to find some awesome little pearl-in-shell charms, plus gold starfish to match with the gold-plated hardware used on the strapping.
The strapping, like the lime-accented lace, was another unplanned colour choice. I debated between white and green elastic and eventually decided the green would look best, despite being pricier – if you want a small reel of satin elastic in any colour other than black or white the price jumps by about 500%! However it was dyed-to-order and arrived much brighter than expected, but as it came from the States returning it was a cost and a lengthy wait I didn't need, so I just decided to run with it. After all, I'm always complaining there isn't enough green lingerie out there!
In terms of designs, you'll recognise the triple-strapped garter from previous collections. Like my triple choker straps, it's become a bit of a signature style and something that always sells well for me. The Amathia tap pants are also very similar to the previous Glimmer ones, but as well as adding slit sides (inspired by my gorgeous Ann Summers Clarissa shorts) I've made some significant changes to the pattern to improve the fit.
For those who don't know, I don't come from a sewing or fashion background. When I launched Esty Lingerie in 2009, I didn't even have a sewing machine! Early on I outsourced most of the production of my ideas to freelance seamstresses in the UK, but over the years I've taken it on bit by bit, first adding some finishing touches by hand, then creating a few of the simpler pieces myself, and as of my Beloved and Glimmer collections (not Pivoine in between) doing everything myself.
Amathia cupless bodysuit, £39.99
Partly this shift has been because I haven't always been happy with the quality of the work I've outsourced. Partly it's a cost thing, because the more I can do myself the lower my retail prices and/or the more profit I make per piece. Mostly though, it's because I'd discovered I really, really enjoy sewing!
Amathia marks the first collection where I've included a bra I've made myself. Yes, it's a bralette, but learning to sew a wired bra is definitely on my to-do list – probably next year though, those pesky little things are up there with corsets and shoes as some of the most complex and difficult garments to create!
This is also the reason the size range for the Amathia bralette is very limited, with 3 sizes fitting 30-40 band sizes and a very narrow spread of cup sizes. Grading patterns and sewing are two different skill sets, and I have less experience with the first, but introducing numbered sizing rather than S/M/L is my goal for my next collection.
So, just one last thing – why Amathia? As a sealife-inspired collection my thoughts initially turned to mermaids, or sirenas in Spanish. I stock the Kiss Me Deadly Sirena range and the Dentelle etc… Siren range though, and didn't want to cause any confusion. So I started looking through the names of nereids – sea nymphs in Greek mythology – and just rather liked the name of the little-known Amatheia, a nereid with "lovely hair" who raised all the young fish of the sea!
You can shop the Amathia range here, with prices ranging from £17.99 to £42.99. I'd love to know what you think of it, and what you'd like to see more of from me in the future!