Disclosure: This set was a personal purchase. Links with a * are affiliate links.
I've been window-shopping at Peek & Beau*, a Playful Promises diffusion brand, ever since the collection was first released. I've consistently found Peek & Beau styles fun and interesting, and I was excited to purchase the Gold Wrap Bra* and Star Gold Brief* as my first experience with the brand.
The distressed gold fabric on this set is what really drew me in, and I couldn't resist the black straps. I tend to shop for bras first and then buy the bottoms just to have something that matches, but with this set I absolutely loved the original star design of the briefs as well.
This set certainly lives up to Peek & Beau's slogan, "attire to flaunt". I bought it to wear out as a crop top, and I love the glitz this adds to an outfit! It even looks great peeking out from under a black shirt – but what else would you expect from a brand called Peek & Beau?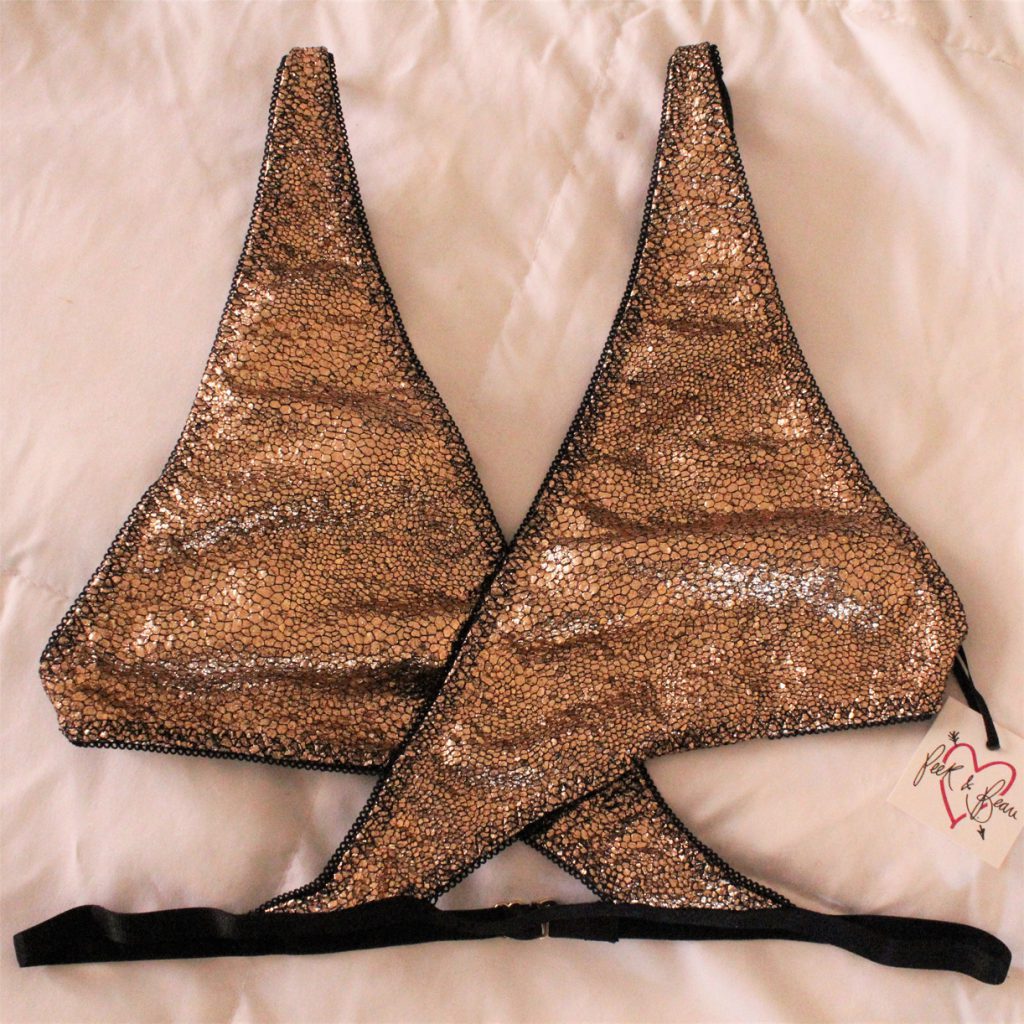 Fit: 5 / 10
The fit was my only real disappointment with this set. I followed the size chart and ordered a size XS (UK 8/US 4) brief, as I'm generally a UK size 8. Playful Promises and Peek & Beau share a size chart, of which my measurements fall on the larger side of the XS. In the past, Playful Promises-brand knickers in size Small have been too big on me, so I expected the XS to fit perfectly.
However, whether it's because Peek & Beau as a brand or just this set in particular runs small, these briefs were incredibly small on me – so tight I could barely get them up my thighs. Unflattering, uncomfortable, and unfortunately unwearable for me.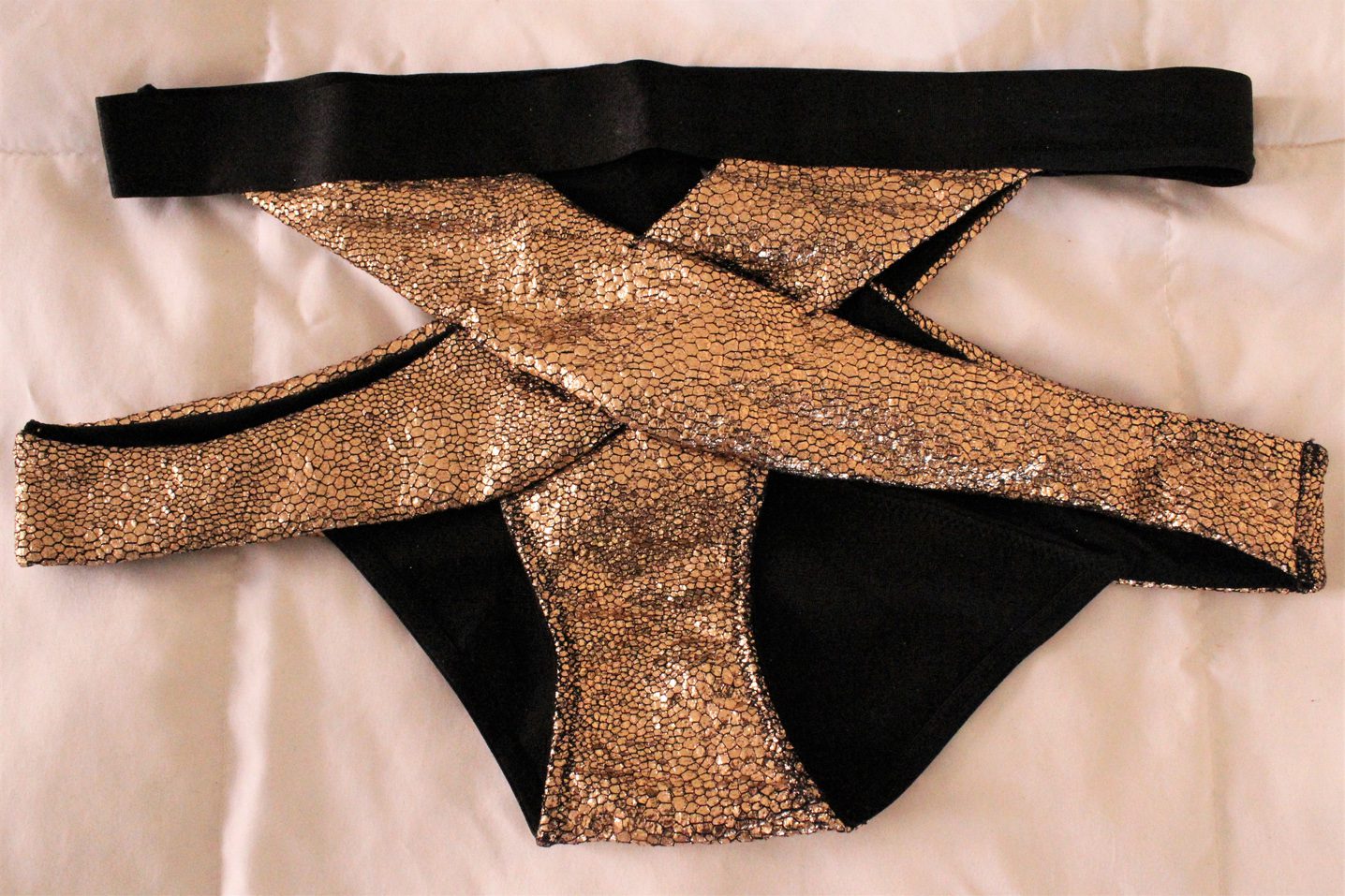 With the bralette I had better luck. I ordered a size Medium, as the sizing chart on the product page recommended for my sister size 34DD, since my actual size 32E wasn't listed. (Note: while at the beginning much of Peek & Beau's collection only went up to size 36DD, more recent designs have included a DD+ and Curve version).
I've had problems before with bralettes being too loose around, but I certainly didn't have that problem this time. It is tight, though I've worn it all day without that becoming a problem. I actually prefer it this way as it provides more lift than it would if it were looser. A size Large would have been a bit more comfortable, but the Medium works well for maximum lift and cleavage.
Biggest take-away: if you're on the larger end of a size, and especially if you're in-between sizes, I would recommend sizing up. Obviously, something is wrong on Peek & Beau's end if someone could follow their size chart and still have the fit be so off. They do accept returns, so you can buy with some confidence despite the wonky sizing here, though if you're outside the UK then shipping the item back can cost nearly as much as the briefs themselves.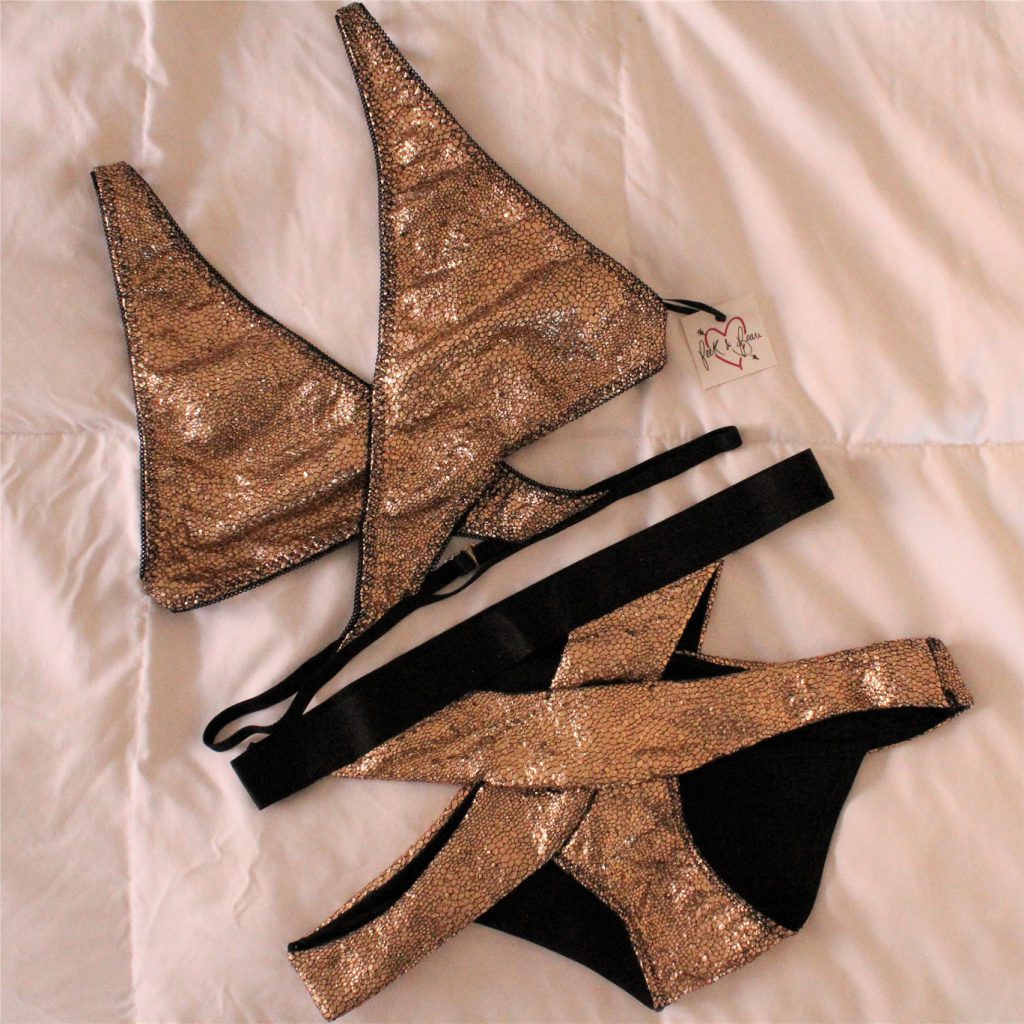 Construction: 8 / 10
The bralette is basically two pieces of fabric: the glitzy gold outer layer and a soft nylon inner layer. The black strap at the bottom of the bralette feels almost velvety against the skin. It's the same width as the bralette straps (that is to say, thin. Don't expect much additional support from these bra straps). Sturdy gold hardware finishes off the straps and back clasp.
Unfortunately, the briefs didn't fit me well enough to properly judge how they would feel on. You'll find the same soft nylon here as inside the bralette, as well as a 100% cotton gusset.
Quality: 9 / 10
This set is made of sturdy, comfortable materials, and the bralette has held up great after wearing it out several times. For a product in this price range, I'd expect to see the stitching start to fray, but the bralette has maintained its new look. Despite Peek & Beau being more budget-friendly than Playful Promises, I was happy to see the same great quality I've come to expect from Playful Promises.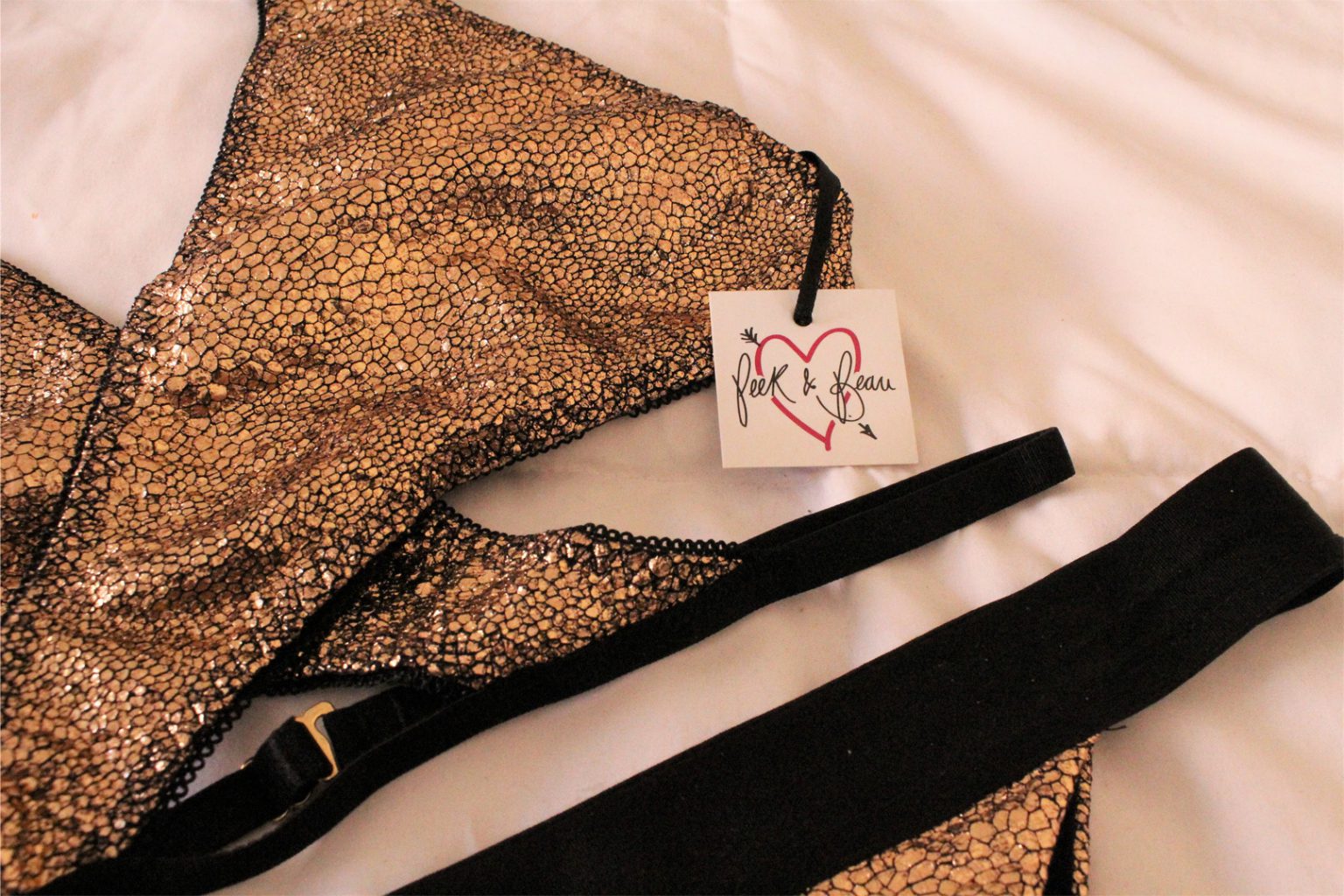 Price: 10 / 10
Playful Promises has always had great quality lingerie, and now I can attest that Peek & Beau does as well. Particularly from an indie brand, the quality-to-price ratio doesn't get much better than this. The retail price for this set is inexpensive: £30 (~$40 / ~34€) for the bralette and £25 (~$34 / ~28€) for the briefs.
I managed to snag it on sale a while back for over half off, and for that price it was an absolute steal. I'd always recommend waiting for sales at Playful Promises if you're on the fence about something, as they occur relatively frequently and when they do the prices are incredible for the quality of the product.
Overall: 7 / 10
While I am disappointed about the sizing issues with the briefs, I would still recommend this set. Sizing up here would have definitely helped me, particularly with the briefs, but I'm still a fan of the bralette and plan to buy the briefs again in the correct size (after unfortunately missing the window of time to return it), as I love the design and the fabrics.
The Gold Wrap Bra and Star Gold Brief are also available from Missguided, who have sizes in stock that are sold out at Playful Promises.
What do you think of Peek & Beau as a diffusion brand of Playful Promises? What have been your experiences shopping from them?