Disclosure: this blog post contains affiliate links.
Custom lingerie is a viable option for people needing lingerie that falls outside what is currently available, affordable or accessible. In many ways, custom lingerie is now being touted as the answer to any fit or size issue; women are advised to just custom order if they cannot find what they need.
Below, I outline many of the rewards and the risks associated with the growing trend to buy custom lingerie. At the end, there are a few recommendations for reducing risk and getting the most out of your next custom order.
Rewards
Custom lingerie provides options for those who fall outside readily available sizes. For example, a size 26 band is quite rare and I am unaware of any company that incorporates it into their standard size range. Buying custom allows women to order a bra that will fit without further alterations.
Custom lingerie also provides options for women whose bust, waist and hip ratios do not fall within the company's standard allowance. For example, my waist is 34" and my hips are 48". It is exceedingly rare that a 14" waist-hip difference is the norm for underwear, bodysuits and other lingerie. For a good fit, I must custom order my knickers. Women come in all shapes and sizes but standard size ranges typically try to cover the middle ground.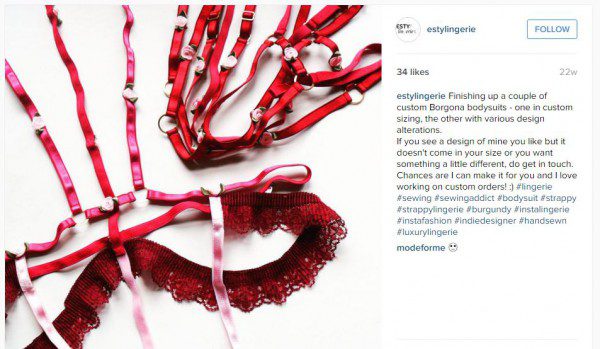 Transgender women and men with gynecomastia who choose to wear bras may also find custom lingerie quite helpful as their bodies often fall outside the normative, cis-gender female architype that guides mainstream lingerie design and production. Many transgender women and men who wear bras need a large band/small cup, which is one of the most under-served size ranges in lingerie.
Size customisation is not the only benefit of custom lingerie. Design customisation allows for greater expression of personality and gender identity through wearing lingerie. Androgynous individuals can buy bow-less bras devoid of lace and floral patterns. Femme individuals can request the designer pile on the ruffles, lace and bows.
Furthermore, individuals with disabilities benefit from custom lingerie. The vast majority of bras are closed in the back, yet a custom bra can be made to close in the front or at the side where it is more accessible. Custom knickers can include a pouch for insulin pumps and more.
Ordering custom does have many rewards, yet it is not without risk. It is this risk that deters people from ordering custom in the first place, and those who do order custom lingerie may be put off from doing so again if they have a bad experience.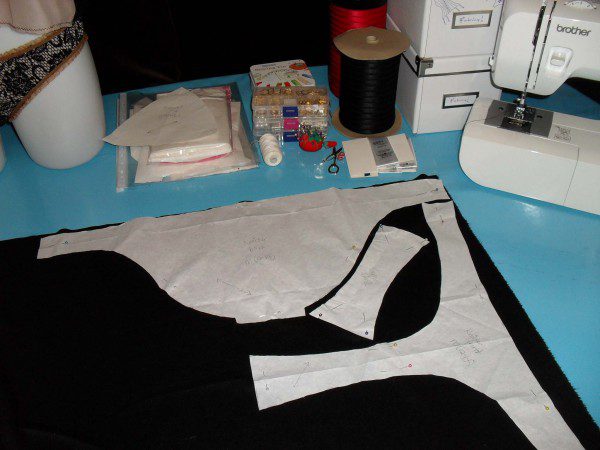 Risks
Ordering custom lingerie puts all financial risk squarely onto the shoulders of the buyer. Except under rare circumstances (and usually at the seller's discretion), custom lingerie is not returnable for a refund or for an exchange because the designer may not be able to sell such a tailor-made piece to someone else.
As a customer is not able to return custom items, they may look to other venues to recover some of their funds. However, custom made lingerie is harder to re-sell due to obscurity, sizing and custom modifications.
Secondary buyers do not know what to expect in terms of size and shape because the custom made lingerie as not a standard size like XL or UK 10. Also, 'custom' connotes changes made for the previous consumer due to their specific, non-standard needs. Unfortunately, measurements such as waist, bust, and hip do little to convey fabric distribution. Secondary buyers may also not be familiar with the brand so they never search for it and so exposure on websites such as eBay and Varage Sale will be much lower.
In addition, many secondary buyers are willing to pay much less for indie brand lingerie (the ones most likely to offer custom) than well-known brand lingerie valued at the same amount, as they see indie lingerie as a higher risk: there is no zeitgeist knowledge of the brand's quality, longevity or general fit. If you add on the risk of buying custom lingerie designed for someone else's body, then you can understand how much of a financial risk the buyer assumes.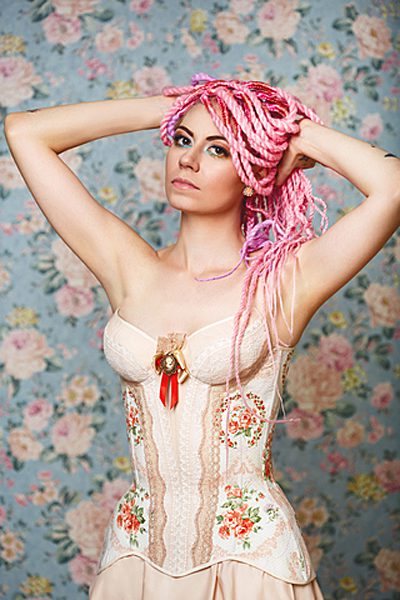 Putting aside the financial risk, there are other risks as well. The vast majority of custom lingerie is offered by indie designers, many of whom neither have formal training nor have apprenticed under someone with that training / expertise. Indie designers have the most experience creating the range of sizes and styles they currently offer. Therefore, custom lingerie – when not just for aesthetic purposes – asks indie designers to make something outside their norm. Making lingerie outside their current style and/or size range may be beyond their capabilities – whether they are aware of that or not.
For example, they may not be aware of additional modifications, materials, pattern changes etc. that other sizes or styles need. Even when indie designers are aware of the changes needed, they may not have the experience or the materials needed to create these garments to the customer's standard.
Not all designers know how to grade a pattern. Pattern grading allows designers to size a pattern up or down while still maintaining the proper proportions of the original pattern. This is very useful for creating the same style in a smaller or larger size; however, custom lingerie is not always as simple as grading a pattern.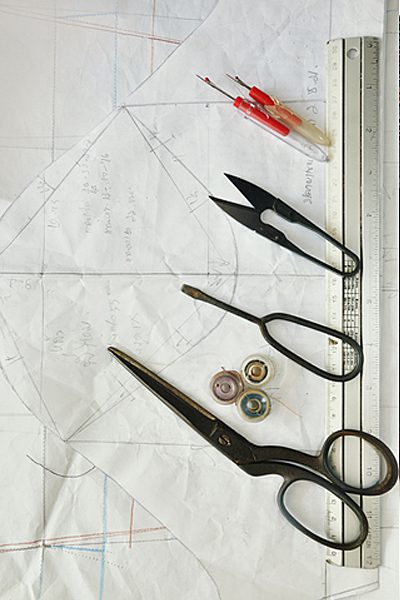 Different sizes ranges have unique needs. Full bust bras require stronger wires, thicker straps and other modifications to provide support. Plus-size bras usually require different elastic in the band and a different placement of straps. Small-bust bras tend to need the straps closer together on the body and wires can be more flexible. Even the materials needed change: stretch lace may be fine for core sizes, but the cups will need to be lined with a power mesh for plus and full bust sizes.
Underwear too is not always a case of simply being graded up or down as fat does not necessarily coat the body evenly, it accumulates in different regions. Briefs designed for a 'conservative hourglass' shape will grade up but still not fit well on a more 'apple' shaped person. Torso length is also a common problem when scaling lingerie for different shapes and sizes.
Thus, custom lingerie becomes a risk for both the designer and the customer. The customer may receive something that doesn't fit, fails to perform its function or isn't perfect. The designer risks losing a customer and also risks bad publicity over social media because their knowledge of lingerie design was insufficient for the customer's expectations of the design requested.
Now, many indie designers do have the expertise required to make a large array of different sizes and styles. However, they have less buying power than large businesses so may not be able to source the ideal parts even if they know they're needed. Material, fasteners, elastics, eyes and hooks, underwires and more are mostly sold in bulk. Bulk purchases require a lot of money up front that a typical indie designer cannot afford – if they're only selling one full-bust set, they probably don't want to invest in 10 or 100 full-bust underwires!
Recommendations for Buying Custom Lingerie
Buying custom lingerie is pretty risky from a customer's perspective, so let us talk about some ways to minimise that risk.
Look for designers whose current size range is closer to your own. For example, a plus-size customer would be better off requesting custom lingerie from an indie brand such as Ravendreams than a core-size brand, as Abi specialises in plus-size lingerie. There is also a greater chance that a designer who works with sizes similar to your own already has a source for any specialist components needed to construct lingerie in your size range.
If the designer does not offer your size usually, ask the designer if they have experience with the needs specific to your size. Also, ask the designer if they have made similar items before and – if they have – ask for pictures of their work. Make sure your expectations are in line with their abilities.
As a customer, take initiative. Be clear, concise and precise about what you are wanting both in terms of style and fit. For example, "I like strong, stiff underwires" and "I like a stretchy band that I can pull away from my back by a couple inches" is far better than "I want a bra that supports my boobs and is comfortable". Always define vague terms like supportive and comfortable as these are subjective terms open to interpretation.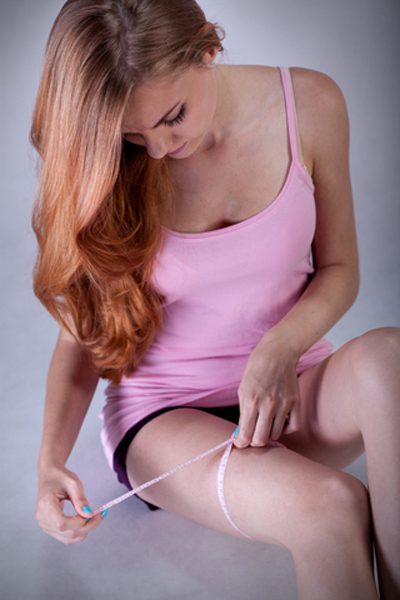 Provide reference photos of your body so the designer can see your shape. Take pictures from multiple angles so the designer understands the size ratio from one part to another part of your body. Be honest about the measurements you provide.
Give the designer something to work with – literally. If asking for a custom bra or underwear design, send a piece of lingerie that currently fits you well. Some designers will ask for this, like Angela Friedman did when making custom underwear for Holly from The Full Figured Chest. If the designer doesn't ask, offer.
For very expensive items, such as corsets, many designers will recommend a mock-up of the corset before they make your actual piece. This fit mock-up usually adds to the cost of your corset, but it allows a designer to see how the corset will fit on your body and then make important alternations.
If your custom lingerie is primarily about style, give the designer reference photos for the project that capture the look you want. Again, be precise: saying "I want big, black, oversized bows on the leg openings and at the waist" is better than saying "I want lots of bows". Be clear about boundaries like colours or patterns you do not like and clear about expectations such as number of bows, position of decorations, length, rise, material, etc.
As a customer, confer with the designer on how much input and control you will have over the process of your order. Some customers want to pick a theme and see the final result. Other customers want to approve each and every single fabric choice and design decision. The designer may want some creative leeway to make decisions based on their own expertise. Establish this at the beginning.
You may also want to ask the designer whether you can send your custom lingerie back for modifications. If the designer is willing, make sure you know beforehand who would pay for what (sending, mailing back, modifications).
There are certainly substantial risks associated with ordering custom lingerie. However, sometimes the rewards outweigh the risks. With custom lingerie, you have the potential of owning a beautiful piece of lingerie that matches your style and fits your body perfectly. I don't know about you, but that is my dream!
Hey lovelies! Have you ever ordered custom lingerie made to your specifications? I would love to hear about the experience – either positive or negative – so tell us about it in the comments!
Avigayil.