Disclosure: I bought this lingerie set mysef. Links with a * are affiliate links.
In case you haven't heard, Playful Promises* is doing some rather exciting things with their size range right now – first, they introduced a full-bust range for DD-G cups, and then very quickly afterwards announced a plus-size collection that will cater to 38B-42G and UK 18-24 sizes.
I've always quite liked Playful Promises and I've bought a fair bit from them over the years, but only soft-cupped pieces since they didn't really make my size. So I was really excited to hear about their full-bust launch!
The red Cordelia was my favourite set from the range by far (because, red), and I couldn't resist when it went on sale in February. Playful Promises' summer sale has just launched so until June 15th it's reduced from £85 to £30 for the set once again, including the mint-green version*.
Appearance
Black lace and the colour red are probably my two favourite things when it comes to lingerie aesthetics, so needless to say I was captivated by Cordelia!
I particularly like the eyelash-edged scallops which adorn the front of the bra and knickers – on the knickers, they create a subtle, kitschy heart shape, which is all the more perfect in the romantic red colourway. Sadly though, these scallops don't stay in place for very long, at least not on me – the ones trimming the knicker and atop the straps tend to flop over forwards, and the two at the centre-top of the cup fold over inwards. I've tried reshaping them whilst damp but nope, they just don't want to lie flat. At least the two over the straps can be fixed in place with a few quick stitches.
The other finishing touches are all very lovely though – rose-centred bows, ruched satin straps and gathered elastic straps around the hips.
Verdict: 6 / 10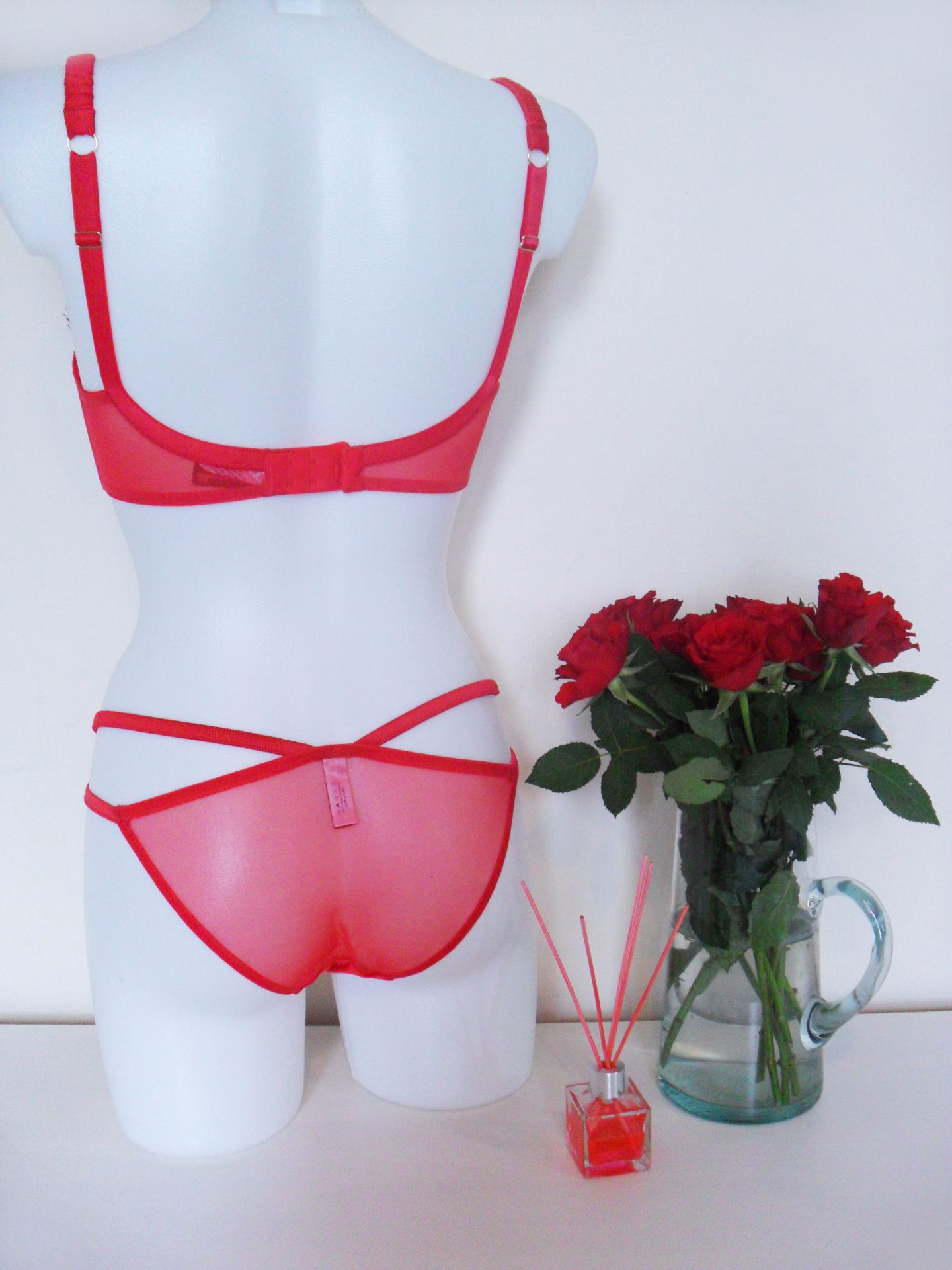 Construction
The bra and knickers are both really well-made, using fabrics that all look nice and feel soft to the touch. The bra has a 3-part cup that's lightly lined, so it offers a lot of support and a rounded shape for DD+ sizes.
Verdict: 8 / 10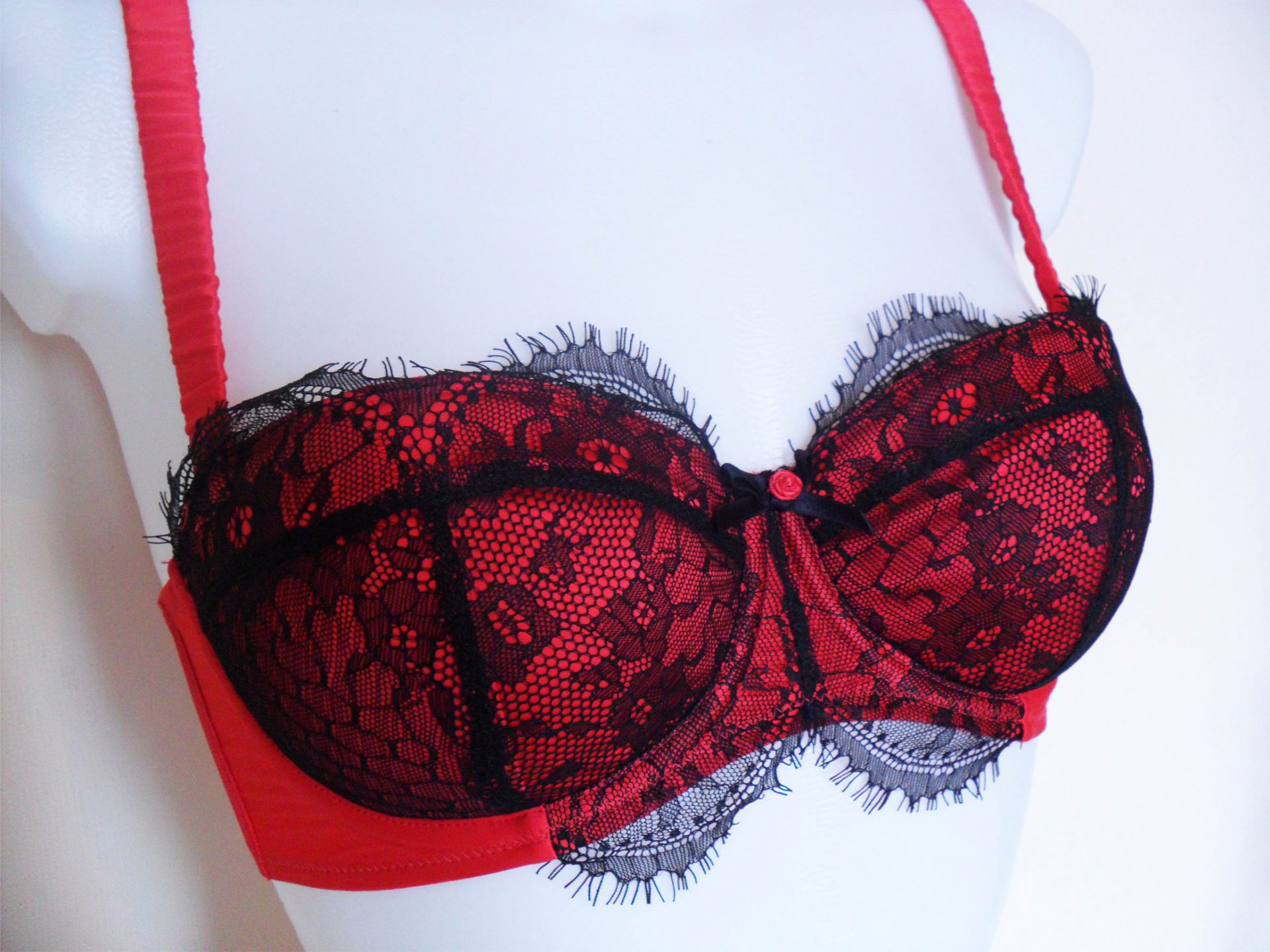 Fit
Originally, I ordered Playful Promises' Cordelia bra in a 30DD. I tend to wear a 30E in unlined bras and a 30DD in most things molded/padded, because my shallow-on-top shape means that pre-shaped cups often stand up and away from my body instead of lying flat against the skin – going down a cup size fixes this issue.
However, the 30DD was gaping massively on me which I've never had happen before, so I exchanged for a 28DD (equivalent to a cup-size smaller, and with a tighter band). Yet the 28DD cups still gape on me. Only a little bit, but I'd prefer yet another cup size down if it were available. Some bras are built with full-on-top shapes in mind, this bra is really, really made for full-on-top women.
The 28 band though fits true to size, as it's tighter than the 30s I usually buy. I think I perhaps spoke too soon when I tried a 28 band for the first time and declared they were definitely not my size – the Cordelia bra is way more comfortable than that one was. I'd probably go for a 28-band over a 30 from Playful Promises in the future.
Oh, and the knickers! I bought an XS / UK size 8 and they fit true to size and very comfortably.
Verdict: 5 / 10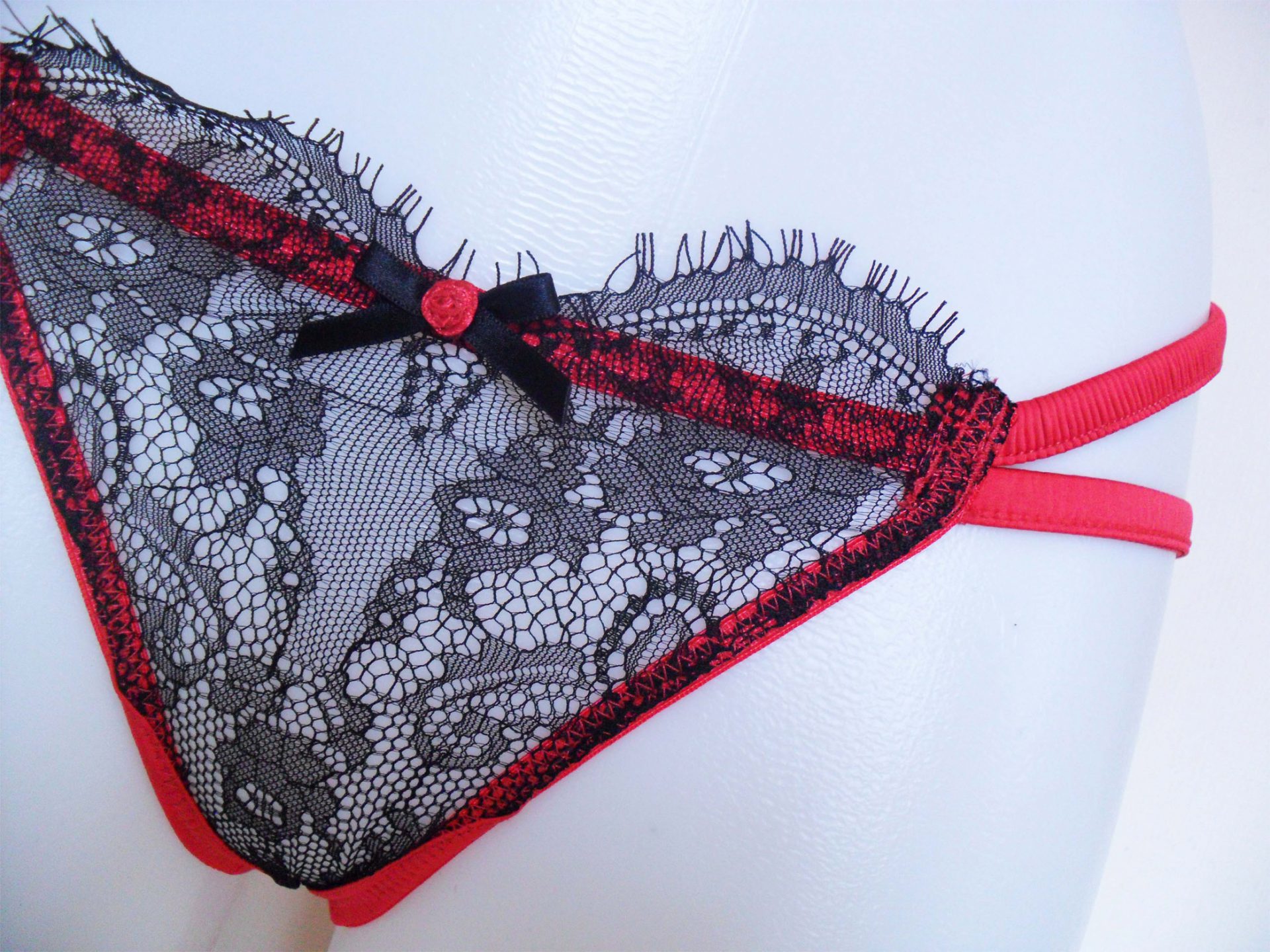 Durability
Playful Promises' Cordelia bra set is hand wash only, and is still in perfect condition after many wears and washes over the past 3 months.
Verdict: 9 / 10
Value for Money
The Cordelia bra retails for £55 and the knickers for £30, though on sale right now (and the price I paid) they're both £15 – an incredible deal on the bra especially!
Sadly, this bra just isn't made for my body shape and I wouldn't buy it again, but if you're a full-on-top girl it's a gorgeous and well-made set that is worth the money.
Verdict: 7 / 10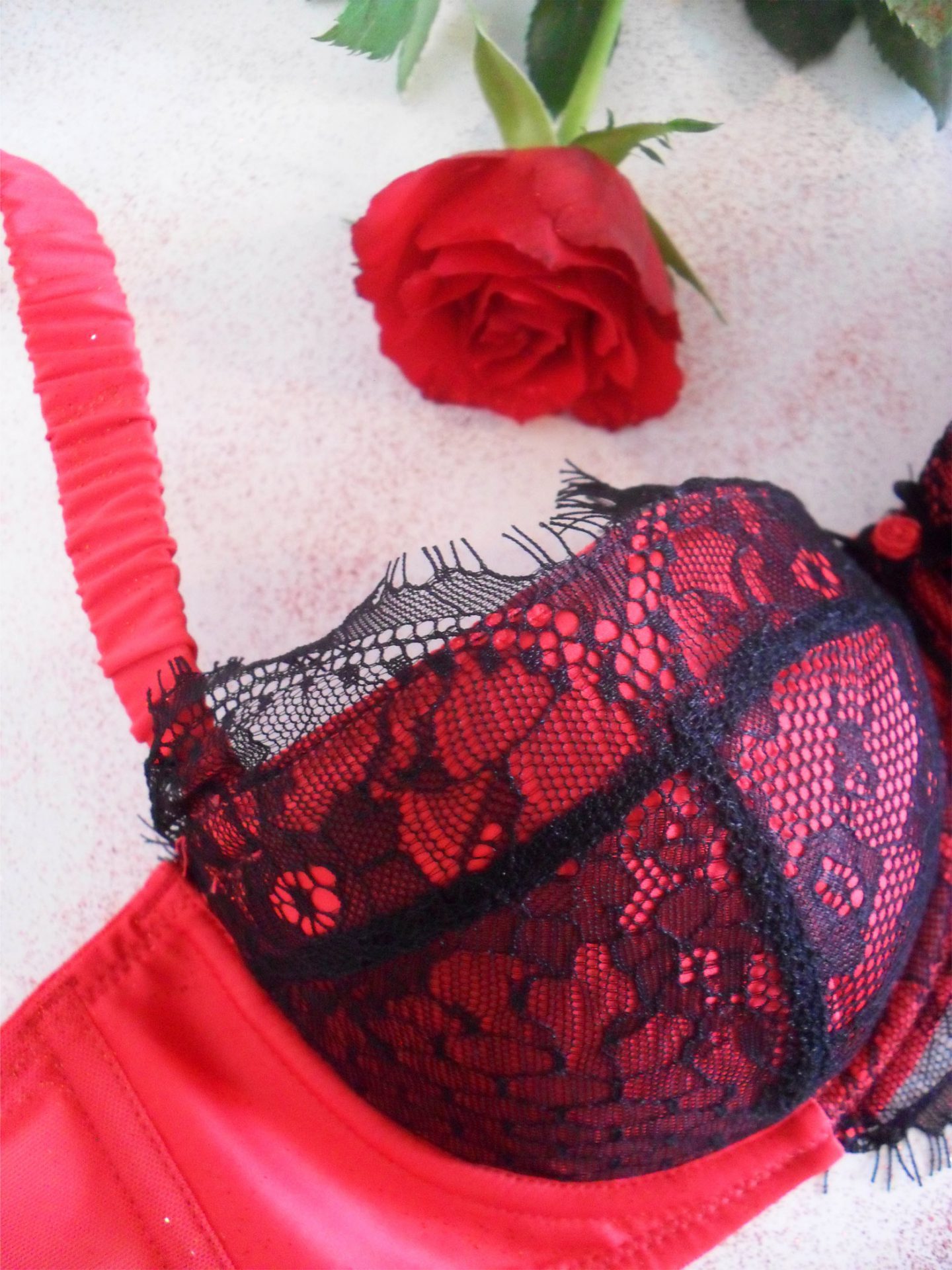 Final Thoughts
I was super excited about buying this bra set, but with the combination of the slight gaping and the constantly folding-over scallops, it just doesn't look quite how I'd pictured it would on me. I still think it's a pretty set, which is why I kept it, but I'd have returned it had I paid full-price.
Still, as heartbreaking as it is discovering that a piece you've lusted after just won't work with your body shape, it's great that there's another totally gorgeous lingerie option out there for women who do have full-on-top shapes. And for just £15 right now too!
What do you think of the Playful Promises* Cordelia bra and knickers set? Have you bought anything from their new DD-G range?