Today's post is part of my Careers in Lingerie series, a behind-the-scenes look at different jobs in the lingerie industry – what they're really like, and how to get into them. Previous installments include an online boutique owner and an owner of an independent brick-and-mortar boutique, and today I'm moving on to the role of managing a lingerie brand when it's owned by someone else.
I spoke to Jemma Barnes, the Managing Director of Anita in the UK and previously of Aubade, who reveals the many different tasks this job role entails, shows that you don't necessarily need a degree to land a similar position, and explains what personal qualities she'd be looking out for if she were hiring her own replacement.
Hi Jemma, thanks for joining the series. Can you start by telling my readers a little about the company you work for, Anita UK Ltd.?
Anita UK Ltd. is a subsidiary of Anita Gmbh, a German/Austrian company which is 130 years old and still in the ownership of the founding family, some four generations later. Anita has one simple goal; to provide functional, comfortable lingerie for ladies at every stage in their life and for every eventuality life throws at them! We have five sub-brands:
Anita Care – for post breast cancer surgery
Anita Maternity – for during pregnancy and then nursing newborns
Anita Active – for specialist additional support needed when exercising
Anita Comfort – for ultimate comfort, especially for those will a fuller form
Rosa Faia – for "big cup beauty" sized from A – I cup
We have lingerie and swimwear in all five sectors and also supply medical aids such as compression bras and silicon breast forms to ladies who have undergone breast surgeries. In addition to our retail operation, we supply many of the NHS trusts and their hospitals across the UK, as well as supplying many private clinics throughout the UK.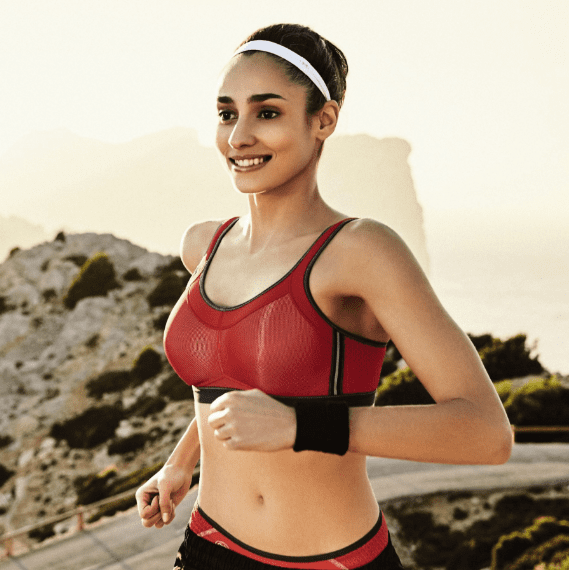 Anita Active Momentum Sports bra. 30-46 band sizes and A-H cup sizes.
You also head up Eloise alongside a brand manager. What is that company all about?
Eloise is primarily a mail-order company specialising in products for ladies who have undergone treatment for breast cancer. The company was set up some years ago and had a loyal following who relied on Eloise for choice, variety and good service. A few years ago the company was up for sale and in danger of ceasing to exist – so rather than allowing the company to close, Anita decided to buy the brand and develop it into a luxury mail-order company for fashionable and discerning ladies struggling to find beautiful lingerie and swimwear to wear with breast forms following surgery.
Whilst the majority of our customers like the ability to try on their intended purchase in the comfort of their homes, some highlighted the fact they would really love to have somewhere to come and be fitted and to be able to have advice on the best products to suit their individual needs. From this we decided to open the Eloise Fitting Suite in Milton Keynes, a private, comfortable and relaxed environment where ladies can come by appointment only to have a one-to-one fitting with one of our experts.
Anita breast prostheses and bra.
What drew you to the world of intimates?
Chance! I was originally going to be a Chartered Management Accountant, quite a different career path than the one I took. Still feeling a little young and naïve after finishing school and having grown up in a small village, I was not quite ready for the excitement of living alone in Birmingham, so I took a year out and went to work as a management trainee in family-owned department store chain Beatties, in Northampton. My first department as a manager, having graduated through the scheme, was Childrenswear and Lingerie… from that day forward I was hooked!
I never made it to university, I loved the products, especially all the beautifully-coloured silks and laces. I loved the emotional connection with customers – fitting them with garments for weddings, first dates or simply something to make them feel better. Generally after half an hour in a fitting room together we were connected, and the satisfaction of making them feel comfortable in my care and confident in their body and their purchases is a joy that's never left me! I still get the same feeling of satisfaction now when I have done breast form fitting in a clinic at a hospital, or in the Eloise suite.
Anita Maternity Kamaka tankini. 30-38 band sizes and C-D cup sizes.
You have the rather lofty title of Managing Director! What does being an MD involve exactly?
It means that I have to have a title that satisfies the legal requirements and Companies House! I'm not a big believer in titles or pigeon-holing people accordingly. What running a small company like Anita means is a lot variety and a big commitment. I love my job and the fact that I have to wear so many different hats and be so many different people as and when the need arises.
I run the sales force, the office, the clinic fittings and the company cars. I'm responsible for marketing and overseeing the PR agency, I organise the exhibitions to promote the brand and its products, I run the companies' budgets and forecasts and am responsible for sales and financial performance. I work with the designers giving commercial input and feedback, I liaise with the parent company on pricing, marketing and brand identity, I run training courses for retailers and breast care nurses, I run the Eloise subsidiary… I even make tea and put dustbins out!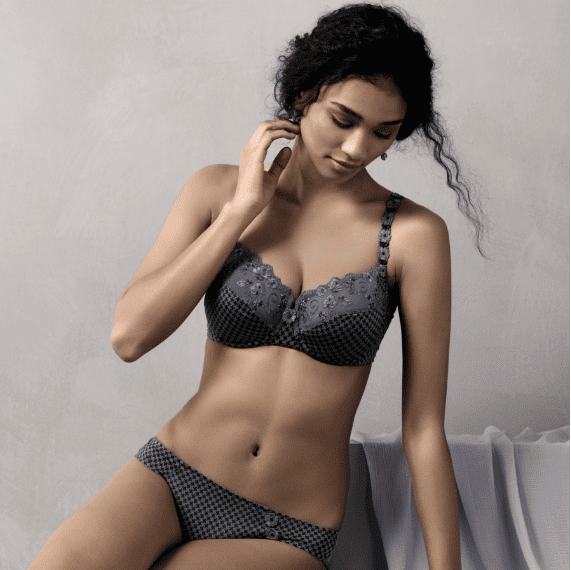 Rosa Faia Josephine bra set. 32-42 band sizes and B-H cup sizes.
So your job involves a dash of sales, a dash of marketing and much more besides. It sounds super varied! Do you have a particular bit that you enjoy more than the others?
I always have been and will always be a sales person at heart. Give me a product I believe in and put me in front of a buyer at a trade fair, or in the Eloise fitting suite with a customer, and I'm in my element!
And are there any parts you find tedious or difficult?
Budgets and forecasts – in this ever changing economic environment it's so difficult to predict and plan. I'm a perfectionist and I hate getting it wrong , but getting it right is harder and harder every year!
Rosa Faia Vienna bra set. 32-42 band sizes and B-G cup sizes.
What's your career and education background, and how did it help you to land this role?
My education ended after my A-Levels. Spurred on by a headmaster who told me to use my long legs and other charms to find a good man as I would never amount to anything, I was very determined to prove him wrong. As I mentioned earlier I had originally planned to be a management accountant and had a place at Aston University, but a chance chat with a girlfriend on a bus led me to apply for that Management trainee role in a department store. I progressed well in this role and was successful quickly, and it soon became apparent that I performed better in a hands-on training and learning role.
In addition there was another simple truth; I was earning a wage and so I could buy nice clothes and go out clubbing, whilst my friends at uni were all 'poor students' scratching around for an odd night out! I decided that staying on and developing a career in retail was definitely the path for me. Any formal qualifications ended after Beatties, from there it was the university of life – I moved from Sales Rep to Area Manager, then to Key Account Manager, Field Sales Manager and National Sales Manager. I did come up against male discrimination along the way and refused to give into the 'boys club' or the need to use my charms, as per my headmaster's advice. Hard work and doing a good job always paid off – I was eventually headhunted for my first position as MD, for Aubade, by reputation after being recommended by several of my satisfied customers.
My interview with the co-owner of the company was an experience I will never forget. I sat down on her stand in Paris and she asked me a few very practical questions, then at the end of the formal interview she put a set of her lingerie in my hands and asked me to sell them to her. They were beautiful pieces – I took a moment just to feel the, touch them and understand what they meant and represented, then I launched into my sales pitch! At the end of the interview, I was immediately offered the job. She said "Before you opened your mouth to describe the products I had already made up my mind to offer you the job – because of the way your eyes lit up when you held the product". I guess if you have a real passion for something then it always shows through.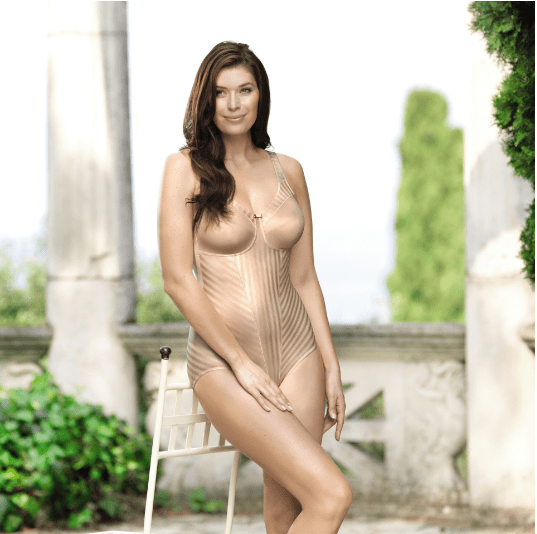 Anita Comfort Manhattan corselet. 34-50 band sizes and B-E cup sizes.
Last one – let's imagine for a moment that you're hiring for your own replacement. What skills do you think is desirable or necessary to be the MD of a large lingerie brand such as Anita, and what would you look out for on someone's CV?
Oh my gosh, that would be so hard! I had to do it once before when I left Aubade and actually in the end I couldn't, I left it to the HR department. I was too emotionally attached! I'm not saying I'm irreplaceable, not for a moment, but I have only ever taken on the role of MD of companies that I really believe in, that I understand and that I am passionate about. To date they have also been family businesses where the owners have really welcomed me into the fold and treated me like part of their extended family. As such I have a fierce loyalty to their brand and everything it represents – I treat the company like it is my own. I worry about every penny I spend and invest, I take care when I recruit to make sure I have the right people with the right outlook, I commit heart and soul and always want to achieve growth, profit, increased brand awareness and an improved reputation for service.
I would be looking for the same kind of qualities and the same commitment and passion, someone who wasn't just looking for a wage and a nice car! I would want someone who wanted to understand the company and its products and would embrace all that is good about it, but show a commitment and drive to enhance the good and respectfully address any problems or failings.
Thanks so much for sharing some insight today into what it's like managing a lingerie brand. Where can my readers find you online?
---
Click here to see the rest of the Careers in Lingerie interview series, and subscribe to the blog if you want to make sure you don't miss future instalments! If you're looking to buy any Anita products, you can get them from Amazon or find a stockist here.
What would you like to see me focus on next for this blog series? Is there a particular job in the lingerie industry that you're keen to learn more about?