Disclosure: Links with a * are affiliate links.
Looking at Helen Valk Varavin's* designs is like peering into a lush fairytale. There is definitely something magical about these luxe underthings, which are often named after famous mythological women and are designed "with modern goddesses in mind".
Between the elegant cuts and gorgeous colours and patterns, Valk Varavin combines the timeless beauty of silk with new, innovative styles – even the most committed lover of silk will be impressed by how skillfully she transforms this luxurious fabric into wearable art. Plus, with each design you can choose between up to 16 colour options, ranging from earth tones to brighter colours such as wine red and watermelon pink.
My personal favourite design of hers is the Astrild Bra*, a bralette that features a lace-up front reminiscent of a corset. I also love the decadent silk-chiffon ruffles on the Iris Suspender Skirt*. But really, what's not to love about her entire collection?
We've been loving Helen Valk Varavin's designs for a while here at Esty Lingerie, so it was high time we got to know her better! I had the chance to talk with Valk Varavin about her inspiration, her journey as a lingerie designer, and what it's like to own a small business in the age of COVID-19.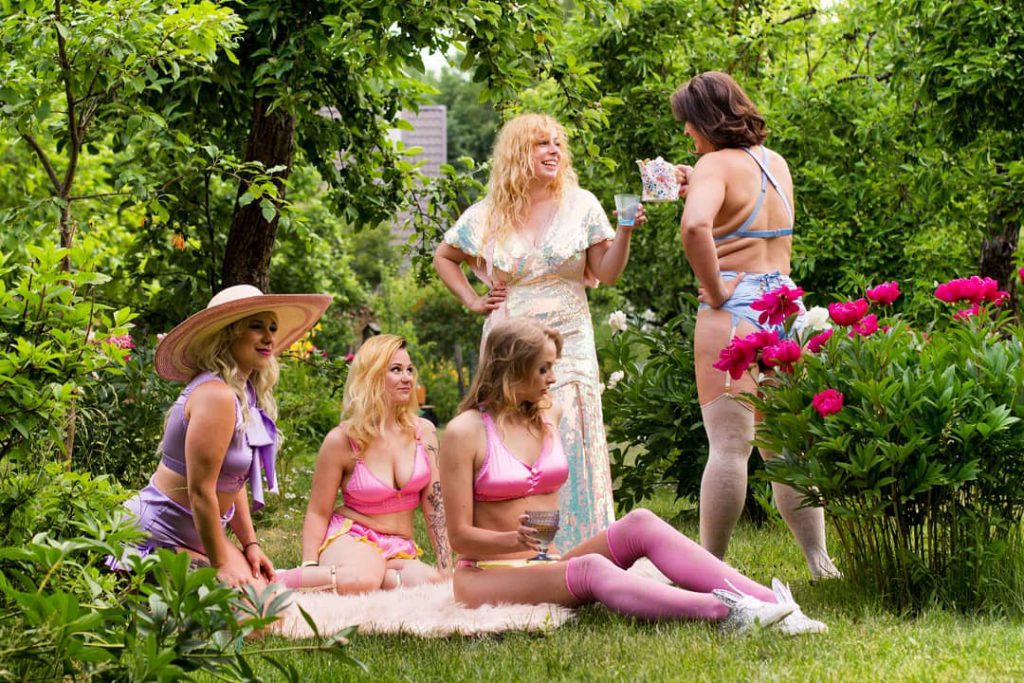 The world is upturned right now due to the COVID-19 virus and the economic impact it has had. How has your brand been impacted?
It started at the beginning of February for me when my suppliers couldn't return to work in China. I was down to one last golden metal tag with my signature hummingbird when they were finally able to return to work and make new ones for me. Thanks to that, I got a bit of an early start on understanding how serious the situation could become and was able to prepare for it a bit better than many other small businesses here in Estonia and worldwide.
So because I got an early warning, I had a plan for working from lockdown: a list of things I should move from studio to home if I wasn't allowed to go there, [making sure I had] more materials in stock etc. I feel very lucky it did not come to full lockdown in Estonia. I work alone in my studio, drive here alone in my car and have arranged for a no-contact pick up with the courier service.
While I felt prepared, it was still a complete shock, I never imagined the whole world would come to a standstill. The biggest surprise was the collapse of the mail service, because passenger planes stopped flying. It was pure luck that just a few months before the crisis I was finally able to get a reasonable price from DHL Express. They have their own planes and not one package has been delayed with them. 95% of my customers are international, so the option to ship everything with DHL literally saved my business.
What kind of response to COVID-19 have you seen from your customers? Have you felt supported or encountered any problems?
My clients have been so sweet and supportive. I literally dropped a few happy tears reading their messages. In the first two weeks of the pandemic my sales dropped close to zero; everyone was busy just surviving. This was a big scare, because as with most small businesses I operate on tiny margins. Running a one woman lingerie brand is very much a lifestyle option that doesn't include big financial reserves. So I moved the sample sale I usually have in June to March, and with the support of my loyal and many new customers my business bounced back. We have now returned to the normal amount of sales and I feel nothing but blessed.
When did you know you wanted to be a lingerie designer? Tell us about your path.
I finished art college with a degree in textile art and design 10 years ago. When I was still in college I created statement jewellery, and my business actually started as a jewellery brand. In addition, I also created bespoke silk dresses for my clients. A silk dress has been my favourite outfit for a long time.
About seven years ago, after taking my full bust on a very unhappy trip to a lingerie boutique, I got thinking: it would be a lot nicer to wear silk lingerie under my silk dresses. Despite my full bust I love bralettes and open back dresses, but a wide line of hooks doesn't really complement an open back…I thought, there must be others like me out there. Before I ever sold a bra I taught myself to create lingerie patterns, for barely-there beautiful undergarments that still support a full bust. Then I sewed and sewed and sewed until I had a quality I felt good about. This took about six months and I continue to strive for higher and higher quality with each piece I make.
It wasn't until a year ago, so six years into lingerie design, that I felt this is 100% who I am and how I want to express myself. Up until then I continued to make jewellery and bespoke clothing for my local customers. I love being a 100% lingerie designer, it feels so good concentrating on one thing! I can't wait to get up in the morning to get to the atelier.
What drew you to silk in particular? Did you experiment with other fabrics first?
I fell in love with silk in art college. I knew it was one exquisite material and asked my father to bring me back enough silk for one dress from one of his trips to India. I became obsessed with silk dresses and was always on the hunt for affordable silk fabric on the budget of an art student. So when I started creating lingerie, it was never about just lingerie, it was always about silk lingerie.
One of the things I love the most about your products are the colours they come in. It's not everyday we see real, high-quality silk in such delicate shades of lavender and turquoise! What does the dyeing process look like for your products?
Haha, yes, I'm a total colour addict! This is why I have such a wide selection, I love all colours equally. I have been working with the same silk mill since day one and many of the colours come from their beautiful selection.
It wasn't until this spring that I was finally able to afford custom-dyed silks. The custom-dyed lagoon blue and watermelon pink turned out wonderfully. They are dyed in the mill. From my studies in textile design I know hand dyeing will always create a lot of colour defects. While this can be turned into an effect, it also means there could be a lot of material going to waste. Creating minimum waste is very important to me.
What is your favorite thing to design?
It has always been about creating the perfect bra. There are many in my selection, because the perfect bra can be very different for different bodies, styles, occasions, etc.
What's your favorite part about your job?
I love being my own boss, spending my days and nights creating beautiful and useful things. I worked enough for others during art school to know that all the challenges of running your own business are worth the rewards!
That's so true! Have you found that your career as a designer and small business owner is different from how you expected it to be?
It has been a million times harder and a million times more rewarding than I ever imagined. I think it's great I got into it young and naive!
I love that you design silk boxers and briefs for men. What has been your experience of designing for men versus women?
I started creating for women out of my own will, but then men asked me for it. I got so many requests about silk underwear for men that I just had to create some.
Men are often more vocal and confident about their wishes. It is quite common to get an order with a note: "Hello, I'm a man and this is for me, can you customise it." And I respond with, "Yes, of course, here are the alterations I usually do…". Women very often start with an inquiry, asking if I could create something for their curves and full bust. And when I have responded with, "Yes, of course, this is what I'm here for", then they put in their order.
My designs are for everybody and every body.
I can't think of any other brands from Estonia! Do you think your location there has impacted your brand?
There are not many lingerie brands here. When it comes to lingerie design, I have always felt part of the worldwide community of indie lingerie brands and lingerie lovers.
What would be the one word to describe how you want people to feel when they wear your designs?
Divine.
Anything else you want our readers to know?
My Instagram continues to be the best place to keep an eye on my brand and special deals, I do offer them regularly as a thank you to my supporters and followers.
---
As a special thank you to our readers, Helen Valk Varavin is offering you an exclusive 15% off coupon code for use on her website. Just enter ESTYISAWESOME at checkout at HelenValk.com, valid until 30th November 2020.
Which is your favorite Helen Valk Varavin design? Let us know what you buy with your discount code!