I first heard of Queen of Suburbia back in 2016, when the brand was just getting started. The designer behind the brand, Megan, was a lingerie blogger for a few years before she decided to start making her own lingerie, which she now sells through her website and Etsy store.
Even back then, when Queen of Suburbia was fresh and still developing as a brand, I remember being amazed at the fabrics she used in her designs. Later, after more and more people started purchasing her products and leaving rave reviews, it became clear that Queen of Suburbia really shined with it came to fit, too. Back in the day, Megan's blog (which is no longer online) often focused on finding lingerie with the perfect fit. Discovering lingerie that fit her correctly helped her gain confidence and live more comfortably, so finding the right fit was an issue dear to her heart.
As a designer, Megan is passionate about creating lingerie that fits perfectly for every body. No more garter belts that dig in, bras that pinch and gape, or knickers that ride up. With the catchphrase "In Bust We Trust", Megan focuses on helping her customers feel comfortable throughout the day. (Plus, she still features stunning fabrics, just like the ones that caught my eye years ago!)
I've loved watching Queen of Suburbia develop and grow over the years. That's why I'm so excited to share this interview with you today! I spoke with Megan to find out more about her business and her life as an independent lingerie designer.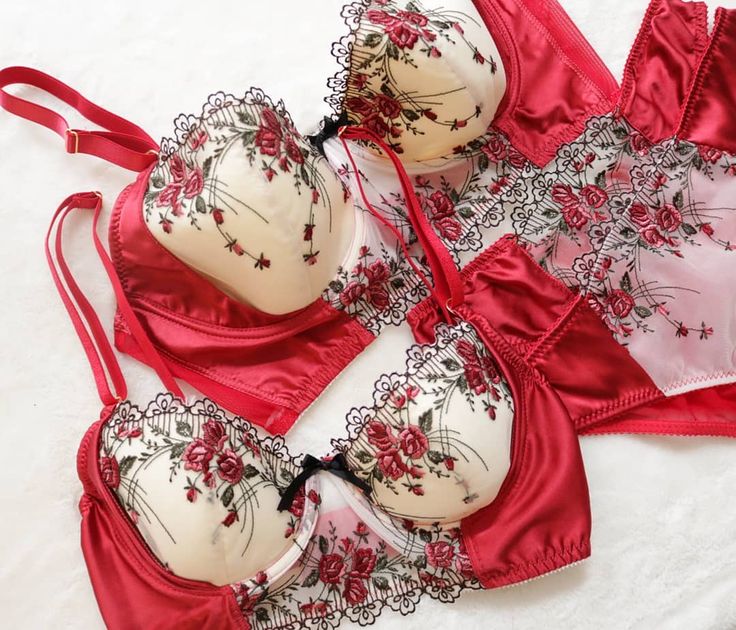 Megan, I'm so glad you could join me today! Let's start with a few speedy questions so our audience can get to know you:
What was the last book you read?
The last book I read was Murder on the Orient Express… again. It's my favourite.
What's your favourite thing on TV right now?
I don't know about 'favourite', but I just watched The Witcher and really dug how the costuming looked! It was good fun.
When you were younger, what did you want to be when you grew up?
A vet up until I was 12, and then once high school hit I wanted to be the next great thing in fiction writing. Still holding out for the latter one!
We're holding out for you too! As long as you still have time to make lingerie, of course. Now, let's move on to some longer questions… So, you started out as a lingerie blogger before becoming a designer. What made you decide to make that switch?
This is going to sound terrible, but I was a pretty broke student buying designer lingerie as often as I could afford it for my blog. I remember thinking, "it can't be that expensive to produce" and then I researched ways to make it myself. I even tried hand-sewing a bra cup once, before I invested in a sewing machine – and fast forward years later and after a lot of wasted materials, and I can assure you that it really is that expensive for a reason.
What did you think of the lingerie blogging community?
Ultimately, I found them to be pretty welcoming – although I was a bit intimidated when I was interacting with a lot of the blogs I'd been reading for years. I was like, "okay, just be cool". I was not!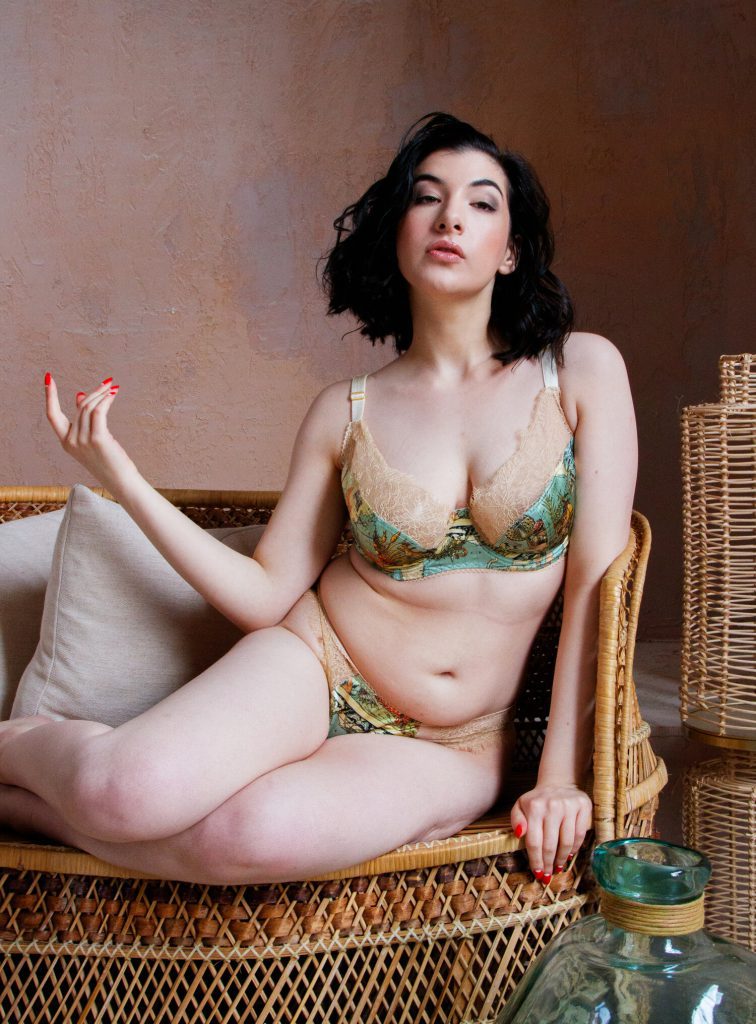 When did you know you wanted lingerie to be a big part of your life?
I don't know if it was ever a specific moment when I was like, "I want lingerie to be the thing I talk the most about at parties", but I remember looking at an indie lingerie designer's Etsy and seeing the happy customer reviews, gorgeous product shots, and getting to design and be creative, and I thought "I want that".
One of my favourite things about your designs is the fabrics. You do such a great job of getting the most delicate and lovely laces and sheer patterns. One of my personal favourites is the Blossom Bra & Panty, which I love for its exquisite embroidered tulle. What does the process look like when you're sourcing fabric for a new set? Do you design the fabrics yourself or do you find fabrics out in stores that inspire you?
I do both! I've been doing some fabric design (my Eleanor set and the Traveler set both have fabrics exclusive to Queen of Suburbia) but overall when I'm in a fabric shop, I look for something that 'speaks' to me. I need to be able to look at it and know exactly what I'm going to use it for within 4 seconds or it gets put back. Like most designers, I also hoard fabrics until I'm ready to cut into them confidently. That Blossom embroidery is from a little shop in Australia that I went to three years ago.
You've said that you feel passionately about helping people find undergarments that fit perfectly. Do you have any hard-and-fast rules when trying on lingerie to determine if the fit is right?
Yes! How do you feel in it? If you're comfortable, it fits – and if you're comfortable, you'll feel good throughout the day. Something can fit 'technically' perfectly and still dig in or itch or whatever; ultimately, your comfort is the priority and if you're comfortable all day long in something, keep it. If you can't wait to get it off of you, look elsewhere. I have this rule about lingerie that I personally wear: for a new style, if I can't wear it for the entire day, or I desperately want to take it off throughout the day, it's not ready to go in my shop. I recommend the same rule for trying on lingerie.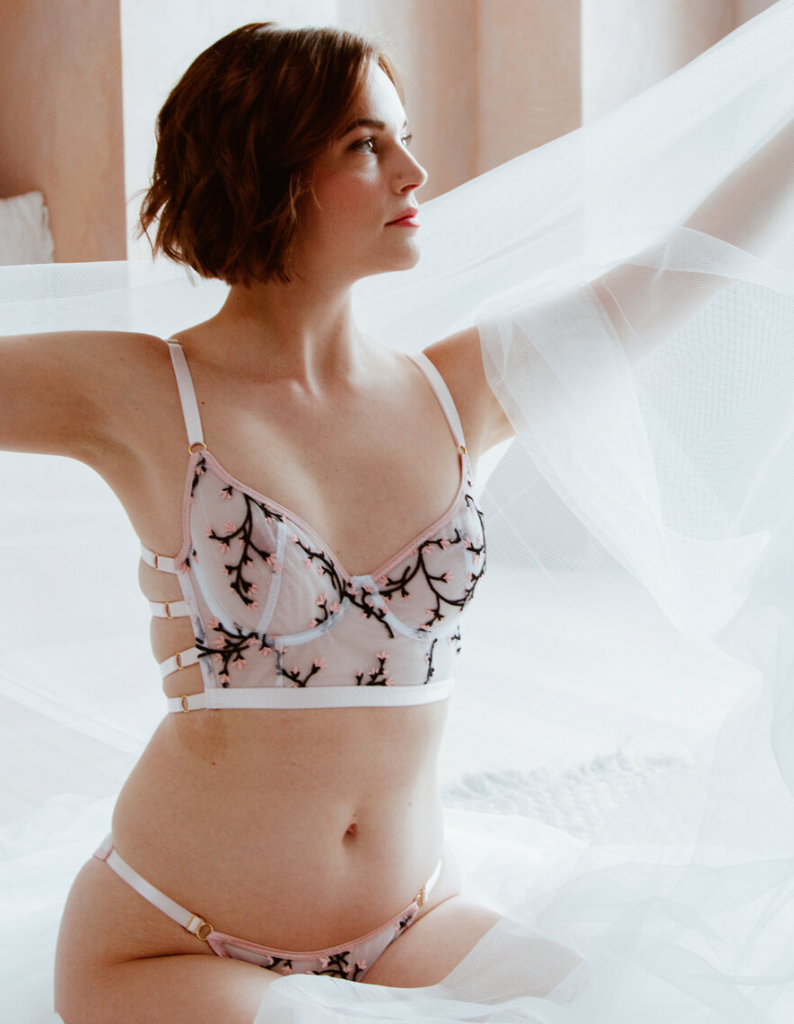 What's one thing that has surprised you about starting your own business?
Two things really. One is that it's very, very hard. I wasn't expecting it to be so difficult. Two is that I didn't know people could be so kind and nice. I firmly believe that my customers are some of the best people ever, because of how genuine and kind a vast majority of them have been.
What are the next steps you want to take with Queen of Suburbia?
Well, how long do you have? Just kidding! I'll be brief. I just hired my first employee (yay!) and she's been fabulous, so we're growing that way and we're also going to be producing inventory, a bridal collection, and swimwear all this year.
If you could tell yourself anything back when you were first thinking about starting Queen of Suburbia, what would you say?
Hurry up and do it, because it'll definitely take you a while to produce something sellable.
Is there anything else you want people to know about yourself or your brand?
We love custom work and we love working with you to make the lingerie of your dreams come true. We can do pretty much most sizes.
---
Sounds like it's going to be a huge year for Queen of Suburbia! I can't wait to see what she does with her bridal and swim lines. And how cool is it that she designs some of the fabrics herself?!
Your turn, reader. Tell me, had you heard of this brand before? What's your favourite Queen of Suburbia design?
[This post has been updated since publishing to remove all product links, as Queen of Suburbia has closed down and no longer has a website.]