Disclosure: I bought the What Katie Did and Trasparenze pieces featured here myself, whilst the Charnos tights were sent by the brand for review. This blog post contains affiliate links.
I'm not generally a fan of winter (Christmas excepted, of course), but I do like that I get to experiment with hosiery. For me, aside from being practical for warmth, it's a fun accessory that adds an extra element to my outfit (especially since I don't wear much jewellery), and that's something I miss in the summertime. Hosiery can completely transform a look, like sparkly tights to glam up a plain dress, or it can subtly complement it, such as a colour-coordinated seam.
It's also, usually, an inexpensive little treat. I've written before about why I buy a lot of my lingerie on sale, but hosiery has always been something I've usually paid full price for. When a bra set can easily set you back £50-£100, picking up a £15 pair of stockings satisfies my shopaholic urge to have something new without denting my bank balance in the process.
Today I'm reviewing all of the hosiery that, along with my new thermal tights collection, I've been more or less living in this winter.
What Katie Did Seamed Stockings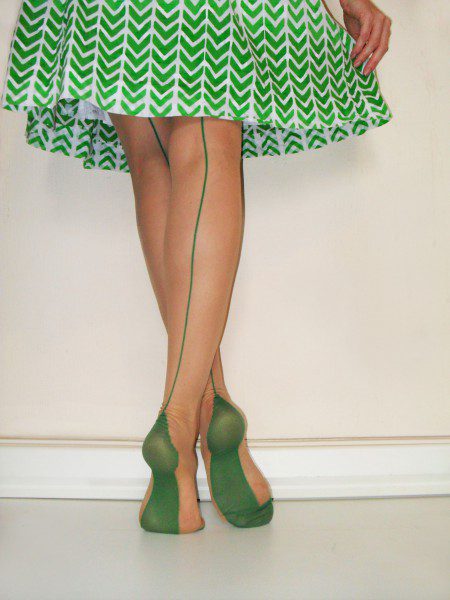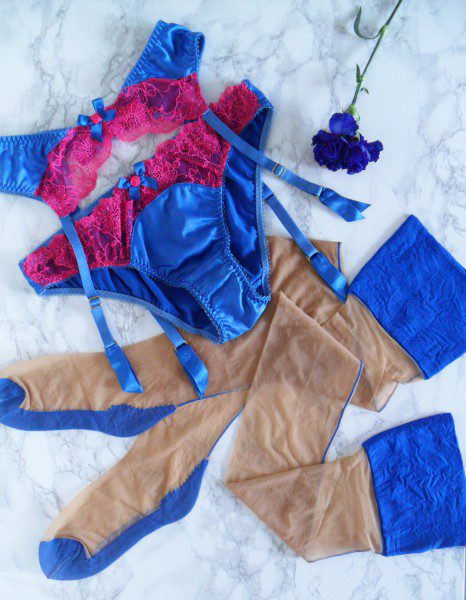 Nothing makes me feel as 'pulled together' as wearing matching colours and I try to coordinate my outfit every day, so I've always been a little frustrated by how hard it is to find stockings to match each suspender belt I own. No longer!
Thanks to What Katie Did I finally have hosiery to match two of my very favourite bra sets, my emerald green Lilly Wiggler Couture set and my L'Agent Marisela. I did have blue-topped stockings for that one from Cervin already, but they're non-stretch so they wrinkle, plus the 'melon' leg makes my skin look a bit sallow. I much prefer my new What Katie Did ones, which are a near-perfect match for my pale skin and fit like a dream too.
I bought these stockings in black in 2014 before these new colours were released (review here), and I've lost count of how many times I've recommended them since. They've gone up in price from £8.50 then to £10 now, but that is still excellent value for the quality you're getting. I still own and wear that original black pair! As well as the green and blue, I'm loving the red and burgundy. Pretty please can these be made in purple too? My Agent Provocateur Hyacinth set is getting jealous…
Trasparenze Platino Tights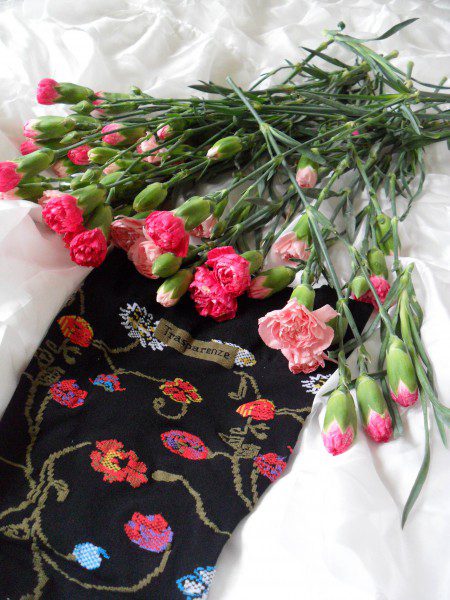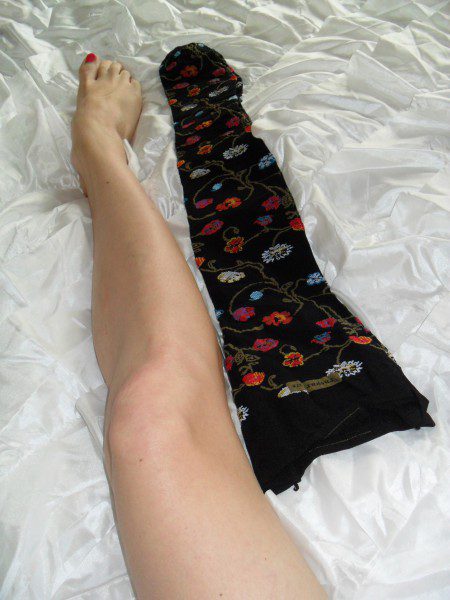 I added these to a SockShop order on a whim because I'd never seen tights like them before. I've seen printed floral tights and floral lace ones, but I don't remember seeing any with colourful flowers knitted right into the fabric. I think they're gorgeous!
I did laugh when I took them out the packet though – they were comically small. Admittedly that's not the first time that's happened, I've bought stockings that looked more like knee-socks before, and they are very stretchy. Just not quite stretchy enough. I'm comfortably within the height guide and near the bottom of the weight guide for the size that I bought, yet the crotch is still a couple of inches too low. I'd recommend to size up in these.
Size aside, they're lovely and fairly good quality. SockShop no longer has them in store and they do seem to be selling out across various retailers, but you can currently pick them up from The Tight Spot, Jolie Lingerie and others if you're fast.
Charnos Cotton Cable & Ribbed Tights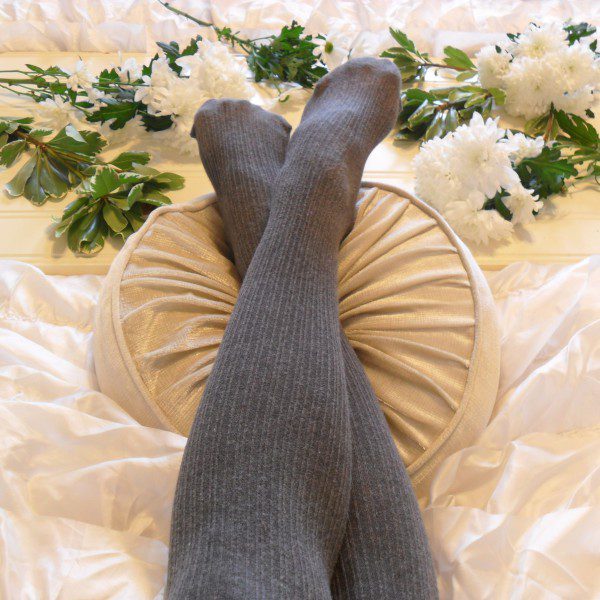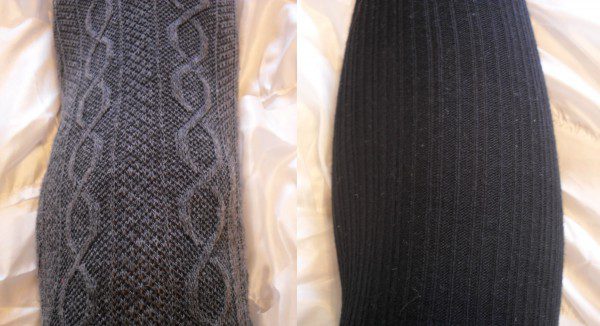 If you've read my list of nylon alternatives you'll know I prefer, where possible, to buy hosiery made from natural fibres. I've tried silk, wool and cashmere hosiery, but I hadn't gotten round to trying cotton until Charnos kindly sent me a few pairs of tights to try out. Two are the Luxury Ribbed Cotton Tights (almost sold out, available here), in black and grey, and the third pair are the Cotton Cable Knit Tights (available here, here, here and here).
The 'cotton' in the name is a bit misleading as they are both actually a cotton blend; the ribbed tights are 77% cotton, whilst the cable-knit ones are primarily nylon and a mere 21% cotton. That 21% must be enough to make a difference to the breathability of the fabric though, because unlike your typical 90+% nylon hosiery, I didn't find either of these itchy at all. They both feel equally soft and stretchy too.
The ribbing and raised cable-knitting also help these tights to feel nice and cosy. They're warmer than a regular pair of opaque tights, but not quite so warm as a plush-lined thermal pair. Considering that they only cost between £10 and £12 per pair, I think they're great!
Which design from today's post is your favourite? Which hosiery brands have you been wearing the most often this winter?