Disclosure: I received this bodysuit free of charge from Honour to review. 
Latex has increasingly become a more mainstream fabric in the fashion industry, and my own collection has slowly grown over the past year or so. Most recently I was offered a piece to review by Honour, a British-based company who specialise in fetishwear, toys, and accessories.
There was certainly plenty to tempt me on the website, and I initially thought about choosing a more traditional lingerie item like a bra. However, as my measurements don't fit into standard cup sizes (and Honour tends to use S/M/L as a sizing method), I thought a bodysuit would be my best bet. In particular this Cold Crystal Latex Body which I thought had a lot of potential for outerwear styling. After checking my measurements against their size chart, I decided to go with a Large. For reference I typically wear a UK size 12.
Honour also sent out a dressing aid with the bodysuit, which can be used to ease sliding into the suit and also for polishing the outside of the latex to a high shine. These pictures really don't do justice to just how shiny I can get the bodysuit, as I had to quickly get dressed and take pictures before the dismal British daylight disappeared. So bear that in mind!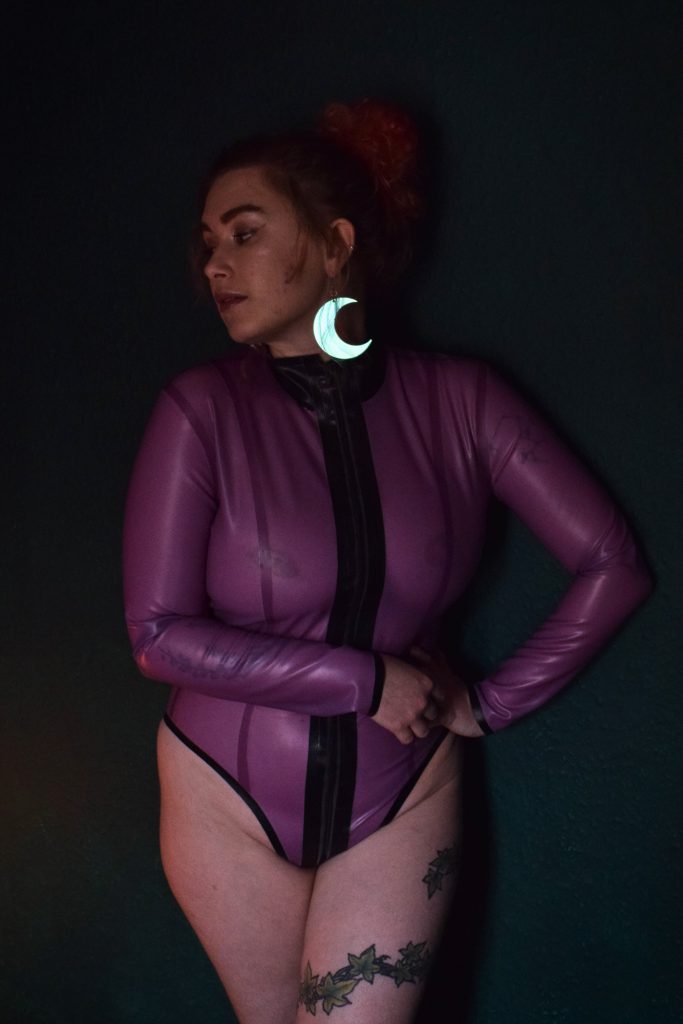 Construction
As you can see, the bodysuit is made up of a number of different panels which allow it to contour the body. Latex is often referred to as "second skin" and the design of this piece is definitely meant to emphasise this quality of the material. The zip wraps all the way round to my lower back and has four different pullers, presumably to allow the crotch to be exposed without having to unzip from the neck.
I can definitely tell the difference in the bonding between the layers of latex compared to higher-end pieces I own – especially as there are places where the seams aren't completely even – but I do appreciate that latex is a really difficult material to work with, and I'm really happy with the quality of this considering the price point (£94, approx. ~$121 / 106€) and the fact that it's not made-to-order.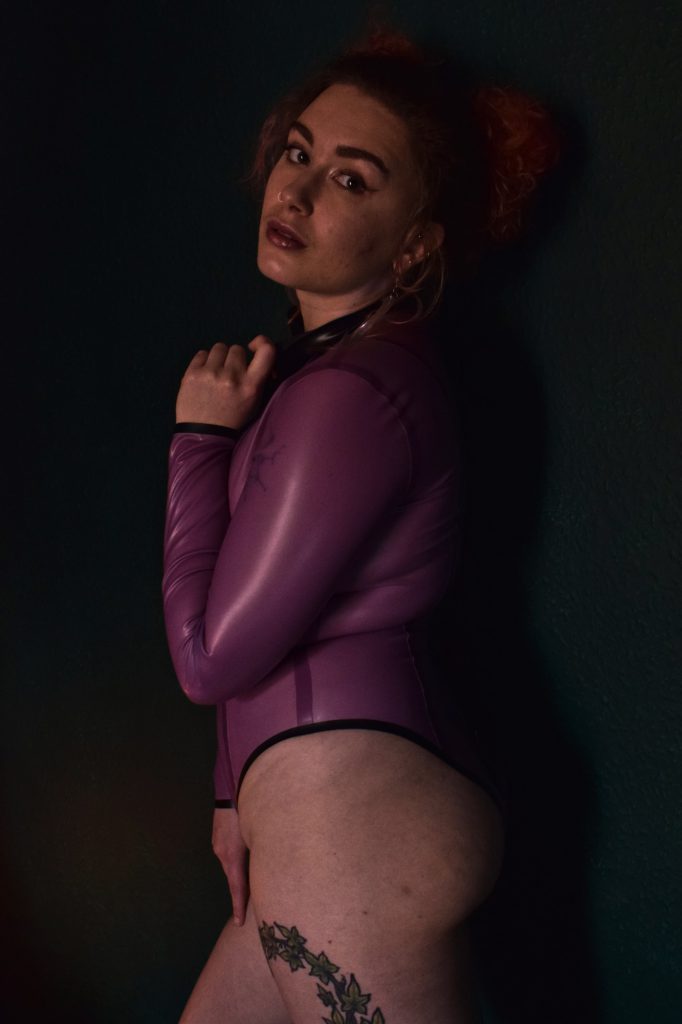 Fit
Latex clothing often appears too small when you first look at it, as the material has a lot of stretch. In this case I definitely feel a bit of a squeeze while zipping myself in, but that's all to be expected! I love the way the bodysuit hugs my curves and smooths over my body.
As I am 5'3″ I sometimes find bodysuits too long for me, but this one feels like an ideal length. I'm not sure how someone significantly taller than me would fare, as the latex would definitely stretch but the zip may make things uncomfortable.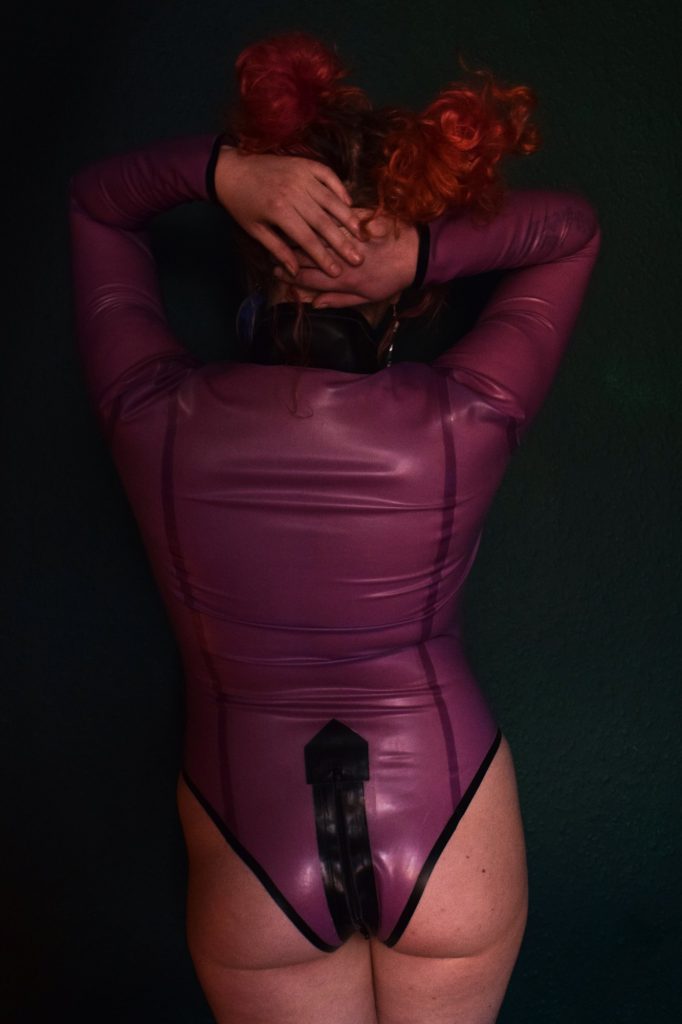 Wearability
The fit does make it a bit difficult to stretch my arms above my head, but it's not like I'll be reaching for the top shelves in the grocery store while wearing this. Otherwise my only complaint is that I'm absolutely terrified of the zip running through my crotch, however as it's designed as fetishwear I imagine the benefits potentially outweigh the risks for many.
This is my most full coverage latex piece to date, and I really enjoy the sensation of the rubber encasing my body. If you've never tried latex before then you may want to try a smaller, cheaper option like a pair of pants. Latex easily adapts to temperature (hot when you're hot, cold when you're cold) and isn't breathable, thus trapping any moisture inside. These are definitely things to remember when considering a latex purchase!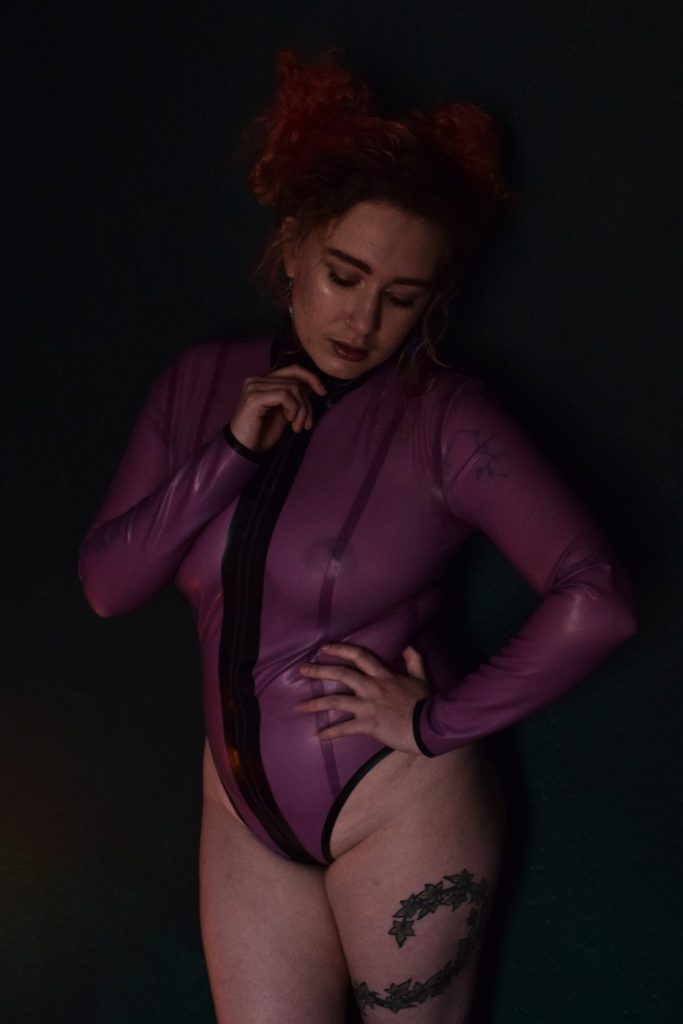 Conclusion
Overall I'm really pleased with this bodysuit. The quality is firmly in between my cheaper and more expensive pieces, and it feels sturdy enough to provide some support, while being stretchy enough to be comfortable on my body.
I feel like a sci-fi space princess when I wear it, and I'm definitely going to use this as an excuse to buy a latex skirt in the future so I can complete the outfit!
Have you tried latex before? Do you think it should be kept purely for fetish, or do you welcome it into the mainstream?