Disclosure: I received this subscription box free of charge to review. Links with a * are affiliate links.
Last year I reviewed and compared five lingerie subscription services. Empress Mimi* was one of them, and one of my two favourites. Since then, they've changed things up a bit. One change is that each month now comes with its own theme, right down to a custom artwork on the box. So the packaging is different to before, but it still has a luxury feel to it. Definitely a bonus if you're looking for a subscription to give as a gift.
To recap from my earlier review, unlike some lingerie subscription services, Empress Mimi doesn't send you a personalised selection based on a style questionnaire. All of their customers get the same products each month. I expect this helps them to keep their costs down, by ordering lots of the same item. June's theme is 'Honey Bunny', and the 'The Empress' box includes a bralette set, a robe, a pair of handcuffs and a headband with bunny ears.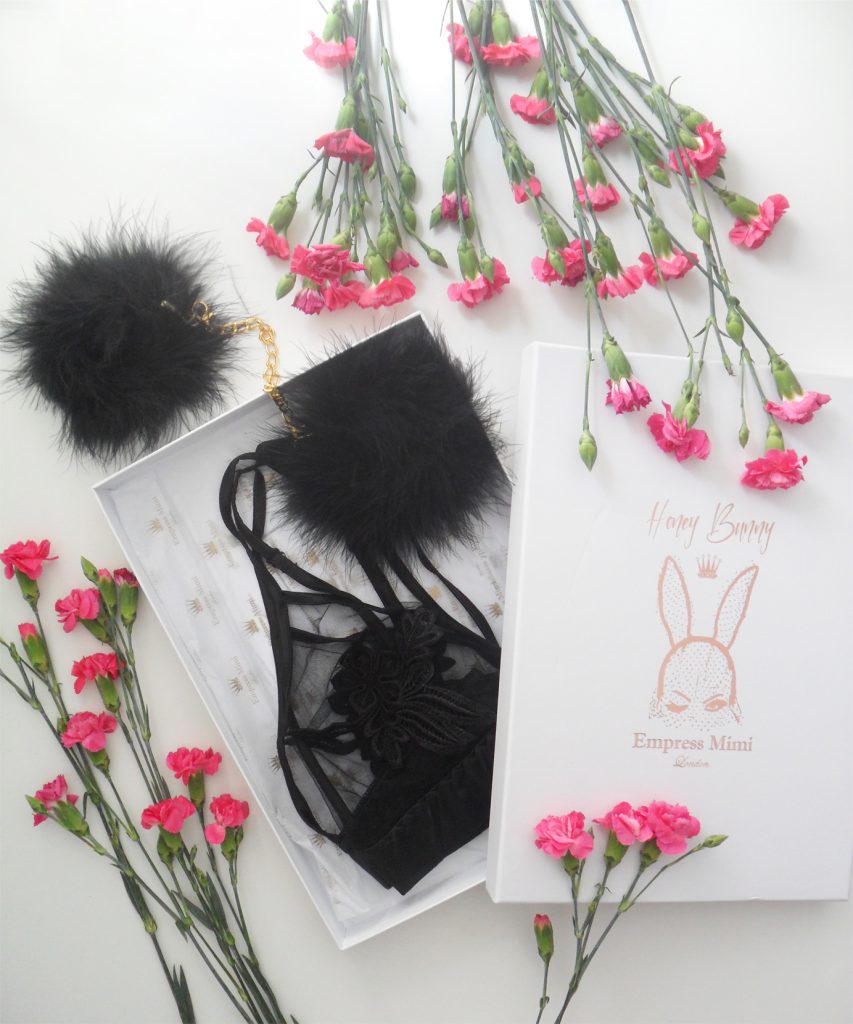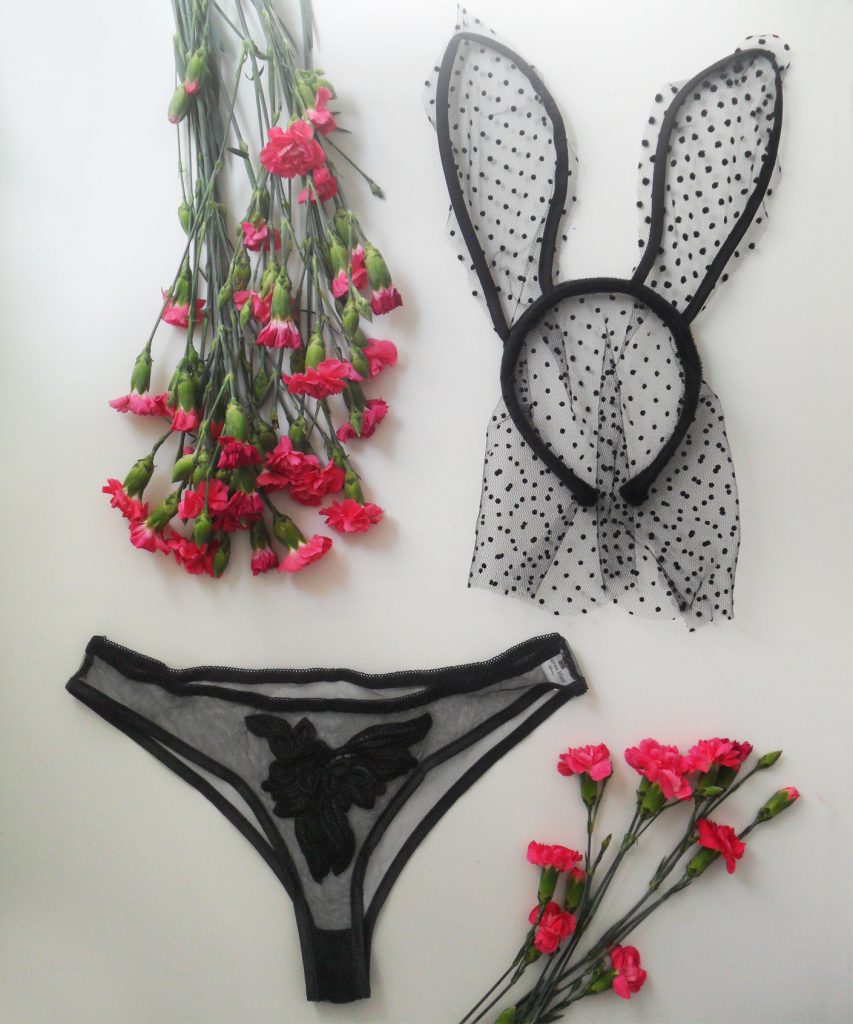 My first impressions were mixed. On the one hand, I find the designs really fun. I love the marabou! And the bralette set, while nothing new aesthetically, is still a very on-trend kind of style. On the other hand, the quality is only so-so.
Although the website talks about "high performance materials and decadent silks", the lingerie here is made from a standard-looking mesh and what I'm almost certain is a polyester satin. The seams are mostly overlocked together, and after one wear I noticed a small section of the robe's shoulder seam that had come apart and needed sewing back together. The headband feels pretty flimsy, although the cuffs at least seem better-made.
Last time I reviewed Empress Mimi I said the following, and after giving them a second go, I still feel the same way:
The appeal of this subscription box is less about the quality of the contents and more about their fashion-forward design, plus the gift-worthy packaging and the fact it felt like I'd received a complete 'look' thanks to the accessories.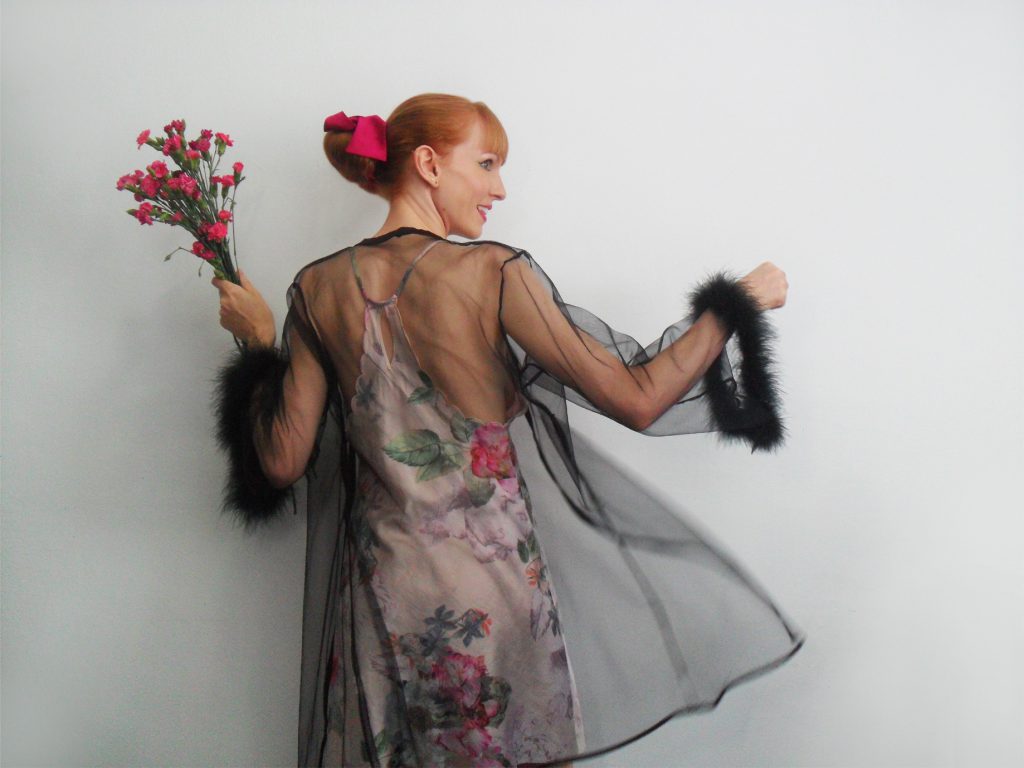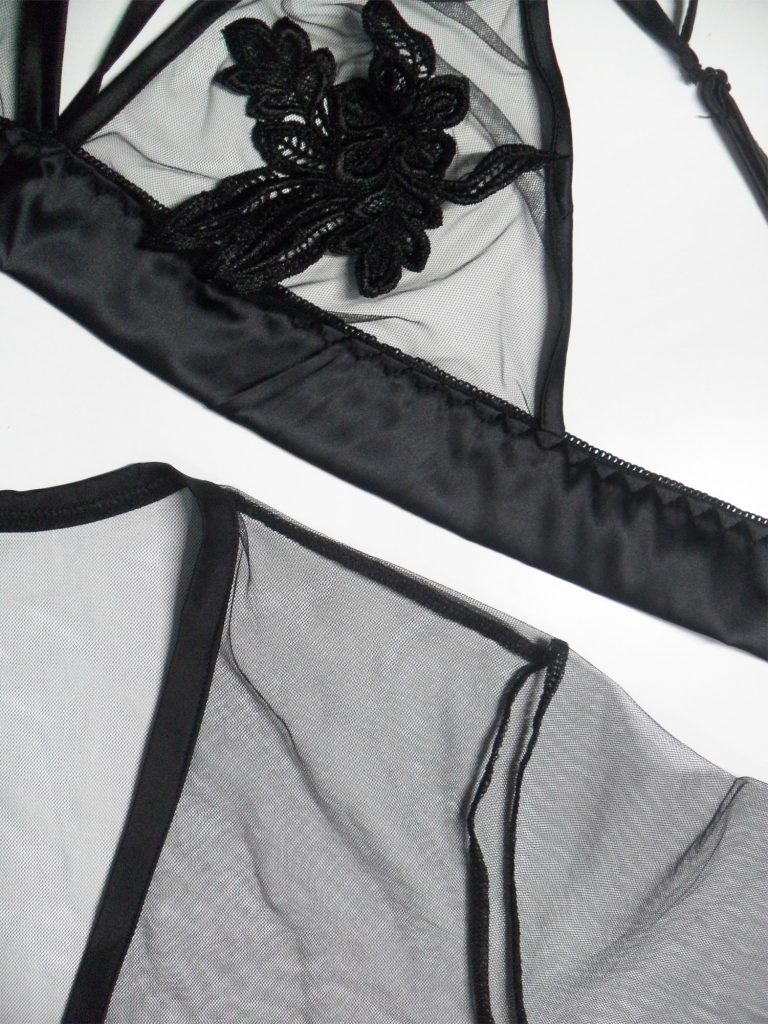 The other big thing that has changed since my earlier review is Empress Mimi's pricing. Previously, a box with this quantity of contents cost £69.95 per month. Now it's £89.95. (The prices on the website are a bit all over the place, with different ones listed on different pages, but this is what's shown at checkout). This includes free worldwide shipping. You can also save 20% currently with code EMPRESSFRIEND20.
According to their website, the contents are worth £335, so that seems like a fantastic deal. But bear in mind that since the lingerie is exclusive to Empress Mimi, they are free to set any RRP they choose. You can also buy everything from this box (and previous boxes) separately, with the robe coming in at £165*. It's cute, but it is absolutely not worth that much money. Neither is the bralette set something I'd be happy to pay £110 for.
I'm also pretty gutted that the robe didn't last past the first wash. I followed the care instructions on the website and on the label to gently hand-wash it in cold water (after taking these photos), but whatever the marabou feathers are attached to shrank, making the cuffs twist and curl up. Ironing it had no effect, so I think the only way to restore it is going to be to replace the marabou entirely. I'm disappointed this wasn't tested before selling the product.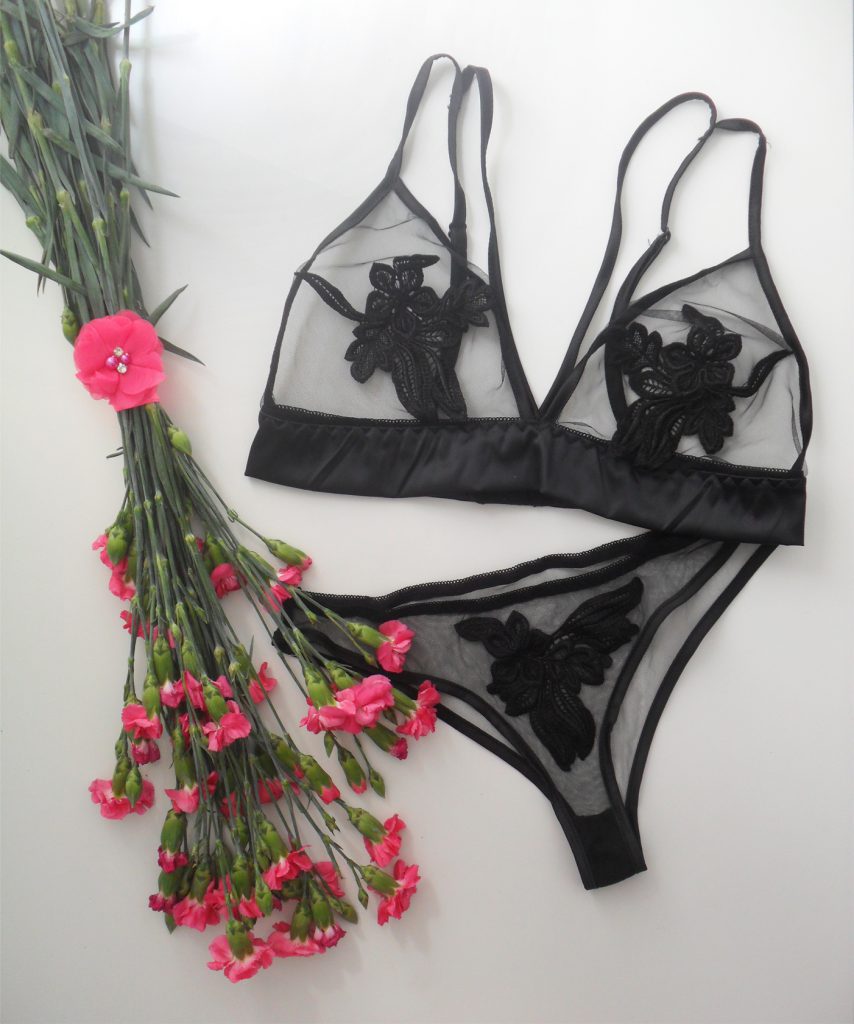 But! There are positive things too. For one thing, both the robe and bralette are exceedingly comfy, just as the website promised they would be. That kind of surprised me because the mesh doesn't feel especially soft to the touch, but once on I can completely forget it's even there. I will definitely be wearing this bralette set all summer long. The robe too, once I've repaired it.
The sizing is also spot-on. The robe comes in S, M, L and I'm wearing the S, which will fit a UK 6-8 as per the size chart. The lingerie set is true to their size chart too, though note that it runs small compared to other brands – I have a size S brief and would normally wear an XS.
The bralette is in their new S+ size and fits me well. This 'plus' option is a special one for small-band-full-cup wearers, offering more room in the cup than the standard S. Currently, there's only S+ (no M+, L+ etc. which it would be great to see them add). Still, their complete size range is fairly extensive, covering UK 4-18 and 30-44 band sizes.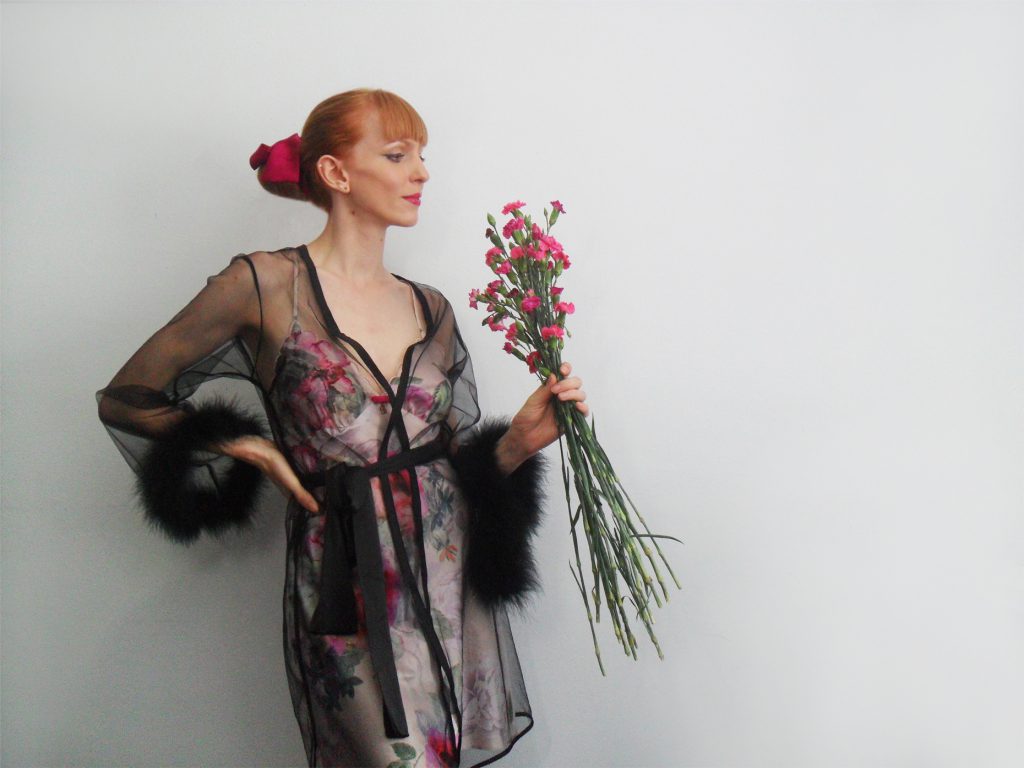 So do I recommend shopping at Empress Mimi*? That depends. I have to be honest and say that I can't recommend buying any of the standalone products in their shop* (unless they're on sale), because you'd be paying well over the odds. And similarly, don't sign up for an £89.95 subscription expecting to get hundreds of pounds worth of luxury goods.
If, however, what you are after is to be surprised with cute, fashion-forward designs each month, you could very well like this subscription box. I feel like the overall best thing in my box by far was the bralette set, and there's an option to receive a lingerie set only (no robe or accessories) for the much lower price of £34.95/month. Or £14.95/month will get you a brief or thong only.
A few more good bits and bobs to know about: Exchanges and refunds are available, and if you realise on receiving your first box that you need a different size, subscribers are entitled to one free replacement box (no return necessary). Pay-as-you-go subscriptions can be cancelled at any time via your online account, and longer, pre-paid subscriptions (for 3, 6 or 12 months) are also available which give you a discount compared to paying monthly.
Are you an Empress Mimi customer? I'm intrigued to hear your thoughts on your box(es) if so! Everyone else, what do you think of lingerie subscription services in general?