Disclosure: I purchased the Bootaybag and Lacies subscriptions myself, received a discount from Skivviebox, and was gifted the Empress Mimi and Burgundy Fox subscriptions free of charge. Links with a * are affiliate links.
Subscription boxes seem to be the retail trend of the moment. They're particularly popular in the food and beauty industries, and I've tried a few of each. I think it's a fun way to discover new things and new brands, for what's usually only a small monthly payment.
Lingerie, of course, costs rather more than a few trial-sized makeup items or a handful of snacks. And with some prominent news stories about well-known lingerie subscription retailer Adore Me locking customers in by making it very difficult to cancel once signed up, I've been hesitant to give a lingerie version of a subscription box a go. Still, I was curious. Could this be the next big thing in online lingerie shopping?
With Valentine's Day rapidly approaching you may be thinking of buying a lingerie subscription gift for your partner. Or maybe you're just thinking of trying one yourself. Whatever the reason for your interest, if you're wondering which is the best lingerie subscription service out there, I decided to try a few out and report back!
Burgundy Fox
Website: www.burgundyfox.com
Cost: $79 (approx. £56 or 63€) for 1 set plus 1 self-care product.
Size options: XS-6XL, 28-48 bra bands, UK AA-K cups
Returns policy: free returns for a refund or exchange
What I received: Blush Reverie bralette & brief set (RRP $84), Voluspa candle (RRP $9), OUi GLO face mask (RRP $3.25)
I liked the look of Burgundy Fox from the off, with their body-positive message and use of models with varying body types, backed up by an impressive size range. Browsing the site, I saw a number of lingerie items I liked the look of, and they're open about the brands they work with such as Flora Nikrooz and Thistle & Spire.
To get started, you answer 10 questions about your lingerie and style preferences, covering everything from how much padding you like in your bras to whether you like particular prints such as leopard or polkadots. You can also specify exactly what types of lingerie and loungewear you'd like to receive, so you don't have to worry about being sent a bodysuit or thong if you never wear them. There's a final section to add notes, and since fabric types weren't covered in the questionnaire, I mentioned here that I really love lace. The style profile was really thorough, so I felt confident I wasn't going to receive something I hated.
When I received the box, I was impressed with the presentation. The contents were put directly into the outer packaging with pretty burgundy paper 'stuffing', a few nice notecards and the lingerie itself wrapped in tissue paper. And guys, it feels like Burgundy Fox know my lingerie preferences better than I know them myself!
My first thought when I unwrapped the bra set was "coral, hmm" because it's not a colour I'd ever choose for myself, but the more I look at it, the more I like it. The lace is really pretty, and I like the shape of both the bralette and the knickers. Importantly, it fits me really well, so it's definitely a set I can see myself wearing. This must be what having a personal stylist feels like – having someone choose things that don't only look great, but help you branch out from what you usually wear.
I also loved the little extras that came in the box (the candle smells so good). If you're looking for an indulgent gift for someone or just to treat yourself, Burgundy Fox offers the whole package – nice lingerie, nice added extras, and nice presentation. Overall, I'm rating it 4 STARS since you only get a slight discount over buying the products yourself, so it may not be worth the risk for someone who's very fussy about what they'll wear.
Burgundy Fox lingerie subscription service:

---
Bootaybag

Website: www.bootaybag.com
Cost: $12 (approx. £9 or 10€) for 2 bottoms
Size options: S-L
Returns policy: returns not accepted
What I received: 1 Bootaybag-branded brief and 1 Bootaybag-branded thong
Bootaybag first caught my eye because of how affordable it is compared to other lingerie subscription services – you can even add an optional, lacy bralette in your choice of colour to your first bag for just $14 extra. Of course, at these prices you can't expect anything particularly fancy. Slightly off-putting was the fact that there's no mention of the brand's they work with, but as it turns out, my items both arrived with Bootaybag labels sewn in so that would explain why.
You can check out the brand's social media for sneak previews of each month's selection and it is the same product for everyone, i.e. if you choose 'always thongs' you will receive the same 2 items as everyone else who selected 'always thongs'. So beyond choosing between thongs, briefs or one of each, there's no personalisation based on your style.
Unsurprisingly then, I'm not a fan of either of the pieces they sent me. The quality is about what I'd expect for the price (acceptable, but rough around the edges), and they're both just rather plain and not in colours I particularly like. It's worth noting by the way that because you can select a colour for the bralette but not the bottoms, if you choose to add that to your order you shouldn't expect to receive a matching set.
This is a subscription service for people who are into simple, lace-trimmed basics and don't care about matching their underwear. I did like the packaging, which is a small, branded paper bag that would add that nice extra touch if you're buying this as a gift for someone else. It deserves a 3 STARS rating for the cute presentation and super low price, but I won't be buying it again.
Bootaybag lingerie subscription service:
---
Empress Mimi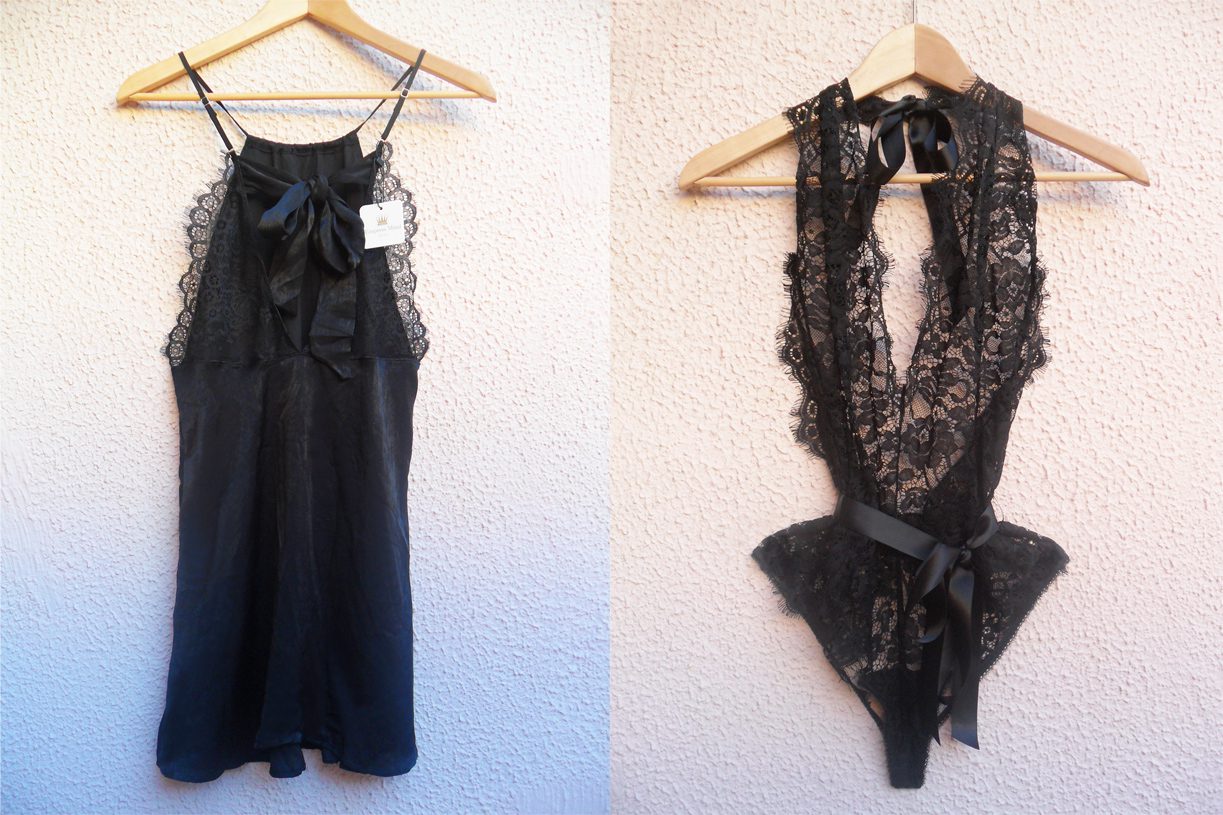 Website: www.empressmimi.com*
Cost: £69.95 (approx. $99 or 79€) for 1 set plus accessories. [Update April 2020: The pricing has been updated since this review. This box is similar to the new "The Empress Box" costing £83 (approx. $103 or 94€).] Take 20% off with code EMPRESSFRIEND20.
Size options: XS-L, 30-38 bra bands, A-D cups
Returns policy: unclear from website but I think returns are accepted
What I received: Unbranded bodysuit, eye mask and pasties + Empress Mimi nightgown and satin pouch
I was most excited to receive my Empress Mimi box because there is some really lovely lingerie shown on their website. I also like the brand's message, which is all about self love, and their goal of creating a 'by women, for women' product. Empress Mimi wants you to wear fancy lingerie 'just because', and that's a sentiment I can totally get behind.
Of all five subscription services I tried, this one had the nicest packaging by far! From the sturdy and gorgeous gift box to the irridescent tissue paper, to the satin Empress Mimi storage bag that came with the accessories, they definitely nailed the luxury gifting experience.
Empress Mimi offers no personalisation whatsoever (beyond choosing your sizes of course) and doesn't mention specific brands on its website, so I didn't really know what to expect. As it happens, the lingerie in this box was the closest to my usual style – satin, lace and everything black!
Besides an Empress Mimi tag on the nightgown (but just a generic fabric care label inside), everything is unbranded. The nightgown is polyester but feels so soft and smooth I initially mistook it for silk. It has nice, sewn-fabric ties behind the neck. The lace bodysuit on the other hand has cheaper, double-sided ribbon ties. The eye mask has a pretty, ruched satin band, but also some obvious loose threads. This is nice lingerie, but not luxury lingerie.
The appeal of this subscription box is less about the quality of the contents and more about their fashion-forward design, plus the gift-worthy packaging and the fact it felt like I'd received a complete 'look' thanks to the accessories. Another 4 STARS worthy option!
Empress Mimi lingerie subscription service:
---
Lacies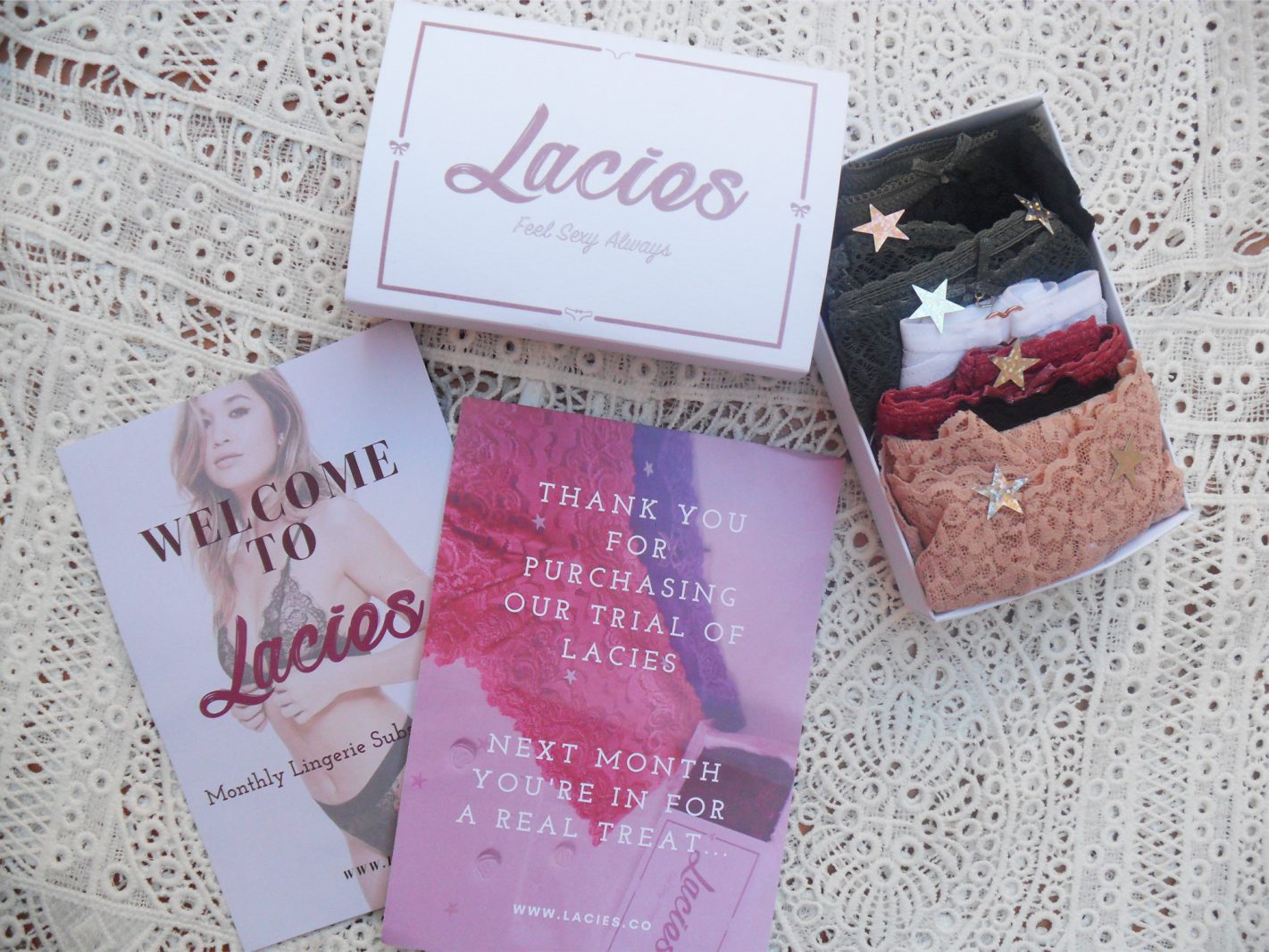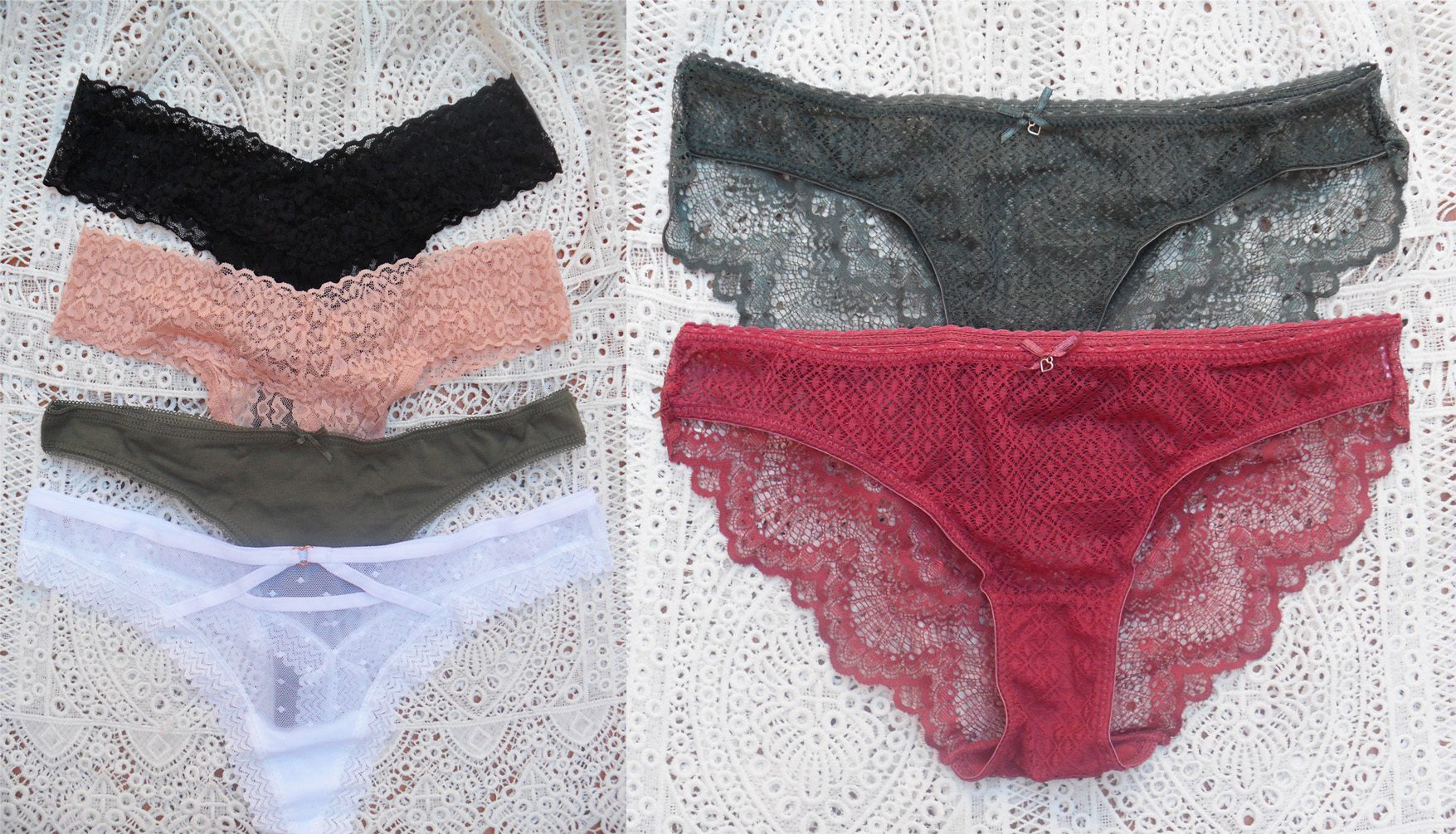 Website: www.lacies.co
Cost: £24.99 (approx. $35 or 28€) for 3 Standard bottoms / £34.99 (approx. $49 or 40€) for 3-4 Premium bottoms [Update June 2019: The pricing has now been lowered to £19.95 and £33.50 respectively.]
Size options: S-XL
Returns policy: returns not accepted
What I received: 2 briefs and 5 thongs, all unbranded (I purchased both subscriptions)
Like Bootaybag, Lacies is another bottoms-only subscription service where the extent of the personalisation is choosing between thongs, briefs or a mixture. There are minimal product images on the site or the brand's Instagram feed. The couple of images I could find of their products however, and the vlogger review featured on the website homepage, revealed some okay-looking designs so I decided to give their trial boxes a go.
Both subscriptions arrived together, with the Premium selection in a little, tissue-lined cardboard box. There were chocolate coins, star confetti and a flyer in the parcel. It was nice, but definitely had a homemade feel compared to the other brands featured here. The Standard selection presentation though was especially poor, packaged inside a crumpled white envelope with 'Standard box' scribbled onto it. If I bought this as a gift for someone and it arrived looking like that, I'd be embarrassed.
I was also unimpressed with the lingerie. The two pairs of briefs aren't bad – not my style, but the lace back is pretty. Those thongs however just look cheap. I was going to compare them to what you see being flogged on market stalls for a couple of quid, but a bit of digging revealed that the leopard thongs at least are most likely from Primark (where they are 3 for £3!). It's impossible to say for sure what the brands all are because there's just a fluffy white edge left inside where the labels have all been cut out.
Also, my Standard selection only included thongs, despite me having opted for 'mixed variety'. Which means that yes, the two briefs that were kind of nice were part the Premium selection, but otherwise I didn't think there was much difference between the two subscription options. The Premium box for example included one of those leopard stretch-lace thongs, and there were two more of the same in the Standard box.
I purchased both Lacies boxes with a discount code the brand was promoting, but at full price this is more expensive than the Bootaybag option above and lower quality. A disappointing purchase overall, but it gets 1 STAR for the pretty-ish briefs and easy cancellation.
Lacies lingerie subscription service:

---
Skivviebox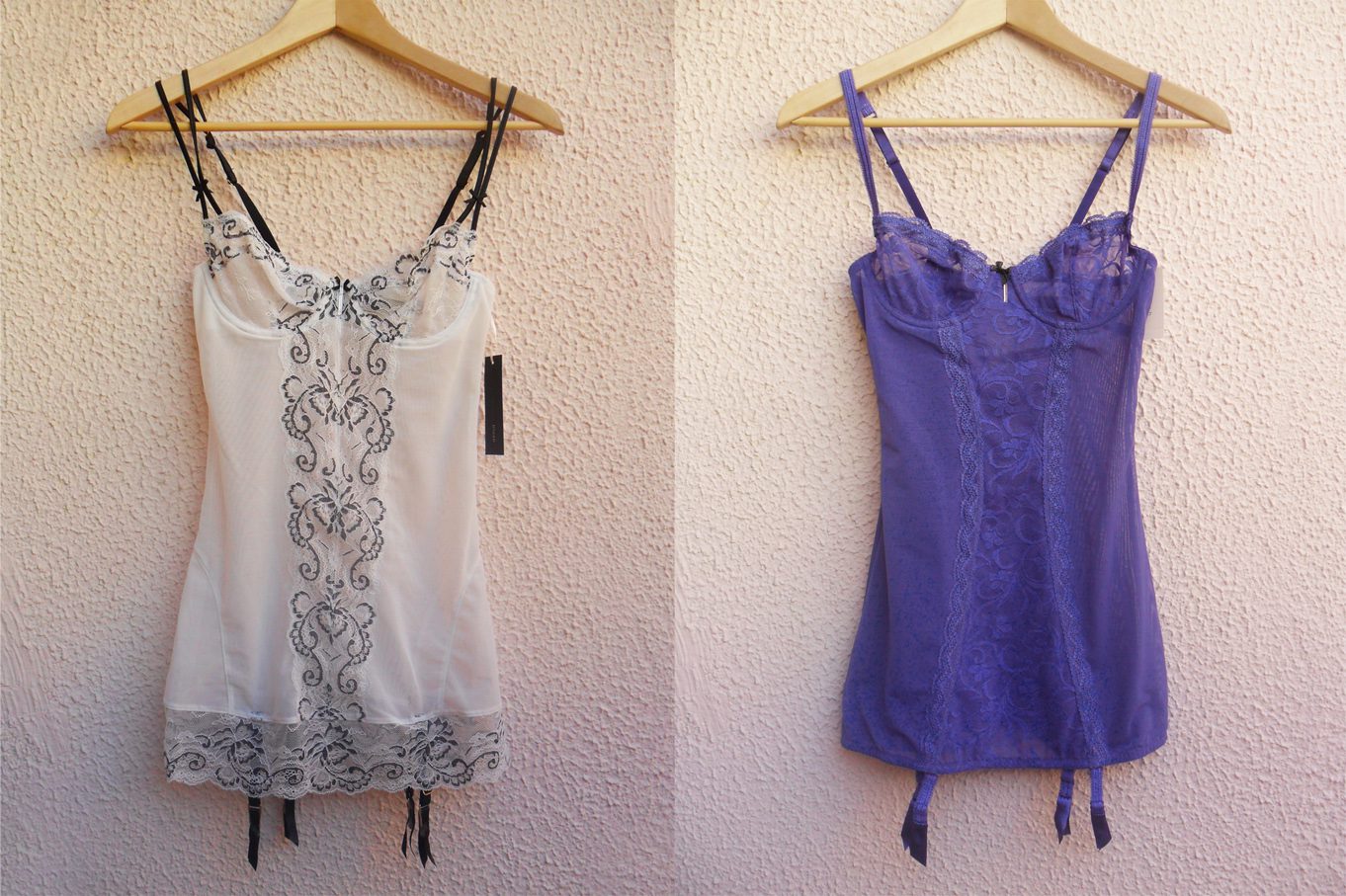 Website: www.skivviebox.com [Update June 2019: Link removed as they unfortunately appear to have closed down.]
Cost: $59 (approx. £42 or 47€) for a lingerie or nightwear set.
Size options: XS-XL, 28-40 band sizes, A-DD cups
Returns policy: one item per box may be returned for an exchange or store credit only
What I received: Blush True Bliss garter slip & thong set (RRP $98), Blush Sinfully Yours garter slip (RRP $78), Coquette seamed stockings (RRP $6)
A Skivviebox subcscription begins with a 7-part questionnaire about your lingerie preferences. You get to tell them things like whether you're after basics or something a bit fancier and whether you prefer prints or plain, plus there are plenty of opportunities to add your own notes. Logos on the site show they work with recognisable brands such as Betsey Johnson, Freya and Clare Bare.
For $59, Skivviebox promises a selection of lingerie each month worth over $100. Although I would note that they appear to be achieving this by selling older stock (the True Bliss set for example is on sale at Blush right now for $49, and the Sinfully Yours slip is from 2015), you do get your money's worth. Even at the current sale price, the True Bliss set plus the stockings would have cost almost the full $59, and I've got those plus a whole other garment!
My Skivviebox arrived with a simple tissue-paper wrapping inside the parcel. When I opened up my parcel I was, as I mentioned, impressed with what you get for the price, but also a little disappointed because the garter slips aren't really 'me'. They do fit the general preferences I'd given, but just aren't things I'd buy for myself. On the plus side, they fit okay, and the stockings are something I'll wear.
It was a little disconcerting to receive an email the same day, December 29th, to say I had been billed for my next subscription even though the website FAQs say billing happens on the 15th of each month. I was expecting to have another couple of weeks to decide if I wanted to continue, but luckily I was able to email in and get a refund.
I think my Skivviebox would have been more successful if I'd been sent a different second item (bra sets and bodysuits were amongst the other options I ticked) rather than two very similar products by the same brand. I feel like it's better to double the chances of the customer liking at least part of their subscription, than gamble on them either liking or disliking all of it. But I can see how another customer would be very happy to receive what I was sent. 3 STARS overall for the billing hiccup and not really nailing my style, but in my opinion offering the best value for money out of all the brands on this list.
Skivviebox lingerie subscription service:
---
So, are lingerie subscriptions any good?
Subscription boxes aren't going to replace regular ol' online shopping for lingerie anytime soon. They hold more of a novelty or gift-giving appeal than they do a 'personal shopper/stylist' one. After trying out five of them, here's what I learnt:
Cancelling is usually easy. After all the horror stories I've read about Adore Me, my biggest concern was being stuck in a subscription I couldn't cancel. I needn't have worried. 4 of the 5 services above can be cancelled at the click of a button. Burgundy Fox can be cancelled by email so you might have problems if you leave it until the last minute before your next billing period begins, but my subscription was stopped the same day I emailed them.
As always, you get what you pay for. Well, I lie, the good ones may even give you a little bit more. But the cheap subscription services were cheap for a reason!
If they don't mention other brands, they probably don't work with them. The three services above that made no mention of brands on their website all sent me unbranded, own-branded or de-branded goods. Those that offer lingerie by recognisable names make a point of saying so.
Ones with style profiles are better. The style questionnaires weren't infallible, but as can be expected they did make it much more likely I'd receive lingerie I actually liked.
But above all, go by whether you like what you see on the website. One service asked a number of questions about my style preferences and still got it wrong. And the one that got the closest match, Empress Mimi, didn't even have a style profile. However, that one plus Burgundy Fox (whose bralette set I really liked) were the two companies where the designs pictured on the site most appealed to me – I could see right away that they were catering to customers with lingerie tastes similar to mine.
I think that lingerie subscription boxes can be a lovely gift idea when you're not confident enough about your recipient's style to choose something yourself. The Empress Mimi and Burgundy Fox boxes in particular came in lovely packaging and with added extras that made them feel like a really special treat!
If you're shopping for yourself, a lingerie subscription can also be a great idea if you want to branch out from your usual underthings and don't know where to start. Bear in mind that it will be hit and miss – you're not going to like everything you receive. But it can be a fun way to explore new styles and learn more about what you like.
Personally, I have an eclectic lingerie style and like a lot of different things, but I'm also very picky. I'm not interested in wearing things that I don't absolutely love (and although I like some of the above items, none fall into that category). I guess the question to ask yourself is, "would I rather spend a little more and know exactly what I'm buying, or is the surprise of not knowing half the fun?". I've decided that lingerie subscription services aren't for me, but I could see myself buying one of the pricier ones again as a gift.
Other lingerie subscription boxes
This article is not, by the way, a complete list of all the lingerie subscription services out there. A few others you may like to check out are:
Some of the brands featured in this article also offer cheaper subscription options than those I've reviewed here today, such as for bottoms only rather than full sets.
If you've ever tried a lingerie subscription box, I would love to know which one(s) and what you thought! If you haven't, does shopping for intimates in this way appeal to you and why or why not?