Disclosure: Links with a * are affiliate links.
I don't talk about my personal life very much on here, since this is after all a lingerie blog and not a lifestyle or personal diary one. But last summer I made a change that has had a pretty significant impact on my way of living, and will most certainly influence my future lingerie shopping habits too: I went 'zero waste'.
So far, I've focused primarily on eliminating plastic from my daily life – food packaging, other household groceries, my skin/hair/makeup routines etc. I'm happy to say that I'm getting very, very close to reaching that goal. But in doing all of this, I've become a lot more conscious of other ways that my habits impact the planet. And so, as a long-time adorer and consumer of fashion and especially as a professional lingerie blogger, naturally my attention has turned to how I can make my love of lingerie fit into my life in a more sustainable way moving forwards.
If you, too, are trying to become a more eco-conscious lingerie lover, here are my 7 suggestions to make that happen:
Support sustainable lingerie brands
It goes without saying that, when you need to purchase new underpinnings, switching to buying from lingerie brands who consciously do their bit for the environment is a simple step towards sustainability. Brands that are making the effort to be environmentally-friendly will want you to know about it, so check the website for a sustainability statement of some kind. Besides obvious things like the fabrics they use, there are myriad ways that lingerie brands can make a small or big difference, such as:
Choose biodegradable, recycled, or deadstock fabrics
So much of our clothing nowadays is made from synthetic fibres, which are derived from crude oil are not biodegradable. Polyester and nylon are common examples. Synthetic fibres are generally cheaper, and oftentimes better at holding rich colours when they're dyed. However, from a sustainability perspective, they're just plain bad. So here are three fabric categories to make a priority:
Biodegradable fabrics – natural fabrics such as cotton, silk, linen, cashmere and bamboo will decompose. However, that doesn't mean they're completely unproblematic. Cotton production for example requires a colossal amount of water, and if it is not organic, then massive amounts of pesticide too. Bamboo, while it can be grown with minimal water and no pesticides, is usually turned into fabric via a process laden with toxic chemicals. And raw, natural silk may have its luster enhanced by being treated with substances harmful to the environment. Still, in my opinion, any natural fabric is at least somewhat better than one that won't biodegrade. And choosing certified-organic versions of fabrics means you can know they were created without the use of insecticides, pesticides or synthetic fertilisers. While we're on this topic, I also want to highlight The Very Good Bra whose lingerie is 100% biodegradable, from the strap elastic through to the sewing thread!
Recycled fabrics – some of the plastic waste already clogging up our planet, such as discarded plastic bottles and nylon fishing nets, can be turned into fabric. A few lingerie brands that primarily or frequently use recycled fabrics include Proclaim, Parade, Underprotection and Organic Basics. There are also a growing number of brands using recycled fabrics in specific collections, such as Chantelle's Motif range*, Dorina's ECO line, Wolf & Whistle's activewear line, Only Hearts' Recyled Lace range, Kilo Brava's Satin collection, Cosabella's Lourdes set, and Charnos' Re Cycled hosiery*.
Deadstock fabrics – deadstock fabrics are large leftovers that a brand or factory doesn't need (perhaps from a cancelled order) or a fabric mill overproduced or mis-produced (e.g. dyed the wrong colour). Instead of simply discarding them, they can be sold on to someone else. Lara Intimates, ColieCo, Karolina Laskowska and Anek. all make use of deadstock fabrics. Many consider it more sustainable than buying 'new' fabric because you're instead saving something from going to landfill, although there is some debate about how much of what's sold as deadstock was truly destined to end up there.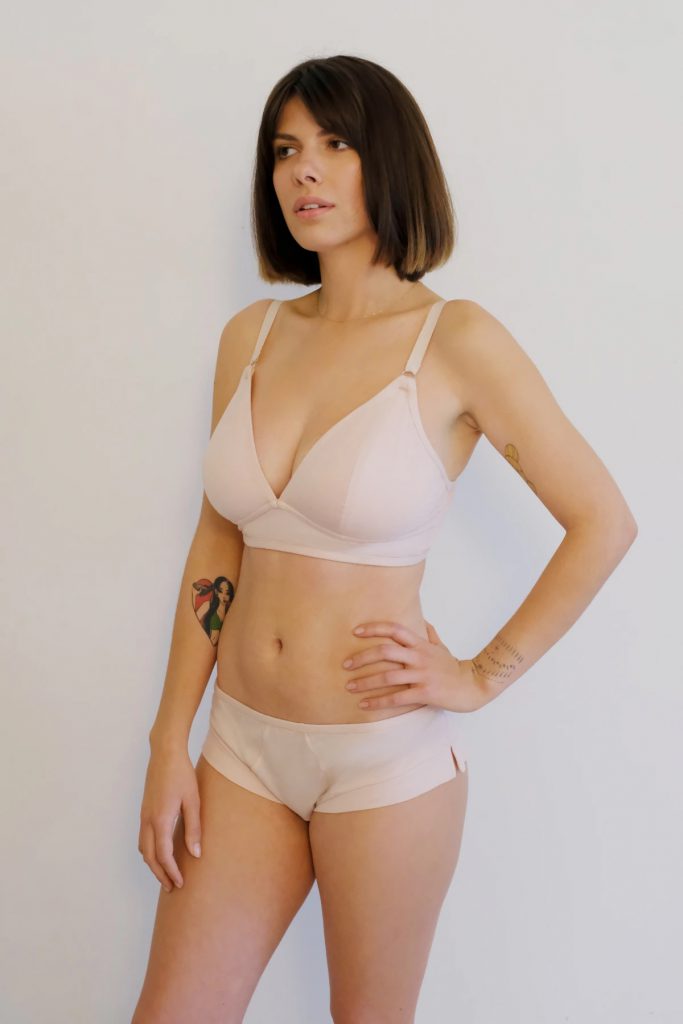 Shop second-hand
No, you don't have to start buying used knickers to call yourself sustainable! But there's more to lingerie than just garments with a gusset, and anyway, buying second-hand doesn't have to mean buying used. I see plenty of pre-owned lingerie for sale that still has the tags on.
Pre-owned lingerie can be considered a sustainable option because instead of creating demand for more garments to be produced, you're 'reusing' one that already exists. As with deadstock fabrics, there is some debate over just how sustainable second-hand shopping is on an overall scale. Is the boom in fashion reselling apps actually encouraging people to buy more, because they know they can easily flip it when they're bored of it? Is it better to buy a fast fashion item second hand, or a brand new but sustainably-produced one direct from the brand, which would help that brand to stay in business? I'd argue the latter so that we can drive an industry-wide shift towards sustainable production, but second hand does offer a more budget-friendly option to those who need it.
As well as charity shops, eBay, and fashion-focused reselling apps such as Vinted, Depop and Poshmark, some good places to look for second-hand lingerie in particular are Bra Swap, Bratabase, the Clothes for Boobs Facebook group and the Lingerie Addicts Facebook group.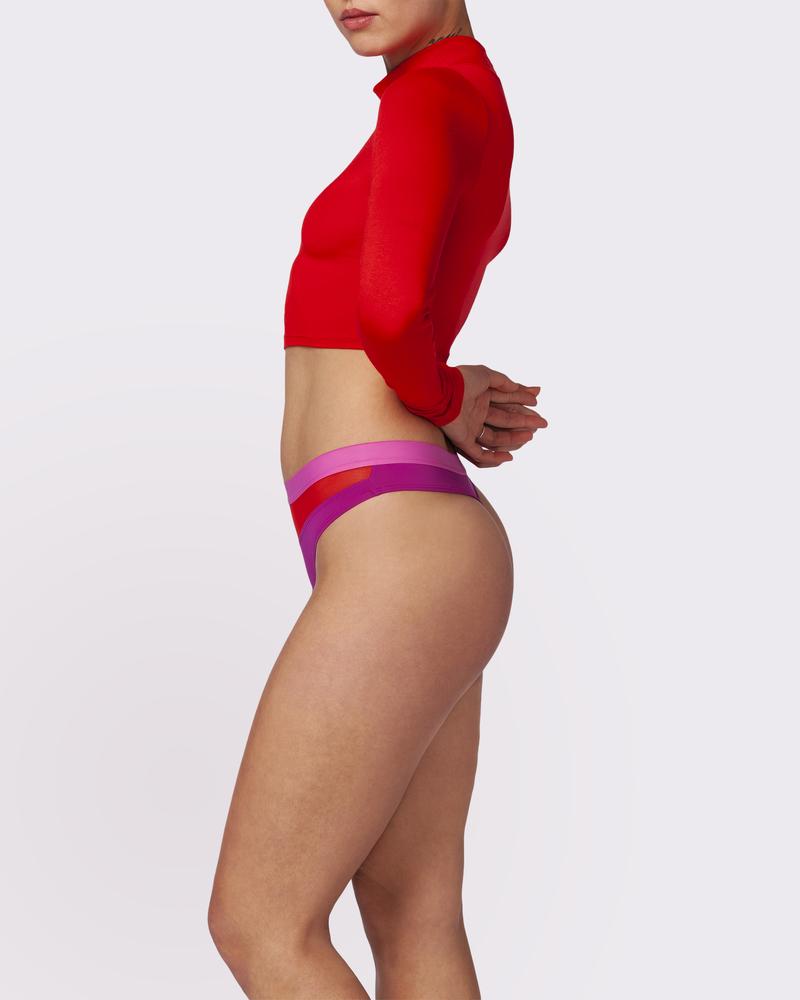 Consider trying period underwear
I don't know if 'trend' is the right word for it, but period underwear is suddenly everywhere. I know it's not for everyone. Maybe you can't afford the upfront investment. Maybe you just don't like the way it looks (no one seems to have made particularly pretty period knickers yet!).
However, if you are someone with periods and think this underwear may work for you, it's worth giving it a try. The period knickers themselves may not necessarily be biodegradable, but neither are most traditional tampons or pads, nor the plastic wrappings they often come in. If that's what you currently use, then swapping to a reusable product such as period knickers is one way that changing your lingerie wardrobe could help you to lead a more sustainable life.
Buy less (and better)
With all this talk of buying sustainable brands or fabrics and buying second-hand, it's easy to forget that often, we don't actually need to be buying anything. The flipside here is that I do believe buying nice lingerie 'just because' can be a fab way to indulge in some self love, and that not every purchase has to be a practical, required one. I guess the key is to find a balance – by all means, treat yourself, but if you know you are a shopaholic then set yourself a limit on lingerie purchases and stick to it.
The ties in with two somewhat separate points, which are to make well-considered purchases and to invest in quality. Instead of impulse-buying lingerie – especially if you have a history of not wearing those purchases often – a common piece of advice is to bookmark what you've seen, and come back to it when you've had time to think about whether you really want it and will wear it lots. By buying fewer garments, you can also afford to buy better-quality ones which won't need replacing so often, meaning that in the long run you'll dispose of even less stuff (and can support those higher-priced indie designers you so admire!).
Care for your lingerie well
Taking good care of your lingerie will make it last longer regardless, even if your budget truly only allows for lower-quality items. I recommend taking the time to hand-wash your lingerie – it really does make a difference. But whether you hand-wash or machine-wash, definitely avoid the tumble dryer which will significantly reduce the lifespan of your lingerie. And hey, air-drying saves on energy usage too!
Caring for your lingerie also means repairing or altering it where you can. Going back to the point above, when a seam starts to come undone, ask yourself if you need to replace that garment or if you can fix it (lingerie brands Bordelle, La Fille d'O, Something Wicked and Skinswear offer a repairs service on garments made by them). If you've changed size, especially downwards, could you or a seamstress resize any of your current bras to still fit? If your bra band's getting too small, can you buy (or make) a bra extender instead of a whole new bra?
Speaking of lingerie care, a reminder that bras often don't need washing after a single wear. Unless you've been sweating, going 2-3 wears between washes is often fine and will help to minimise your water usage while also prolonging the lifespan of said bras.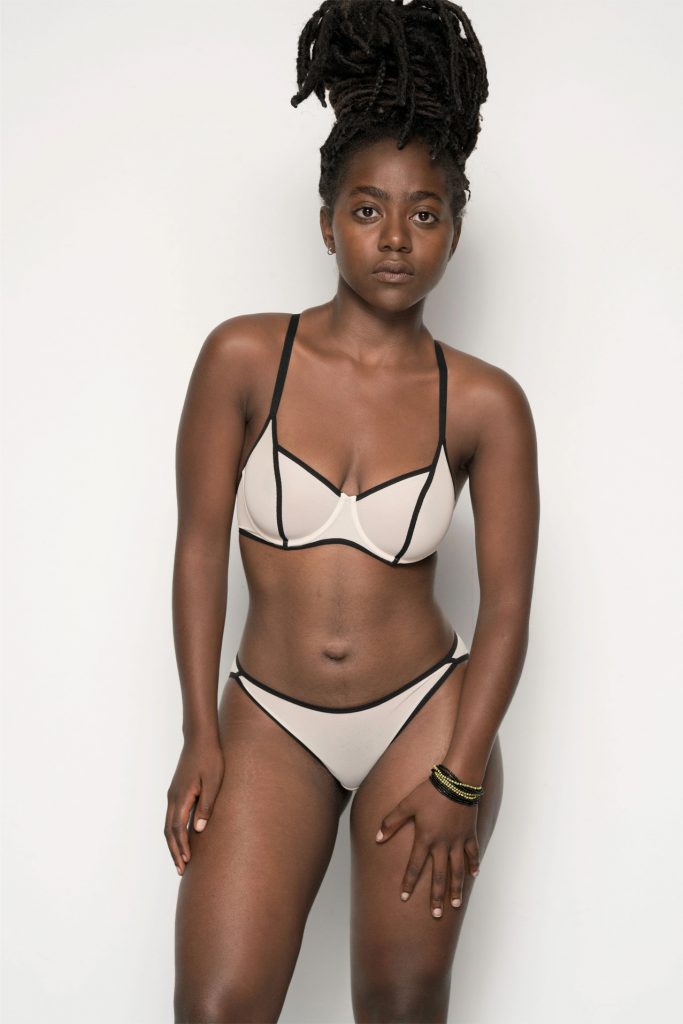 Donate or recycle your old lingerie
When your lingerie finally wears out or no longer fits, how you dispose of it matters. The longer a garment stays in circulation instead of landfill, the less demand there is for new products to be created. Even if you're chopping old tights up to turn into cleaning rags, that saves you needing to buy cleaning cloths! If an item is still in good condition, aim to sell, gift, or donate it if possible. If it's worn out, it can still be recycled.
In the UK, most Marks & Spencers* stores and all Bravissimo stores have a recycling bin to drop off old bras (by any brand), and it's worth checking if your local independent lingerie boutique has something similar. In the US, you can post worn bras and unworn briefs to The Bra Recyclers. Even used (clean!) briefs can be dropped off at most textile recycling collection points, to be 'downcycled' into things such as insulation.
When it comes to buying lingerie sustainably, I don't believe there's a perfect option. Even The Very Good Bra won't fit every body, budget, or aesthetic style. However, it's encouraging to see that a growing number of lingerie brands are making sustainability a focus, and I sincerely hope that in time there will be multiple eco-friendly lingerie options for everyone.
Personally, I'm trying to reconcile my desire to live a more sustainable life with the fact that my chosen career is innately the opposite. Working with brands (even though I don't do that very often) means I receive more lingerie than I realistically need, and I often find myself wanting to highlight lingerie brands that aren't focused on sustainability because they're doing something else that's also worth talking about. But as someone with a platform like this, one thing I can definitely do is make an effort to highlight sustainable lingerie brands and products more often, and that's one of my main goals for 2020.
Have you made any changes to become a more sustainable lingerie consumer? Do you know of any great sustainable lingerie brands I haven't mentioned here? And what articles would you like to see us publish related to this topic?