Disclosure: I received this lingerie set free of charge to review.
I discovered Australian lingerie brand HARA a few months back while browsing up-and-coming sustainable brands. Since then, it's swept the internet and amassed quite a dedicated following!
Truthfully, after researching my article on how to avoid greenwashing, I was feeling disappointed in the sustainable options available on the market. There are brands out there who are transparent about what actions they take to help the environment, but they're few and far between. More common are the brands that claim to be sustainable without any concrete proof, or brands that are sustainable in some ways but not in others (for example, using natural fibres but also unnatural, chemical dyes). That's why I was so thrilled to discover HARA.
HARA — which means green in Hindi — is one of the most eco-conscious brands I've seen. They don't just try to be sustainable; they're willing to go above and beyond what other companies are doing to help the planet. They use certified-organic bamboo made in a closed-loop production system — meaning the post-consumer waste is collected and recycled to be used again, rather than dumped into the environment — and without the use of pesticides, insecticides, or fertilisers. Their website states that the chemicals used to process the bamboo fibers are approved by the Global Organic Textile Standards and the Soil Association. Plus, the fabric is OEKO-TEX 100 approved, which is a fancy way of saying that it has been tested to ensure it's harmless for humans.
All that to say, HARA is looking at the whole picture: not just overall environmental health, but also the health of every person who wears their products! Even their dyes are plant-based, to avoid the absorption of toxic chemicals into your skin. At a time when conventional clothing manufacturing uses hazardous chemicals such as formaldehyde, ammonia and flame retardants, which can impact the health of workers and poison the local water supply, this kind of eco- and human-conscious approach is unfortunately rare.
Not only that, but HARA has also teamed up with the Environmental Justice Foundation, and money from every purchase goes to supporting the EJF's projects in remote parts of the world that are under environmental stress. All in all, this brand is making incredible strides to help the environment.
I've become much more eco-conscious recently, and I've been in a real 'soft, organic fabrics' phase in my lingerie collection, so I was beyond excited when they offered to send me this set to review!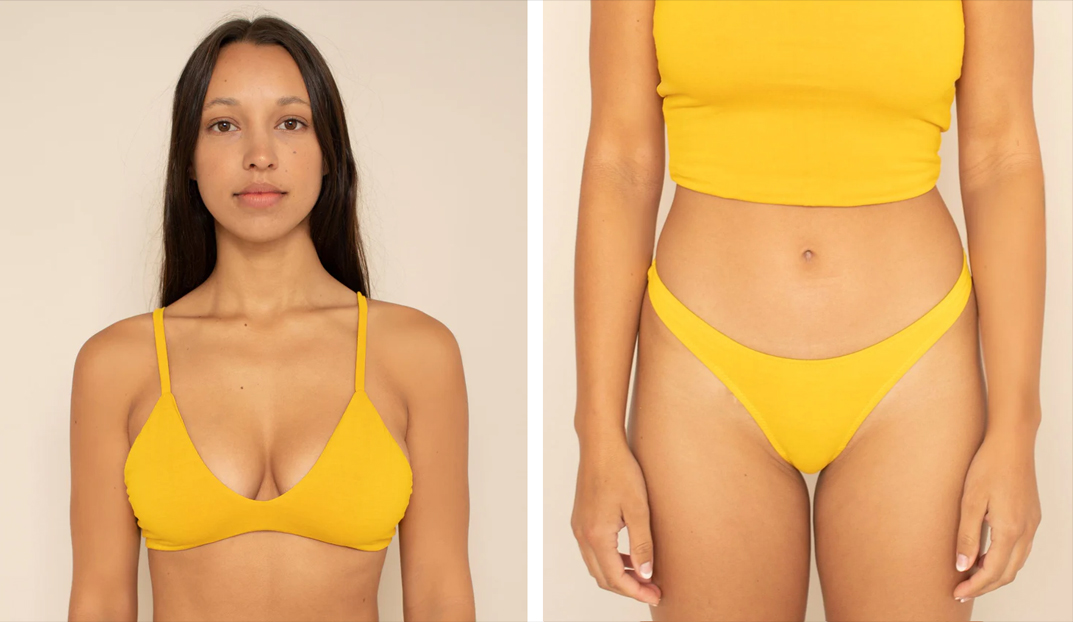 Packaging
The packaging is the first chance for a brand to show its customers how sustainable it really is. HARA lived up to its reputation with this reusable, biodegradable bag from Better Packaging. With how much waste I usually have to throw away when I order things online (and the guilt that comes with it), it's a great feeling to be able to send this packaging to my compost pile instead of the garbage dump.
Design
Not only is HARA uber-sustainable, their designs are also fashionable and trendy. They fit right in with the aesthetic I often see on Instagram. So, you can find lingerie similar to what you've seen on your favourite models or fast fashion websites, but in this case you'll know the brand is giving back to the planet.
High-waisted thongs like this Eva G-String ($45 AUD, approx. £22 / $27 USD / 25€), for example, are especially in right now. And I can see why it's so popular: I find the way the straps are cut to sit higher on the hips really flattering on my body! It's such a simple design, yet it's one of my favourites because of how confidence-inspiring it is.
HARA's Leo High Cut Bra also has the rectangle cut I've seen popping up a lot lately, but I decided to go with the more classic design of the Stella Low Cut Bra ($55 AUD, approx. £27 / $33 USD / 31€). I love the cleavage that comes with it. The bamboo fabric is so soft it feels like silk, and the cut moulds perfectly to my body.
Because HARA's designs all come in one of the same nine solid colour options, if you buy a few they can be mixed and matched to create multiple different looks. The best thing you could ask for if you're trying to reduce your carbon footprint by buying less!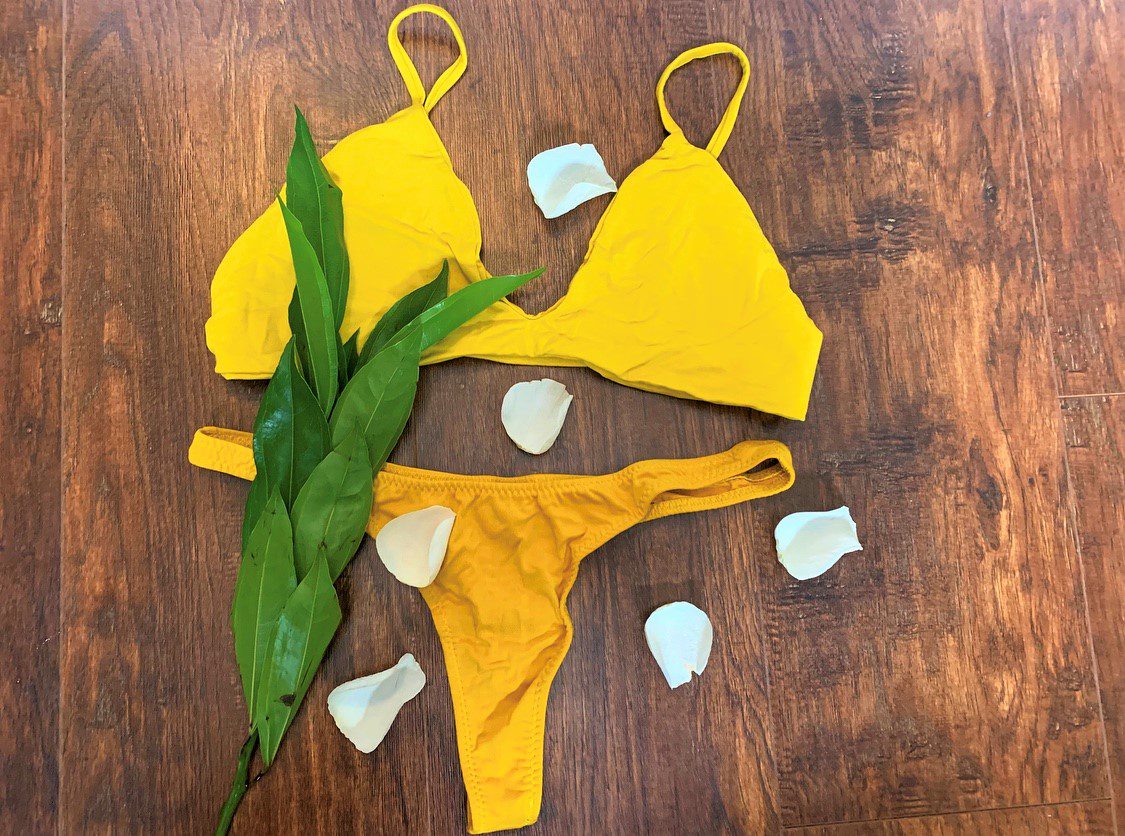 Natural Dyes
This is my first lingerie made with natural dyes, and I was really curious how it would go.
I ordered both pieces in the colour Honey. HARA's website doesn't say specifically what their Honey colour is made with, but they do say they use turmeric, indigo, and madder root in some of their dyes. Because the dying process is so natural, each batch is unique. If you look closely, you might be able to tell that the Eva g-string is darker than the Stella bra. It's a small enough difference that it's noticable when the garments are laying flat and the colours are right up against one another, but not when I'm wearing them and they're spaced further apart.
It's never fun to have a surprise period occur in one of your special pairs of knickers, and when that happened the first time I wore these, I was worried they wouldn't be salvagable because of how delicate the washing process must be to preserve the dyes. But I found that following the washing instructions — using cold water, natural detergent, and gently rubbing until it comes clean — actually did a really effective job of getting the stain out without ruining the dye.
Fit
HARA's website says the Stella bra is ideal for smaller cup sizes (A-C) that want light coverage and support. So, as a size 32DDD (UK 32E), I wasn't expecting much support. My intention was to use this bralette for lounging around and casual events when I didn't really feel like wearing a bra.
It's lived up to those expectations. It wouldn't be my go-to bra for support (really, nothing without underwire would be). But I find myself never wanting to take it off, because it's so comfortable!
Sizing bralettes for a small band/large cup is always tricky. For the Stella bra, I ordered a size Large. If I could do it over again I would order an XL instead. The Large fits relatively well, but there is some breast tissue overflow in the middle. For the Eva g-string, I ordered a size Medium. I'm a size US 6/UK 10 and it fits perfectly, right in line with the size chart.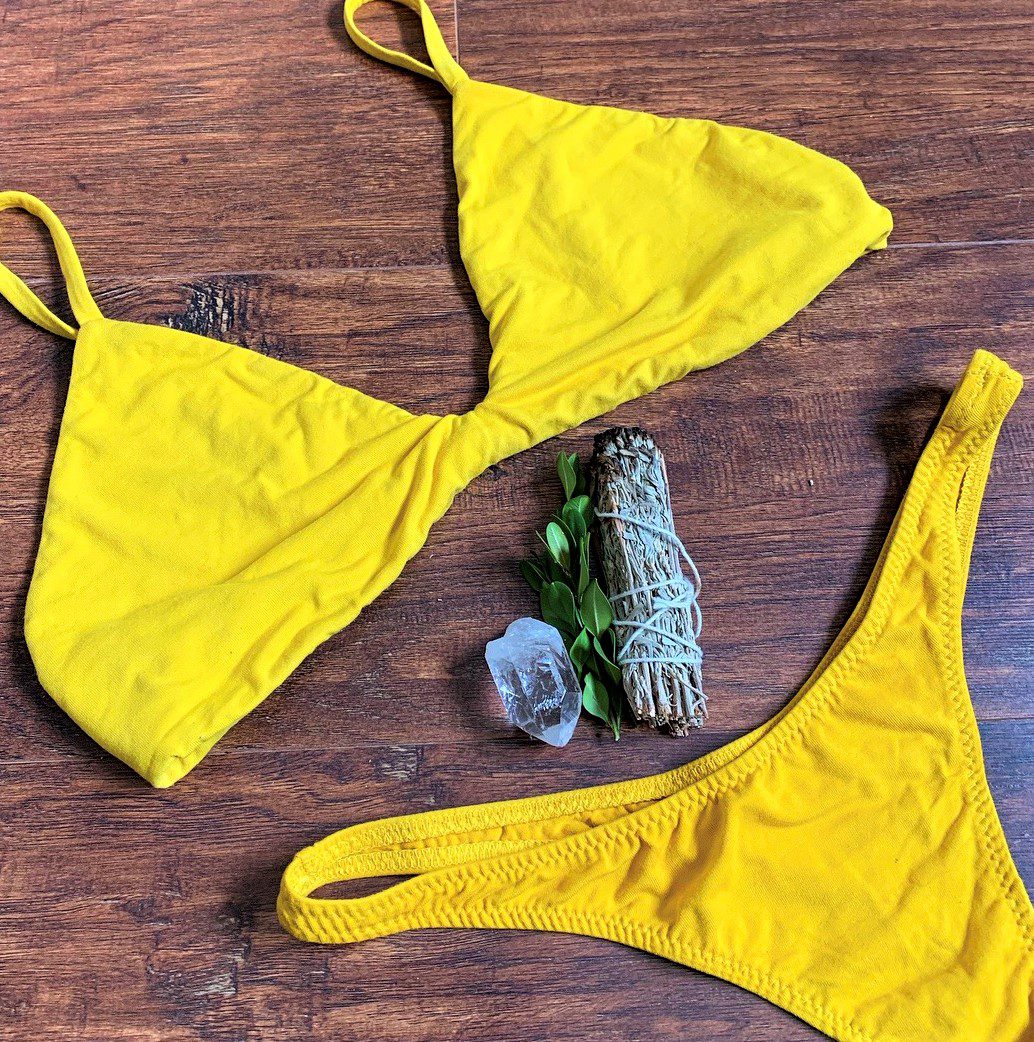 Construction
As you may have guessed from me noting the bralette is designed with smaller cups in mind, there's not much shaping here. It's more like a soft hug for my chest that's not trying to move or change my body in any way. There's some gentle support, more than if I weren't wearing a bra at all, but not as much as I get from some of my bralettes that are actually built with support in mind. The back strap is very thin — basically the same width as the shoulder straps — so all the weight-bearing essentially comes from the fabric itself.
Also, the bra is 100% fabric and elastic – no metal, no wires. So it's not adjustable, though the elastic gives it room to stretch as necessary. Being a bigger cup size in the bra, the elastic does need to stretch to accommodate, but I was happy to find that it doesn't dig in at all. The g-string is also quite stretchy, and even the fabric has a lot of give to it. Most impressively, the g-string can handle the weight fluctuations I go through during different times of the month — they fit comfortably even when I'm bloated, which is amazing!
All in all, this might be the most comfortable lingerie set I've ever owned. The fabric is super soft, the elastic is the perfect amount of stretchy, and there's none of the squeezing, crushing, pinching, or digging that comes with a lot of lingerie.
Overall
I'm really happy with how well-made, comfortable, and sturdy this set is. In using all natural and organic materials, HARA hasn't compromised on quality. This has become one of my go-to sets, and it's still holding up well after several wears and washes.
I'd recommend these products, and this brand, to everyone! If you want comfortable lingerie that's good for you and the planet, HARA is the perfect brand for you. Even if you aren't so interested in sustainable lingerie right now, the design and fit alone are enough of a reason to shop HARA.
Had you heard of HARA before? What do you think about their mission and designs?