Disclosure: I received this lingerie set free of charge to review.
Created in 2016 by Evgeniya Kharaim, Fréolic London is a premium brand that's focused on making the experience of buying luxurious, semi-bespoke lingerie more accessible and affordable. Though initially producing seasonal collections like most other lingerie brands, she quickly switched to a business model of offering pre-designed garment shapes that could be ordered in a (very!) wide array of colour and fabric choices. And more recently, the brand has done away with standard sizing to now only offer made-to-measure garments.
In fact, as of this year Fréolic London has its own iPhone app designed to create a 3D model of your body, so that its designers can conduct an "internal digital fitting on your 3D avatar" to check for fit issues before the garments are made. I received the set that I am reviewing today back in July last year, so I haven't tried this app personally and can't comment on whether the technology works. I'd be very curious to hear from anyone who has ordered using it, though! Customers without an iPhone (or, presumably, who just don't want to use the app) will be sent a guide to taking their measurements manually.

Prices start from £120 for a bra and £60 for bottoms in their 'design of the week', with the same combination in custom fabrics starting from £278. When you consider the construction techniques employed to make these sets (which I'll get onto in a moment), that's incredible value. So what makes Fréolic London so much lower-priced than brands of a similar quality, despite having a team paid fair London wages? For one thing, they no longer invest in expensive modelled photo shoots, believing that the beauty of their garments will shine through even in a flat lay (which it absolutely does!). They've also just started experimenting with showing their designs via detailled digital art, to go along with their new mobile app.
More importantly though, making lingerie to order has reduced costs: they only produce what's already been sold, they can purchase small quantities of surplus lace at a discount instead of needing large rolls to create large quantities of stock, and they're ultra careful to minimise fabric wastage. That 'design of the week' set is made using leftover fabric from custom orders, and offered at a lower price to encourage orders that get those fabric scraps used up.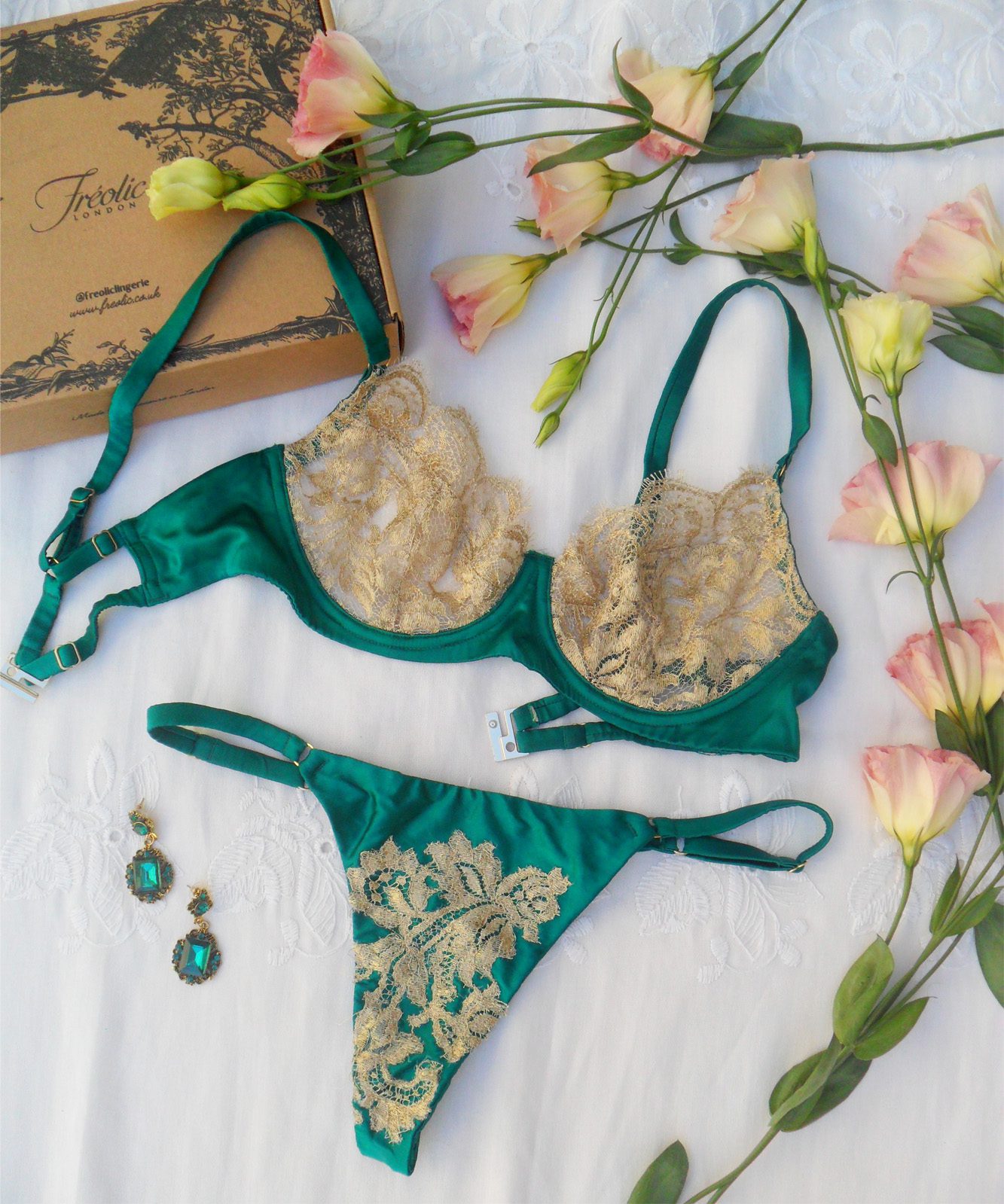 Construction & Quality
My Fréolic London lingerie set is made from emerald green silk satin (colour #76 which isn't currently available, although there are similar shades) and a now sold-out metallic gold French Calais Leavers lace; the brand only uses lace made in the Calais-Caudry region which is known for its excellence.
The first thing you notice about this set in person is that there's silk everywhere. Besides the areas of sheer lace, everything is backed with silk – that means silk linings on the band and back of the thong, a silk gusset, silk underwire casing, and fully silk-encased straps. So almost the only thing touching your skin is silk, which makes this lingerie wonderfully soft and comfortable to wear. The metallic lace sections are also backed by soft tulle, with the cup seam bulk carefully placed on the interior between the tulle and lace instead of on the side facing your skin.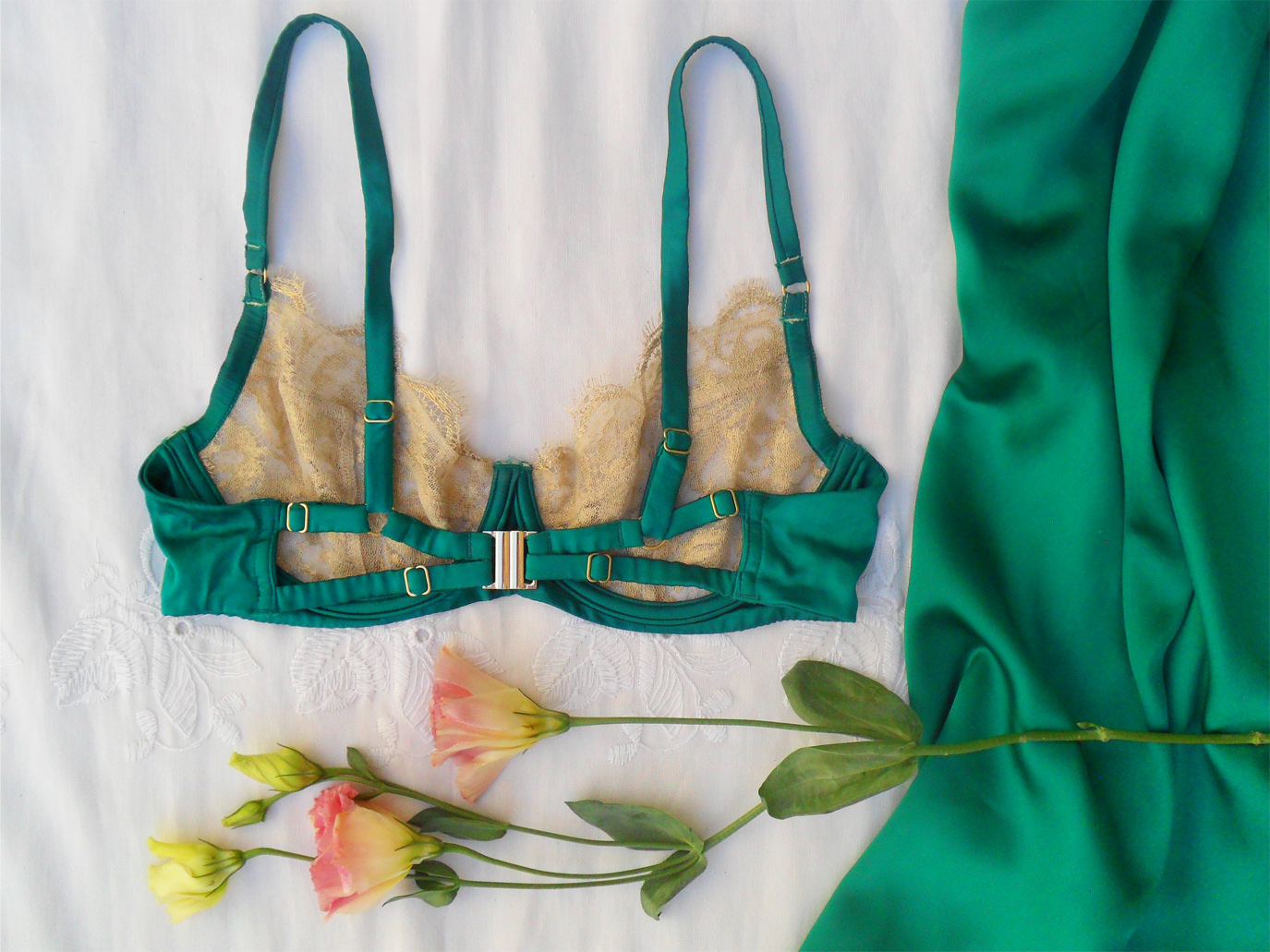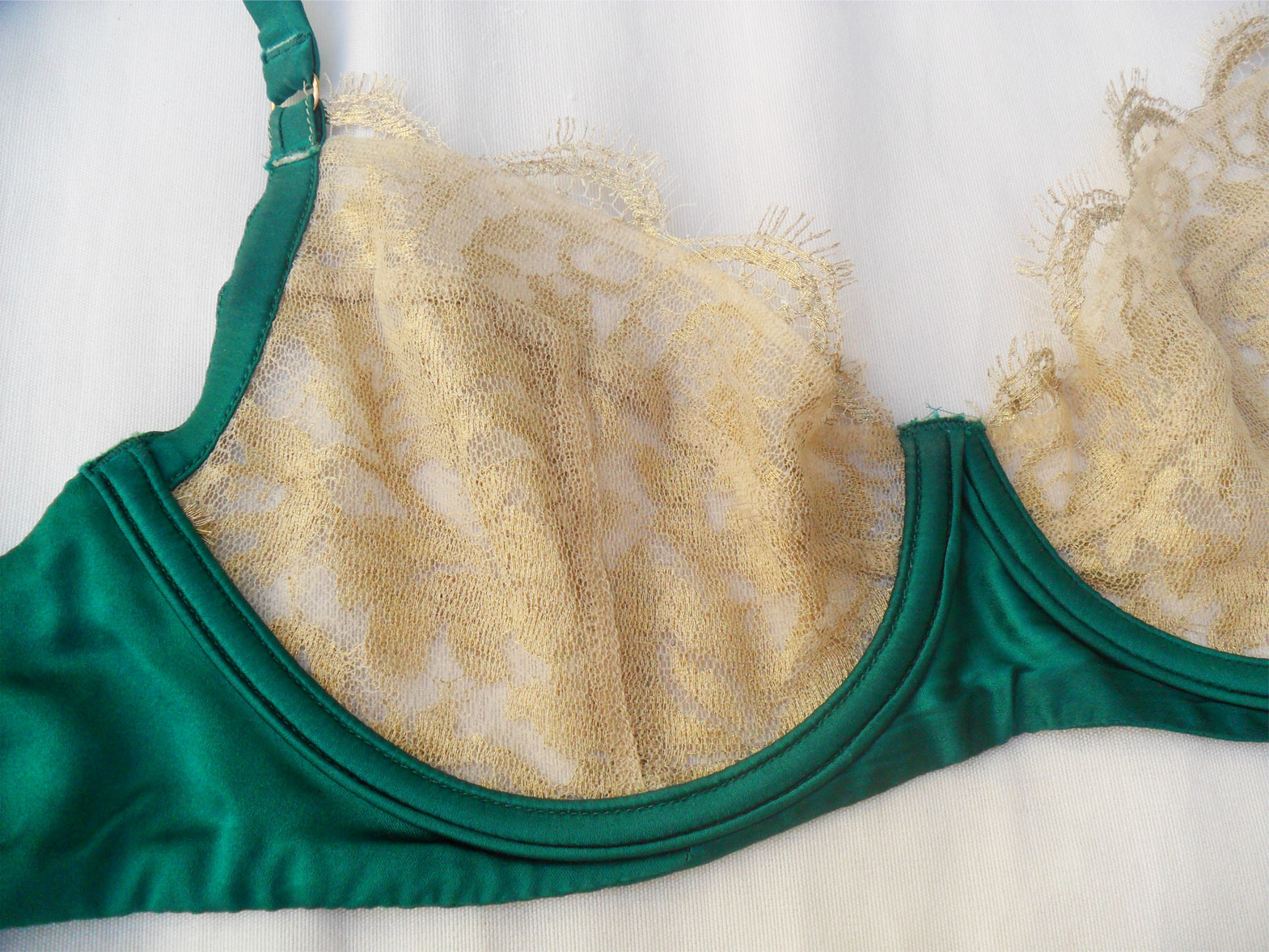 Speaking of seams, the second thing you notice when you start to admire it up close is that there's absolutely no elastic visible, and very little stitching for that matter. Everywhere you'd normally see elastic on a bra set – along the top and bottom of the band, for example – it has been 'bagged out', meaning both the elastic and the stitches are hidden between the layers of silk for a very sleek and neat-looking finish. This kind of attention to detail goes above and beyond what I'd usually expect from a luxury brand, and definitely one such as this that's on the lower end of luxury pricing.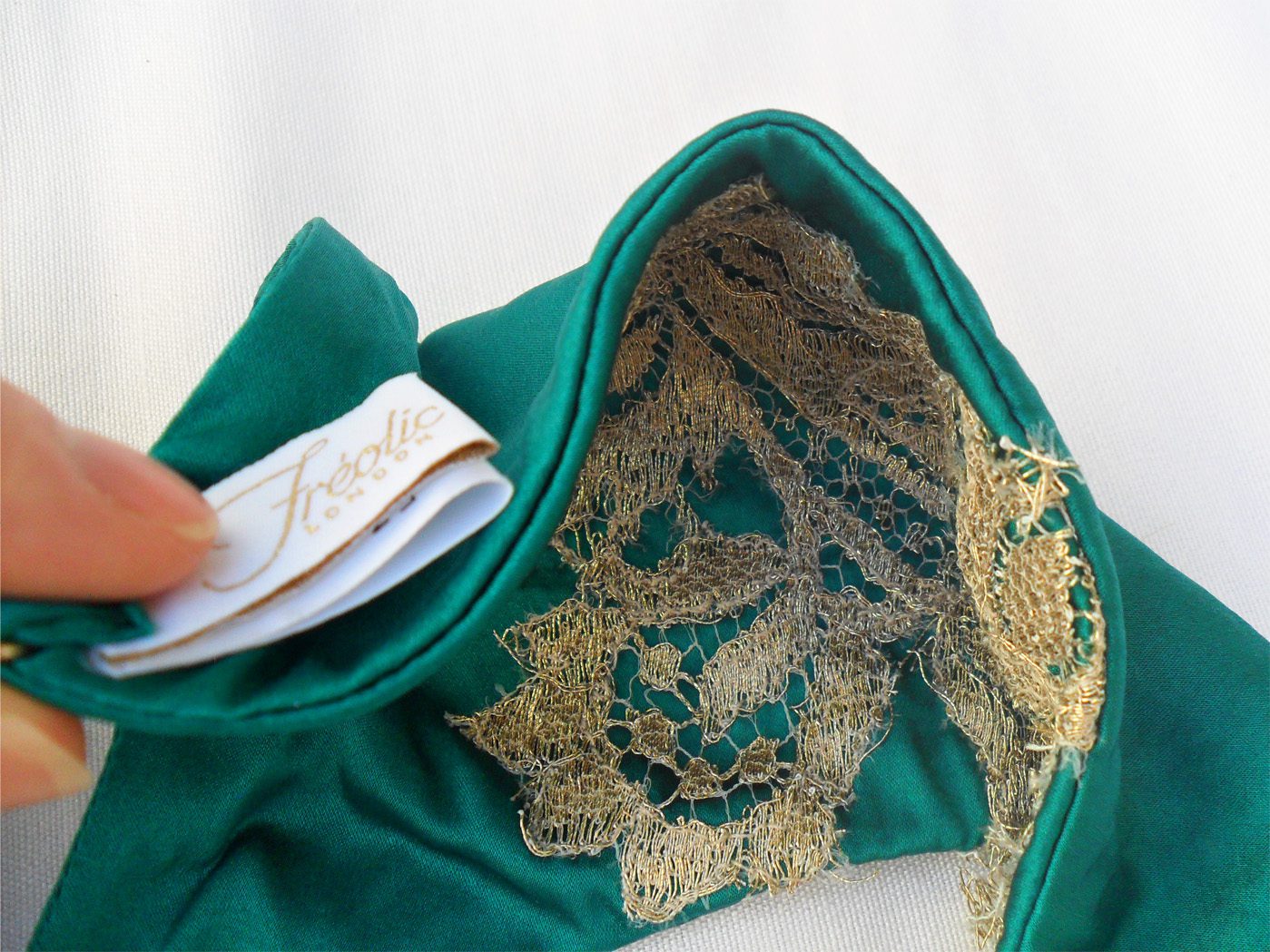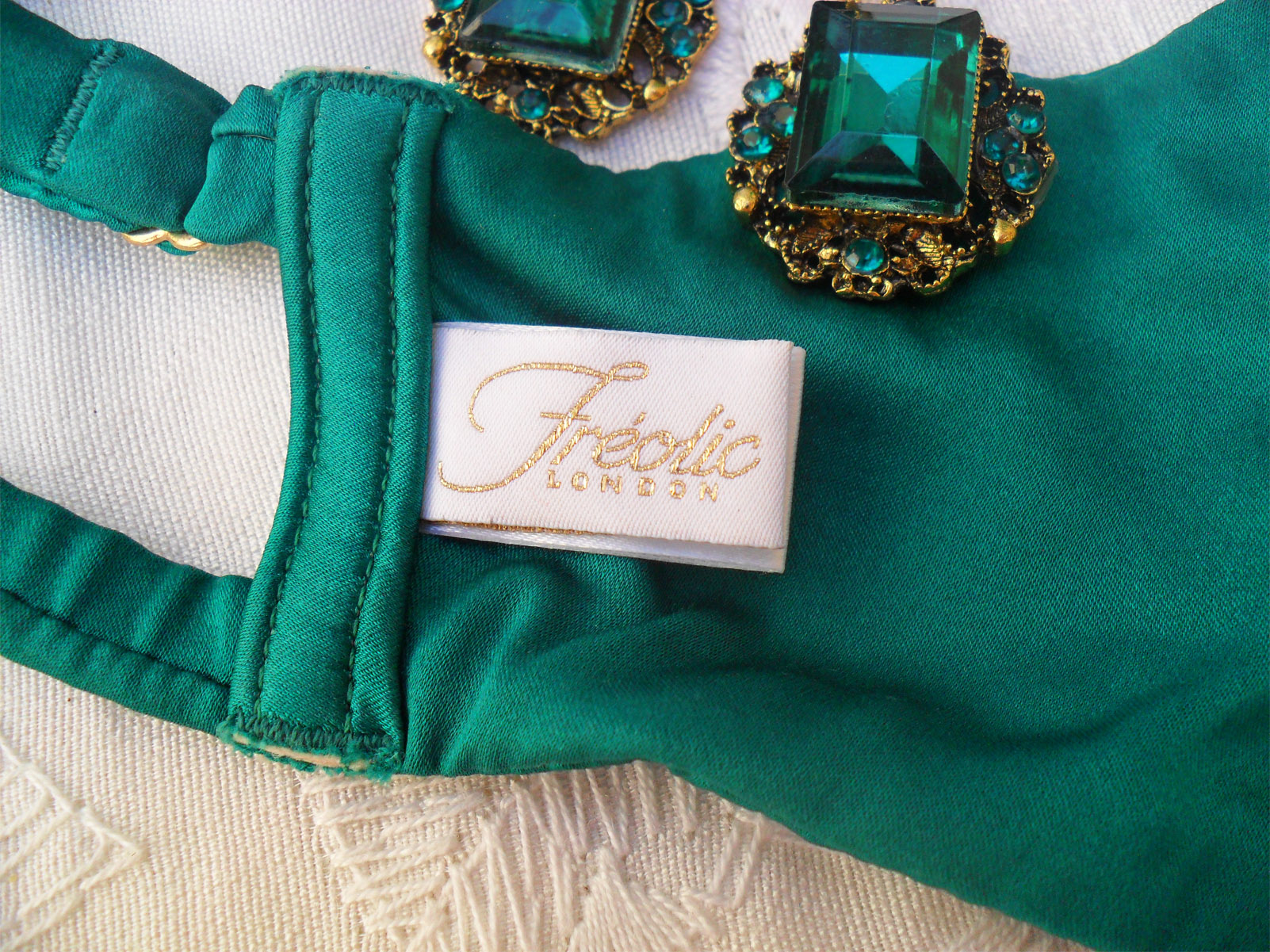 All of that said, I did have a couple of construction issues with my Fréolic London set. I received two types of thong: one with a sheer, tulle-backed lace front, and one made from a double layer of silk satin with that same lace carefully cut out and appliquéd onto the front. This metallic lace is corded, meaning the floral motifs are outlined by a raised thread that gives the lace a slight 3D texture. Unfortunately, when the lace was cut around and appliquéd onto the second thong, these raised cords weren't fully secured down and over time they've started to unravel. I think with a different type of lace, one less prone to fraying, this wouldn't have been an issue.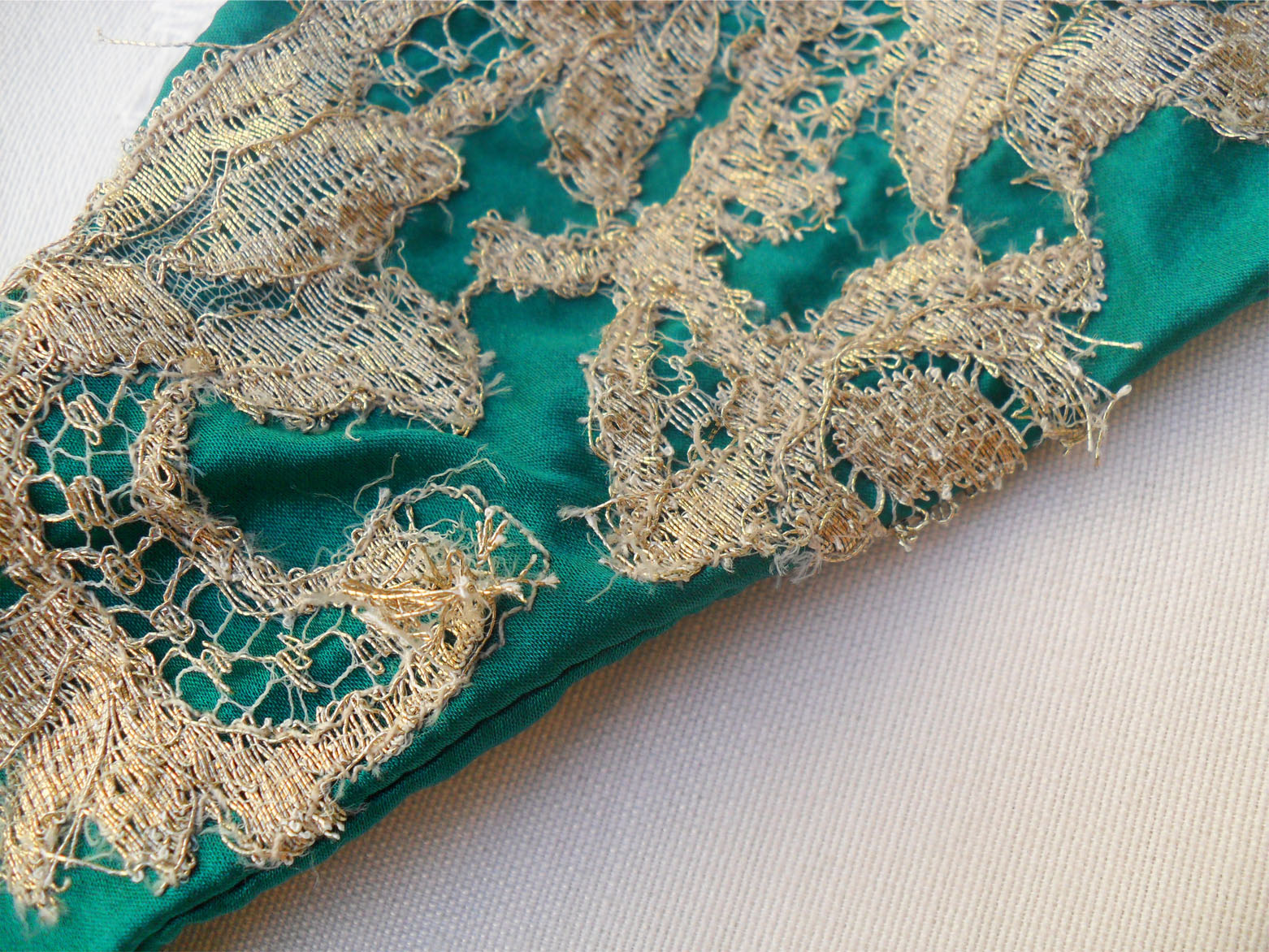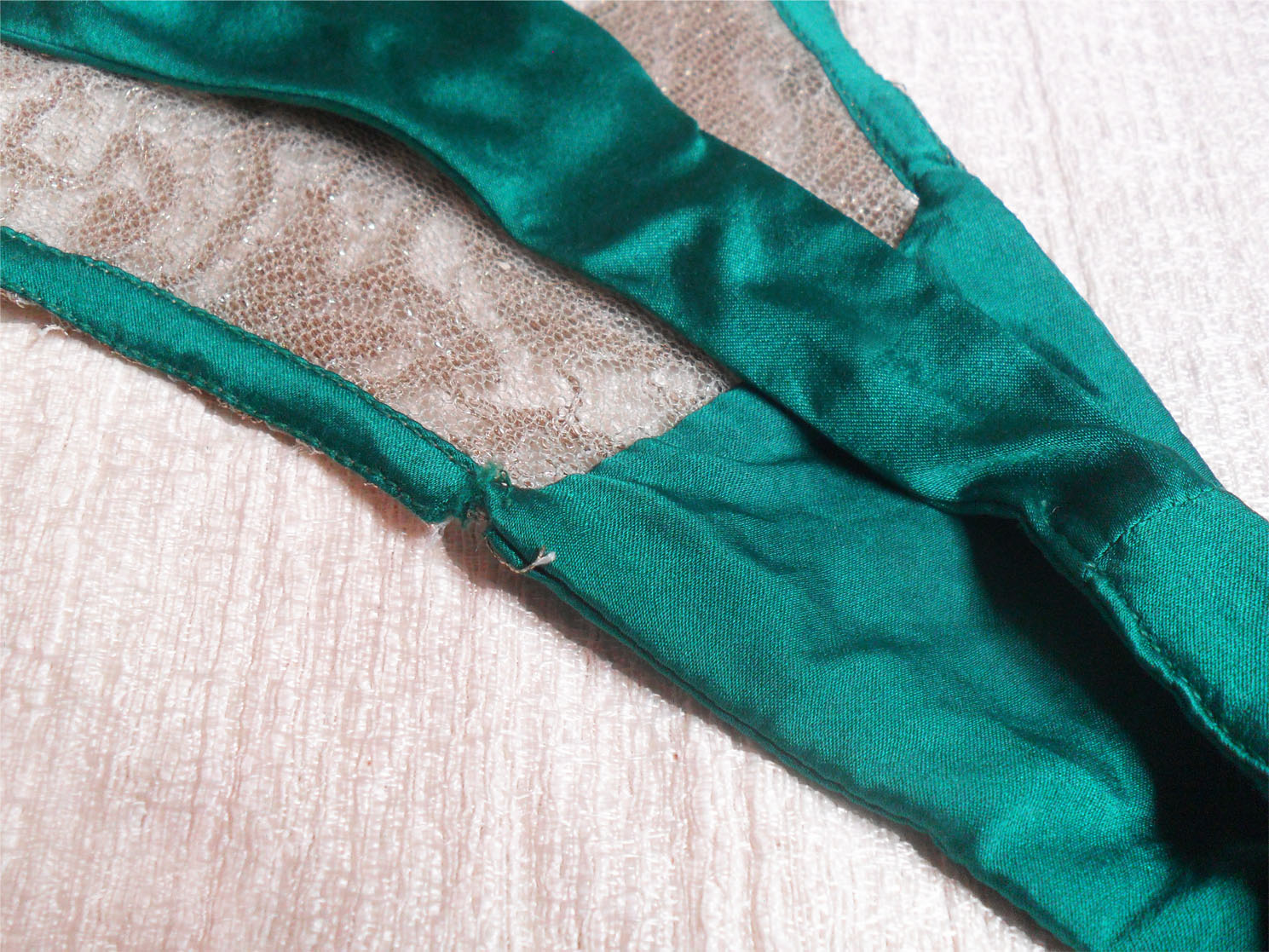 The sheer lace thong meanwhile looked perfect for a long time, but now, half a year later, I've spotted that the area where the lacel panel joins to the silk gusset has pulled apart at one side. It looks like this happened because the fabrics only overlapped by a millimetre or two, which was never going to hold up to long-term wear. Luckily, I think this is something I can somewhat fix with a few carefully-placed stitches.
The bra, on the other hand, is perfectly sewn and still looks flawless after extensive wearing and hand washing!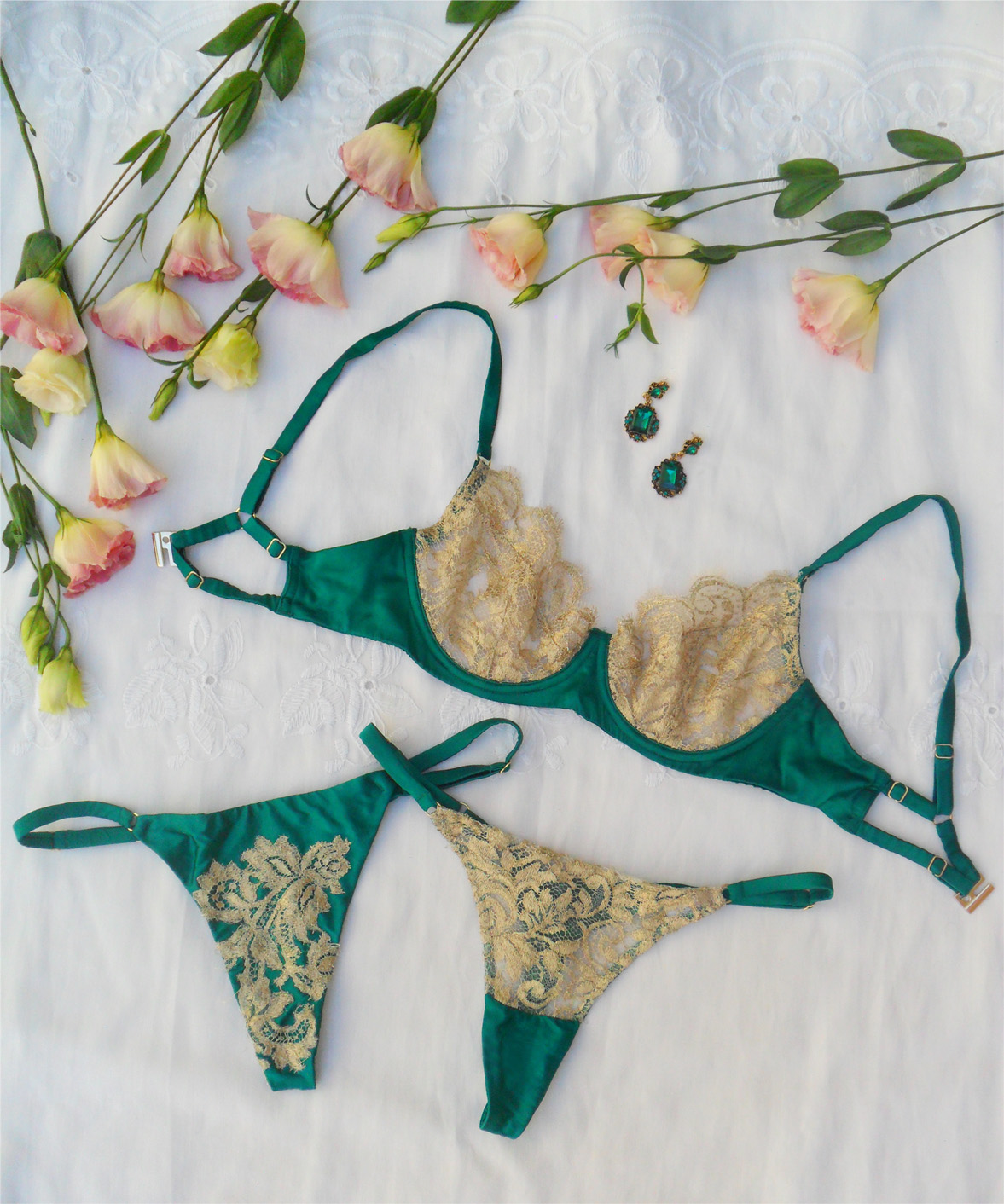 Fit
Although I received this set before the launch of the new fit app, my Fréolic London set was still made to measure based on measurements I took myself. I was asked to provide overbust, underbust, waist and lower hip circumferences. I haven't had much luck with made to measure lingerie in the past (something about my measurements makes designers think I'm much smaller-busted than I am!) so I also mentioned that I typically wear a 30DD and XS / UK 6.
Unfortunately, the first bra I received had underwires that weren't wide enough to wrap all the way around my breast, and I was spilling out of the cups. After sending the brand some photos of the fit and double-checking my measurements (they were correct), they asked how many cup sizes larger I thought I needed and I decided one more would probably be enough. The bra was remade, and thankfully the second one fits like a glove!
Both thongs also fit perfectly, and are easily adjustable thanks to metal sliders at the sides. The open, strappy-style bra band can also be adjusted via sliders to tweak the fit. It's worth noting that Fréolic London doesn't accept returns (unless faulty) which is very normal for made-to-measure lingerie. However, I'm unclear about whether a regular customer would have the option to exchange if the cup fit is clearly off, as their returns policy only mentions sending bra extenders if required which wouldn't have fixed the cup size issue I had.
There's also no information given on their overall size range, so I'm not sure whether they now make any size or are limited by available underwire sizes. If you're particularly full-busted, I'd suggest contacting the brand to enquire before placing your order.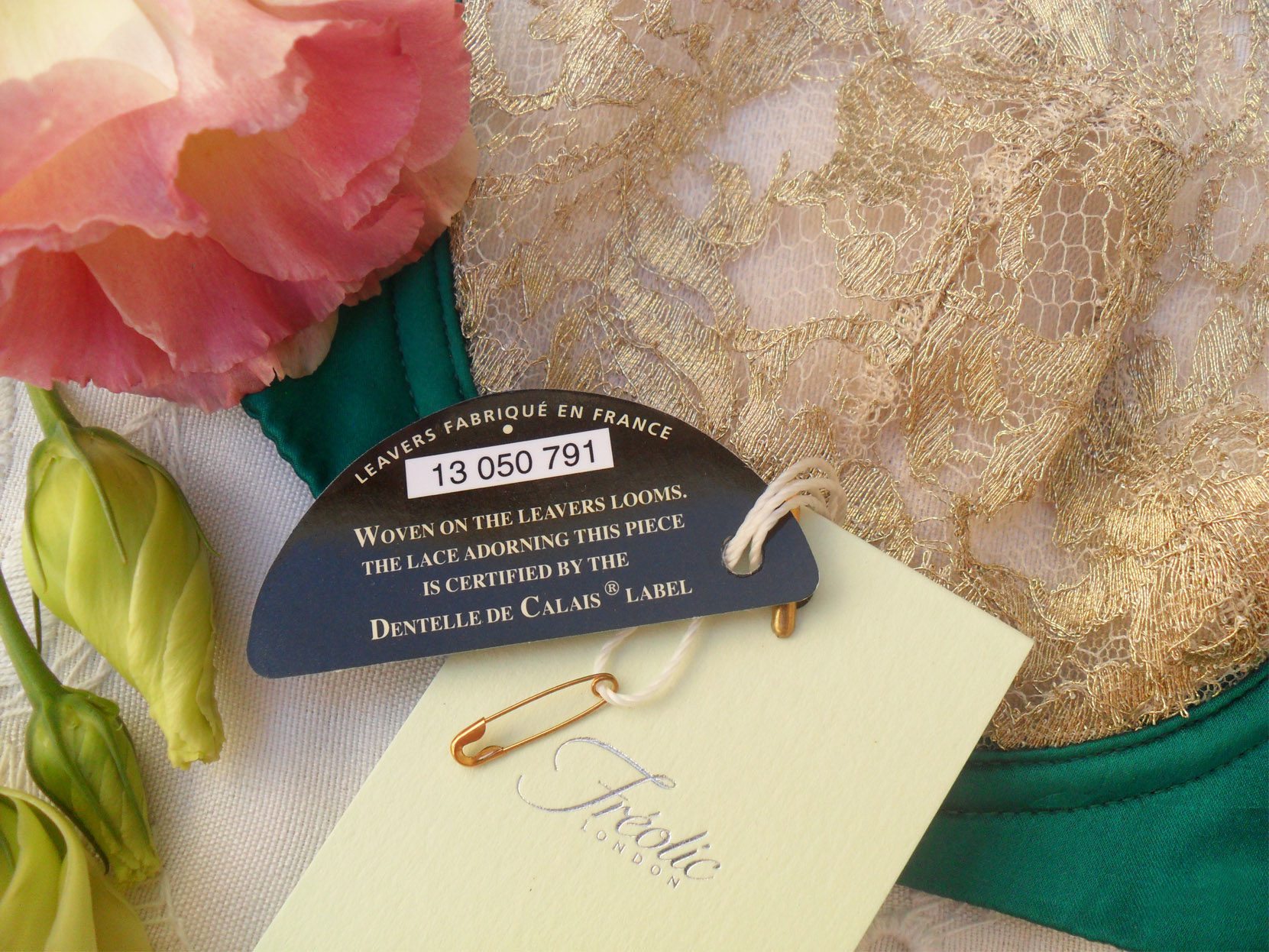 Final Thoughts
There's always a little risk involved in buying custom-sized lingerie online, without an in-person fitting. If you're willing to take the chance however, you could end up with a very beautiful piece of lingerie for an exceptionally great-value price. No one else that I can think of is offering Fréolic London level quality at Fréolic London prices! And the fact that their custom design builder lets you choose time-consuming lace appliqué at no additional cost compared to the non-appliquéd garment version is frankly bonkers. Just pick your lace option carefully if you're going for appliqué, and contact the brand for guidance on which are most suitable if in doubt.
The construction on my set isn't 100% perfect, but it's still one of the most luxuriously-made lingerie sets I own overall. The silk-wrapped everything is a delight to wear (and to look at!), and getting something that you've semi-designed yourself just makes it all the more special. It was also produced remarkably quickly for custom lingerie – the brand aims to get your garment sewn within 3-7 working days.
If you've ever ordered from Fréolic London, I'd love to know what you thought of your purchase. What are your thoughts on buying made-to-measure lingerie online in general?