Disclosure: Links with a * are affiliate links.
For people with dexterity or mobility limitations, getting dressed can be a challenge. Enter adaptive underwear.
Adaptive underwear provides ease and independence for people who find traditional underwear difficult to use. These designs commonly feature fastenings such as velcro, zippers or magnetic clasps at the front or side, so that the bra or brief can be put on or taken off without significant movement, bending, or standing.
Adaptive lingerie is intended for people who have a disability or injury, use a wheelchair, suffer from chronic illness or pain, or are recovering from a surgical procedure such as a C-section. However, adaptive briefs in particular can also be useful for anyone who needs to change discreetly in a location where it's difficult to get fully undressed, such as in an aeroplane bathroom or while camping.
Here are 12 adaptive underwear brands which are paving the way toward more accessible underwear for everyone:
Liberare
Size Range: XXS – XXXL
Price: $25 – $60
Closure Styles: Magnetic, velcro, extra-adjustable straps
Adaptive Lingerie Styles: Wirefree bras, cami and shorts sleep sets
Current Colourways: Black, pink
Other Product Notes: When designing Liberare's collection, it was important to founder Emma Butler that the styles didn't look medical. Liberare stands out from some of the more basic designs on this list with satin and lace lingerie including the Slumber PJ Tank.
Liberare (previously Intimately) started off as a KickStarter campaign by a student whose mother suffered from a chronic illness that made getting dressed difficult. You might have seen them in the news recently, as they've just launched a partnership with the popular American brand Aerie. They sell their own product designs plus curate adaptive underwear from other brands in their online store.
Elba
Size Range: S – XL, featuring M+, L+ and XL+ for larger busts
Price: £12 – £60
Closure Styles: Magnetic front closure
Adaptive Lingerie Styles: Wirefree bras
Current Colourways: Black, grey, pink, and floral patterned
Other Product Notes: Elba offers a sizing calculator to help you find the right size bra in their store.
Elba is the word "able" backwards. This London-based company's mission is to create adaptive underwear that is both stylish and functional, and they have some fun styles such as the Elba Essential Bra in Fleur.
Slick Chicks
Size Range: XS – XXL
Price: $22 – $74.99
Closure Styles: Velcro, hook-and-eye, magnetic, zippers, front-adjustable straps
Adaptive Lingerie Styles: Hipster, tanga and high-waisted bottoms, wirefree bras
Current Colourways: Black, white, beige, purple
Other Product Notes: Slick Chicks offers leakproof underwear with light to medium absorption. They also have a selection of accessible loungewear. Styles such as the Adaptive Loungewear Short come on and off with side velcro, while the Front Zip Camisole includes an accessible zipper and magnetic straps.
Slick Chicks is one of the biggest names in the adaptive underwear market. In keeping with their commitment to empowerment and inclusivity, they outsource the sewing of their products to MAS Holdings, a company in Sri Lanka that employs over 380 people with disabilities. As the brand says: "We had a chance to create a product for persons with disabilities, by persons with disabilities".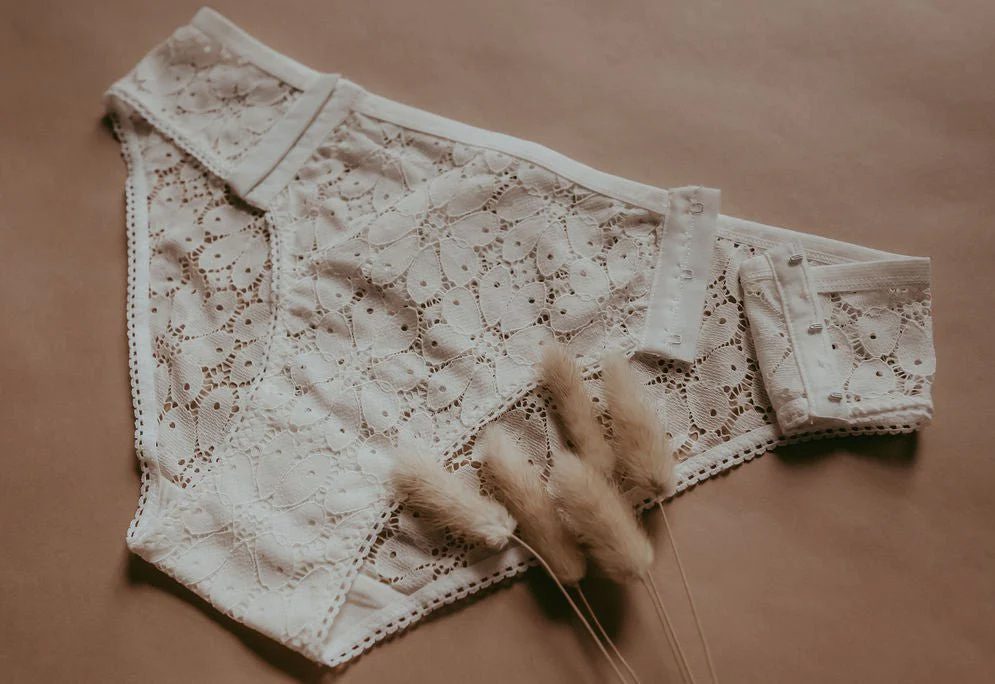 Clip-Knix
Size Range: UK 8 – 26
Price: All styles £15
Closure Styles: Buttons, hook-and-eye
Adaptive Lingerie Styles: Bikini, hipster, and French-style briefs
Current Colourways: Black, white, and cream
Other Product Notes: Each product is designed to be both practical and fashionable, featuring beautiful lace on the Traditional and Classic styles.
UK-based brand Clip-Knix designs underwear that is comfortable to wear throughout the day, even for people with chronic pain. It can be changed while sitting or laying down, without the need to bend or stretch.
SKIMS
Size Range: XXS – 4XL
Price: $18 – $32
Closure Styles: Hook-and-eye
Adaptive Lingerie Styles: Bralette, brief, thong, and boyshort
Current Colourways: Black plus three shades of nude
Other Product Notes: SKIMS is currently running a special on their Fits Everybody underwear selection, which includes their adaptive styles, where you can get any 3 bottoms for $36.
Kim Kardashian's famous brand SKIMS debuted a small selection of adaptive underwear* earlier this year. Their hook-and-eye closures reduce the possibility of catching on other clothes, something that's sometimes a concern with velcro and zipper closures.
Fresh Comfort
Size Range: S – XXL
Price: $22 – $70
Closure Styles: Velcro, zippers
Adaptive Lingerie Styles: Wirefree bras
Current Colourways: White, cream, and blue
Other Product Notes: Fresh Comfort's adaptive bras feature wide straps and removable cup pads for additional comfort and support. Their products are designed without tags to reduce irritation against the skin.
Fresh Comfort's mission is to create comfortable underwear for people with limited mobility. Their products are machine washable and easy to care for, as well as easy to use. Use their size calculator to find the best fit.
Undercare
Size Range: S – 4X
Price: $28 – $34
Closure Styles: Velcro, snaps, front clasp
Adaptive Lingerie Styles: Bikini briefs, mid-rise briefs and boxers
Current Colourways: Black, white, gray, polka-dot print
Other Product Notes: Undercare will soon have an apative swimwear option, with a one-piece that features a front zipper and velcro. They also sell men's underwear.
Undercare uses high-quality velcro to fasten garments without irritating sensitive skin. All products are durable and pre-shrunk so you can easily clean them without worrying about shrinkage.
Silverts
Size Range: S – 3XL; Bras fit A-D cup with additional styles for D-DD cup and US DDD-HH cup
Price: $18.58 – $34.98 (many items currently on clearance at lower prices)
Closure Styles: Velcro, snaps, hook-and-eye
Adaptive Lingerie Styles: Wirefree bras and a bodysuit
Current Colourways: Black, white, cream
Other Product Notes: They also offer a bodysuit with shoulder straps that adjust in the front and a snap closure gusset.
Silverts is a United States-based company that specialises in easy-to-wear fashion. It's primarily targeted at the elderly which reflects in the styles available – they skew functional rather than fashionable. However, it gets plus points for affordability. They offer a range of outerwear as well as intimates, and they helpfully note whether each article of clothing is best suited to self-dressing or assisted dressing.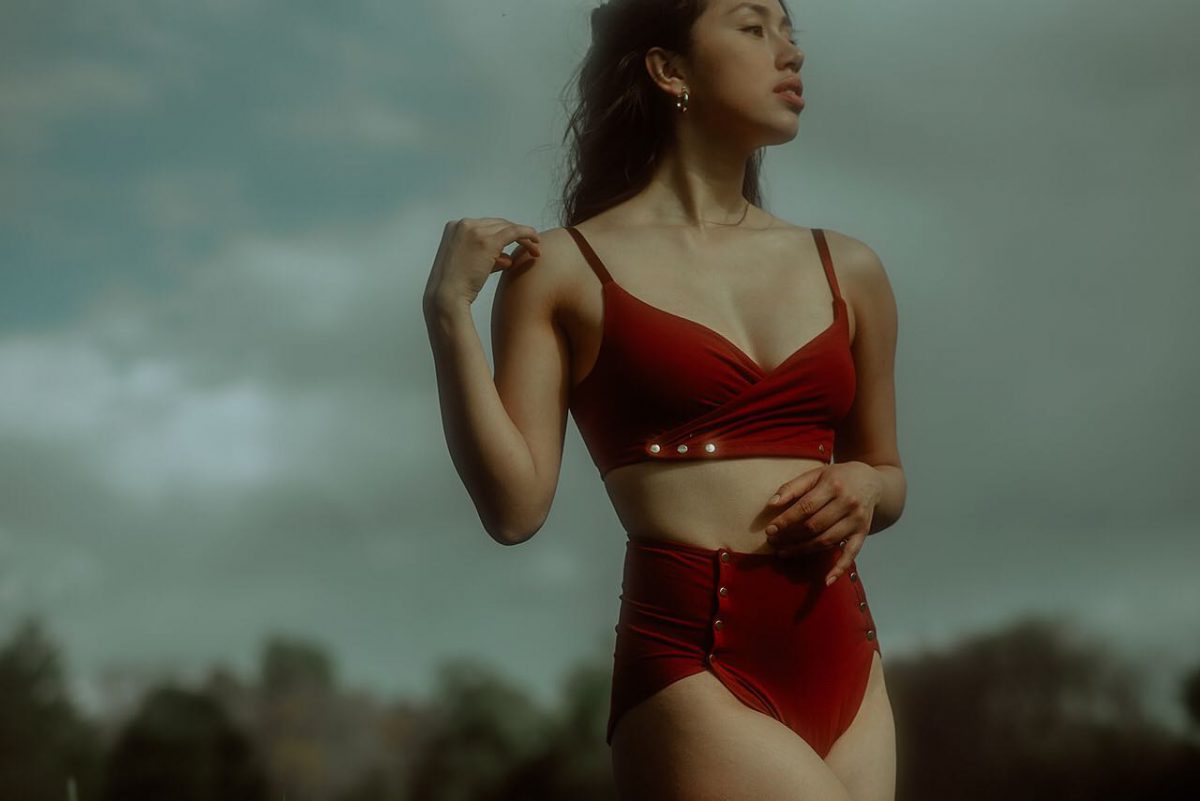 Hanna Broer
Size Range: XS – 2XL, custom sizing available
Price: $30 – $82
Closure Styles: Snaps, magnetic clips
Adaptive Lingerie Styles: Wireless bra, high-waisted briefs and a thong
Current Colourways: Light blue, red, brown, ivory
Other Product Notes: Each item is sustainably crafted from organic natural fibers and handmade by Hanna Broer in Vermont, USA.
Every product by Hanna Broer is designed with comfort in mind, and custom sizing makes this brand very accessible. Although these adapative styles and the option of custom sizing are currently unavailable while the designer is on maternity leave, this is a brand to watch.
ModiBodi
Size Range: 2XS – 3XL
Price: $24.50 – $28.50
Closure Styles: Velcro, metal clasps
Adaptive Lingerie Styles: Boyleg and bikini briefs
Current Colourways: Black
Other Product Notes: You may know ModiBodi from my previous article on the 10 Best Period Underwear Brands to Try.
ModiBodi* is primarily known for its leak-proof underwear. They currently offer two styles of adaptive period underwear: the Luxe Clasp Bikini* for moderate-heavy absorbency (15ml of liquid or 2-3 tampons or 3 teaspoons) and the Adaptive Boyleg* for heavy-overnight absorbency (20ml of liquid or 3-4 tampons or 4 teaspoons).
Swtch
Size Range: 1 – 8 (similar to XS-4XL)
Price: $32, or buy The Swtch Kit to receive two for $58 (currently on pre-order)
Closure Styles: Velcro-like fastening
Adaptive Lingerie Styles: Bikini and thong
Current Colourways: Black
Other Product Notes: Swtch has noted that they intend to introduce more colours and styles down the line.
Swtch offers moisture-wicking underwear that comes in a washable go-bag, so you can get changed quickly wherever the day takes you, and store them in your bag without drama. The idea came to founder Isabel Muller during a camping trip where she needed to change her underwear but didn't want to take her many layers of clothing off first. Swtch's designs are active as well as adaptive, so you can wear them during exercise. They're made in small batches with fabric from recycled and sustainably-sourced fibres.
Wings Intimates
Size Range: S – L
Price: $26 – $38
Closure Styles: Metal slide opening
Adaptive Lingerie Styles: Bikini, Brazilian brief, and thong
Current Colourways: Black, white, pink, and red
Other Product Notes: Wings Intimates' designs are made to be feminine and sensual, with lace and mesh details.
Like Swtch, Wings Intimates isn't specifically targeted toward people with disabilities. However, founder Azita Yaghoobian had the idea to start the brand after she had a C-section and faced limited mobility. The signature W side-opening design may be challenging to use for some people with dexterity limitations, but this is a brand to watch as Wings' sexy designs are a breath of fresh air compared to the more functional styles common in the adaptive underwear space.
Have you used adaptive lingerie before? What are your thoughts on the brands on this list?