Disclosure: This blog post contains affiliate links.
Unfortunately I was too busy last week launching my new collection to do much blogging, but this week the lingerie lust list is back and it's a good one since I've had 2 weeks to search out the most exquisite and unique lingerie I could find!
This week I'm showcasing a stunning new brand I recently discovered, a new style from one of my favourite brands here at Esty Lingerie and one of the most beautiful bra sets I've ever seen…
1. Ohhh Lulu Selene Satin Bra & Knickers Set (Approx. £74.70) – pictured above
I'd heard of Ohh Lulu for a while but for some reason had never really got round to having a look at their stuff. I stumbled across this bra set by the brand over on Etsy and it instantly caught my eye because I've actually been looking for a bra just like this – three chevron stripes in contrasting satin colours – for over a year!
I adore the sugary sweet colour scheme too, that designer Sarah describes as 'vanilla, blush and seafoam mint'. It's the perfect, grown-up girly lingerie set and absolutely definitely on my shopping list as well as my lust list!
2. Arabel Candyfloss Knickers (£17.50) and Bra (Price Unknown)
Arabel is one of our very own brands here at Esty (view the full range here) that was added recently, and the Candyfloss knickers were my favourite design from the moment I saw them. As someone who always wears matching sets though, I rarely buy knickers without a matching bra so I was thrilled to see this picture on Arabel's Facebook page – this gorgeous, sheer chiffon bra will be available to buy soon too!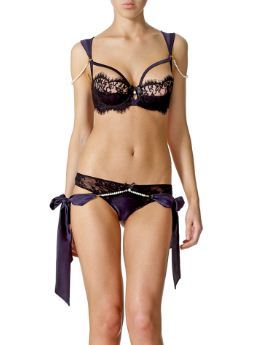 3. Myla Carrie Bra (£450) and Knickers (£550)
Myla can always be relied on to create breathtaking, innovative lingerie and my new obsession is this stunning Carrie set in black and navy blue. Absolutely every detail on this set is stunning, from the small keyhole at the centre of the bust that's topped with a bow and single pearl bead, to the beautiful silk ribbon bows on the hips.
The cups are really unique, with an opaque layer topped with a lace layer topped with the cut-out frame style that's so popular right now. I honestly think this is one of the most beautiful lingerie sets I've ever seen, but unfortunately at £1000 it's another one firmly on the lust list!
Which is your favourite set from this week's selection?