Disclaimer: This blog post contains affiliate links.
It's been ages since the last lust list and I've built up such a lengthy wishlist it seemed a bit silly just sharing 3 of them as I usually do – for one thing, lots of the designs are starting to sell out! So instead I thought I'd centre the lust lists around themes moving forwards – colours, trends, that sort of thing.
I'm starting with a recent trend that I'm a little obsessed with, 'jewellery lingerie'. Some of these pieces feature detachable jewellery, some are simply jewellery-inspired and yet others could be worn as jewellery in a new take on the lingerie-as-outerwear trend.
Paul Seville patent leather and gold chains harness (€275, approx. £220)
With deluxe patent-leather and buckle detail at the back of the neck and waist, this draped chain harness is simply stunning and would work just as well over a dress as it would over lingerie (or over nothing but a pair of pasties – these and these would match perfectly!).
Agent Provocateur Zindie bra (£595)
New in as part of the brand's deluxe Soirée range, this awesome bra features four gold, 2-way zips, with long chains attached to each. The matching knickers, thong and suspender belt are all pretty gorgeous too, with zip and chain features at the sides.
Agent Provocateur Akiko eye mask (£195)
Also from Agent Provocateur's Soirée range, you'd be forgiven for thinking this was a picture of a necklace and I don't see any reason why it couldn't also be worn as one. It's a great two-in-one piece – necklace by day, eye mask by night!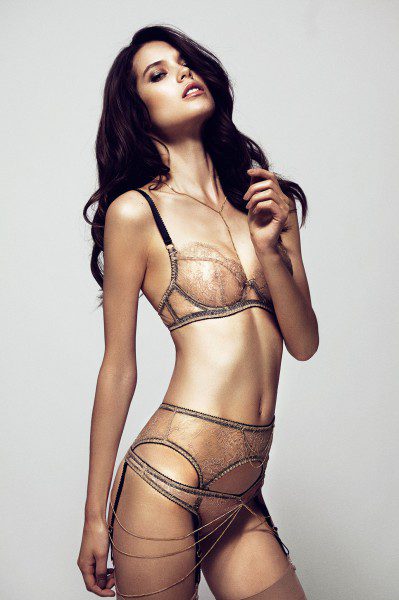 Edge O' Beyond chain pieces at neck (£30), on suspender (£25) and on knickers (£60)
I love the unique concept behind this new lingerie brand – each lingerie item features concealed gold-plated rings which mean you can attach the chains (sold separately) in various places, or leave them off when it's more practical. All of the chains are plated with 18-carat gold and there's also a standalone harness that could be worn as outerwear.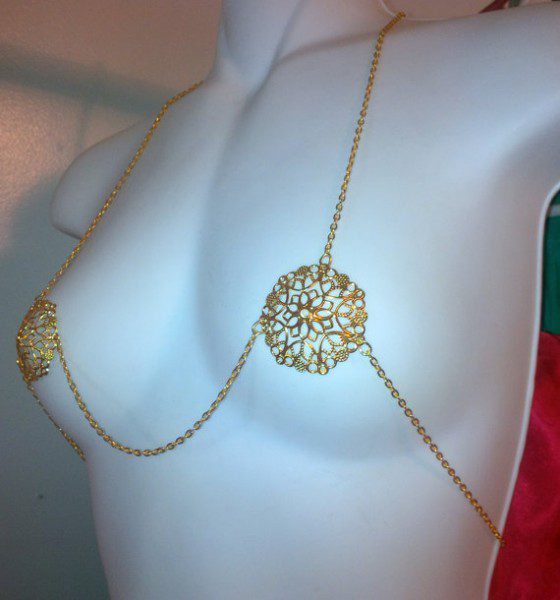 Pandora's Closet by AJ pastie harness ($33, approx. £21)
This burlesque-inspired piece incorporates metal filigree pasties into a chain harness with adjustable clasps at the neck and back. It's handmade in the USA.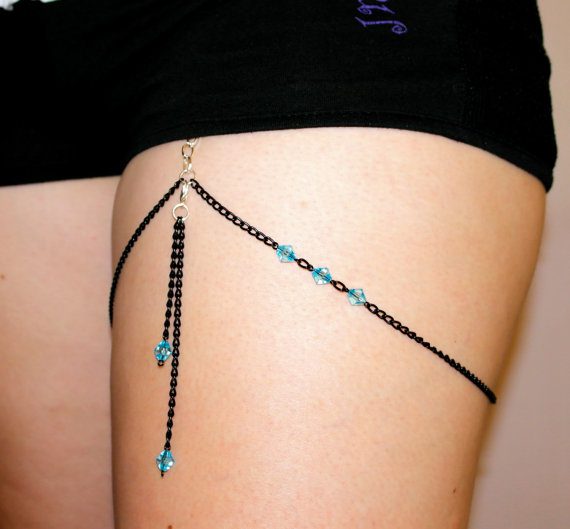 Diana Italy chain garter (€11, approx. £9)
This designer has a few chain garters but this is my favourite. The beaded chains are attached to black elastic to hold the garter in place, and the central lobster clasp means you can remove the tassel if you prefer for a simpler look.
La Cage Art of Restraint Body Harness ($80, approx. £51)
This store on Etsy has been around for quite a while and I'm really surprised they haven't sold more, as I think their designs are just gorgeous! This harness is made from studded leather and strings of Czech glass beads. Similar to the garter above, it features lobster clasps so you can also wear it as a simple choker necklace.
Bliss Lau gold harness (€850, approx. £677)
For pure indulgence, this pricey harness is made from 14-carat gold vermeil and would look beautiful draped over lingerie or worn over a dress for a special occasion.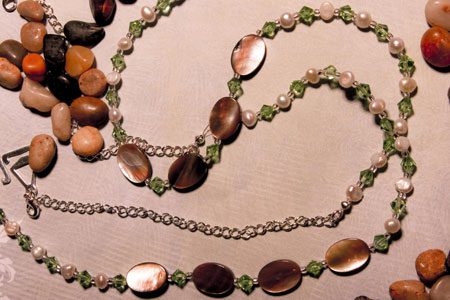 Exposed Envy bead and pearl bra straps ($24, approx. £15)
Last but not least, replacement bra straps are not a new thing but most of the ones I see involve diamante gems, are made from that awful 'invisible' elastic or are just plain, so it was nice to find this brand that also sells lots of beaded designs. I can see this pair poking out from a camisole or bandeau top on a tropical beach holiday!
What do you think of jewellery-inspired lingerie? Are there any pieces, shown here or elsewhere, that you'd love to own?