Disclosure: I purchased this lingerie set myself. Links with a * are affiliate links.
Psst, want me to let you in on a lingerie shopping secret? Luxury brand Myla has an official Instagram outlet, where past season pieces can be found for ludicrously low prices – as little as £5! [Edit: I have removed the link as the outlet account has been removed since this review was published]. That's where I picked up this bra and suspender belt for over 80% off their original retail price. Both matching bottoms were unfortunately gone in my size by the time I saw it, but I really wanted the set so I bought a second suspender belt and made my own thong from it. So that's why you'll only see me commenting on the bra and suspender belt in this review, even though there's a matching thong in one of the photos.
When Myla relaunched in 2018 after a lengthy hiatus I… was not the biggest fan. It was very different to the Myla I'd known and loved before – more sophisticated perhaps, but a lot less fun and experimental. Since then though, the brand has been growing on me once again. In particular, the one range from their relaunch collection that I did really like, Columbia Road*, has become a signature style that they re-release over and over in new and always-interesting colourways.
Currently, it's available from their main site in red* at the full price of 289€-311€ (approx. £248-£267 or ~$341-$367) for a three-piece set, depending on the bottoms style you choose, or in a mermaid pastel mix* that's 50% off. Previous versions have included an array of vibrant colours from emerald green to bright yellow, and quite frankly, I want them all! But this pink is what happened to be available in my bra size via the outlet.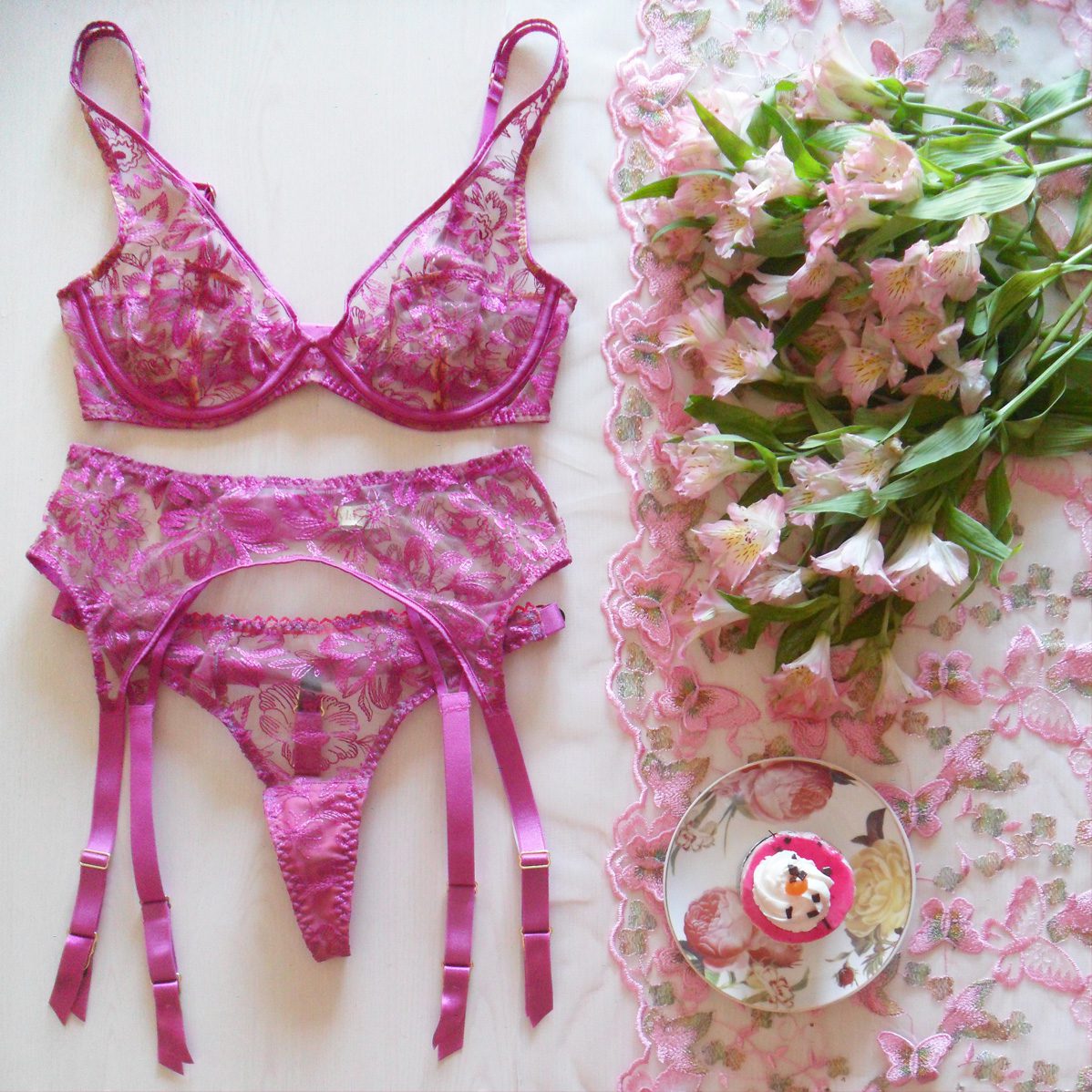 Fit
The bra is a 32D, which is the size I typically buy when a brand doesn't make a 30DD, and it fits true to size. The band feels how I expect a 32 band to feel, and the cups are exactly my size. In fact, I've realised that this style of 'super high apex' bra design, where a single piece of fabric sweeps all the way down from the shoulder to the centre-front, works really well for a shallow-on-top shape like mine. I think it's because the tension of the strap helps to pull the cup edge flat against the body so that there's no gaping. My Mimi Holliday Hide & Seek bra has a similar shape and is another of my best-fitting bras.
The cups don't provide a huge amount of lift, but neither do they flatten – they are 3-part cups, which boosts support and allows for a rounder shape. Myla describes the Columbia Road bra as "enhancing smaller busts, yet offering comfort and control for larger cup sizes". It's available from a 32B to a 36E.
The suspender belt is a size S, which the Myla size chart recommends for a UK 8-10 or US 4-6. This also fits true to size – as a UK 6, I can wear it just fine without it slipping down, but there's plenty of stretch remaining. It has wide suspender straps with sturdy, solid-feeling hardware and does a good job of holding stockings up throughout the day.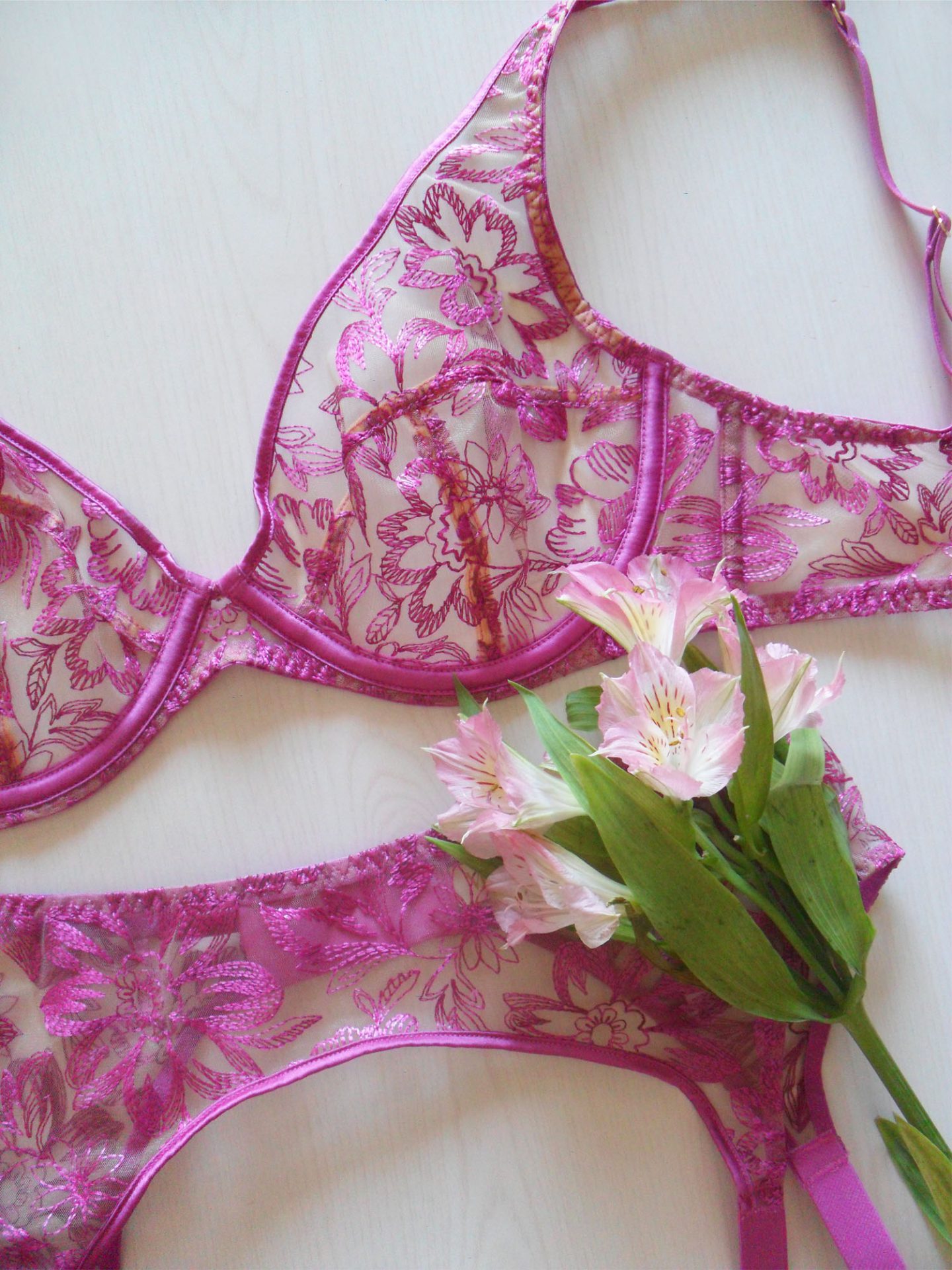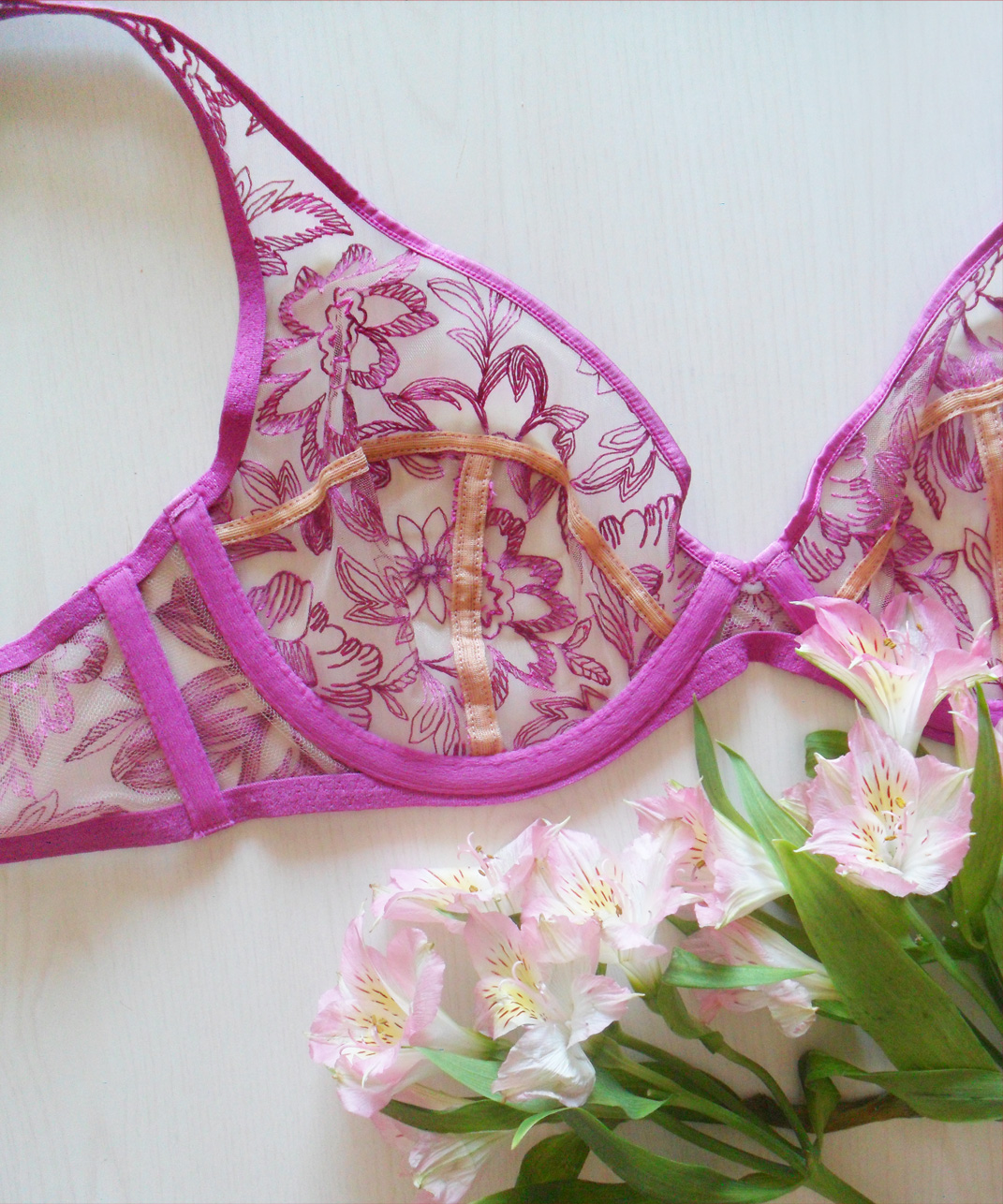 Construction & Appearance
Columbia Road is made from a very fine, beige tulle which disappears completely against my skin tone, and which is embroidered with large-scale flower motifs. All of the trims are dyed the exact same shade of pink as the embroidery, with the only contrast being the gold-tone hardware. The plunge neckline has been outlined with silk-satin, as well as the bottom edge of the front of the suspender belt. The underwires are also topped with silk-satin on the outer side, which adds a touch of luxury and emphasises the curve of the breast.
The bra band is the only place where the tulle is lined – with a slightly less-fine beige net – which is done to add stability. There are also flexible bones at either side to hold it in position. The cup seams have been covered with a beige fabric on the interior to avoid feeling irritating, and although the cups and suspender are unlined, the reverse side of the embroidery isn't scratchy. I find these pieces perfectly comfortable to wear, and particularly ideal for summer since the set feels very lightweight and breathable.
Overall both of these pieces are very neatly sewn and finished, as I would expect from a luxury lingerie brand. They're hand wash only, due to the delicate fabric, but seem as durable as they can be despite this. I'm expecting them to last me a long time, and now that I've actually worn a Columbia Road set, I'd have absolutely no qualms about adding it to my collection in a few more colourways!
What do you think of this Columbia Road bra set, or Myla in general? Have you shopped with them since they relaunched?