Disclaimer: This blog post contains affiliate links.
It's been a while since the last Lust List and I've seen so much gorgeous lingerie I've completely lost track, and can't remember what I wanted to blog about – except for the first item on this list that is, which I so amazing I haven't stopped thinking about it since I spotted it on The Lingerie Addict. The designer's off on holiday right now and I'm off on holiday in a week, but in September I definitely have plans to buy this!
1. Creepy Yeha Ravish Me Bra and Suspender set ($200 – Approx. £132) – pictured above
I stumbled across some Creepy Yeha garters a while back and thought they were unusual but not really my thing (there are lots of metal spikes that would show through clothing, and I like my lingerie as practical as it is pretty), so when I spotted this set I couldn't believe it was the same designer. It's simply amazing! To me, it looks like something Bordelle would produce, but significantly cheaper. I absolutely adore the garters attached to the suspender straps too!
2. Bordelle Aqualegia Bra (£200 + VAT) and Thong (£90 + VAT)
Now for some 'real' Bordelle because, well, what's a round-up of the most luxurious lingerie out there without a bit of Bordelle? Although I do still prefer the Creepy Yeha set above!
The lace on this bra set is beautiful, and I love the triple-strap detail on the bra, but my favourite part of all is Bordelle's signature elastic straps on the thong with 18-carat gold plated hooks.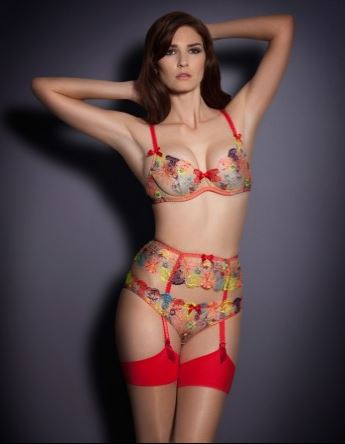 3. Agent Provocateur Zuri Bra (£85), Brief (£75) and Suspender (£85)
I'd love to add some more colour to my lingerie drawer – almost everything that catches my eye is black – and I don't think I've seen a bright, multi-coloured lingerie set better than this one. The heavy embroidery is just beautiful! This is part of Agent Provocateur's Autumn Winter 2013 collection (the rest of which launches Monday – yay!) but to me it looks super summery. I'd love to take this on holiday with me if I didn't need the money for other holiday things like souvenirs!
Which is your favourite set from the three?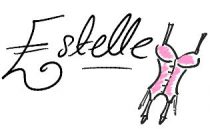 P.S. Follow this board on Pinterest to stay up to date with all the gorgeous lingerie featured in the weekly Lingerie Lust List.