Disclaimer: This blog post contains affiliate links.
In case you missed part one, I've been travelling around America for the past 3 weeks, taking in the sights and of course the local lingerie boutiques. I started out on the high-street, trying the infamous Victoria's Secret and checking out a couple of department stores, but then it was on to LA, Las Vegas and San Francisco to visit some more upper-market lingerie retailers.
Sadly I missed out on visiting What Katie Did in LA (I was only there on a Sunday, when their Hollywood boutique is shut) and I also missed the CURVE trade show in Las Vegas which I really, really wanted to get to, but there was still lots of lingerie goodness anyway. I managed to grab a quick coffee with Zoe from Weirdly Shaped in Las Vegas to talk about what I'd missed at CURVE (boohoo!) and show her my choker straps – she bought a few of the one-off designs from my 100 Days Project and I can't wait to see how she styles them! And then it was time to grab my sister and hit the shops…
Agent Provocateur
The Las Vegas Agent Provocateur boutique is pretty tiny but packed full of stunning lingerie. I finally got a chance to see the new collection (well, part of it) up close; the Fleura gown is as breathtaking in real life as it looks on the website, and the Zatanna set (above) and Skylar dress are even more so. I think that Zatanna set is on my save-up-for list now! The Zuri bra on the other hand probably looks nicer in Agent Provocateur's photos than it does close up (which is a shame, because it was previously my favourite set from the Autumn/Winter collection), but then again it is also the cheapest bra in the new collection at £85 and still worth it for that price in my opinion.
La Perla
I also stopped in at La Perla whilst in Vegas. I've never been to one of their boutiques before, or bought anything from them, so I wasn't really sure what to expect. The boutique itself wasn't so impressive as Agent Provocateur's boudoir-inspired store, but there was plenty of gorgeous lingerie nonetheless. My sister and I both loved the Marchesa bustier which was available in terracotta, black and red (red was my favourite) and I found a stunning, nude-tone slip in perforated leather in their sale section but it was still over $1000 which is well out of my budget!
This was also a pretty small boutique and when I went on their website afterwards to find the pieces I'd be looking at, I realised I'd only seen about a fifth of their current stock! Overall, there was lots of gorgeous lingerie but I wouldn't say the quality or design was any better than Agent Provocateur, yet the prices were higher.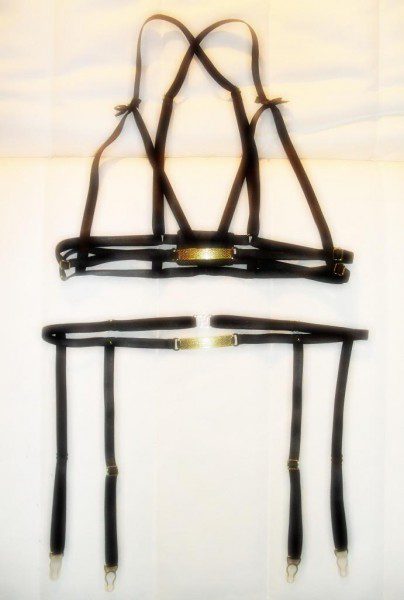 I've also been busy sewing up plenty more creations like the above set for the 100 Days Project – all of them will be photographed and made available for sale once I'm back in the UK next week. I stopped in at Britex Fabrics in San Francisco which is just pure sewing heaven. There are four huge floors packed with every fabric, trim and notion you could possibly want, and I could have spent literally all day there except that I was with my family who wanted to get some sightseeing in too. Before they dragged me back out the shop, I did find some gorgeous coloured velvet elastics (emerald green, lipstick red and navy blue) which will soon be turned into exclusive, limited-edition choker straps!