One of my favourite things to do (when I'm not buying knickers, sewing knickers or writing about knickers that is!) is reading other lingerie blogs; I love seeing what other people in the industry are talking about, and I love discovering new brands or pieces which I do just as much through blogs as I do through browsing online.
Esty Lingerie has been going for a little over 4 years and through that time I've been curating a list of my favourite lingerie bloggers over on Twitter. I'm finding new ones to follow all the time (and occasionally blogs disappear) and the list is up to 69 lingerie bloggers right now. That's a lot of lingerie blogs and I don't have time to read every post on every one of them, but there are some blogs that I do keep coming back to, because they're brilliant!
Here are the blogs that I think deserve special recognition for what they've contributed to the lingerie community in 2013…
Best for… General Lingerie Advice
The Lingerie Addict is 'the original lingerie blog', launched way back in 2008 when the owner Cora couldn't find any decent lingerie blogs around so she decided to set up her own. Thanks to a diverse team of 6 writers plus regular guest posts from every demographic, it's a great one-stop lingerie blog where you're pretty much guaranteed to find lingerie advice that's personal to you, whatever style you prefer and whatever size you wear, plus everything from the latest collections and sales to more serious articles on body image and diversity in the lingerie industry.
Best for… Luxury Lingerie
Lost in Lingerie has only been around for the past year or so but it very quickly (as in, from the first post) became one of my favourites. This is a lingerie blog for women who love premium-quality, unique lingerie from brands such as Agent Provocateur, Made by Niki and Maison Close. Owner Mira models the lingerie herself and the photography is stunning – it often shows off the lingerie better than the brand's product photography or lookbooks do! Most of the lingerie featured is out of the average woman's budget, but the blog is great for styling inspiration (and for bookmarking your favourite pieces so that you can nab them when they go on sale!).
Best for… High-Street Lingerie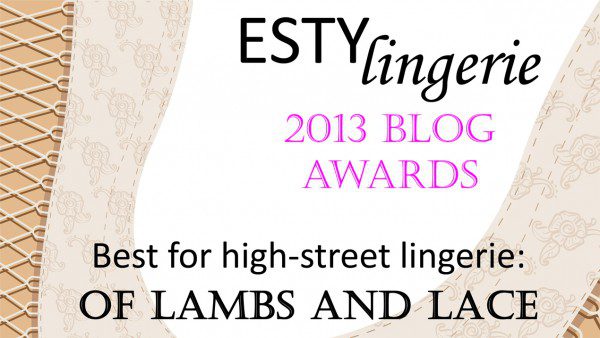 Of Lambs and Lace is another blog that's only really been around for 2013, but which has already gathered a small but passionate following of lingerie addicts. If you're on a tight budget, it can sometimes seem like there's a pretty limited selection of brands catering to you, particularly when it comes to finding some a little bit more unique and special than your typical t-shirt bra and knickers set. The owner of this blog however has a knack for finding both designer bargains and low-priced gems on the high-street, making it the perfect blog to follow if you don't have a lot to spend but do want to be able to buy the lingerie you see featured.
Best for… Small Busts
Kurvendiskussionen is an Austrian lingerie blog that's been around since early 2011, and firstly I have to admire owner Denocte's dedication to writing each blog post in both German and English! Just click on the British flag at the top of a post to see it in English. However, she's winning best small bust lingerie blog of 2013 because of her bra reviews – they're incredibly in-depth and if you have a similar bra size and body shape, will give you a pretty good idea of which brands could work best (or not really work at all) for you.
Best for… Large Busts
Becky's Boudoir is one of the lingerie blogs I read the most, which is partly because owner Becky features a lot of brands I buy in similar-ish sizes to what I'd buy, but it's also partly because it's a really well-written, well-researched blog with lots of interesting content mixed in with the reviews. And like Kurvendiskussionen, she wins best large bust lingerie blogger of 2013 because her bra reviews are really detailed when it comes to things like fit, support and quality.
Best for… Plus Size Lingerie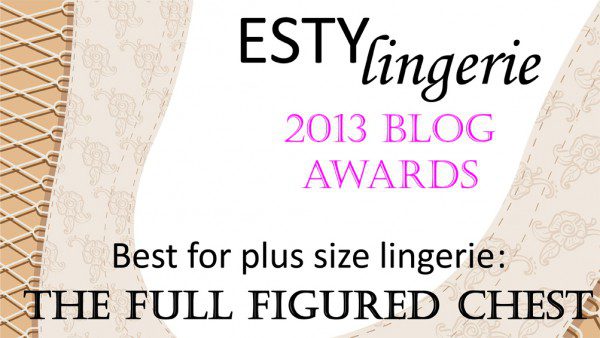 The Full Figured Chest is run by Holly, who also writes for The Lingerie Addict. She features a fair bit of plus-sized fashion on her personal blog, but it's still primarily a lingerie blog offering brilliant fit advice and reviews of both budget-friendly brands and ones that are a little pricier. If you're a plus-sized woman looking for lingerie recommendations, this is a great place to go to, whatever your budget.
So, that's it for 2013 but I'll be keeping an eye out this year for amazing newcomers and existing lingerie blogs that are writing great things ready for the 2014 awards! If there are any categories you'd like to see included next time, please let me know!
I'd also love to know what you think of the blogs above, and if there are any other lingerie blogs you think are worth a special mention?