When you think of a night amongst the stars you can be forgiven for thinking that I was in a hot air balloon floating serenely over England, on a clear but star-filled night, but that isn't very lingerie related. Or that I had a night surrounded by celebrities, glass of wine in hand and chatting corsets and lingerie, but even that – although it sounds fun – isn't as special as my night.
See, to really explain to you the importance of my evening I first need to take you back to last August, to a letter I received one sunny morning. It was from Stars Underlines Best Shop Awards, saying that I had been nominated for a best newcomer award. Yes, nominated. I hadn't put myself forward, and nor did I know who had nominated me, other than it was one of my suppliers.
So, after having fallen off of my chair and picked myself back up again, I immediately rang the family and started sharing the news. For a little independent boutique nestled on the Thames estuary to hear that they had been nominated for an award was simply fantastic. Being nominated is great, but that meant that there was a finals and in order to even have a chance of getting to those the next part was down to me. I had a questionnaire to complete – size of the shop, how many windows, what size they are, which brands I stock, when I opened, why I opened the shop, why I think people come to me and had I received any awards or newspaper coverage before. I also had to back it up with a minimum of 4 photos (good job it was a minimum, I took loads!).
After having written, rewritten, added and taken away from my questionnaire, and taken as complimentary pictures as I could, I was ready to send in my details and begin the agonising wait to find out if I had made it to the finals. During this time, I a) tried not to think about it, and b) psyched myself up for the fact that I was not going to get through. I have no ideas of grandeur, or belief that I am any better than any of the other lingerie boutiques – we're all independently run by people who have the same passion as I do.
The day that the letter arrived there was lots of whooping, cheering and running around the shop – I think that's all I need to say about that. I'm sure you can imagine the rest. I had made it to the finals. From 380 nominees I was one of only 82 finalists.
The night of the finals I had my husband, my parents and my mother-in-law by my side (my father-in-law had kindly offered to baby-sit for us), all dressed up in our finest. Not living far from London, my Dad offered to drive us all up. He took us on the scenic route, along the Thames embankment, past Trafalgar square, along Pall Mall to Buckingham Palace, by the side of Hyde Park, with a brief glimpse of the Christmas lights on Oxford Street before parking opposite Tony Blair's House. A lovely start to a great evening.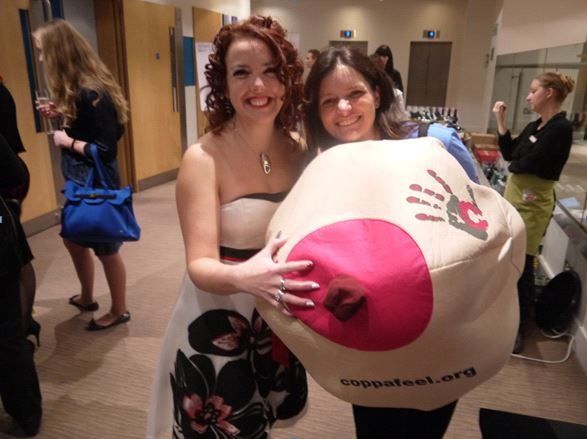 Upon arrival at the Cumberland Hotel Marble Arch, we were greeted with a champagne reception and a chance to look at the beautiful outfits the other finalists and suppliers alike were wearing. Whilst waiting to go in, we had the opportunity to chat with the night's host Paul Ross, from BBC London's breakfast show. We also took the opportunity to 'Coppafeel'.
Our dining table had some lovely guests on it; as well as ourselves, there was Lyn Higley from The Body Cover Group, Claire Franks from Intimate Apparel Consultancy and David Lyons from Rosy and Boudica, who were also up for best newcomer. Conversation flowed nicely between all the diners whilst a really tasty dinner was served up.
As it grew nearer the time to announce the awards, anticipation was growing. According to tweets from April & Mae (also up for best newcomers) their table was feeling the same as ours. Soon it was that time.
After hearing from the lovely Pam from Stars Underlines and from Paul Ross, the awards presentation themselves started. Best Newcomer was the first to be announced. All of the finalists were mentioned, along with a picture of the shop, and then the awards criteria. We sat with baited breath for what seemed a very very long pause before the winner was announced. "And the winner is… My Lingerie".
I'm not lying when I say I was very pleased for them. I never expected to win, and I had a wonderful night out and experience getting there. Yes, winning would have been fantastic, don't get me wrong, but I am so happy with the recognition and getting as far as I did that I do not begrudge the worthy winners in the slightest. Plus, I now have my sights on the personal touch award, next year…
Kirsty, owner of Curvature Boutique.