So, it's been quite a while since I launched the new 'Lingerie Blogger Opinions' column on the blog (six months!) and this second installment is very overdue. However with my maternity leave from my day job rapidly approaching I'll have much more time to dedicate to this and other blog columns in just a few weeks, so expect the third installment a lot sooner. I'm also spending a lot of time working on a really exciting project for Esty Lingerie right now that designers or aspiring designers will be very interested in – you can subscribe to the newsletter if you'd like to know when it launches, although I'm not giving away any details just yet!
Now, back to the second installment of Lingerie Blogger Opinions. As a DD+ wearer myself, there are a few things I wish I could change about the lingerie market – namely more strappy black stuff available in my size! I'd also love to see brands already well catering to DD+ wearers such as Miss Mandalay, Claudette and Boux Avenue introduce more pieces that aren't just bras and briefs – things like matching suspender belts and cup-sized bodysuits for example. Oh, and I wish Agent Provocateur made slightly larger cup sizes!
Those are my personal wishes, but I wanted to find out what some other bloggers would tell DD+ lingerie brands if they had the chance. Here is what the DD+ lingeristas behind 2 Cakes on a Plate, Babs the Bra Fitter, Bratabase, Becky's Boudoir, Petite and Plentiful and The Curves Have It had to say…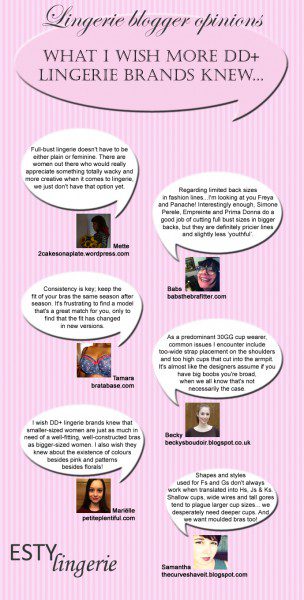 If you wear a DD cup size or above, what do you wish your favourite brands knew?