Disclosure: I bought this bra set myself.

When I started blogging, luxury full-bust options were very few. And if I am being honest, it seemed to be the status quo that one couldn't expect a great fit from a full-bust luxury bra. It was basically an expensive fashion bra, made for special occasions. One of the brands that didn't fit into that narrative was Harlow & Fox, which has been both fit-focused and luxurious from their very beginning. Five years ago, I couldn't mention any other brand I would recommend for people who wanted a good fit at this level of luxury.

It's important to place things into context. By luxury full-bust brands, I am really talking about brands offering the same type of delicacy as famous luxury brands such as Agent Provocateur or La Perla: pure silk padded and unpadded bras, intricate and unique embroideries, and extravagant silk robes and pyjamas to match their lingerie collections.

But the luxury lingerie industry has significantly evolved during the past 5 years, and it has been with great pleasure that I witnessed the apparition of independent luxury designers willing to cater to full-busted women without compromising on fit, designs, or materials.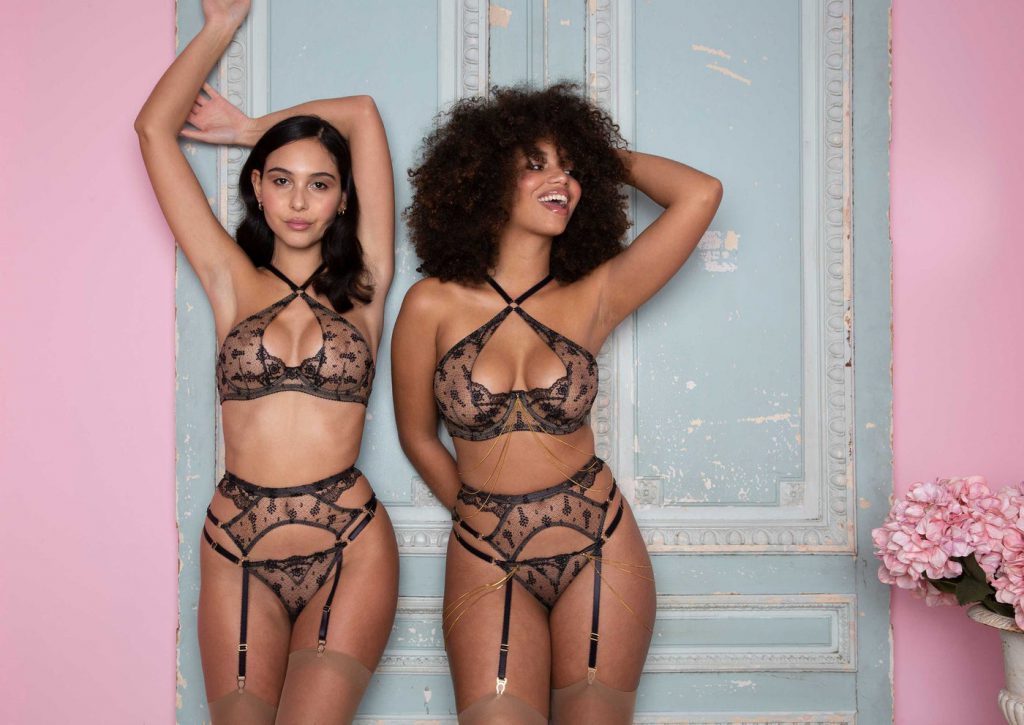 A name that has been very popular recently for a number of reasons – among which, their willingness to consistently increase their size range – is UK brand Edge O' Beyond. This independent label takes pride in manufacturing in the UK using beautiful embroidery, colourful silks, and very fine tulle. Their colorful campaigns, featuring many different models, often look like goddesses' parties. While the luxury market has often been targeting a mid-thirties-and-up type of customer base, Edge O' Beyond clearly works on being 'Instagram worthy' and appealing to younger women as well.

Their flexible size range covers a UK size 6 to 18 and bra sizes 30B to 38G, which are offered in Edge O' Beyond sizes 1 to 12. The concept of these sizes is that one bra size covers 3 to 4 sister sizes thanks to adjustable back straps.
The Edge O' Beyond Marilyne set
For today's review, I have tried their Marilyne set in sizes 8 (bra) and 1 (brief). It is important to note that the brand is constantly evolving, and that the size chart that was on the website when I bought this bra last summer was different from the one that is currently available for most of their styles. For instance, the size 8 used to be noted as 30G-32FF-34F-36E.

The size 1 brief was supposed to cover sizes XS-M (UK 6-10). At that point they only had two sizes for coordinates, and the second option was covering M-XXL (UK 10-16).
Now that you have the whole context, let's get into the details of this set which, by the way, is still available for purchase.
When I first saw the Marilyne set, I had an immediate crush on it. I'd never had a bra in this pattern and the other, similar options I had seen on the market didn't appeal to me. I was drawn to the embroidery especially, which looked very special to me and I felt I would be sad if I missed out on it. I was fortunate enough to have a discount code, so I purchased sizes 7 and 1 which were supposed to work for my at-the-time 30FF and UK 10.
I did feel a bit strange about there only being two sizes available for the bottoms, as I thought it wouldn't make sense for me to buy a size 2 as a UK 10, but at the same time, I was certain that a brief that isn't stretchy and only has adjustable straps wouldn't do the same job at covering a size 10 bum as a size 6 one.
The set took some time to arrive in Canada, no doubt due to the health crisis, and by the time it arrived I had grown one cup size and was now a 30G. So when the bra didn't fit, I thought it was because of that. It looked very good though, and the coordinate looked so lovely that I thought I would exchange the bra for a size 8.
The bra fit
I owned three bras from Edge O' Beyond prior to getting this one, and one thing I had noticed from past experiences was that the sizes 7 to 9 were never truly suitable for a 30 band despite what the size chart used to say. So I asked if I could get a band reduction with my exchange, and after paying a £10 strap alteration fee, I thought maybe it would fix the fit issues.

My first thought when I received the second Marilyne bra was that although the cup volume seemed relatively accurate, the band was still not as fitted as my other 30 bands. So if I hadn't gone for the alteration, it would probably feel like a big 32 on the smallest setting. The bra felt a bit loose, but at least for a few minutes, it made me feel extremely good about my chest (see T0 in the photos).

Sadly, the minute I started moving instead of just standing in front of the mirror, I felt my breasts shift inside the cups, migrating to the middle until the point where my nipples were completely out of the cups. The wires are very 'flimsy' compared to other full-bust brands' underwires I have experienced, and they quickly detached from my sternum.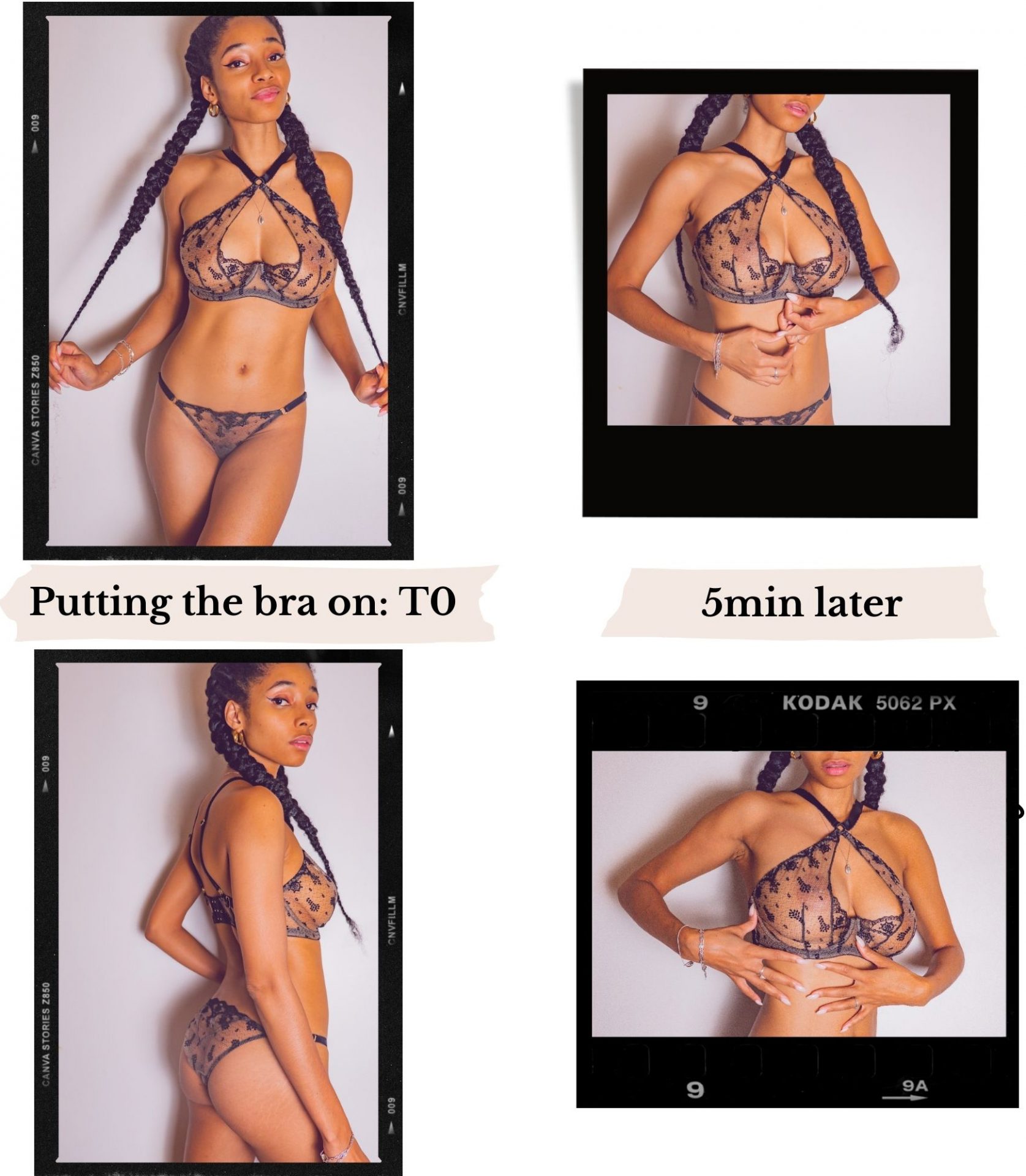 Eventually, after not even 30 minutes of wearing the bra, the way my breasts looked was unsuitable for wearing it outside my apartment or under any type of clothes. I tried to give you an idea with my photos, but the result was truly not safe for work and I just also feel it was extremely unflattering.
This was disappointing so I tried to use some tricks to make the bra work, like wearing it under tight clothes that would hold it together, or wearing nipples covers that somehow make my breasts less likely to move inside bras.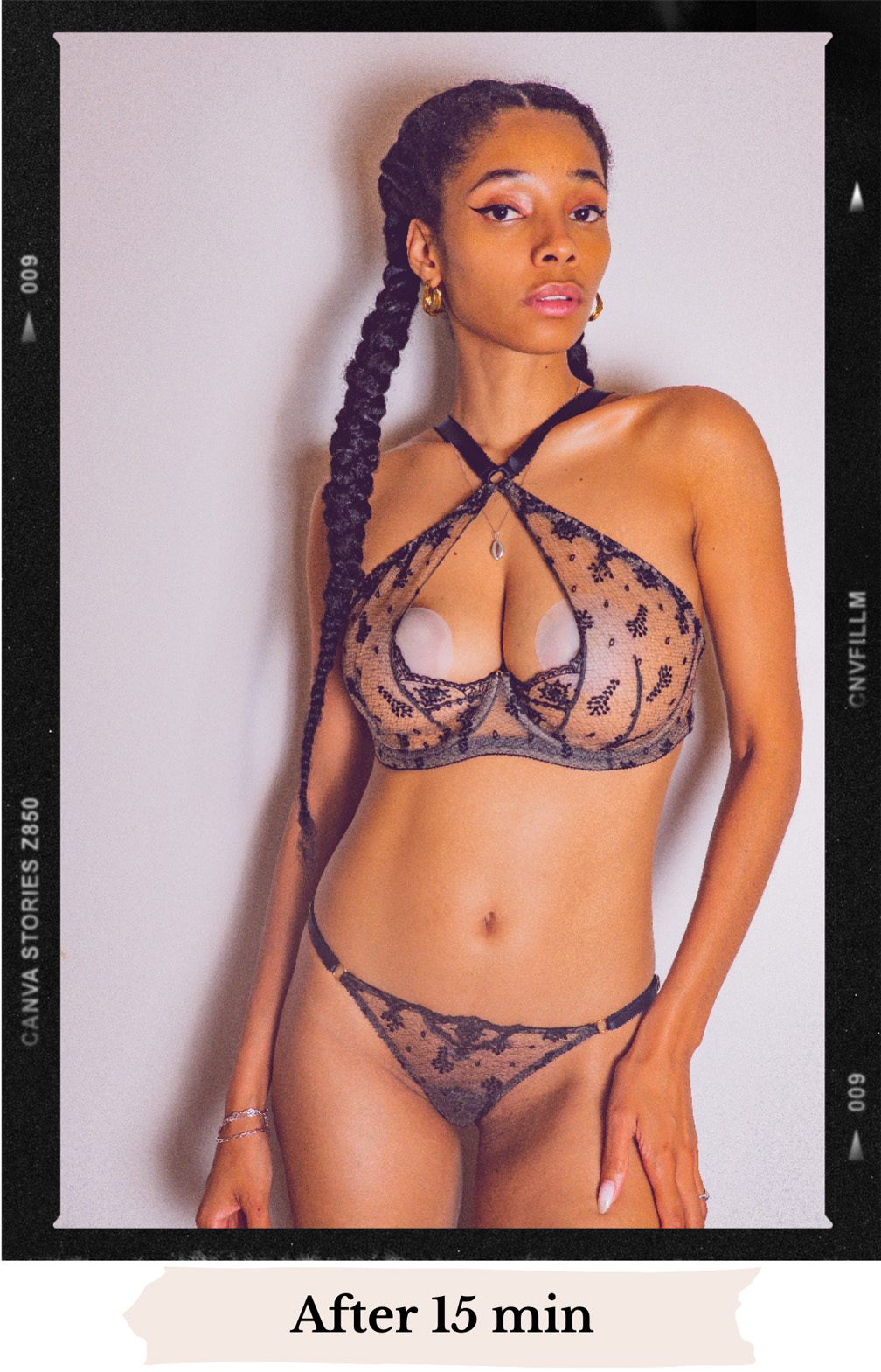 Unfortunately, the way the wires felt and the overall fit issues made me put the bra aside. I have worn it around the house a few times but never longer than an hour, after which it didn't make me feel good at all about my body – or about the money spent on acquiring it.

My opinion on it is that it would work for breasts that have less of a 'fold' at the base, such as surgically enhanced breasts or people who have a smaller band to cup size ratio (for example, 34F or 36E).
The brief fit
As for the brief, I can report that this sizing isn't working for me either, as I get very little coverage of my bum and pubic area. While I was expecting low coverage, I didn't expect it to move so much throughout the day. It just doesn't feel very secure, and feels like an uncomfortable tanga instead of a brief. It is very pretty and I really like it design-wise, but I am very glad they went back to traditional XS to XXXL sizing in their newer styles.
Final thoughts
I had a lot of hopes for this set as it was honestly so pretty. In a way, it felt like a unicorn in the full-bust world. Sadly, I cannot honestly say it is great considering the price and what it promised with such a size range. It seems that there is still a lot of work to do with the pattern and perhaps it would be worth it to further separate the size range, as it's really hard to make an bra that will fit great in both a size 30G and a size 36E, which are not the same body type, without design changes. The fit issues I have experienced are probably due to the flexible size range which made the fit less precise, as I think this bra was just too wide for me.
This experience made me think a lot about this new trend for flexible sizing with wired cups intended to fit multiple band/cup combinations. I am by no means trying to diminish the effort that went into making this collection, but it seemed very ambitious and unfortunately, a £125 bra and £95 brief should fit a little better in my opinion (unless it is clearly stated that they will not fit traditionally and that they are simply for fashion purposes).
Have you tried Edge O' Beyond lingerie? If so, what size are you and what was your experience with the fits?