Disclosure: I was gifted this lingerie set by the brand, but not with any expectation of a review.

When it comes to luxury full-bust lingerie, the main difficulty for me has been finding delicate designs that were also wearable on a regular basis (i.e. well-fitting, easy to wash, and long-lasting). Lingerie means something different to everyone but for me, it has always been a way to express my fashion sense and celebrate the body nature gave me, every day. I rarely wear anything truly plain or basic unless it is beneficial for my outerwear look.
Avocouture (formerly Avocado) is a brand I have been wearing regularly since I discovered it in 2015. Not only does their aesthetic align with mine, but the cuts of their bras work incredibly well with my outerwear clothes. I have to say that I never put a bra on without thinking about the top or dress that I'll wear over it. Avocouture offers 2 to 3 different cuts per range so you have a choice depending on your breasts' shape and your clothing style.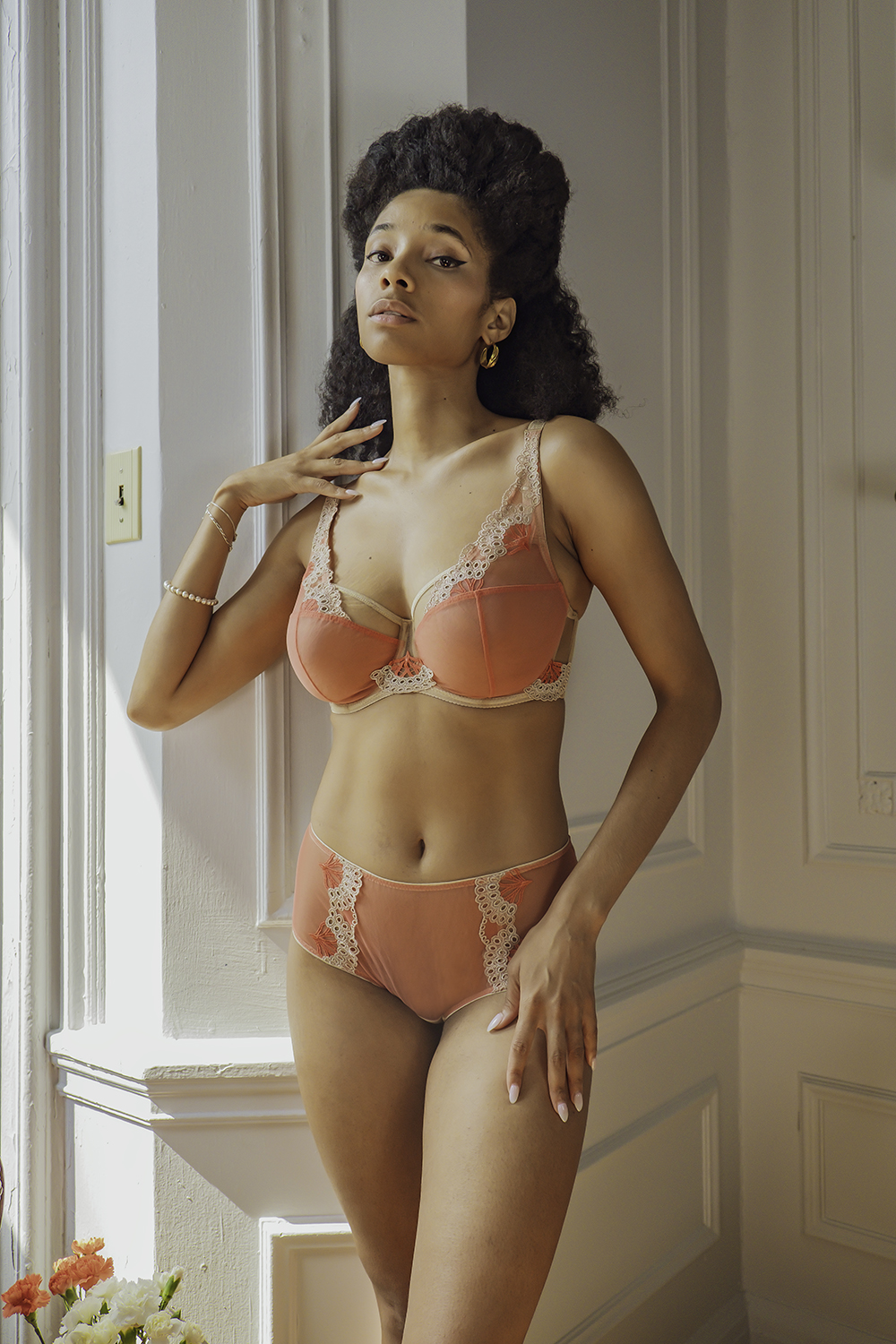 Construction
The Calypso set I will introduce today has been in my possession for a year now, so I can talk about it with the experience of having worn it more than a few times. The Calypso range is a classic continuity range for Avocouture and used to come only in their NF (balconette) and RV ('evenly rounded') cuts, in a green and grey colourway. The green version gives me mermaid vibes, and also a bit of a Great Gatsby feel. I was surprised by this luminous coral colourway when it came out last year. It felt perfect for summer and also nicely modern with its high apex.

The HCQ is what the brand calls a "fusion" between a half-cup and a full-cup bra. It's constructed like a 3-part bra, with one vertical seam and one horizontal seam that are linked in a T shape. In addition to that, there is a triangular side panel above the horizontal seam.

I love that it provides extra coverage without making the bra look 'heavy'. The two bottom parts of the cup are made of rigid material, while the top part is elasticated. The band is made of firm microfiber with three sets of three hooks and eyes, and the straps are fully adjustable. A detail you can't see in photos is the shimmery thread in the embroidery.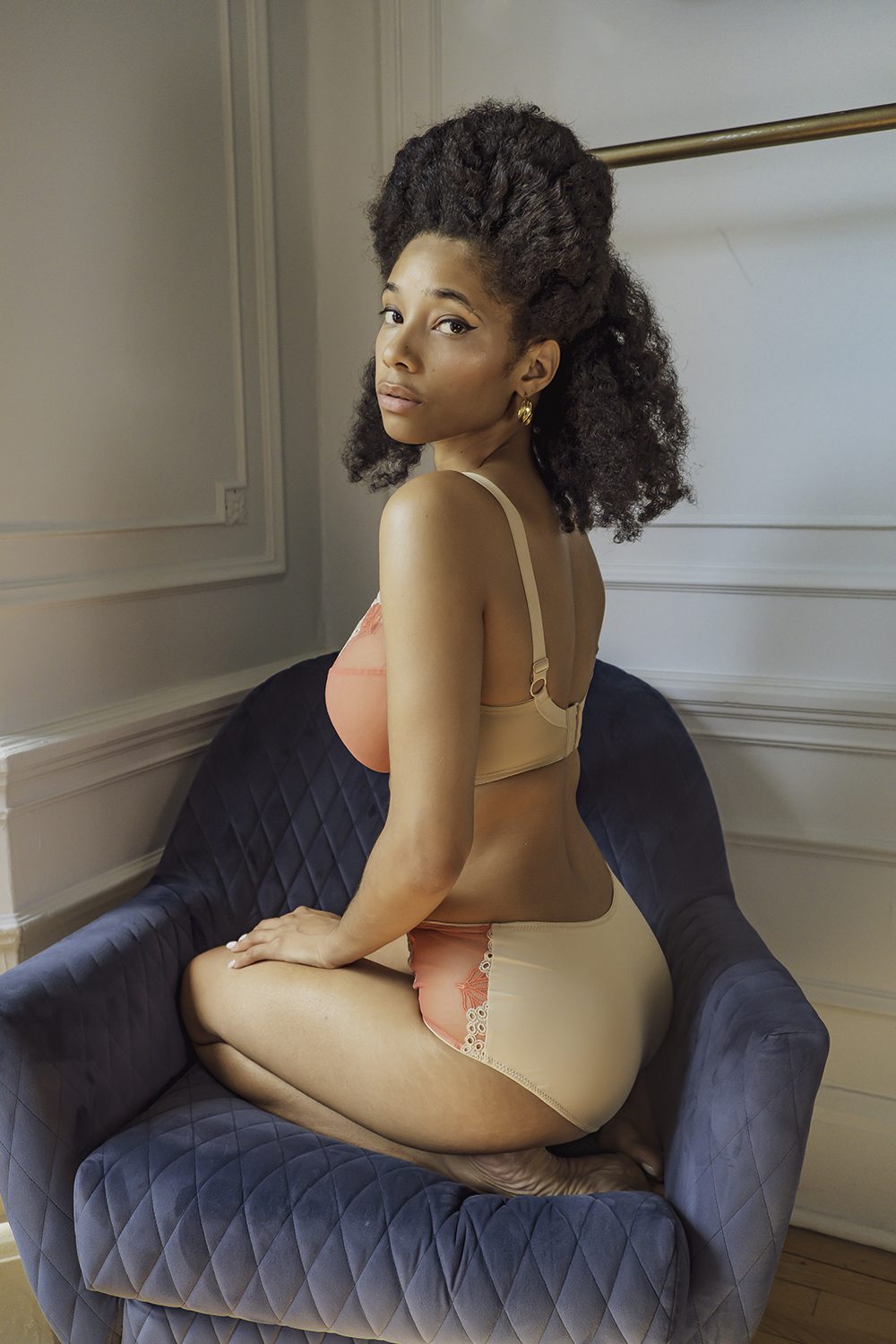 Fit
I wear a size 60H, which I feel could be translated as 28GG in UK sizing. My breasts are asymmetrical and the elasticated top of the cup is helping to get the best fit possible. At the time when I shot this set, I was on my period so my breasts are on the heavy and hormonally-firm side. They are naturally wide as well, so my left side shows a bit of extra skin close to my underarm. Yet, I believe a bigger size would be too big for me. As you can see from my back picture, the straps are very short, which is okay with me but might be an issue for someone whose breasts sit a bit lower on their torso.

The gore of this bra lies perfectly flat on my thorax. It's a medium-height gore, I must say. Not super high, nor very low. I find that many of my demi bras have similar gores – the "half-cup lift" seems to require such a wire configuration. While it's comfortable enough to be worn all day, I found recently that the brand offers a similar cut called HCN which has a lower gore, and though the difference in the fit isn't huge, or perhaps noticeable to the untrained eye, I like it better. My breasts being wide and close-set, I love the lowest gore possible. Still, I do appreciate the secure feel of this bra's wires.

With that being said, this bra provides me with the most perfect fit under clothes. It somehow minimises the volume without making my breasts smaller, if that makes sense? When I wear this bra, I don't have the issue of having to size up when I buy a shirt so I can button it up, and it just seems to fit nicely under almost any piece of clothing. The fact that the 2/3 part of the cup is pretty smooth due to flat seams, makes it a discreet and supportive option for every day.

I got the coordinate in size Small, which is my usual size in this brand. This brief provides a good amount of coverage and features thick and comfortable microfiber at the back while being transparent at the front. This particular design doesn't exist anymore as the brand switched to mesh at the back. I personally prefer the mesh back aesthetically but the microfiber is very comfortable. It is also a nice rise for those who like a bit of belly coverage without going fully high-waisted.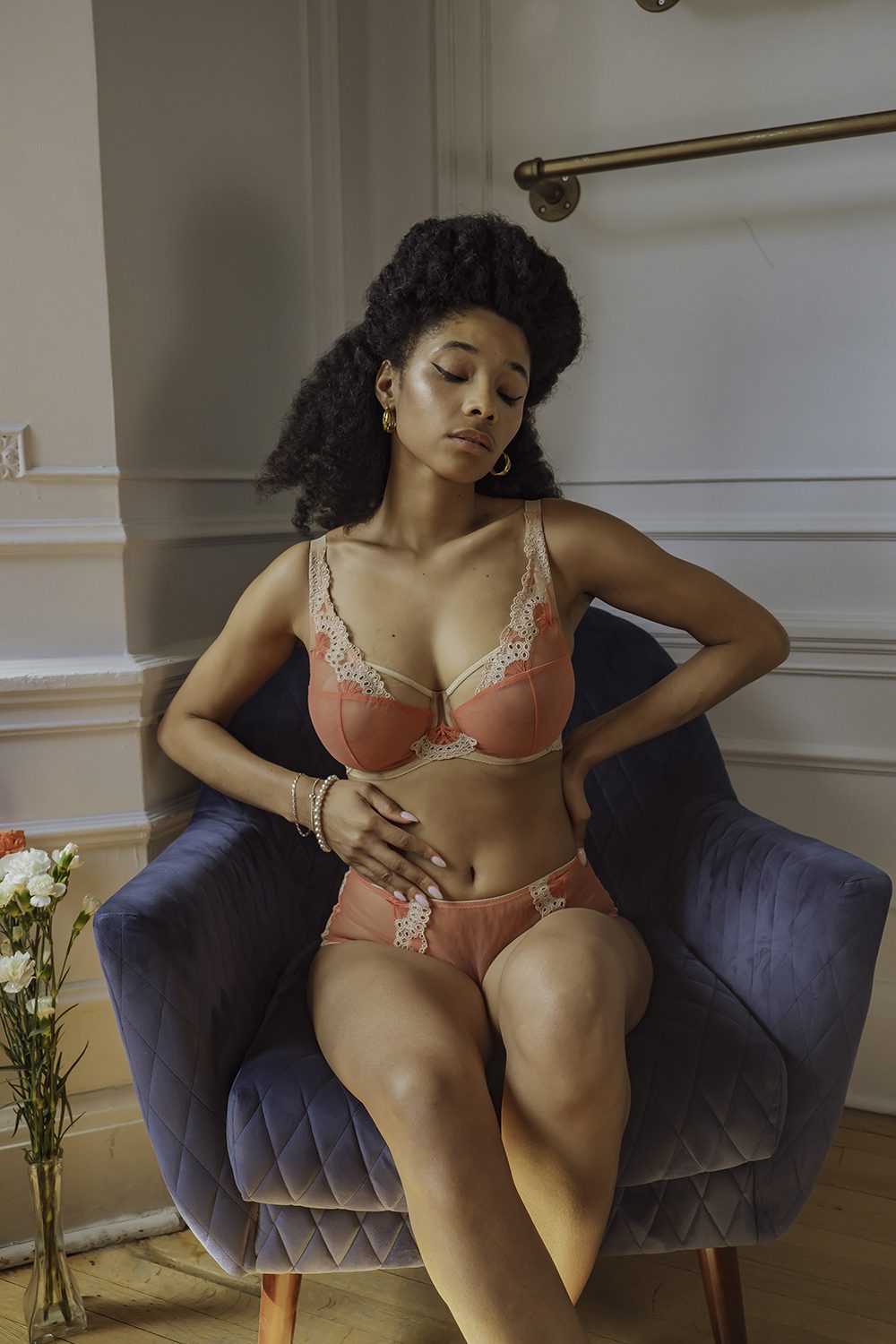 Value For Money
The Calypso HCQ bra retails at 105€ (~£89 / ~$123) and its coordinates at 37€ to 49€ (~£32-42 /~$43-57) depending on the cut. It's definitely a price I would expect for ethically-made full-bust lingerie. Apart from its appearance, Avocouture lingerie's value lies in its excellent patterns and long-lasting construction. As you can see, this is a bra I have owned for a year and worn more than a few times. It is still in perfect condition. I own lots of bras from this brand that are still great after 3 or 4 years – still uplifting and well-fitting. The material is sturdy despite its sheerness and the construction allows for minor size fluctuations. In my opinion, this lingerie set is a good long-term investment.

Keep in mind that the brand uses its own sizing based on European sizes, so it doesn't hurt to ask them for advice if you are unsure of your first order.

Have you ever tried Avocouture lingerie? Which style would you try first?