Disclosure: I received this bralette free of charge to review. Links with a * are affiliate links.
Cake Maternity* have been on my radar since my pregnancy over 5 years ago, so I was overjoyed when they offered to send me one of their new, non-maternity bralettes to try out. These designs are part of their new sub-brand Sugar Candy*, which claims to be "the only seamless, wireless range of bralettes for busty women".
As a huge fan of wireless bras and bralettes, I was very enthusiastic about trying one of their designs, and chose to be sent the Lux Lounge Bra* in navy (it also comes in all-black). Sugar Candy's designs are available in sizes XS-XXL, which should cover band sizes 28-40 and cup sizes F-H, and and can be bought as a regular bralette like I was sent, or with drop-down cups for nursing parents* for the same price.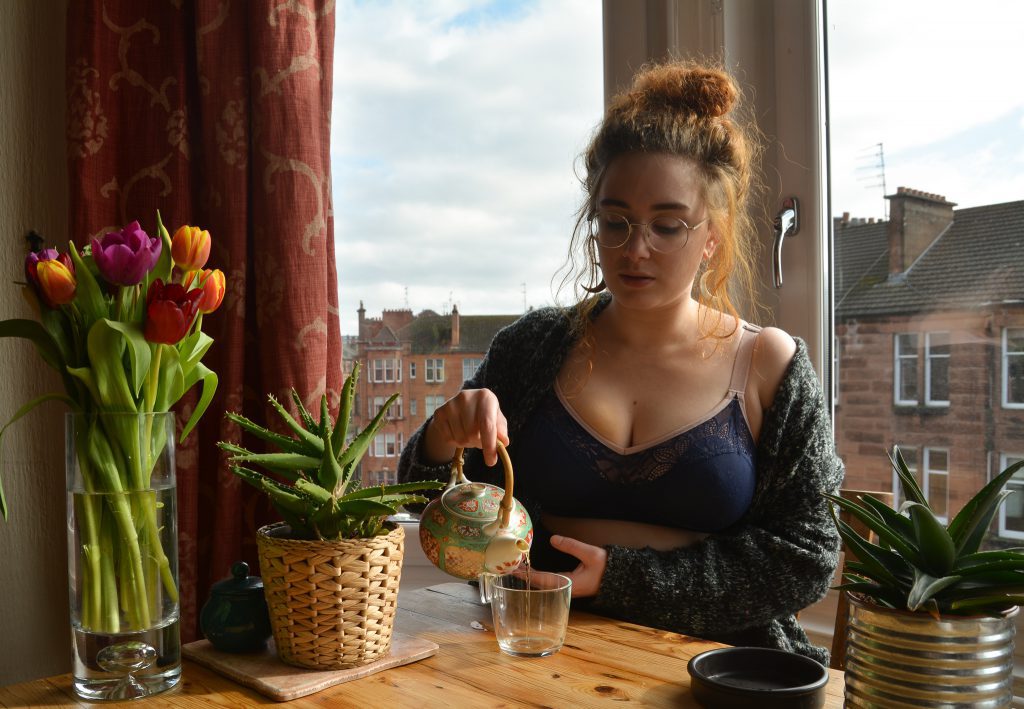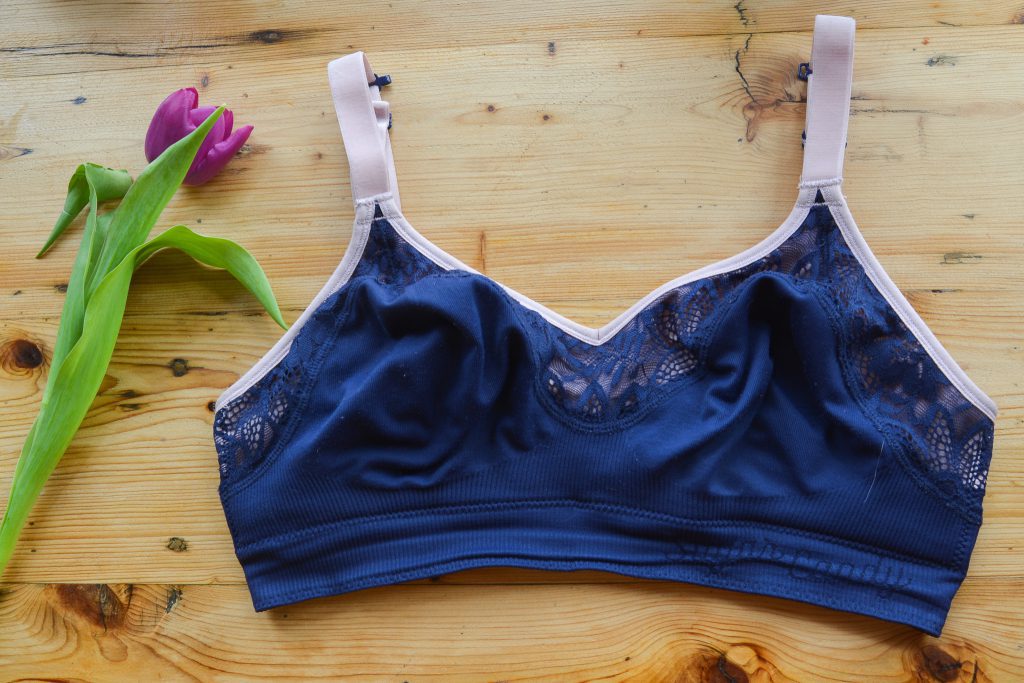 Construction
Most of the Lux's shaping comes from its internal construction of microfiber side-cup and lower-cup slings. On top of this, the outer-layer is fully lined in a molded, V-neck shape with a stretch lace-look design long the top of the cups, continuing round to the back.
The straps are fully adjustable and can be converted into a racerback style by clipping the attached hooks together. I really appreciate the velveteen elastic that's been used for the straps, as it does a great job of keeping the sliders in place throughout the day.
I find the lower band sturdy, but thick enough to keep everything in place without putting too much pressure on my rib cage. This is also aided by the 3-row hook and eye closure, with 6 differing levels of tightness. This, as well as the straps, makes the bras fit easy to customise, so you can wear it as snug or as loose as you prefer.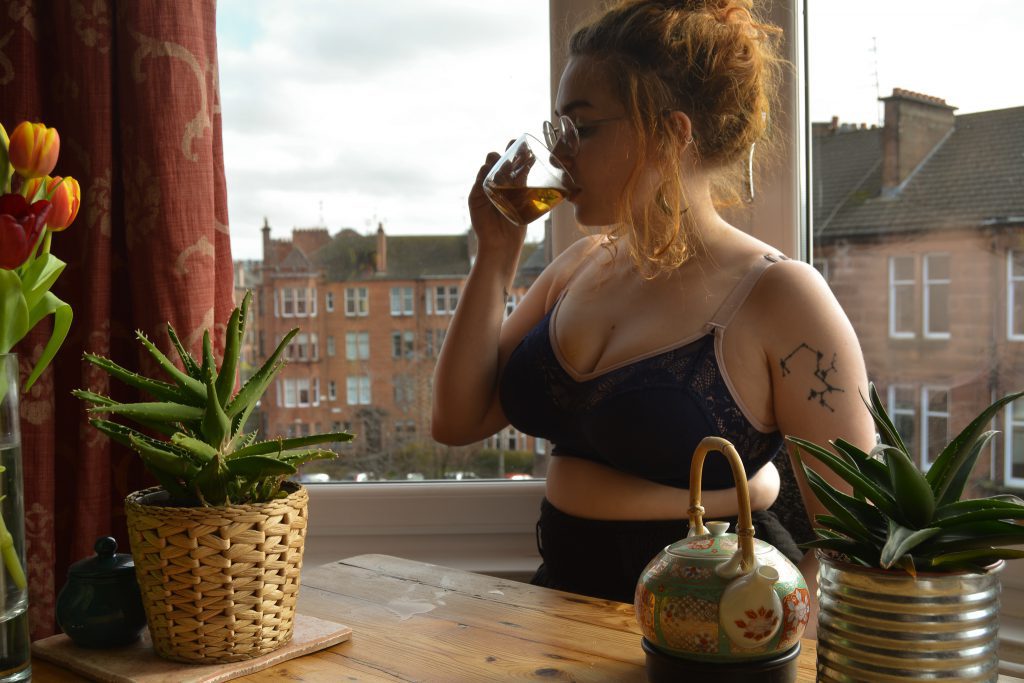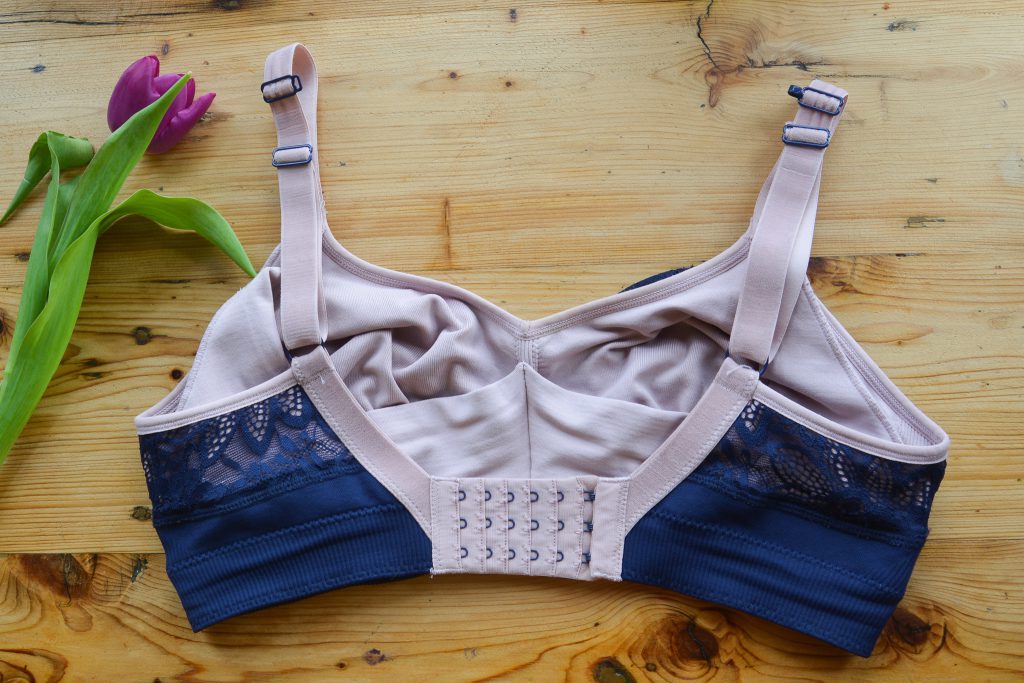 Fit
Cake Maternity have lots of great resources* for figuring out your bra size in their designs. As I'm currently around a 30G/30GG I was recommended a size Small. I'm definitely very happy with my fit in this size, though as you may be able to tell from the photos, the bra does ever-so-slightly cut into my upper breast tissue, particularly on the right side.
However, I was coming up on my period when I took these photos and I also have very low-density breast tissue, so I get the same effect with most bras. I don't think that sizing up would have helped, and it may have even compromised the amount of support I get from the bra. I do find that styling the bra as a racerback helps minimise this, as it brings the cups up higher on my chest for more coverage.
Overall I think the seam-free outer, easy adjustability, and wonderfully stretchy fabric are going to make this bra ideal for anyone who does experience significant changes in their bra size over the course of their cycle. This would also have been so perfect for me throughout my pregnancy, when my body drastically changed and required me to start wearing wireless bras throughout the second and third trimesters.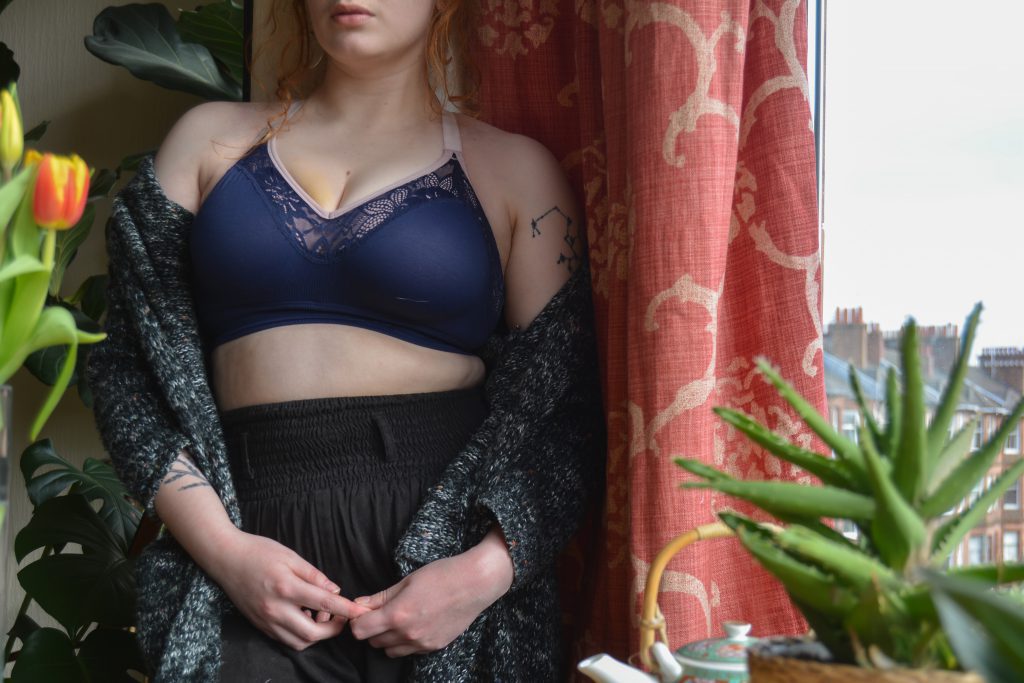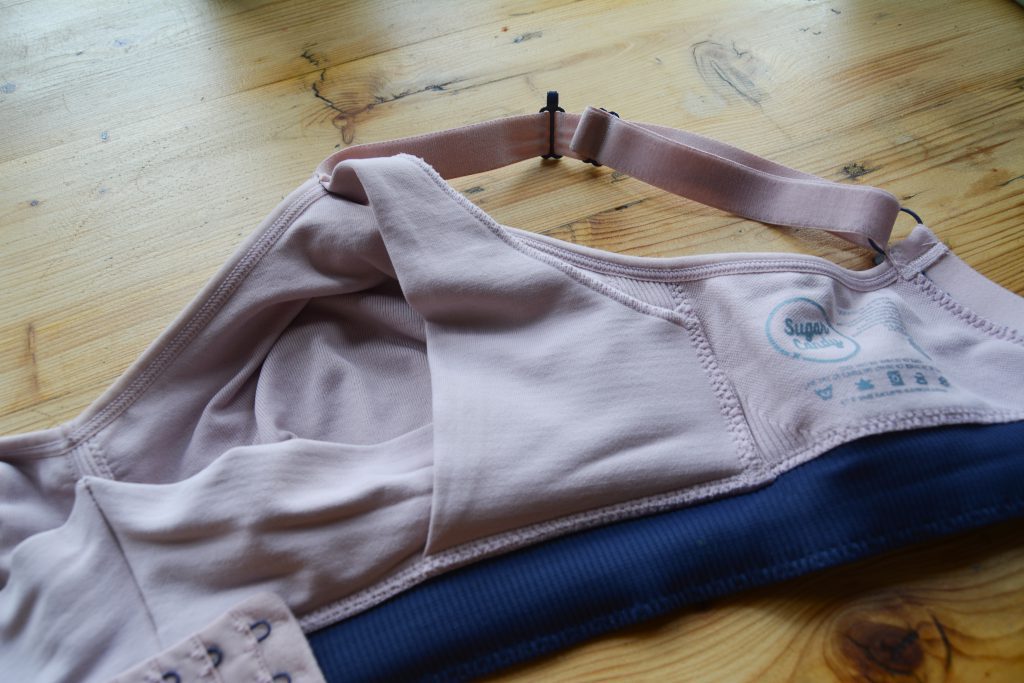 Wearability
I have honestly had so much wear out of this bra. This gives me some of the best shaping I've ever had from a wireless bra. Possibly only on par with my Fortnight sets that I love and also wear regularly. I feel really supported, and not at all self-conscious about wearing this in public under tighter clothes.
I've done yoga in this a few times and felt very secure throughout, and I think this would make a great sports bra for any low-impact workout. The design is also pretty enough and the fabric thick enough that I'd happily wear it with just some leggings to the gym.
To wash it, I simply put it in the machine on a delicates cycle with my other sturdier lingerie items, then lie it out flat to dry.
Comfort-wise, it definitely doesn't put as much pressure on my rib cage and underarms as a wired bra does, and the fabric doesn't irritate my skin in the slightest. It's not as comfortable as some of my other bralettes, but on the flip side they are not as supportive as the Lux. I think it's a perfect in-between bra, for days when I'm heading out to do errands and doing a fair amount of walking. I wouldn't recommend it as a sleep bra, but if underwires are too much for your body then I think giving a Sugar Candy bralette a go could work well for you.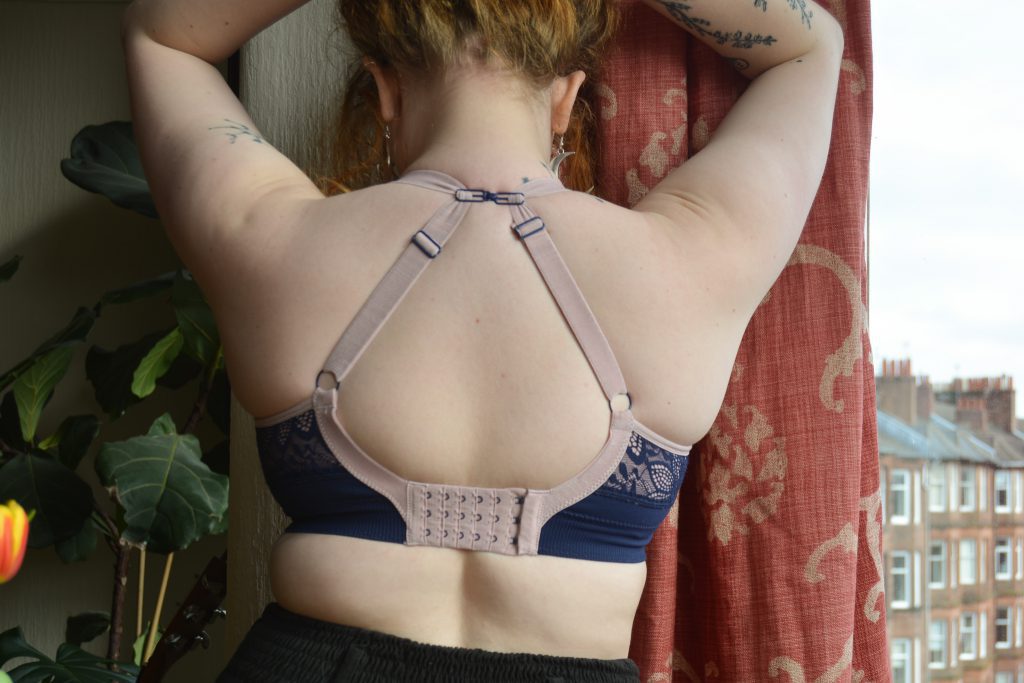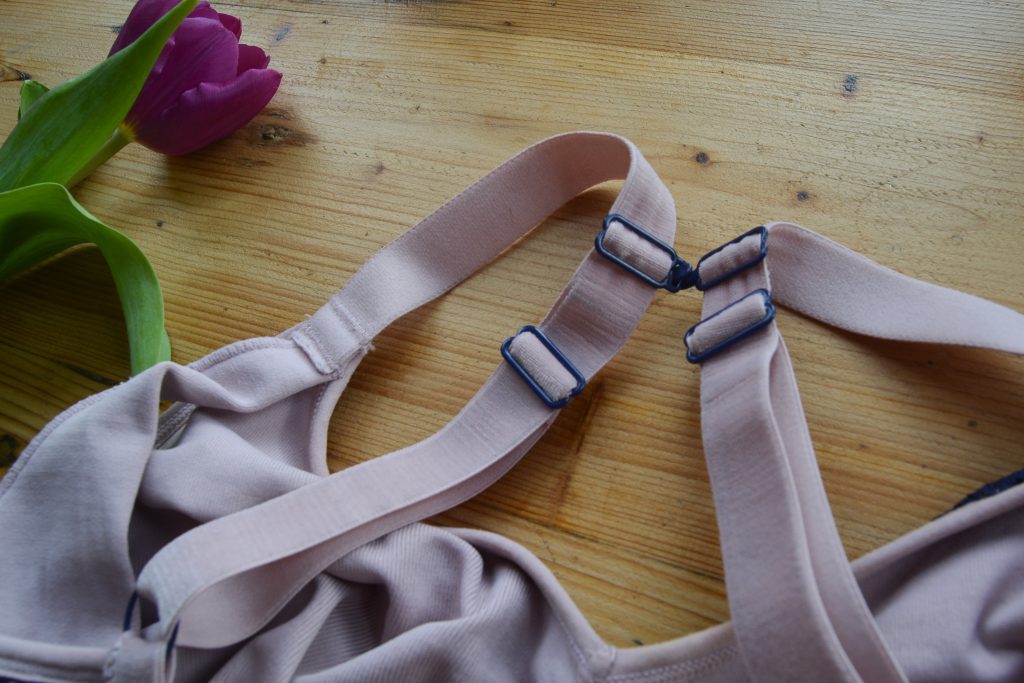 Conclusion
In terms of fuller-bust bralettes, I think Cake Maternity are really pushing the envelope with their Sugar Candy designs*. I'm so impressed with the uplifted, separating shape this bralette gives me. I love how flexible the fit is and think this kind of designs would work well for a lot of people who find they have to avoid underwires, or even just people who would like a more comfortable but still supportive bra option.
Do you find yourself avoiding underwire designs? Which brands have you found make the most supportive bralettes for fuller busts?