Disclosure: I was gifted this lingerie set by the brand, but not with any expectation of a review.
One of the few good things to come out of 2020 was TéAmore, a new brand that I wrote about for Lingerie Briefs back in April. With a size range focussed on fuller busts (up to a UK FF / US H) and designs that are breathtakingly beautiful, it seems that they're doing for the US full bust market what Harlow & Fox has done for the UK one. That's not to say that the two brands have exactly the same aesthetic of course, and TéAmore reminds me a lot of I.D. Sarrieri, at least with this Spotlight range from their debut collection. That's a brand that tops out at a DD, so I'm thrilled that there is now something similar for larger sizes.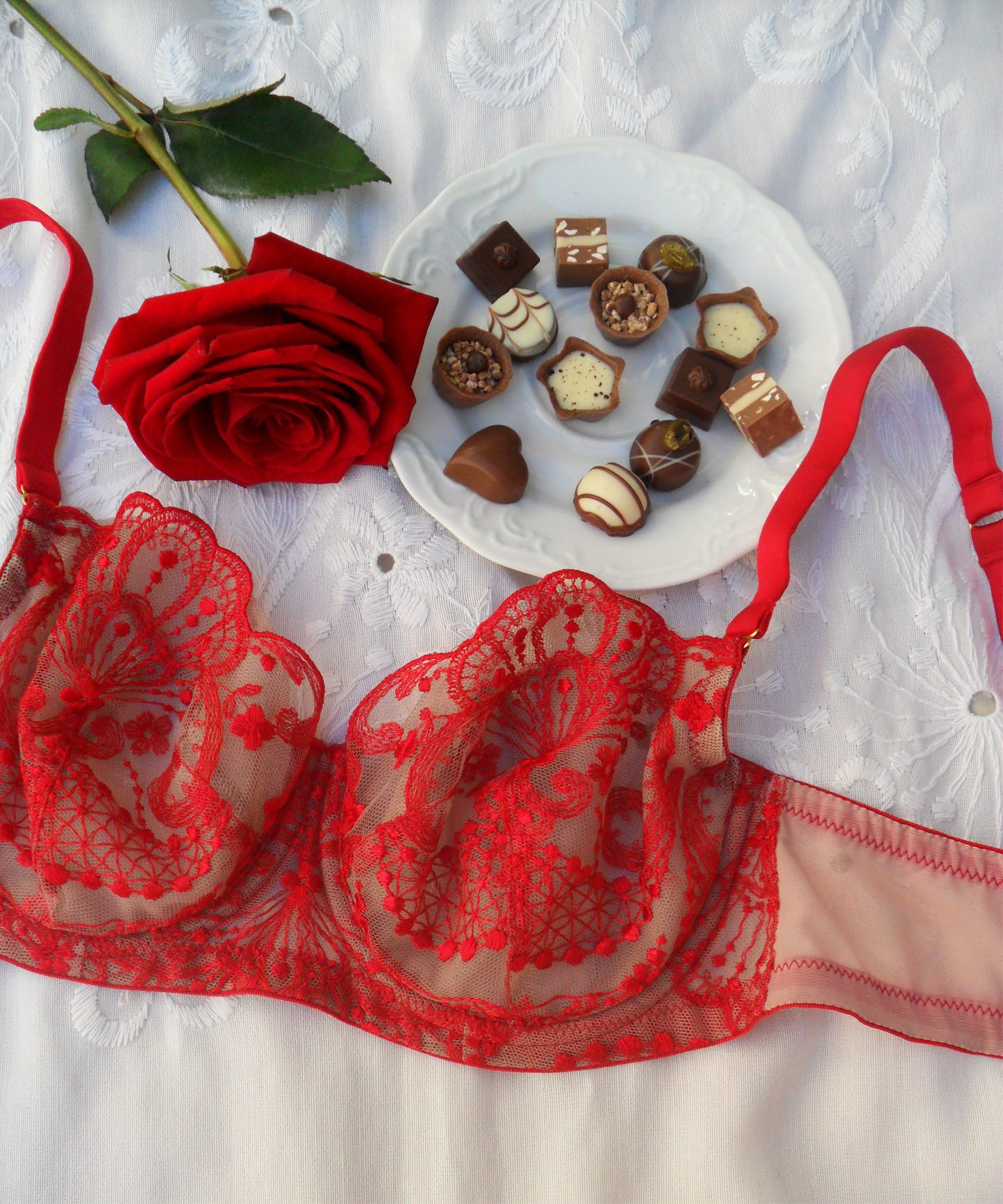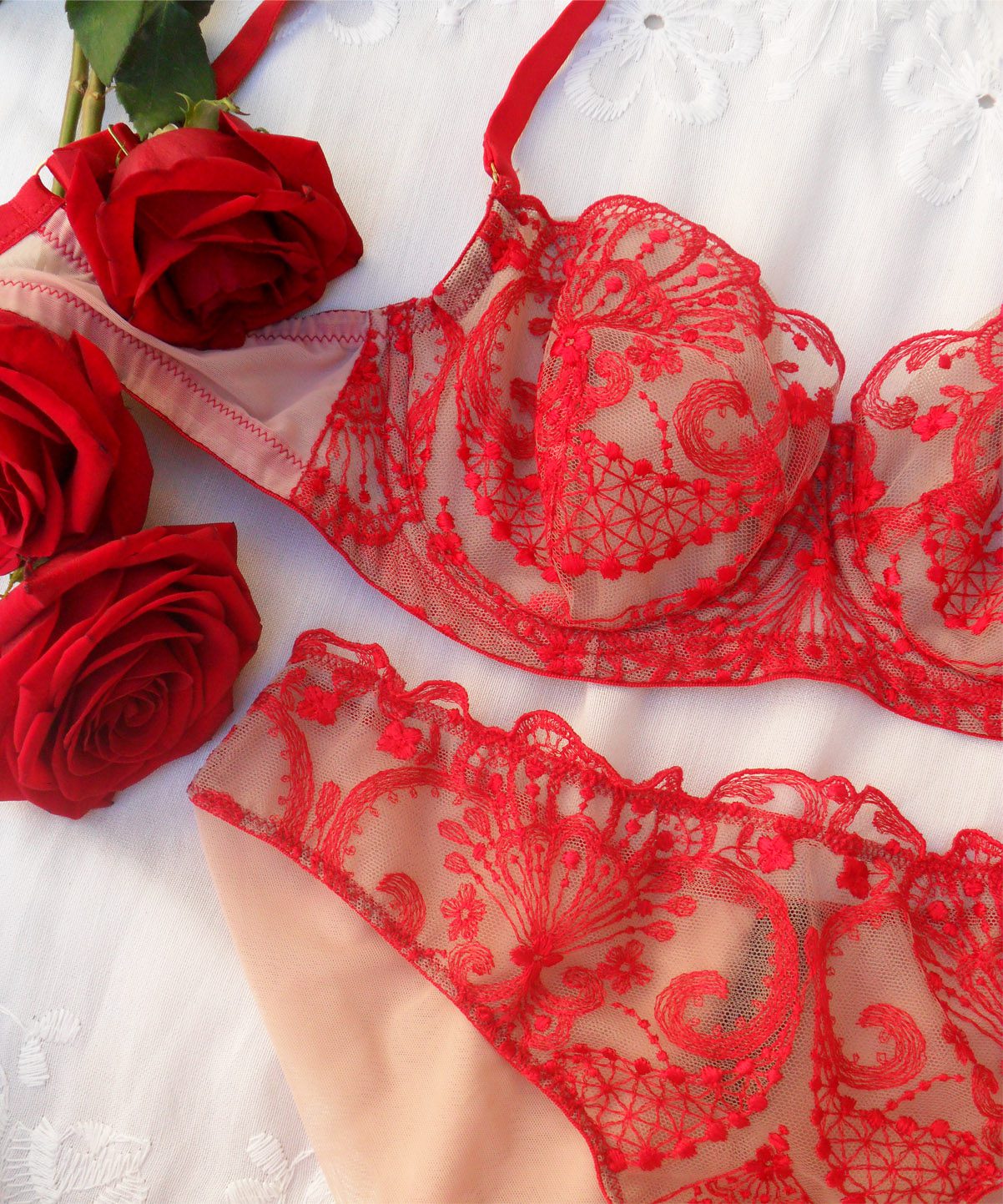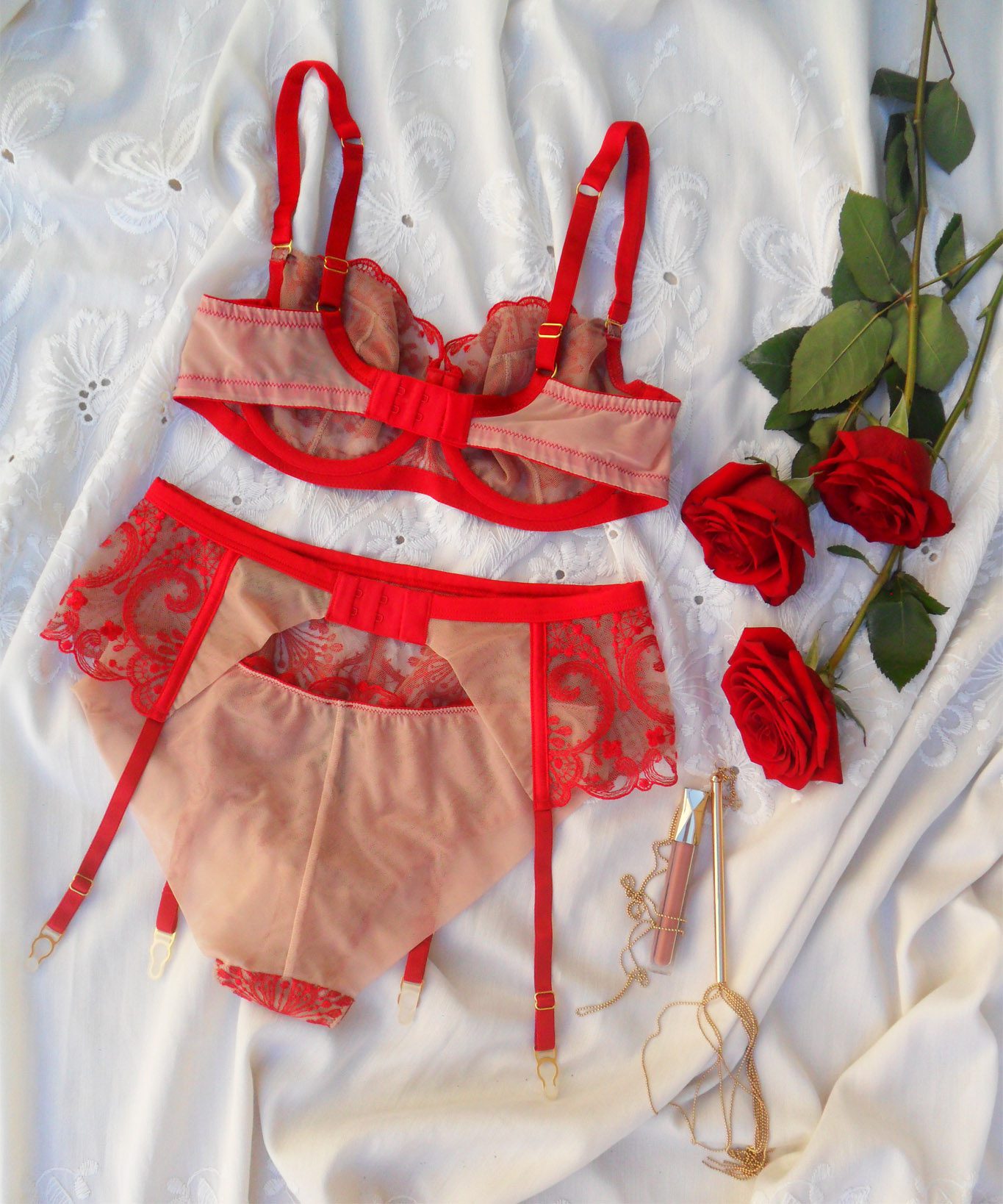 Construction & Appearance
Spotlight is available in red, black and ivory, and also includes a longline bustier and a thong option as well as the bra, brief and suspender shown here. I was gifted this set as a surprise so I didn't choose it myself, but the red colour is definitely what I would have selected! It's a lovely 'true red' shade which really makes the embroidered pattern of swirly, fan-like shapes stand out, much more so than on the ivory version (although that's lovely too).
It's embroidered onto a very sheer beige tulle, which has an almost invisible effect on my skin tone. The back of the suspender and brief are made from a stretchy mesh in a slightly pinker shade of beige, and the bra's wings from a sturdier mesh in a marginally-different beige – they're a close enough colour match that they look the same when worn. The trims are made from glossy silk satin and the front of the bra straps are wrapped in the same silk, while the backs of them and the suspender straps are made from satin-finish elastic. 24 karat gold-plated hardware adds a suitably-luxurious finishing touch.
TéAmore lingerie is made in Europe, and the Spotlight embroidery was made in France. On all three pieces, it's backed by a layer of plain tulle for a smoother feeling against the skin, and I find this set to be very comfortable for all-day wear in general.
The only thing I would change about it if I could would be for the mesh at the back to be red rather than beige. The front is primarily red so I think it would feel like a more cohesive look from front to back – but also I'm just a sucker for a bold, all-red lingerie set!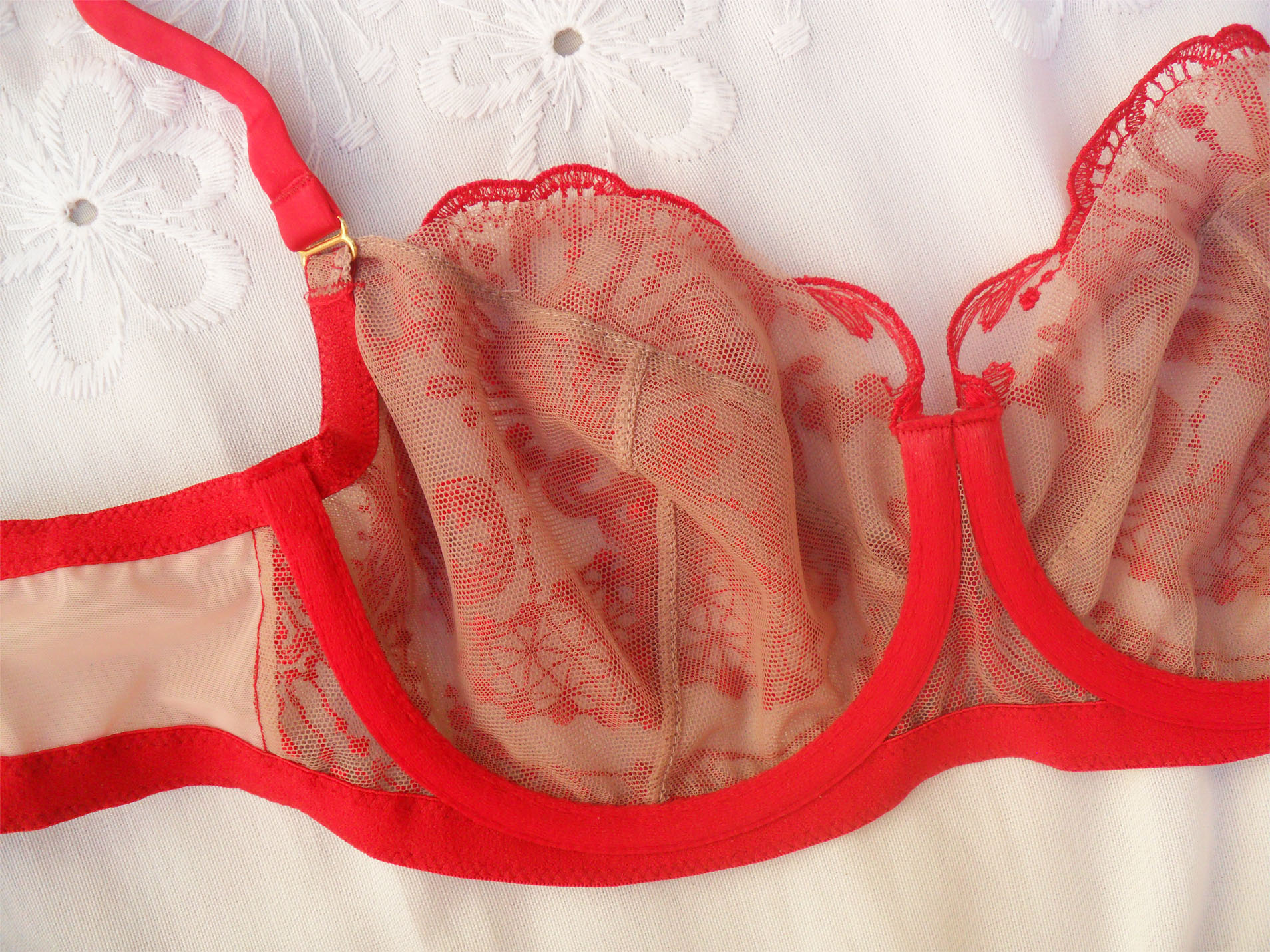 Fit
I received the Spotlight set in my usual sizes of XS and UK 30DD (TéAmore size 30E as the brand uses European cup sizing) and it's overall a great fit. The bra band feels a tad on the loose side compared to what I'm used to – I mentioned this to Téa, the brand's founder, and she told me that they're already working on making the bands tighter for the next collection.
As for the cups, I'm just shy of filling them out at top edge, which I'm sure is because I have a shallow-on-top breast shape. They don't feel a whole cup size too large however so I think for most people, sticking to their usual cup size would be the best option. Construction-wise, they're a 3-part cup which offers a rounded shape and lots of support for fuller busts.
The suspender belt description states it "sits at the natural waist", even though it is pictured being worn lower down in the red colourway. Really, you have both options – there's a hook-and-eye at the back and on the tightest setting, it sits comfortably at my natural waistline (my favourite way to wear it) without slipping down, but on the loosest setting it looks closer to how the model is wearing it.
As for the knickers, I love the elastic-free leg line at the back which is created by simply folding over the stretch mesh fabric. It's relatively seamless-looking under clothing, ultra-soft, and doesn't feel like it's riding up all day.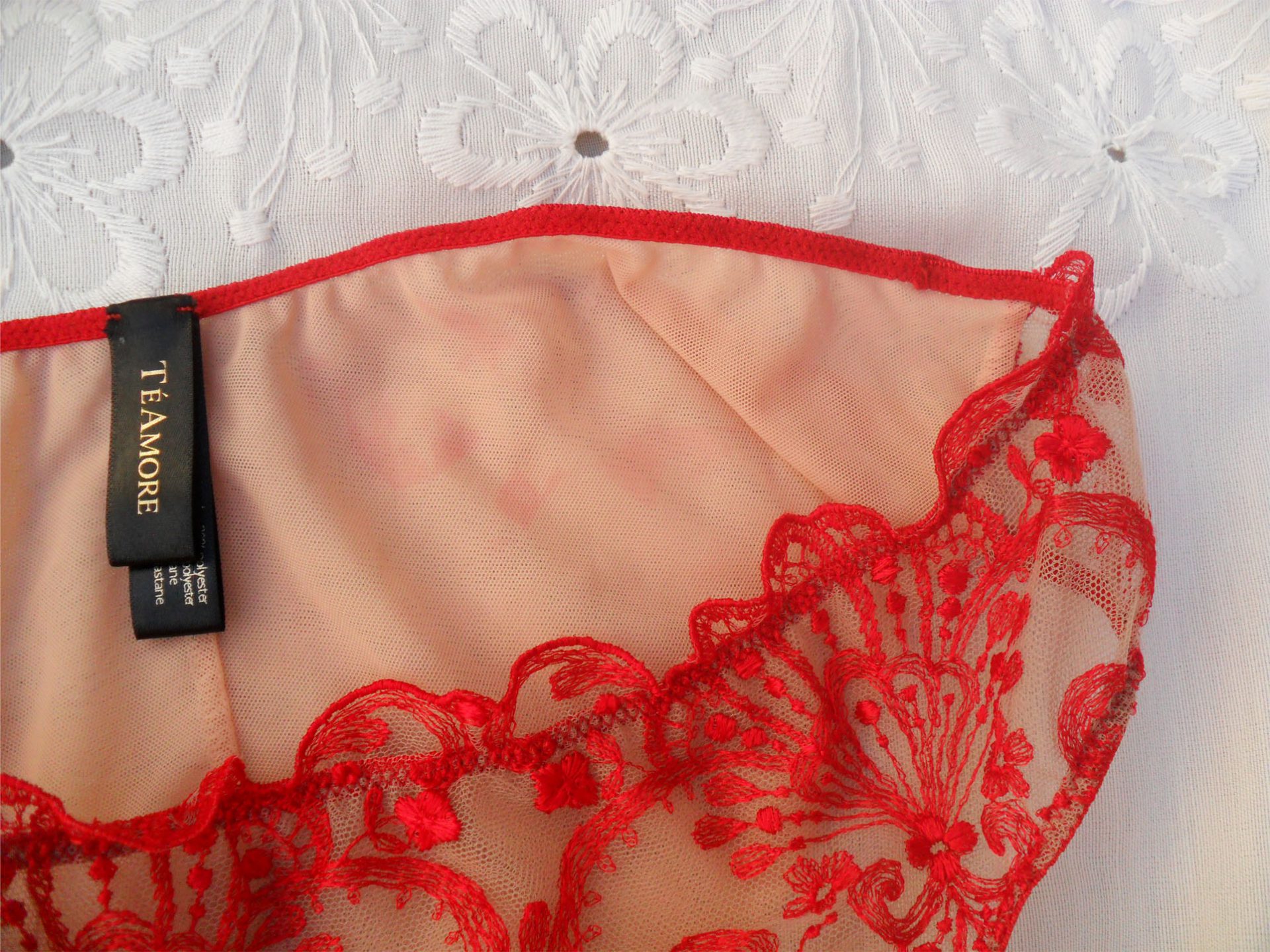 Durability
The suspender belt is made in a different factory to the bra and brief – I know this because the garment label says it was made in a different country – but you wouldn't be able to tell. All three pieces are made to the same high standard, with neat stitching, and I haven't been able to find a single flaw to comment on.
However, I did have an issue with colour leakage the first time I washed this set. I left the bra and knickers to soak in the sink while hand-washing, and when I got them out realised that the pattern from the embroidery had transferred in a few places onto the beige mesh sections. Admittedly, I used lukewarm water rather than cold as the garment labels advise, so I may be partly to blame.
Luckily, the stains are very faint so not immediately noticeable. I mentioned this to Téa too, and the care instructions on the website have since been updated to also recommend cold water and avoiding soaking for a prolonged period of time. I've also been diligent about arranging the pieces in the water so that the two fabrics aren't touching, and I haven't seen any new stains appear.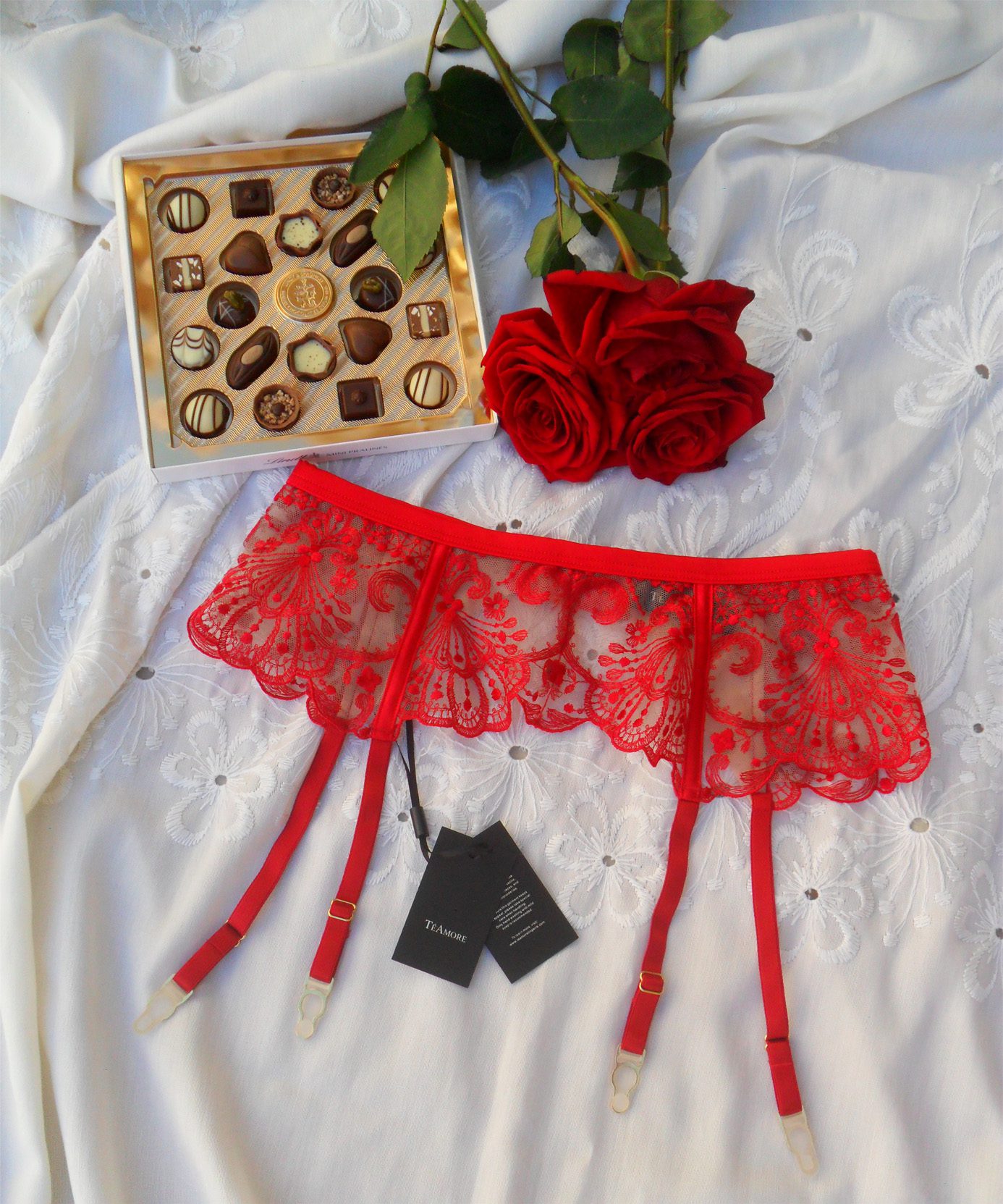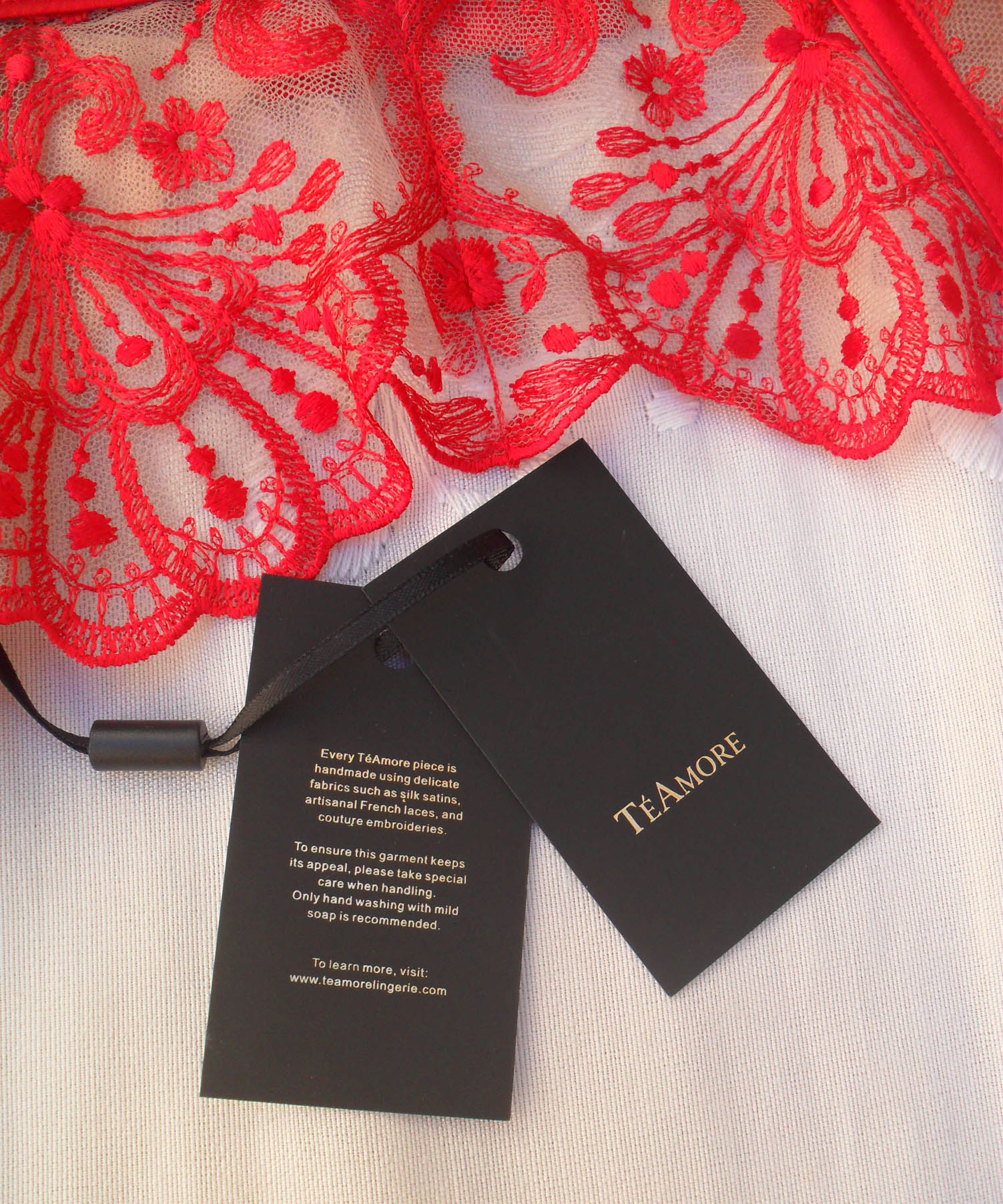 All in all, I love my new TéAmore Spotlight set, and I love that this brand now exists! While a number of high-end full-bust brands have launched since I started blogging about lingerie many moons ago, they're still something of a rarity, and access to more choice is always better – especially when so many of the other brands that come to mind (Harlow & Fox, Blue Reign, Adina Reay, Katherine Hamilton…) are based in the UK, meaning higher shipping charges and possibly customs duty for customers from other countries.
The Spotlight bra costs $228 (~£166 / ~195€), the brief costs $125 (~£91 / ~107€), and the suspender belt costs $145 (~£106 / ~124€).
I'd love to know what you think of this TéAmore set! Which colour do you most like Spotlight in – red, black, or ivory?