Disclosure: I received this set free of charge by Amoretu to review. All opinions are 100% honest.
As summer ends and university classes start up again, less time to work means less money for me to spend on lingerie. Amoretu to the rescue! I was lucky enough to be asked to review one of their pieces, and after scrolling through their collection on Amazon, I chose this sheer red babydoll which comes with a matching thong. I don't own many babydolls, and I can never get enough red lingerie, so this was the perfect addition to my collection.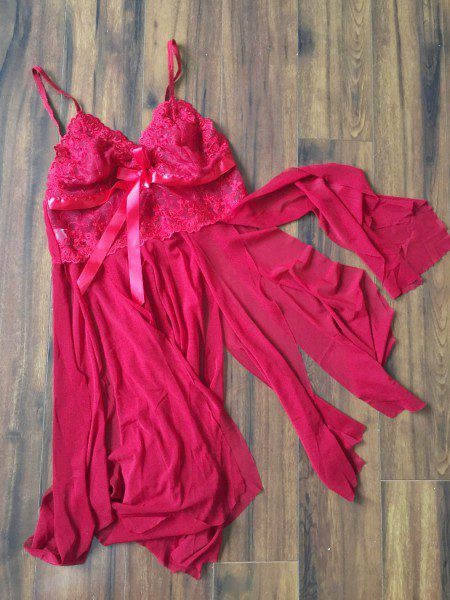 Appearance: 7/10
Two things struck me most about the babydoll's appearance. The first was the floral lace on the bodice, a pattern of swirls and flowers which was even more beautiful in reality than the website photos suggested. The second was the bottom, made up of about a dozen different pieces of fabric which fall from the bodice to create a beautifully flowy skirt. Each piece moves on its own which makes it perfect for twirling, and I love how you can lift a piece or two for a sexy peek of the thong underneath.
Construction: 6/10
The quality is what I would expect for the price. Both the babydoll and thong seem sturdy and have survived a couple of wears, but I did find a few loose threads on the babydoll before I'd even put it on. The material is a bit stiff as well.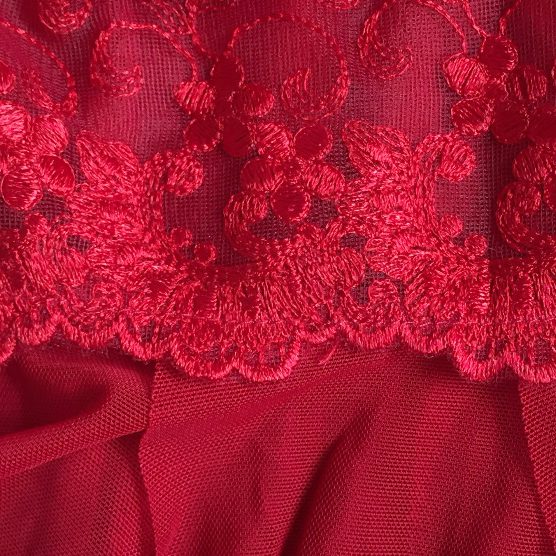 Fit: 4/10
I suspected from the start that this piece might not fit perfectly. As a 32E cup and UK size 8, it's rare that a core sized, non-adjustable piece fits me. Generally, a size Medium is too small in the cups, while a Large is too big everywhere else. Since this piece has a flowy bottom, I probably could have gotten away with ordering a Large without it being too loose around my thighs; however, I thought the Large thong wouldn't fit me, so I went with a Medium.
A word of caution: don't trust the size chart on Amazon. According to the chart, the Medium babydoll is supposed to fit a bust up to 37 inches, but that is my bust size and it's a bit tight on me (there's also a separate size chart by Amoretu that states it fits up to a 39″ bust). That isn't a huge issue, mostly because this garment was designed for short-term bedroom wear. I've worn it for a few hours at a time with little discomfort.
I still could have sized up. Although the size chart claims the Medium thong fits a UK 12-14, it was slightly tight on me as a UK size 8. I wouldn't recommend it for even a UK size 10, and definitely not for a 12. The measurements for the size Small better fit with the actual sizing of the Medium. I recommend sizing up.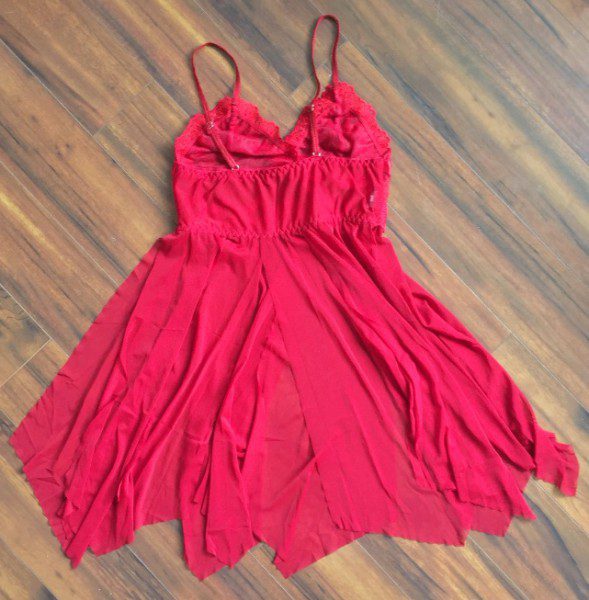 Value for Money: 8/10
That all being said, I think it's a good deal for the price. For a mere $14 (~£11 / ~13€), you get a set of lingerie that's both beautiful and sexy.
Would I Recommend?
Yes, with reservations. If you want some new lingerie without emptying your bank account, Amoretu is the brand for you. It's sexy and budget-friendly. Just make sure you follow my sizing advice.
However, for a product for daily wear or one that will last a long time, look elsewhere. This set is more about sex appeal than utility or comfort.
What are some of your favorite budget-lingerie brands? Have you ever bought lingerie from Amazon?
Eliza.