Disclosure: I purchased this lingerie set myself. Links with a * are affiliate links.
Allow me to introduce you to my most-worn bra set of the past twelve months: the Clara by Panache.
Launched in 2013, Clara has been on my lingerie radar for many years now. It's produced in 'basic' continuity colours (meaning they're always available) as well as seasonal fashion colours, and it's the fashion ones that originally caught my eye – especially those where there's a lot of contrast between the base and lace colours, which really highlights the lace's pattern.
The way the sheer floral motifs are surrounded by more opaque fabric, sometimes in a different colour, gives the impression of delicate appliqué work rather than it all being a single layer. Which makes this bra look rather more expensive than it actually is!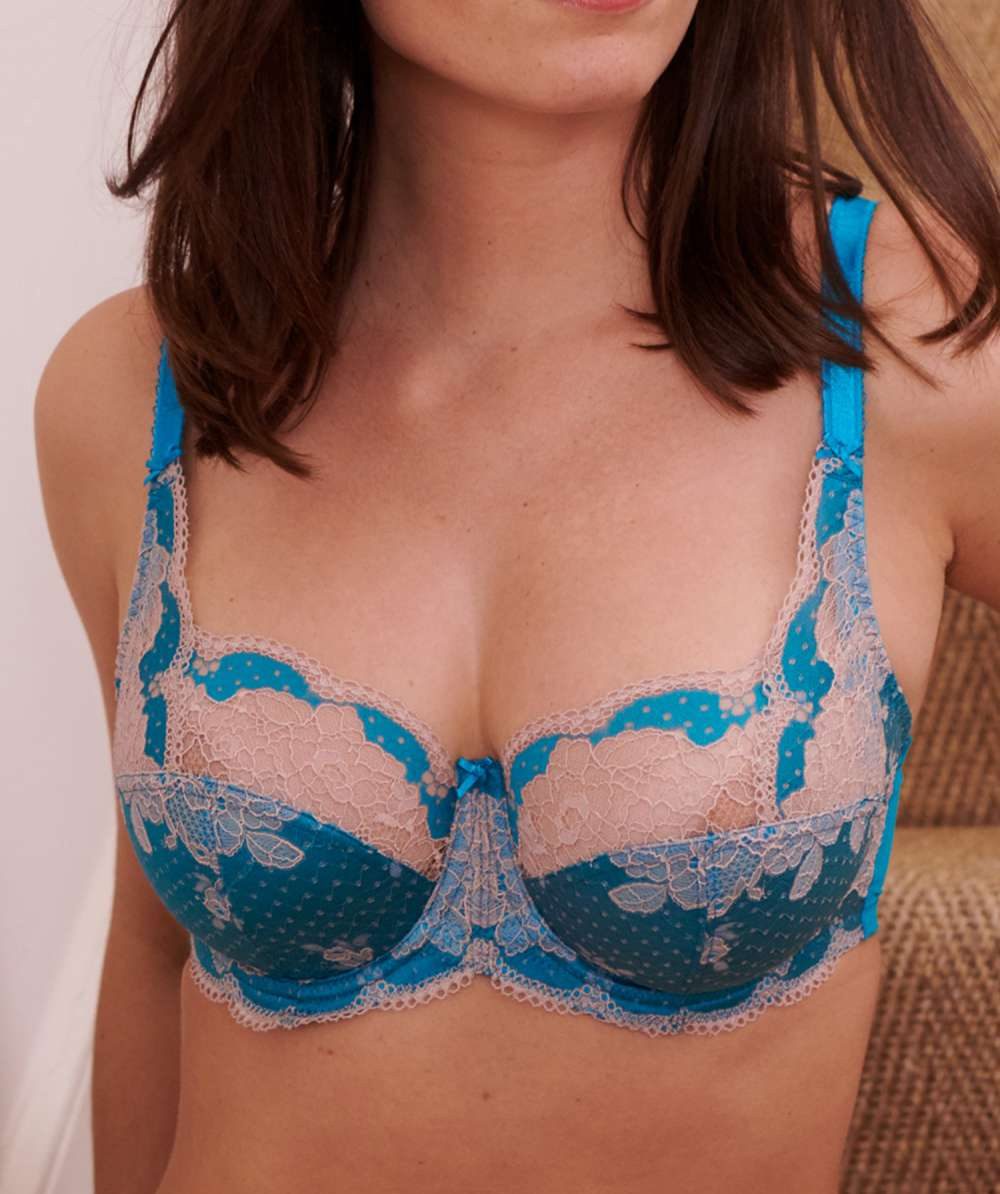 However, what finally made me cave and buy it was needing a new skin-tone bra. I've added lots of cream and white to my wardrobe over the past couple of years, and my previous go-to bra for light outfits was getting pretty worn out. I'd also never really liked it aesthetically, so I was determined to replace it with a nude bra that felt much more stylish.
I settled on the Clara bra because the design felt simple enough that it could disappear under slightly-sheer garments, but not so plain it was boring, plus also – and really, this is the main reason – because I've heard so many great things about it. On Amazon*, it's rated 4.5 stars across 712 reviews.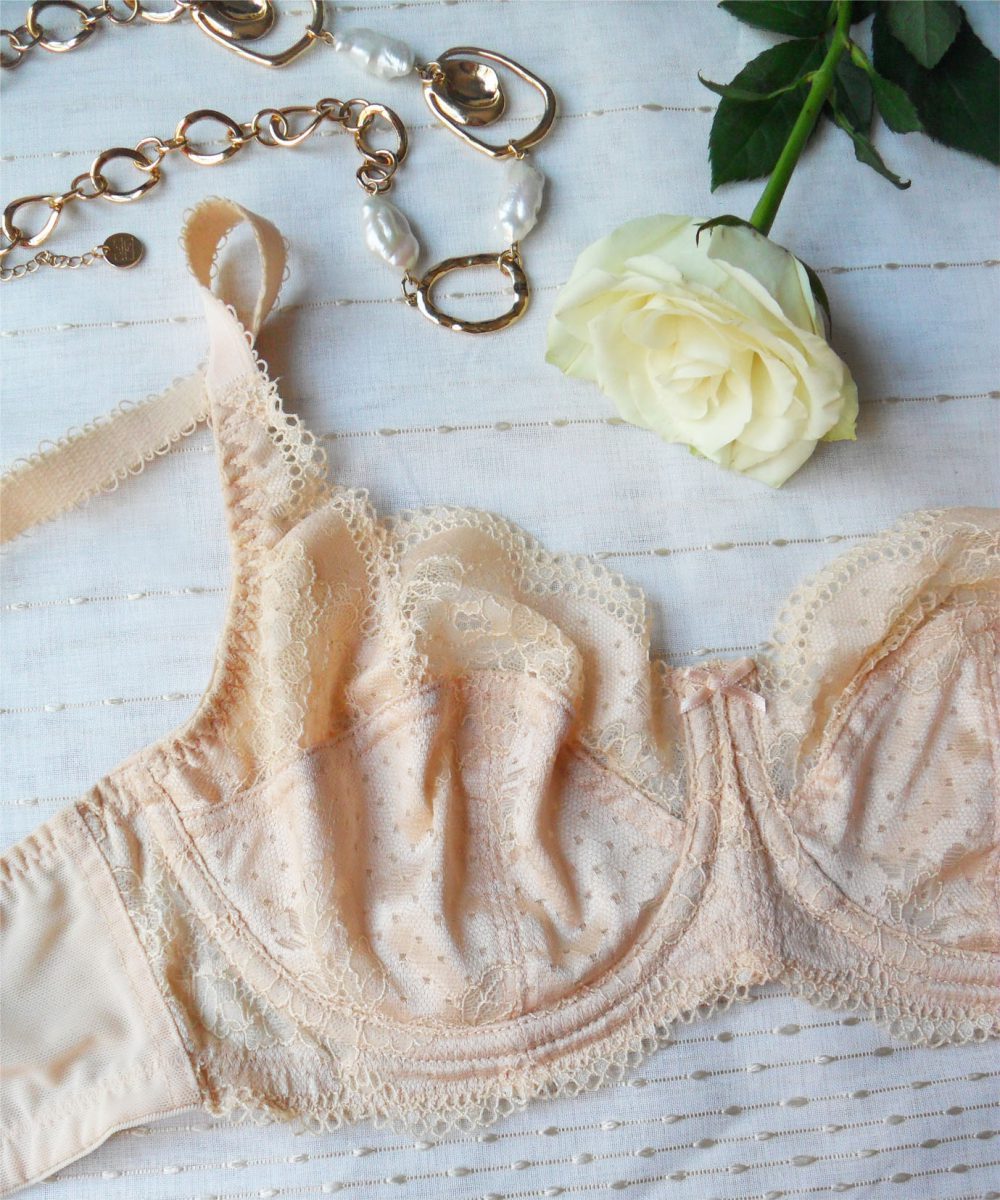 Panache is a full-bust focused brand, and overall the Clara bra is available in 28-40 band sizes and UK D-K cups (not every cup size is available on every band size). The 28 bands and JJ/K cup sizes appear to only be available on selected seasonal colours and not the continuity ones, which strikes me as odd – usually it's the more practical colours where brands invest in expanded sizing! This Chai is a continuity colour and available from a 30D to a 40J.
As someone who's pale, the creamy-beige Chai works perfectly on me as a nude shade. As I'd hoped, it's completely invisible when I'm wearing, say, a cream camisole in a thin fabric, or a white top with a slightly open-knit texture. (Note: this colour was previously named "Nude" and you can still find it listed at some stockists under that name – it's the exact same colour. Bravissimo also appears to be calling it "Champagne").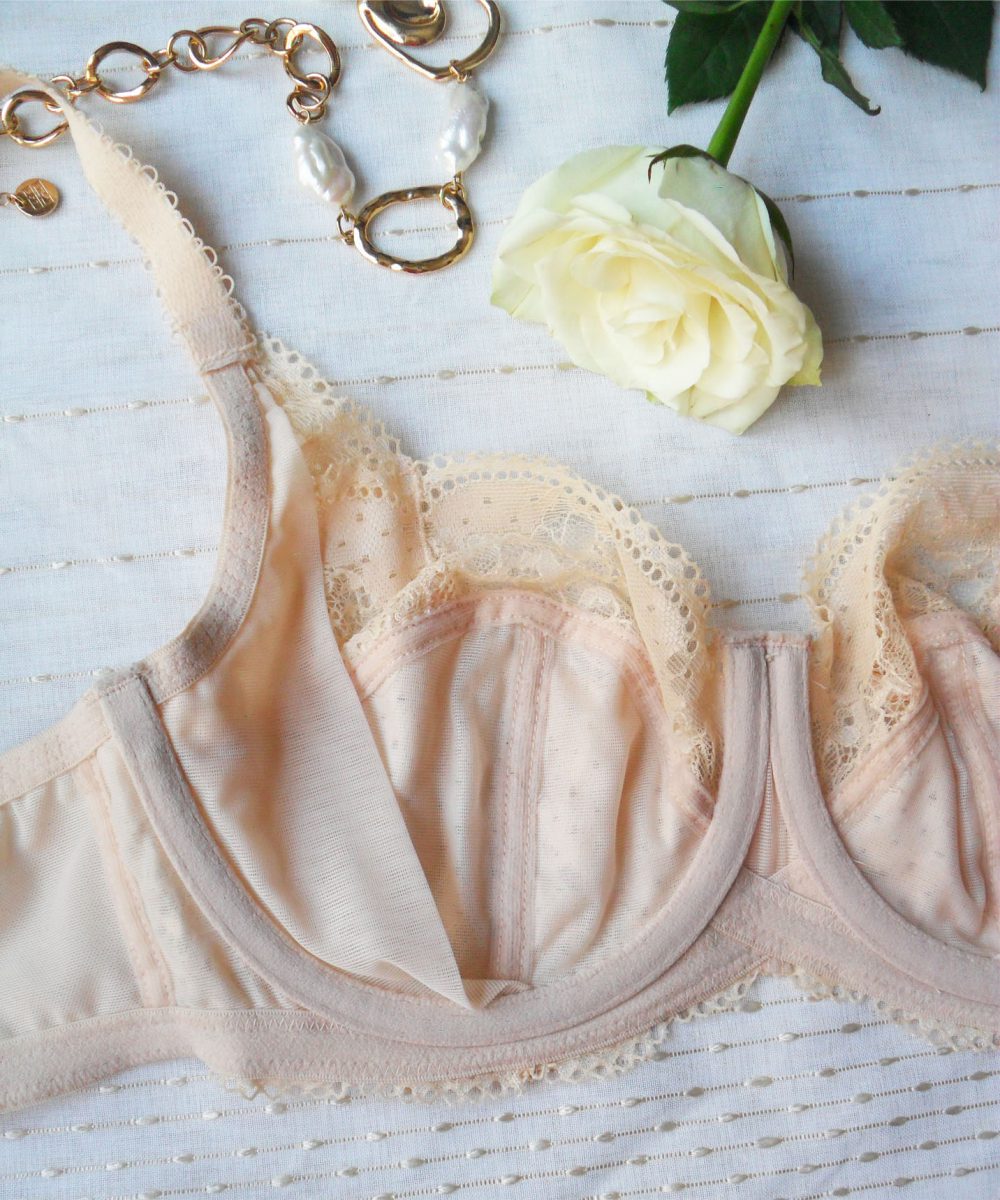 The Clara bra is an unpadded, partially-lined style with 4-part cups, which feature an interior side sling made from soft but sturdy mesh. This helps to bring tissue at the sides of the bust inwards for a narrower-looking silhouette. The shape I get in it is very lifted and pretty round, with just a hint of retro-esque pointiness.
In terms of fit, I bought my usual size of 30DD and am fairly happy with it. The band doesn't feel especially firm but doesn't ride up either. The cups lie perfectly smooth across the top, thanks to the lace having some stretch, although there is extra space at the bottom of them which I just can't seem to get rid of no matter how I try to reposition the bra. I'm wondering if I could have sized down to a 30D, but the width of the wires is perfect – it's a cup depth/projection issue, so I think this bra and me are just slightly incompatible shape-wise. But it's not a dealbreaker.
It's also really, really comfortable. I think "lightweight" sums up the feel of the bra, even though it's nicely supportive. The materials are very soft; nothing feels too rigid as sometimes happens with full-bust bras, and nothing digs in. Plus, the combination of mesh and lace means it's breathable for summer.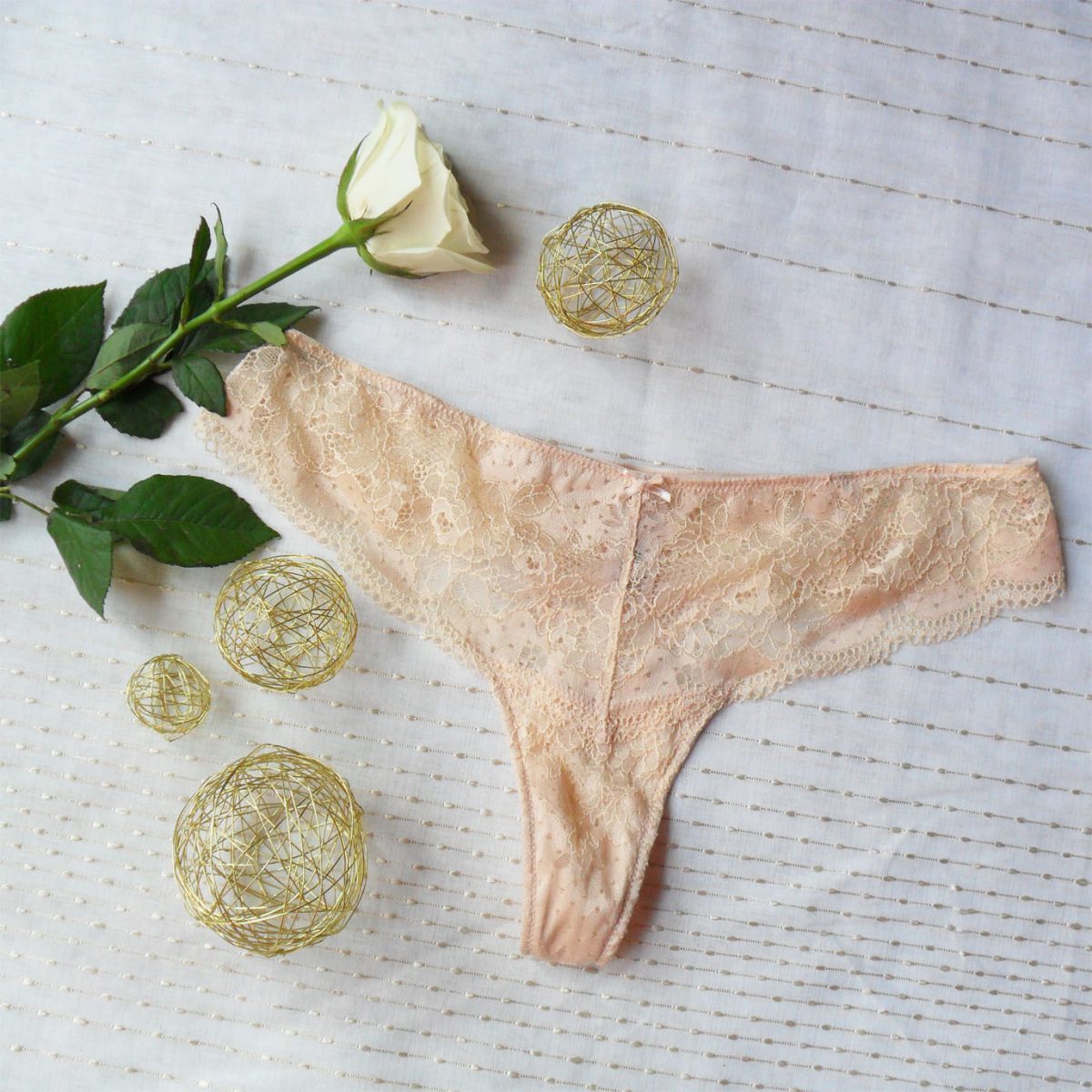 The thong I bought in a UK size 8 which is the smallest size available (the largest is a UK 20). It too feels extremely comfortable, and I have no complaints about the fit or quality. If you're not a thong person, there's a hipster brief available, and in selected fashion colours only, a high-waist brief.
I bought my Panache Clara bra online from UK stockist Poinsettia Style (which was a slight risk because I'm pretty sure the product images there show the Ivory. But I did receive the beige Chai I'd ordered) and my thong came from Embrace Boutique. Both retailers shipped my order quickly.
However, this being a really popular bra design, you can buy it in plenty of places. For example: Amazon*, Bravissimo, Bare Necessities*, Her Room, Next, Simply Be*, Very*, direct from Panache, and from many independent boutiques both on and offline.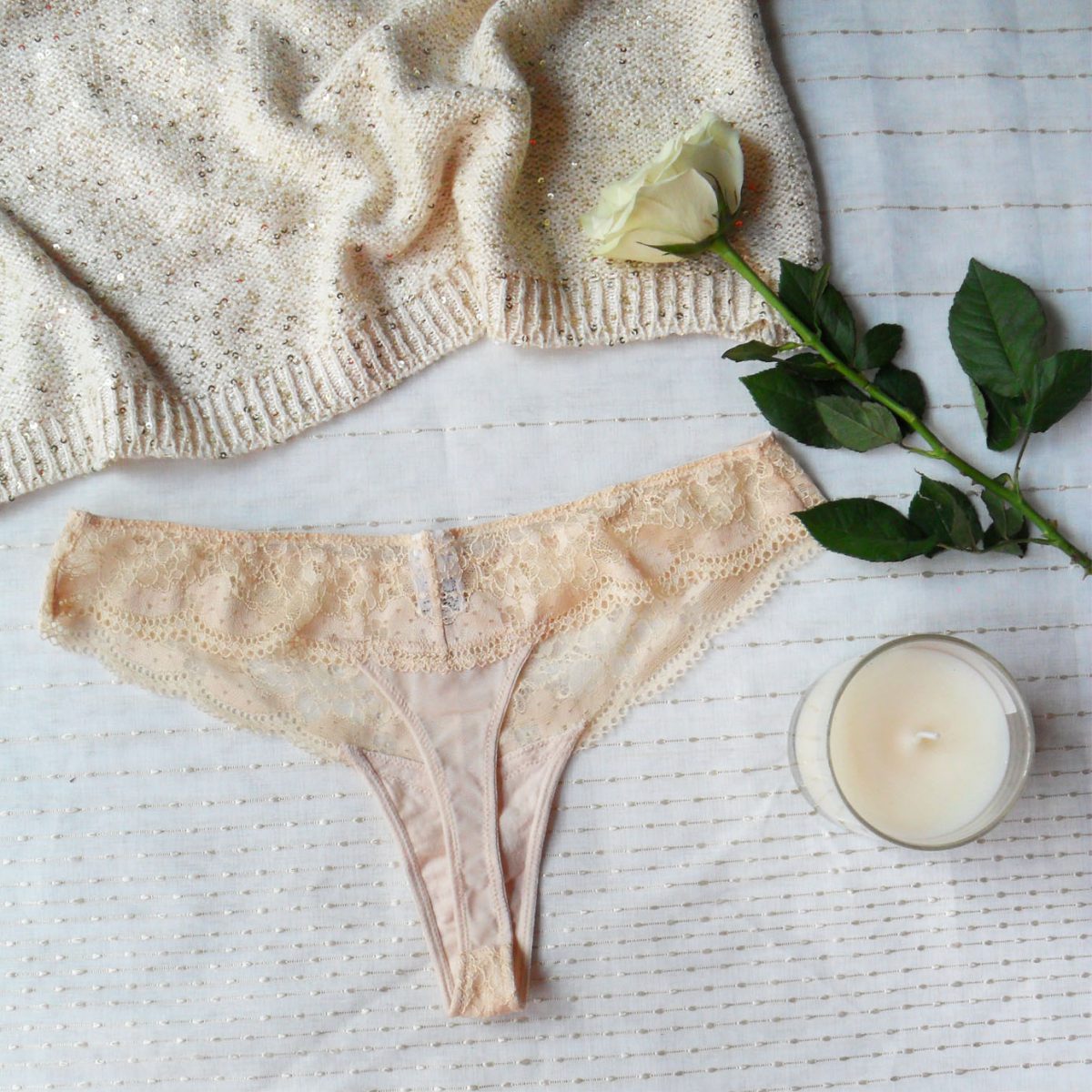 At full price, the Clara bra retails for £34 and the thong for £14, which is absolutely fantastic value for money. Particularly as I have been wearing this set regularly for around a year, and as you can see in the photos which were taken recently, it's still in perfect condition! However, if it's out of your price range or you need a little more convincing that it's well worth its price tag, it's easy to find past-season colours at a discount just by Googling.
After finally giving the Panache Clara a go, I'm not at all surprised that this bra has stuck around for so many years. I've actually just purchased a second set in the same colour because I wear it so often. I'll also now be keeping a close eye on their fashion colours, because I really wouldn't mind having a more 'luxe' version (such as this black and gold combination from 2014) of this bra set too.
Have you ever tried the Panache Clara bra? If so, what did you think of it?