It's time for a new instalment in my Careers in Lingerie series. Ever wanted to know what it's really like working in this industry, underneath all the glamour of the pretty robe and corset pictures you get to see on Instagram? Then read on!
My first interview in this series was with Ayten Roberts, who runs a brick-and-mortar lingerie store. Today, I'm speaking to Kristina DeJesus, founder of the quirky and colourful Wonderlust Lingerie in the US, about what it's like managing a lingerie boutique that's purely online. It's a similar role to what I do here at Esty Lingerie despite our very different backgrounds (she studied fashion design, I studied business management), but I thought it would be boring/possibly more than a bit weird if I interviewed myself 🙂
Welcome to the my Careers in Lingerie series Kristina! Can you tell my readers a little about your online boutique, Wonderlust Lingerie? Do you run it full time?
Thanks for having me! I started WonderLust Lingerie 2 years ago because I was tired of corporate lingerie companies stifling my creativity. I wanted to have a place that showcased the indie designers and hard-to-find lingerie labels that I love, but also where I could offer my own designs that weren't limited to what the big name retailers want. I also wanted a lingerie space that was more fun and accessible to everyday, stylish people like my friends and I.
For the first year I ran WonderLust Lingerie full time to get it off the ground, but now I split my time between running WonderLust and working as a freelance lingerie designer and consultant. So my schedule can be a bit all over the place these days but at least I'm still surrounded by lingerie with everything I do!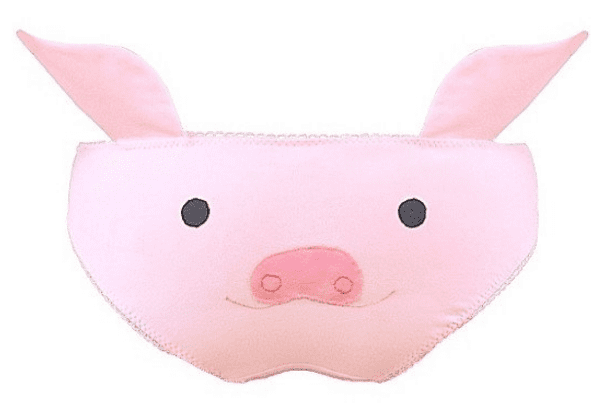 Knickerocker This Lil' Piggy knickers, $41 (~£33 / ~39€) from Wonderlust Lingerie
How did your obsession with the lingerie world first begin?
I guess in high school when I started branching out in my fashion and experimenting with different looks. My style was pretty out there and I shopped in all the unconventional places: my dad's closet, the children's department, thrift shops, etc. Then I discovered that I could also style lingerie pieces to be less sexy and more funky! I started buying silk camis, lacy garter belts and vintage slip dresses and wearing them in my own unique way. I loved how they made me feel so feminine, even if I was wearing them layered over or under more conservative pieces.
It was just a natural progression from there… I was accepted to the Fashion Institute of Technology in New York for fashion design and ended up majoring in lingerie since it intrigued me the most. In my last year I got a great internship at a big lingerie company who then hired me full time after I graduated. Since then I've spent over 10 years designing for various companies and writing for some lingerie blogs.
A.R.T. by Street People Atelier Red Hot slip, $78 (~£62 / ~73€) from Wonderlust Lingerie
What made you decide to open your own shop, and why online?
After a decade designing lingerie in the industry I was tired of all these companies that encouraged knock-offs and conformity instead of quality, creativity and innovation. I realised that through my experience I knew a ton of indie lingerie designers who were so amazing and talented but they were hard to find. So I decided I could do my little part by making a website that would bring a lot of those smaller indie brands and hard-to-find labels together in one fun, curated place. Some place colourful, creative and that didn't take itself so seriously!
I started it online because I felt I could reach a wider range of people and since I didn't have a retail background, a website seemed a more attainable choice where I could start small and grow at a manageable pace.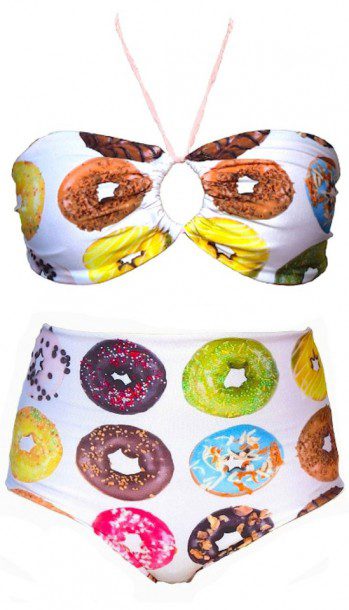 Siobhan Barrett Donut bikini top, $58 (~£46 / ~54€) from Wonderlust Lingerie
Siobhan Barrett Donut bikini bottoms, $49 (~£39 / ~46€) from Wonderlust Lingerie
You have a fashion design degree and have previously worked as a lingerie designer. Wonderlust Lingerie includes an in-house range, but mostly sells other brands. Is there a particular reason you chose to go down the route of selling other brands rather than focussing on your own?
I decided to sell mainly other brands because there are so many amazing small ones out there that don't get much attention, and sadly go out of business before their time. Plus I needed a break from designing for a while and wanted to try my hand at the buying and the business aspect of the industry.
However, I just launched my own small collection of fun undies on the site last week actually! I'm keeping it small and simple for now but it's some cute stuff and it feels good to be back behind the sketchbook again!
Holy Guacamole hipster knickers by Wonderlust Lingerie, $15 (~£12 / ~14€)
I know first hand that so much goes into running an online boutique, besides writing product descriptions and packing orders! What does your typical day look like, and how are the working hours?
That's tough because each day is different! I guess a typical WonderLust day starts at 8:00am with me answering emails and enquiries. Then I move on to monitoring our social media and planning for the week ahead. I'll then review my website's analytics to get a clear picture of what's been going on in my shop. Next I pack up any outstanding orders and get them ready for the afternoon mailings. And before lunch I'll spend a few hours on the computer either editing photos, designing new marketing or writing up product descriptions.
After lunch I'll head into midtown for meetings, errands or just to do some research. I could be meeting with a new fabric supplier or attending a press event – it depends on the day! And if no meetings are scheduled then you may find me picking up props for our next photo shoot or perusing other lingerie stores to see what's new. If I'm not totally spent that evening I'll write up a blog post or do some back-end paperwork until Netflix calls my name and I pass out in front of the TV.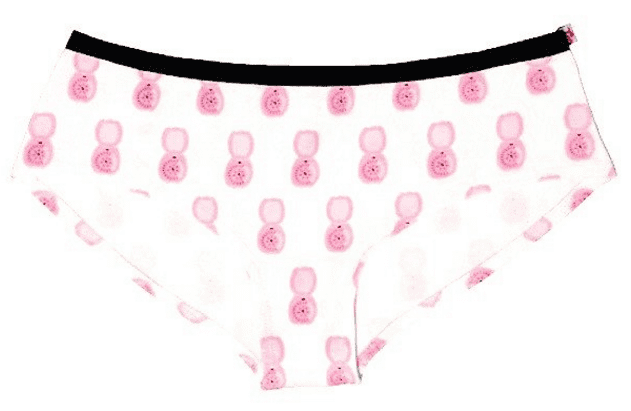 Birth Control hipster knickers by Wonderlust Lingerie, $15 (~£12 / ~14€)
50% of proceeds from this item go to Planned Parenthood!
Which questions do you think someone should ask themselves before deciding if opening an online lingerie boutique is the right career path for them?
Haha, I feel like I'm asked that question constantly from other soon-to-be lingerie entrepreneurs! I would say to definitely give it a good, long thought and ask yourself if it's something that you're passionate enough to dedicate yourself fully to, day and night. Because however much hard work you think it will take, chances are it will be even harder than that!
Also ask yourself if you are willing to put in the hours of research and planning beforehand. For me that was the most boring part but it was so important in the long run! And lastly ask yourself if you have a strong support network because if you're going to board the emotional roller coaster of entrepreneurship, then having friends and family behind you is so important for your sanity.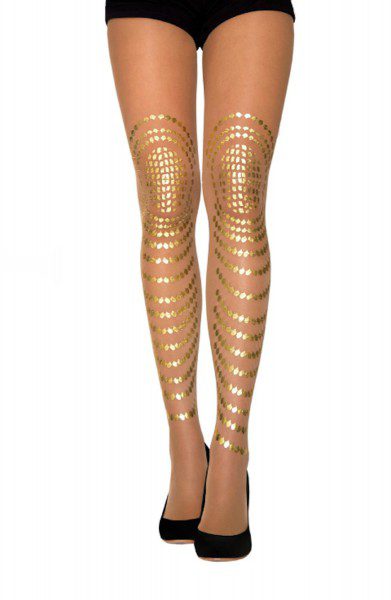 Stern Tights Goldfish tights, $28 (~£22 / ~26€) from Wonderlust Lingerie
And how much money should they expect to need to get the store off the ground?
That's also a tough question and I'm never really sure how to answer it. It all depends on what kind of business you envision, what kind of funds you have available to you and what your future plan looks like. I think you can start your own small lingerie line fairly cheaply with a couple thousand US dollars [Estelle: $2000 is approximately £1,600], probably less if you are strategic about it.
But if you want something bigger or more specialised then that number can jump pretty quickly. And it's the same thing if you decide to sell other brands and labels – if you start off very small then you can probably make it work with a few thousand US dollars, but if you want to sell luxury goods or have a larger presence or fancier website then that number is sure to grow.
Sugar Lace Lingerie Angel Baby babydoll & knickers, $110 (~£88 / ~103€) from Wonderlust Lingerie
Last but not least, what's your absolute favourite thing about owning your own lingerie retail business?
It's just a lot of fun! I love being surrounded by creativity, discovering new brands and meeting new people. Plus I get to explore my own creativity and learn more about other aspects of the business like merchandising and marketing. Oh, and it doesn't hurt that I get to play dress up and enjoy a nice discount on some of my favourite labels!
Thanks so much for taking the time out to answer these questions! Where can my readers find you online?
It was my pleasure! WonderLust Lingerie can be found at www.WonderLustLingerie.com and on most social media channels – come look us up!
---
I hope you enjoyed this interview! You can follow WonderLust lingerie on Twitter, Facebook, Instagram and Pinterest. If this is the first post you're reading on my blog, click here to see the rest of the Careers in Lingerie series where I've also interviewed various designers, and there's more to come! And if you're interested in learning more about what goes into running an online lingerie store, I've previously blogged about all the various tasks I do in a typical month.
Do you ever dream about opening your own online lingerie boutique? If you did, which brands would you love to sell?