Esty Lingerie has had a makeover! After something like six months of grabbing spare moments here and there to work on it, I'm so happy to finally be able to share this site's new look with you. It's not quite there yet – still a few design tweaks to do, and a ton of behind-the-scenes technical stuff – but my impatience eventually got the better of my inner perfectionist and I decided it was ready enough for you all to see.
So, the big thing you'll notice if you're a regular visitor is that the whole thing looks a bit more 'bloggy' now. I launched Esty Lingerie back in 2009 and for quite some time it was just a simple shop. Come mid-2012, I was doing a marketing internship that involved writing blog posts for clients to boost their SEO, and I thought "I should be doing this for my site too", so I set one up and just started writing whatever popped into my head.
I'm not particularly proud of those first few articles, but they were fun to write! Then, in 2013 I started reviewing lingerie that I'd bought and talking about products that I liked, things unrelated to what I was selling, and gradually what started out as a side project became the task I was spending the most time on when working on my site. Especially over the past year, I've realised that writing is really where my passion lies, more so than retailing.
There's also the fact that when I launched Esty Lingerie, I was a student doing a year abroad, working 10-12 hours a week with minimal studying to do and with all the time in the world to create a business. Now I have a 30-hours-a-week job and a toddler who demands a lot of attention, and there are simply no longer enough hours in the day to continue as I have been doing. You might have noticed that the annual Lingerie Design Competition didn't happen last year, and that's the reason (but it's returning for 2017, yay!).
Out of blog, brand and boutique, it's the first two that interest me the most. When I realised that this was the direction I really wanted to take Esty Lingerie in, I also realised I needed a new website. My previous one was built on EKM which is excellent for selling (I highly recommended it to any bootstrapping indie designers who want to launch their own site), but it's just not built for blogging. I couldn't even make the blog articles mobile-friendly!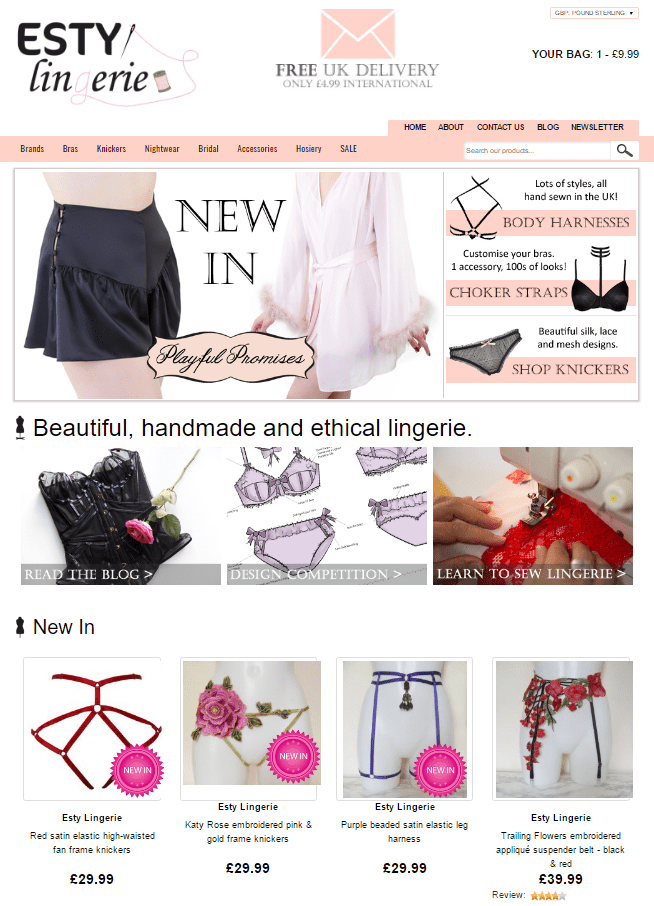 The old Esty Lingerie website that is no more.
All of that said, the shop is still very much here. You can find it by clicking My Shop in the menu bar at the top. I am however going to be significantly streamlining the product range – there are a lot of products and brands that I won't be restocking when they sell out, so don't deliberate too long if there's something you've had your eye on. The most popular brands will be staying (in fact, there's more Playful Promises on the way soon), but mostly I'd like to focus on my own designs which have always made up 80-90% of my orders anyway.
Which brings me on to one more change – moving forwards, I am no longer going to be producing collections. Honestly, I've never been that good at it. I get the inspiration for one or two great products and then try to design matching pieces around them, because I've always felt like that's what I was supposed to be doing, but inevitably those first designs sell out over and over and the rest just sits in storage for months.
I have stacks of ideas flying around in my head, and an enormous stash of fabrics and embellishments in my sewing chest, that never get turned into anything because I'm too busy trying to think how they'll work as part of a range instead of just knuckling down and making something. I don't have a whole lot of time to sew, so I'd rather focus only on creating things I truly love. This year, I'll be making many more limited-edition pieces, and even one-off pieces, and generally just having fun experimenting and sewing whatever the hell I feel like sewing!
First though, I think a bit of a celebration is in order. Stay tuned, because the next couple of weeks are going to be busy ones at Esty Lingerie with giveaways and special offers galore! Be sure to follow me on Twitter where I'll be announcing everything as it launches.
In the meantime, I would love to know what you think of the new website. Any feedback, good and bad, will all be much appreciated!