Disclosure: This bra set was sent to me free of charge to be reviewed. My opinions are, as always, 100% honest.
Did you see my Bras Without Wires review from last May? Full disclosure, the brand sent me that bra too, but I really meant what I said at the time about being "blown away by this bra". It was gorgeous, it was comfortable and it was surprisingly supportive for a wire-free option – even now, a year on, it still gets chosen out of my overflowing lingerie drawers every single week. It's one of my very favourite everyday bras.
So, I was obviously thrilled when Bras Without Wires owner Stephanie offered to send me the brand's latest creation, Python, even if I've never really been a fan of snakeskin prints. I just wanted a backup for when Superhero was in the wash!
Unlike that one which is only available in an unlined option, Python comes in lined and unlined versions and they both cost the same. Bottoms are available in boyshort or high-waisted styles. I didn't request anything specific, and received the lined bra and high-waisted knicker.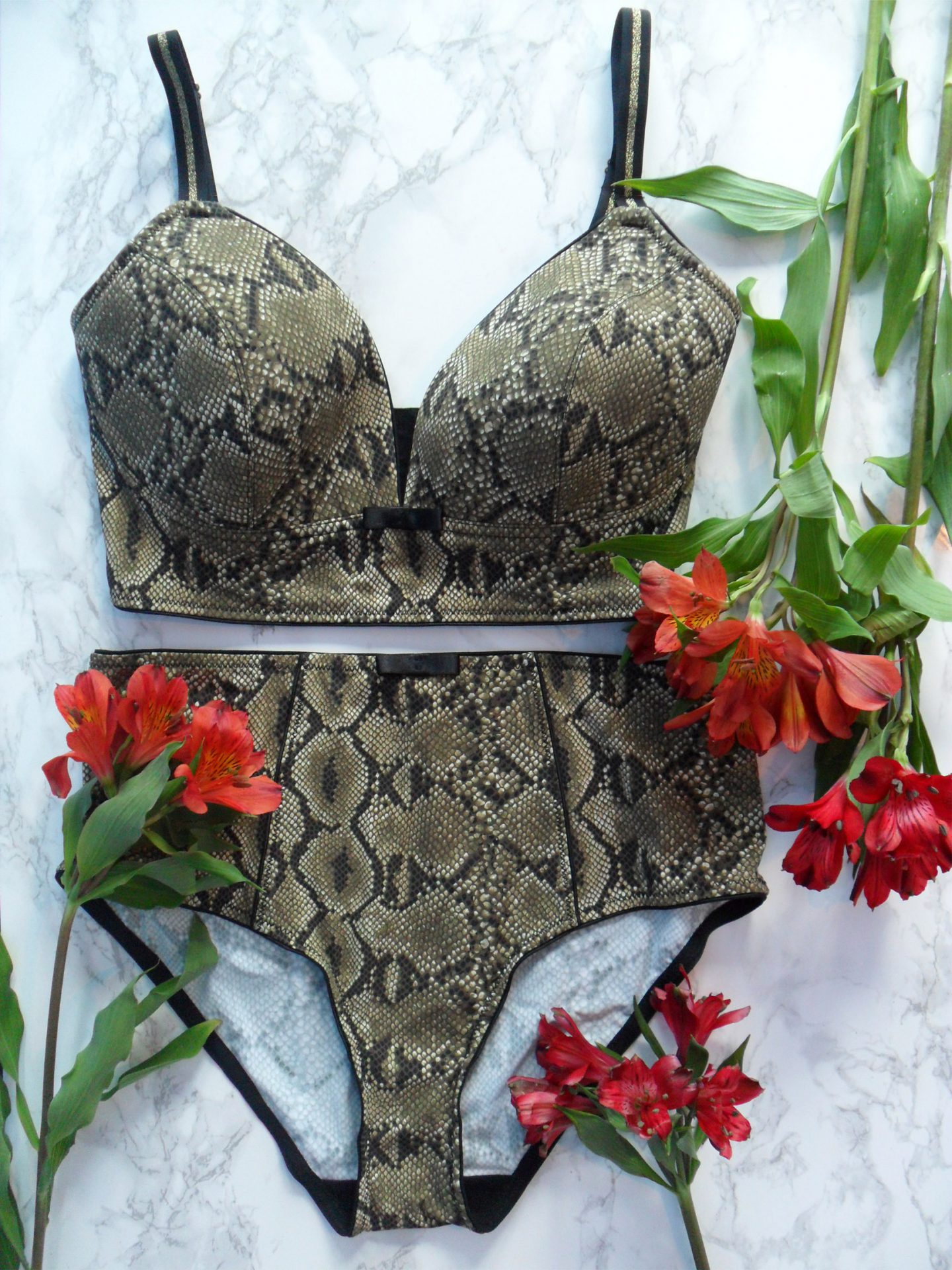 Appearance
I've just said that I don't really like snakeskin prints, but somehow, I do quite like this bra. The greenish-brown and cream look lovely alongside the sparkling gold on the straps, and I do love a bit of glitter on my lingerie. I find this set prettier in real life than in the product photos.
The way the straps attach at the back is nice, and another small feature that I particularly liked is the hook-and-eye components. They're the same snakeskin print as the rest of the bra, and would have had to have been custom-made at a higher cost than using a plain black version like you see so often. It's especially impressive given that this part of the bra isn't even that visible when worn, so you can tell that thought has been put into the design and the brand hasn't tried to cut corners.
Verdict: 5 / 10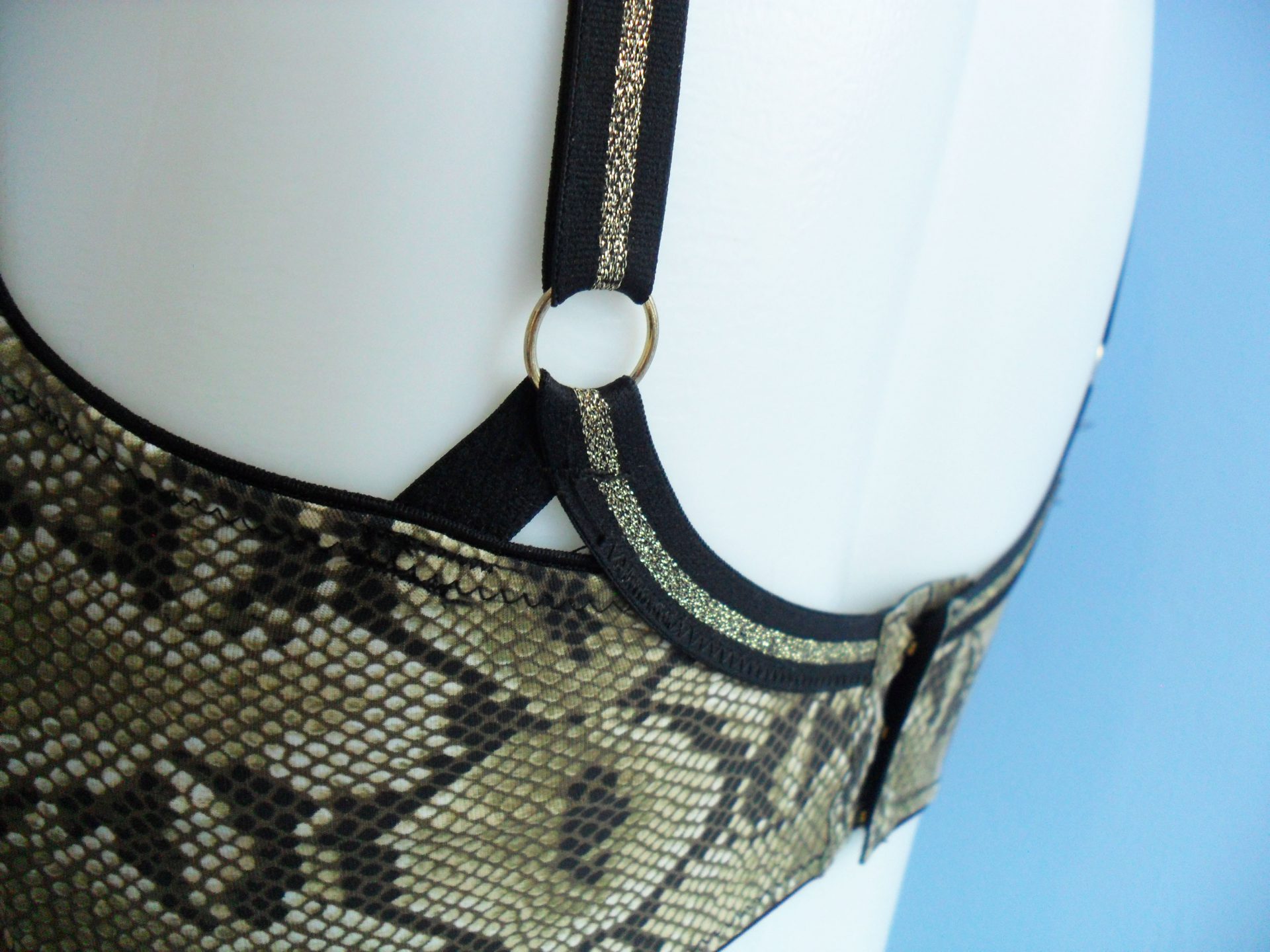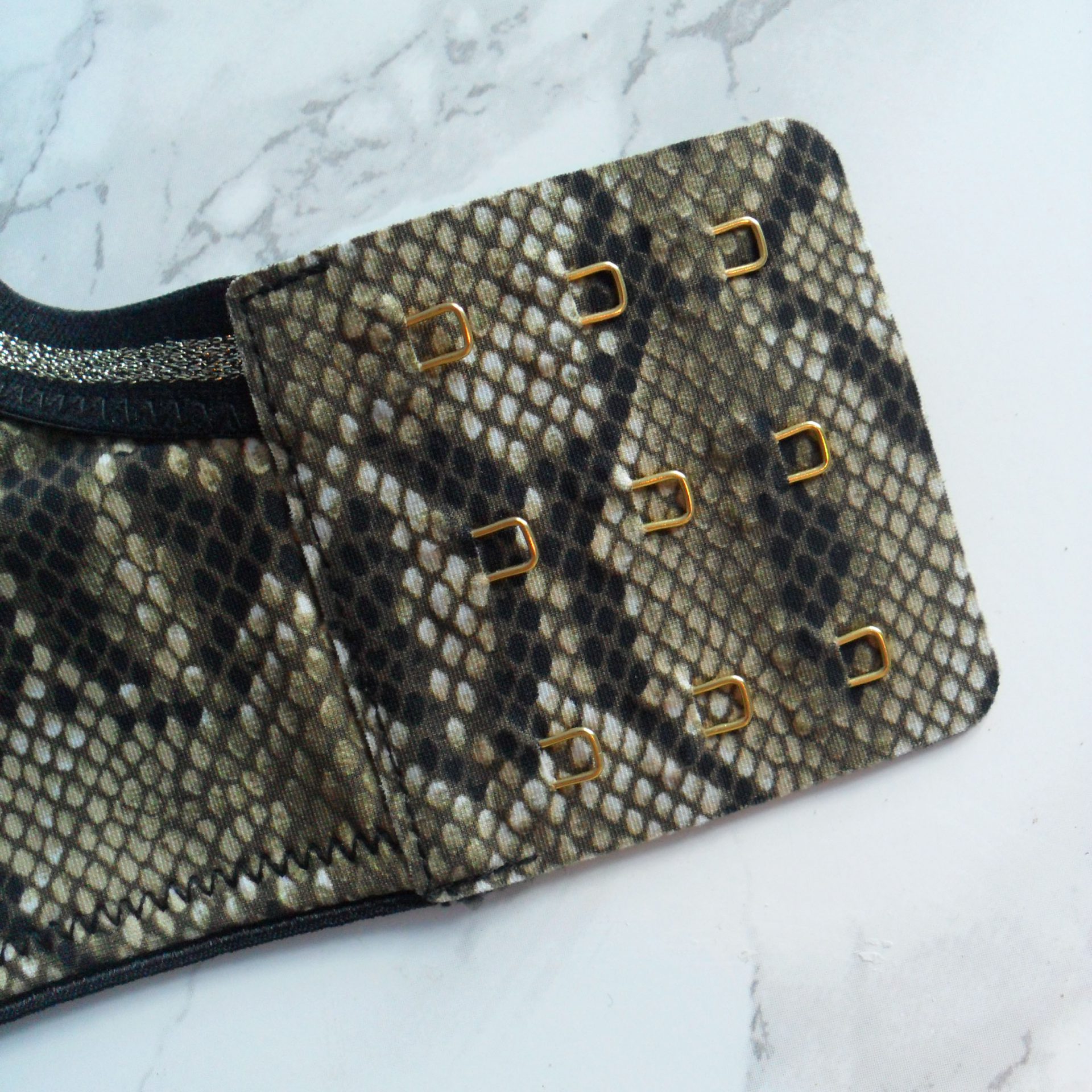 Construction
Having tried two Bras Without Wires styles now, I would say that the brand is making the perfect compromise between a wired bra and a flimsy bralette. The Python bra is wireless but (just like on the Superhero bra) has a really thick seam along the base of each cup which sort of acts in the same way. It's not as supportive as a proper wire, but there is definitely some lift and my breasts stay fully separated and encased in their own cup all day long; the cups stay fixed firmly in place.
The snakeskin fabric is a really lovely, soft, fine material ("premium Italian knitted fabric", the product description says) and the bra's lining and knicker gusset are both organic, Australian cotton. The pieces are manufactured in China and all sewing and seams are very neat.
Verdict: 8 / 10
Fit
The 32DD Superhero bra is still a perfect fit on me, so I received the Python in the same size. It is almost a perfect fit this time. As before, the band is a little on the snug side for a 32, which I like. The lining is a thin layer of foam that gives the cups some structure, and therefore the left one gapes a smidge at the top of my slightly smaller breast, rather than molding completely to my shape as an unlined bra would. It's only a minor niggle though, and I'm still very happy with the fit. I am currently closer to a 32D than 32DD, so if in doubt choose the larger cup size.
As for the knickers, I don't recall discussing sizing and Stephanie sent me an Australian size 10 which I believe is also a UK 10. I'm a UK 6 but they don't feel two sizes too big. There's definitely some room to stretch further, but they're really not a bad fit on me – I'd say they come up equivalent to a UK 8, so a bit small if all the size charts telling me AUS 10 = UK 10 are correct (there's no international size conversion advice on Bras Without Wires' site). They ride up on me, which is a bit annoying, but high leglines and my bum rarely get along.
Verdict: 7 / 10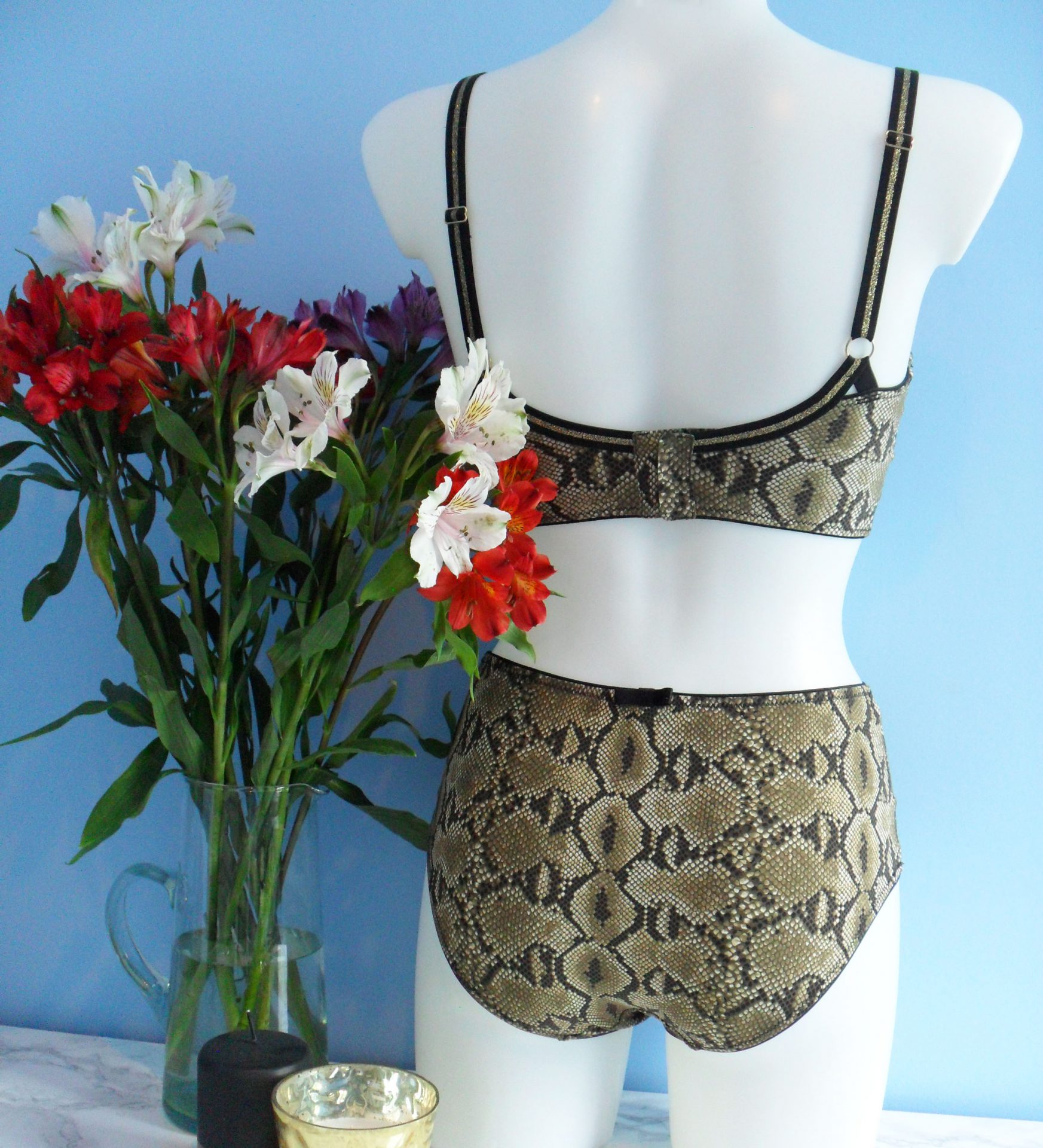 Durability
Both pieces can be delicately machine washed, although I've stuck to hand-washing. Both pieces are easy to wash, dry quickly, and still look great after a couple of months.
The only issue – and not really an issue issue, but I wanted to point it out anyway – is that the fabric and care information which is printed inside the knicker (no scratchy labels, yay!) is peeling off. It's the same treatment that's inside the bra but whereas it has stayed stuck to the cotton, even on my year-old Superhero bra, the same can't be said for the nylon. If you want that record of care instructions, you're going to need to note them down.
Verdict: 9 / 10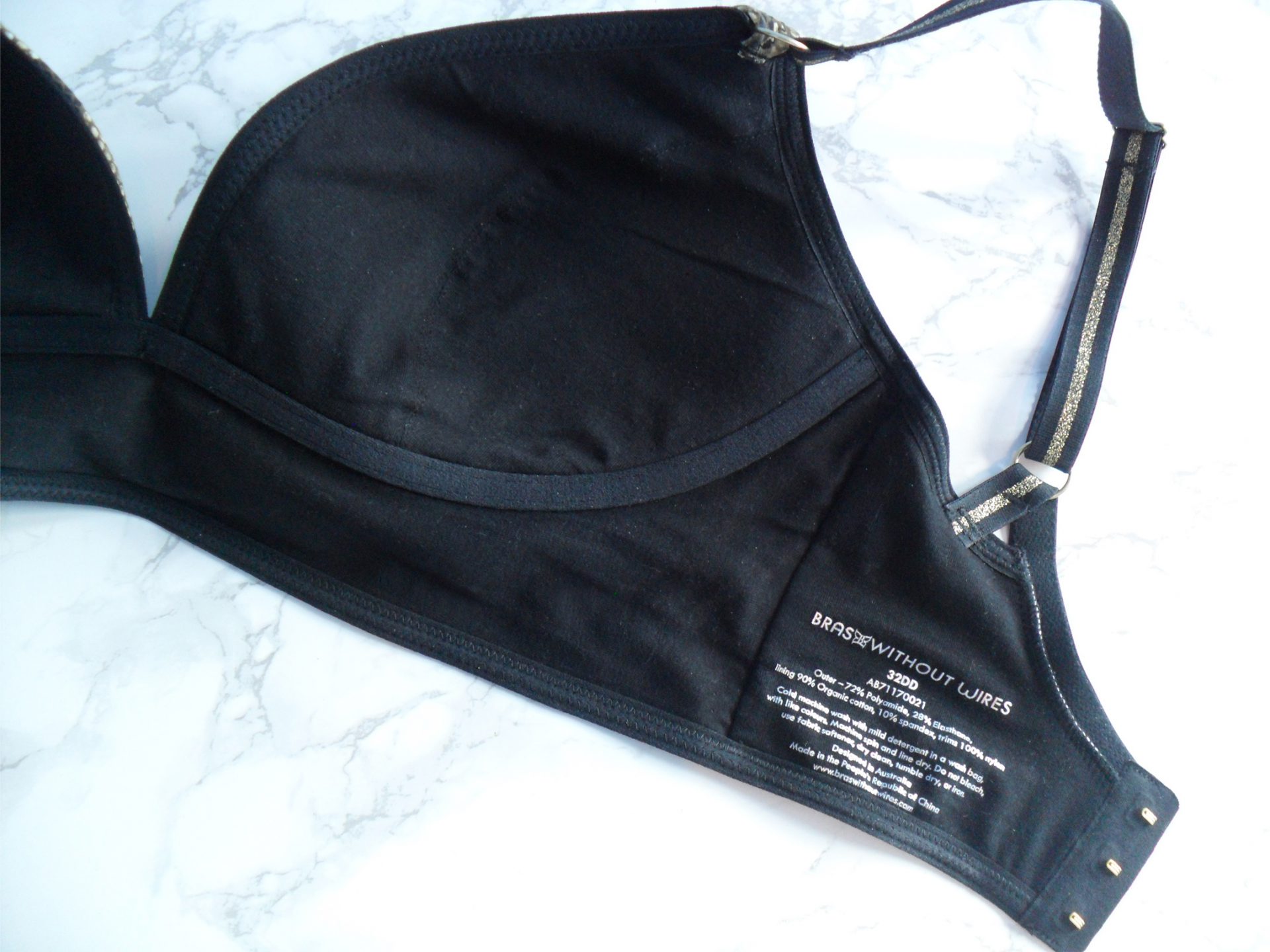 Value for Money
The Bras Without Wires Python bra costs AUD $90 (~£52 / ~US $67 / ~61€) and the high-waisted knickers are AUD $45 (~£26 / ~US $33 / ~30€). So yes, it is more expensive than many other wire-free bras, but you can't compare this to a £15 bralette from the high-street.
It has been built to offer more support, and using nice fabrics and quality construction techniques. If you're looking for an attractive bra set that can offer you the comfort of wireless but still some of the lift and shaping of a regular bra, it's worth the price.
Verdict: 8 / 10
Overall, I don't like this quite so much as the Superhero bra, but that is a hard one to live up to given how much I love it! I think I might have liked it a bit more had I received the unlined version, but it's great that you can choose between the two without having to consider a price difference – some people will prefer the lightweight padding for nipple coverage, added comfort or a smoother shape under clothing.
The Python bra comes in sizes 32A-38D, and the high-waisted knickers in Australian sizes 8-16.
What do you think of this set? Do you like snakeskin prints? And are you a fan of wire-free bras?