(Above: Bras Without Wires Superhero bra and ViVi2Anna Silver Celebration thong)
Disclosure: This bra was sent to me free of charge to be reviewed. My opinions are, as always, 100% honest.
Back in March Stephanie from Bras Without Wires got in touch to introduce her brand, which was launched after she was diagnosed with breast cancer and couldn't find beautiful, unwired bras in her size to wear during treatment. Bras Without Wires has recently introduced its first major collection, which is available in UK sizes 30-36 A-DD and 38 A-D, and from which $1 is donated to the National Breast Cancer Foundation for every bra sold.
Whilst I didn't agree with every part of the pitch or website messaging (which is that unwired bras are a smarter choice – I find underwires perfectly comfortable and I'm pretty sure there's been no conclusive evidence that they're bad for you), I agreed to review a bra because there was one bit that resonated with me.
According to Stephanie's research, "74% of women would prefer to wear a non-wired bra if it offered the same support". I'm not sure that I would prefer unwired bras if that were the case, but I'd certainly wear a whole lot more of them! Bras Without Wires claims to offer "all the support" of a wired bra, so I was really intrigued to try one out.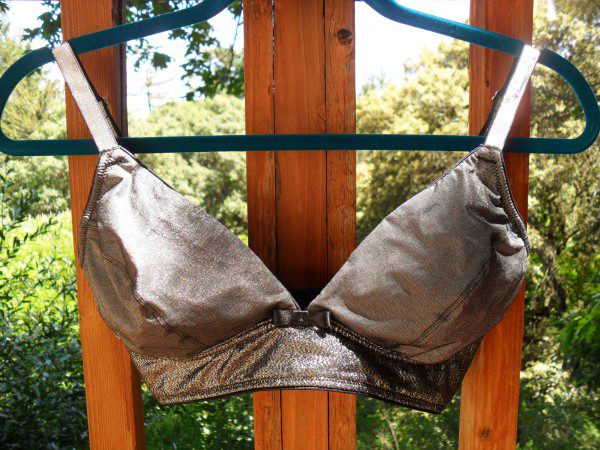 Appearance
There are 5 collections to choose from, and although I love the longline satin and lace Paris bra, I really can't resist a bit of shimmer so the sparkly silver Superhero bra it was. Side note: awesome product name!
Superhero is a strictly limited-edition bra that has already sold out in one size. I'd liked it from the off, but I loved it even more when I took it out of its branded organza storage bag and saw it up close.
The bra is made from a combination of smooth, gunmetal-grey fabric on the cups and bolder, sparklier silver fabric on the band. The back of the bra is plain black, but not at all boring thanks to the reflective silver elastic which is used on the straps and also follows the band around to the centre-fastening.
Overall, I really love it – all the fun of sparkly metallics done in a chic and elegant way.
Verdict: 8 / 10
Construction
The Superhero bra is made from gorgeous, top-quality fabrics, including an organic Australian cotton backing that is super soft and comfy against the skin. The sewing is all neat and secure.
The most interesting part of the bra's construction though is something that's not even mentioned in the product description – there's a stiff 'ridge' inside the bra that runs all the way from the outer cup across to the other side.
Since it's not mentioned on the website, I don't even know if it's intentional or just a particularly thick seam, but it acts in a similar way to an underwire (a uni-wire!) – it sits in the same place under the breast, providing lightweight support and keeping the cups securely in place.
Oh, and I also loved that the Superhero bra doesn't contain any labels! Instead, the care instructions are printed right onto the fabric, in silver, so the inside of the bra is totally smooth and comfortable all the way around.
Verdict: 10 / 10
Fit
Bras Without Wires' Superhero bra is available from a 32A, so I sister sized up and asked for a 32DD. And I'm happy to report that the fit is absolutely, 100% spot-on!
It's exactly the right size in the cups for me – no gaping, no spilling out when I lean over – and the band is firm but comfortable. Possibly a little tighter than most 32s in that respect, but I think you'll be fine in your usual size.
And that just-as-supportive-as-a-wired-bra claim? I have to say, I was super impressed by this bra. It doesn't give the same shape as a wired bra (nothing's going to give you that typical rounded shape but molding or underwires), but I found it no less supportive than one. With the wide band, double-layered fabric and that funny ridge feature, this bra gives me quite a lot of lift and stays firmly in place all day long.
Verdict: 10 / 10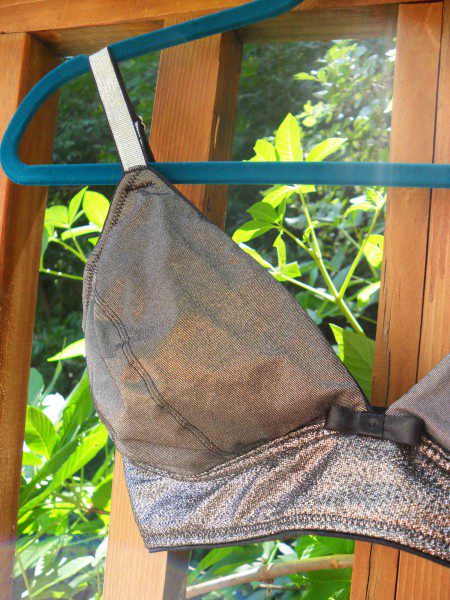 Durability
I've been wearing this bra pretty much non-stop since I received it. Every time it's freshly washed, it's the first thing I reach for in my lingerie drawer. Yet despite all that wear and (hand) washing, it seriously looks as good as new. According to the care instructions you can machine wash it on a cold setting too.
Verdict: 10 / 10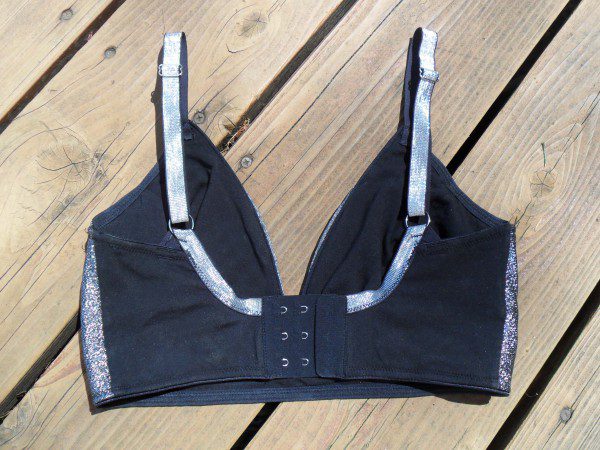 Value for Money
The Bras Without Wires Superhero bra costs $109.09 (that's Australian dollars, not US) which works out to roughly £54 or $78 US. Gorgeous fabrics, solid construction, fantastic comfort… I think it's worth every penny.
(Not giving it 10 out of 10 because I think there are comparable bras available for a similar price that are more locally made, but don't let that put you off this one).
Verdict: 8 / 10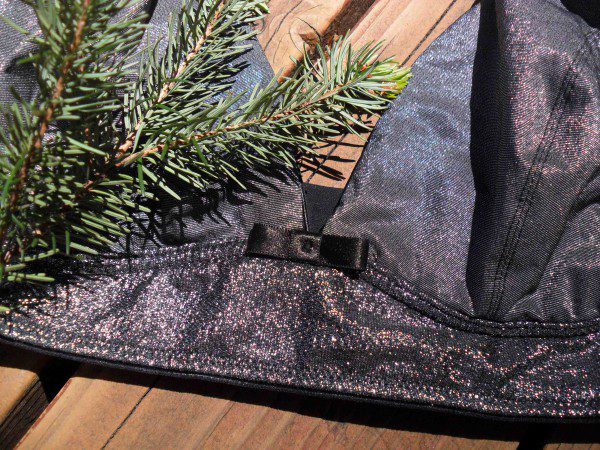 Final Thoughts
Honestly, I'm pretty blown away by this bra. I didn't expect to like it as much as I do. I think Stephanie has nailed the combination of aesthetic, support and comfort. Fortnight Lingerie (which I haven't tried personally) has long been praised for its supportive bralettes, but they could now have a serious rival in that niche.
I do wish the brand didn't feel the need to hate on wired bras in order to sell its unwired ones, but nonetheless I recommend Bras Without Wires if you're looking for a supportive and glamorous bralette. I'll be keeping an eye on their website to see what else they release in future collections – I would totally buy this bra again in red, or gold!
What do you think of this Superhero bra, and Bras Without Wires in general? Would you wear wireless bras more often if they provided better support?