Disclosure: I purchased this bodysuit myself. Links with a * are affiliate links.
It's no secret that I am a huge fan of Playful Promises' designs. They are probably one of the most prominently-featured brands in my lingerie collection, as their aesthetic and size range works so well for my taste and body type. Still, it's been a while since I have been this obsessed with any one piece of lingerie.
From the moment I saw the Eleanor Embroidered Bodysuit* on social media, I fell in love. I tried to push these feelings to the side however, as I didn't really have the money for it and I knew that something as special as this would quickly sell-out due to Playful Promises' limited edition releases. Again and again it popped up on my Instagram feed, with every single person who wore it looking absolutely amazing in it, until one night when I couldn't take it anymore, the 'Only 1 Left' message next to the 30GG size spurred me into action.
And I am so glad that it did! I feel like this bodysuit is a surprisingly practical 'unpractical' piece of lingerie. I'm constantly trying to find ways to incorporate it into my outfits and show it off because it's just so beautiful.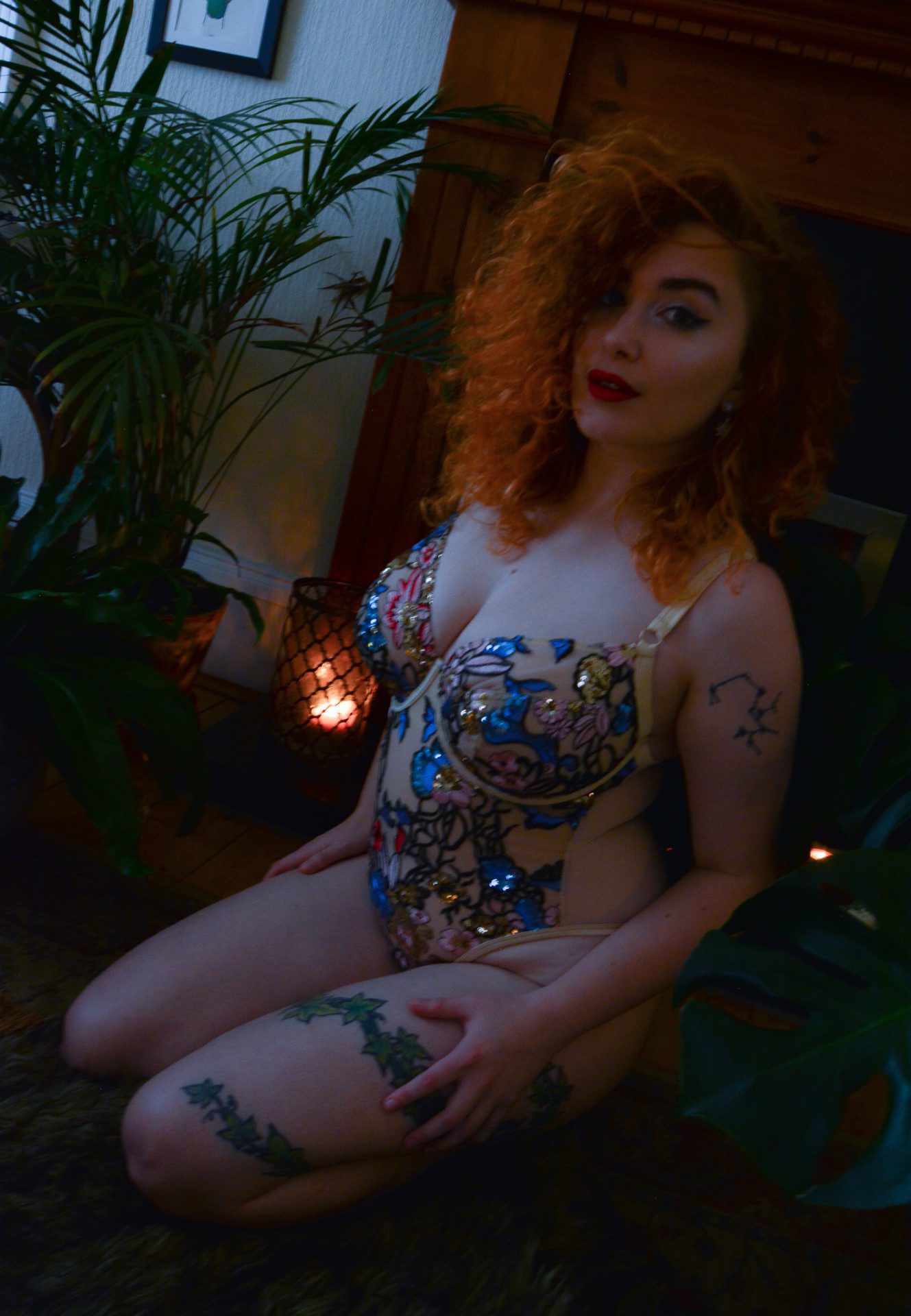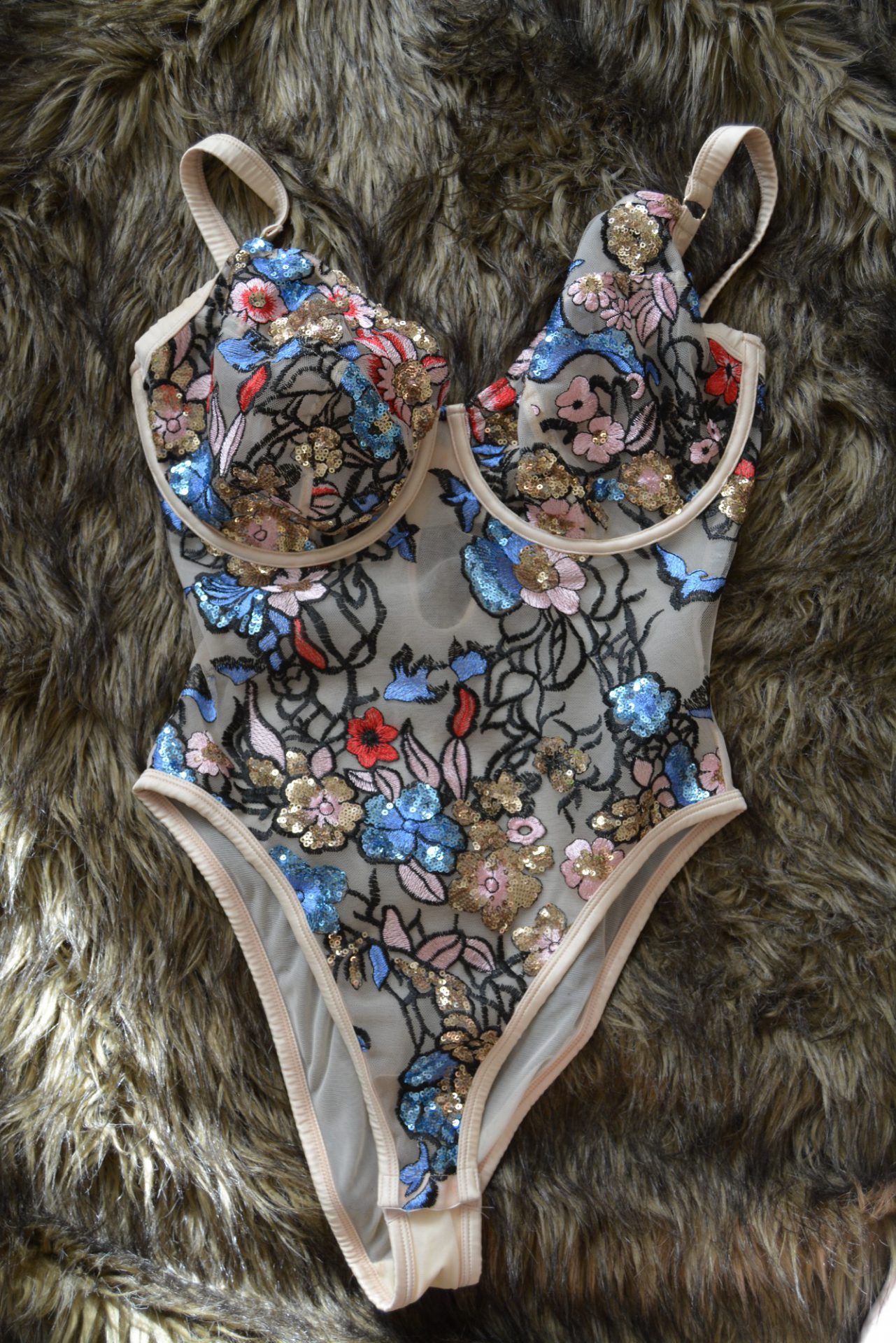 Construction
I bought the fuller bust version of the bodysuit which has a different construction to the core-sized version. Both have underwired cups, however the fuller-bust cups are a three part construction while the other version's seem to be shaped by a central dart in each.
My bodysuit's cups and front panel are a double layer of minimally-stretchy mesh – the top layer being embroidered with thread and sequins – while the back is made of a single layer of slightly softer and stretchier mesh. According to the product listing, the mesh on the back of the DD+ bodysuit is stonger than on the A-D sized one. Extra reinforcement also comes from another double layer of mesh stitched over the gore's interior.
The underwire and edges are finished in a neat, satin piping. The fully-adjustable straps and back closure are also made from the same satin, bound around elastic for some stretch. The leg openings are high-cut and also have a bit of stretch, and the gusset opens with a single row of plastic poppers.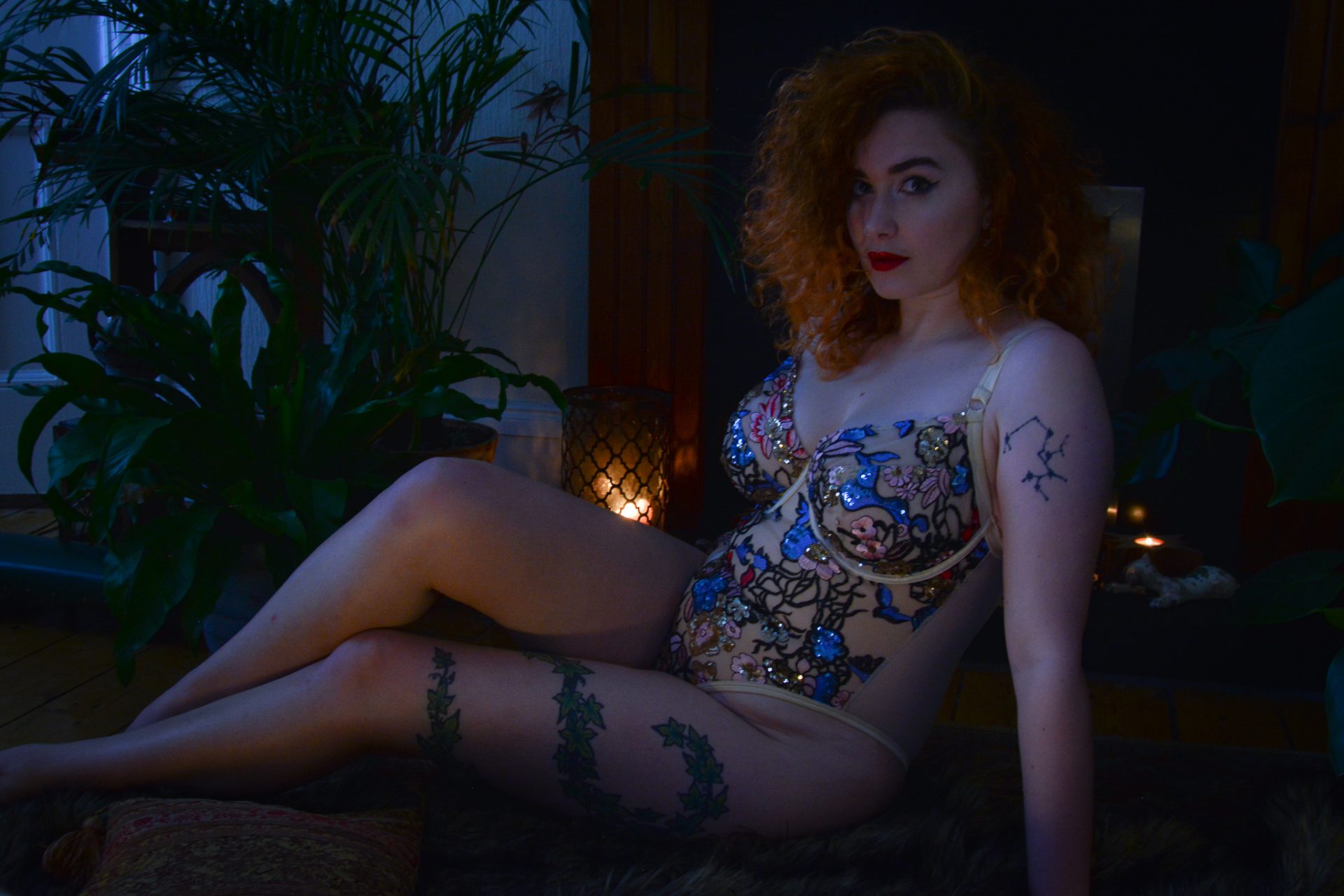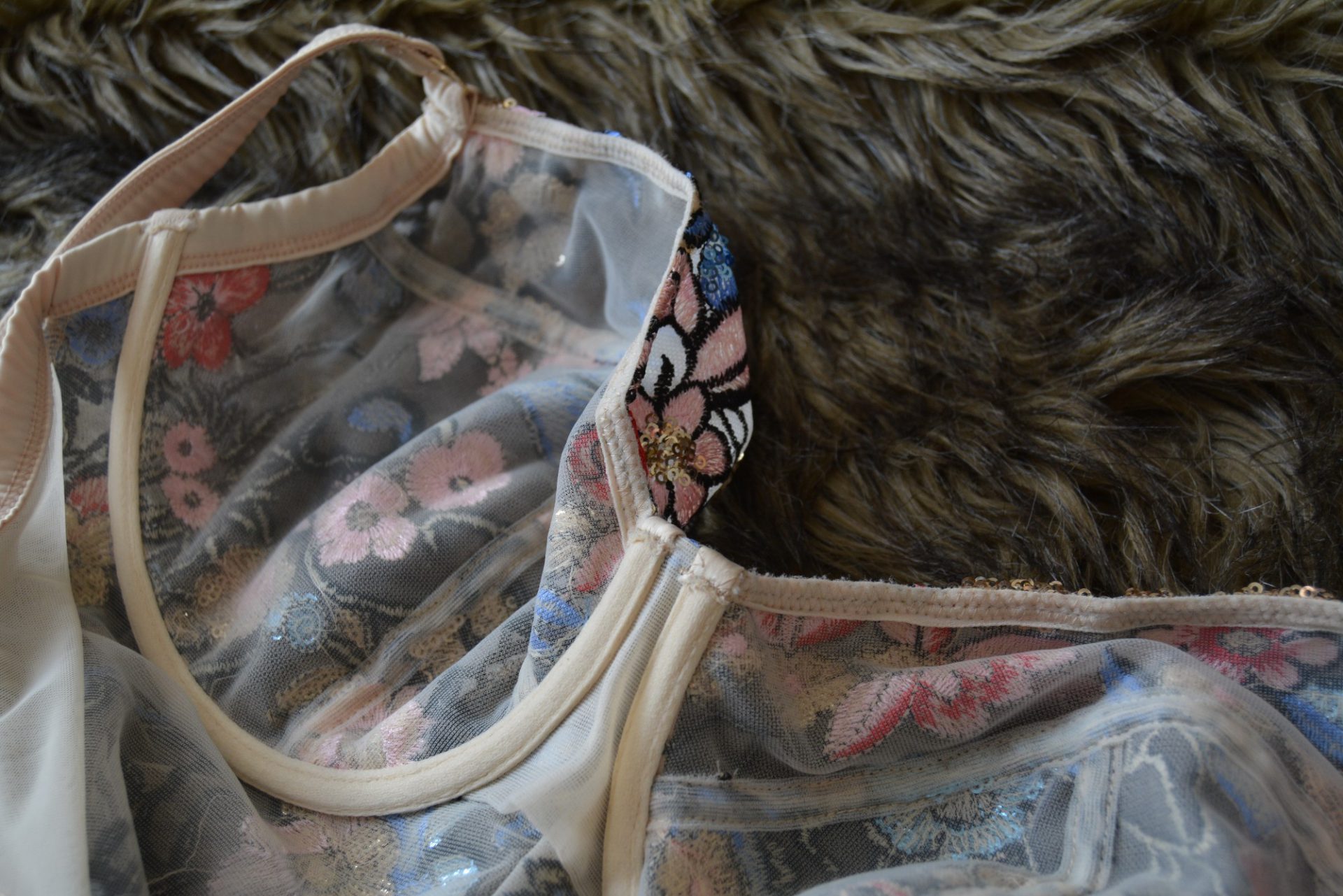 Fit
I think in the rush of excitement to buy this bodysuit I wasn't thinking entirely straight about sizing. Even though I am usually a UK 30GG for bras, I feel like my waist and hips are probably disproportionately larger than the average 30″ back customer. To get a really good fit I should probably have sister-sized into a 32G or even a 34FF, as I normally do for longline bras and bodies. However, I'm still happy enough with the fit of the bodysuit.
My lack of foresight when it came to sizing may be the reason that I find this bodysuit exceptionally short. I am only 5'3″, a height which usually leaves extra fabric when wearing one-piece designs, and yet this bodysuit works well for my short torso. This does, however, affect the fit of the cups as the underwire is pulled down and doesn't rest directly under my breasts. This could potentially seriously compromise the fit on a different design, but I think this – combined with the stiff embroidered mesh – actually helps everything stay in place, especially as there is no bra band incorporated into the bodysuit.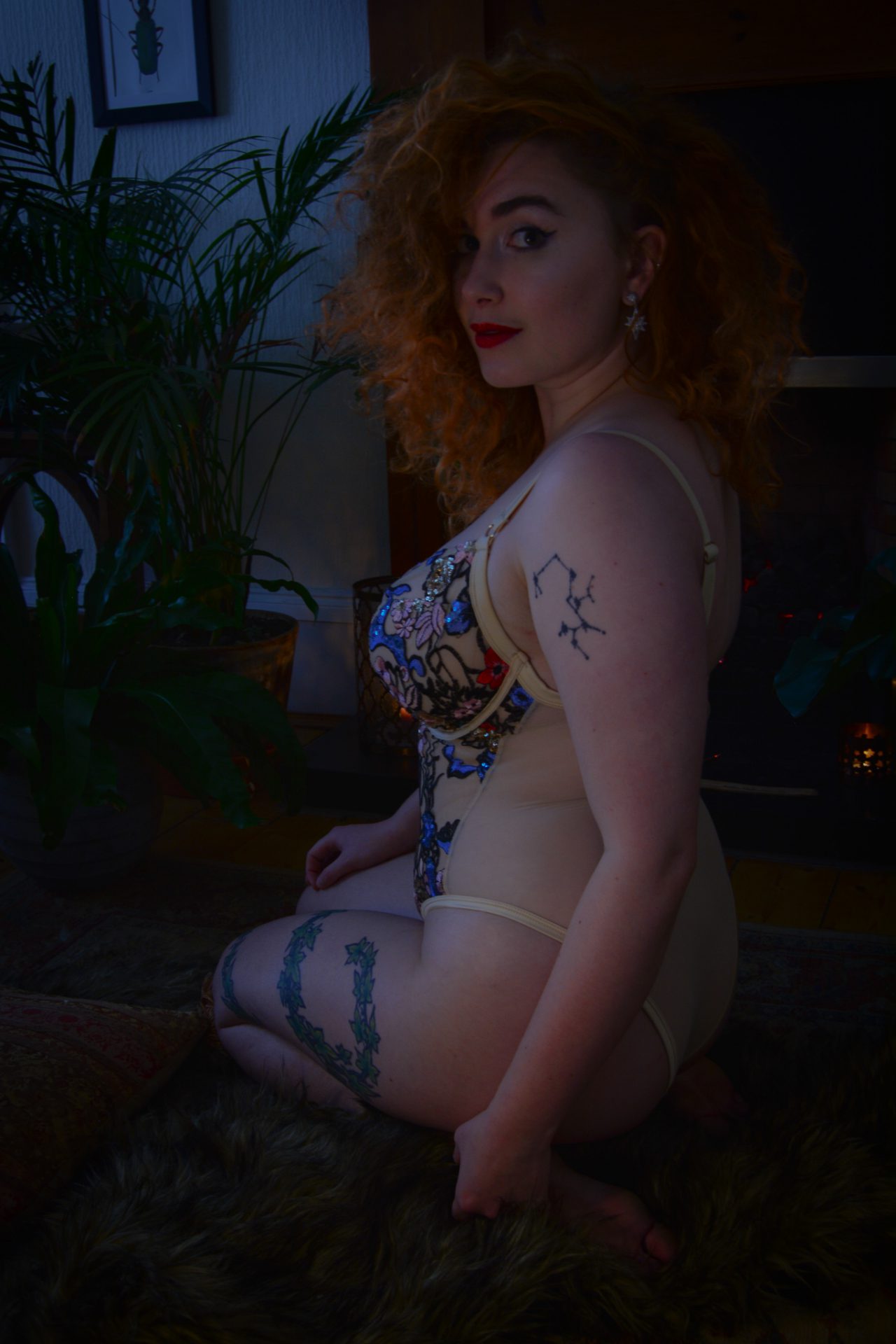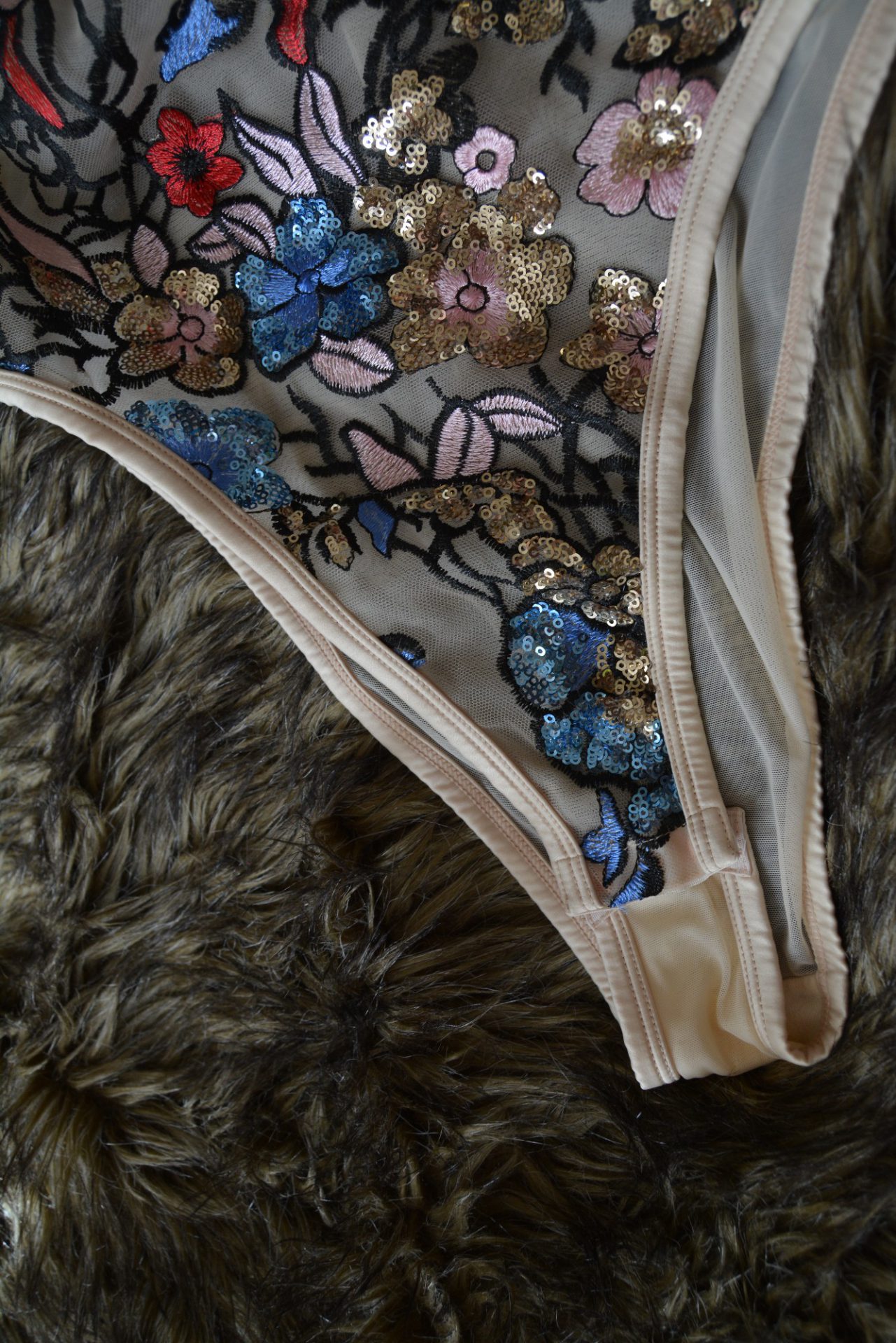 Wearability
The snug fit and stiff fabric have pros and cons when it comes to wearability. I like the fact that this acts as light shapewear for me, smoothing my body out and holding everything in place, similarly to the way I enjoy the compression of corsets as a way to combat anxiety.
However, it does mean that the bodysuit can begin to feel uncomfortable after extended wear. But I can't really complain because a) I bought it in a size too small and b) designs like this aren't really for all-day-wear.
As a special occasion piece or accent to an outfit, this bodysuit works really well. The sequins look amazing under sheer fabric, and I really want to wear this out with a jacket or robe on top as soon as I get some pasties to match my skin tone (as the cups are slightly too sheer for me to feel comfortable wearing this without more coverage).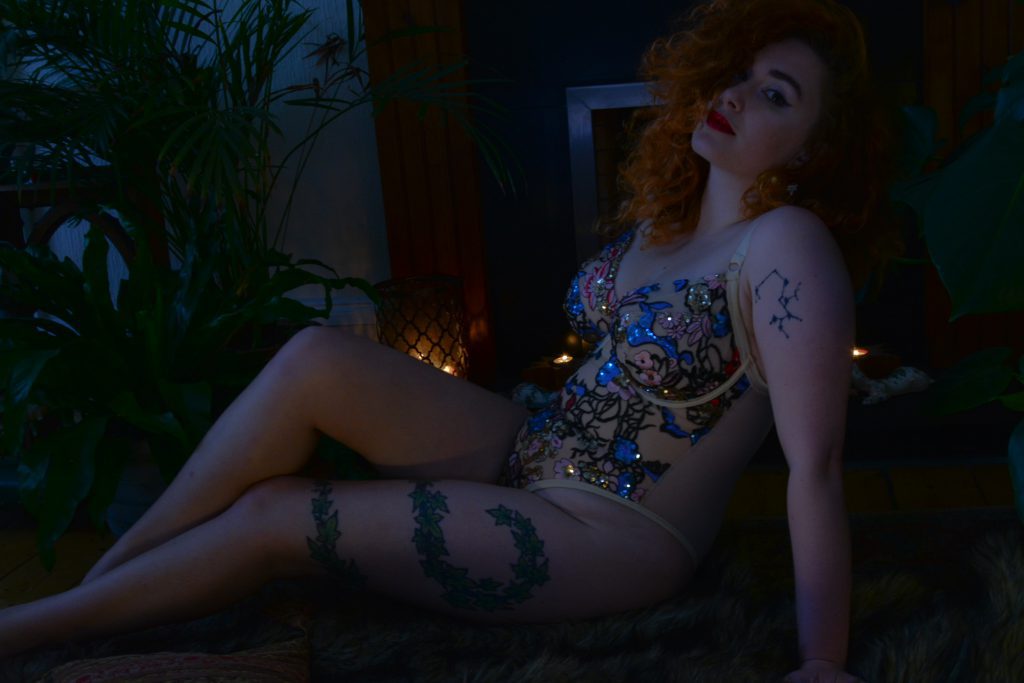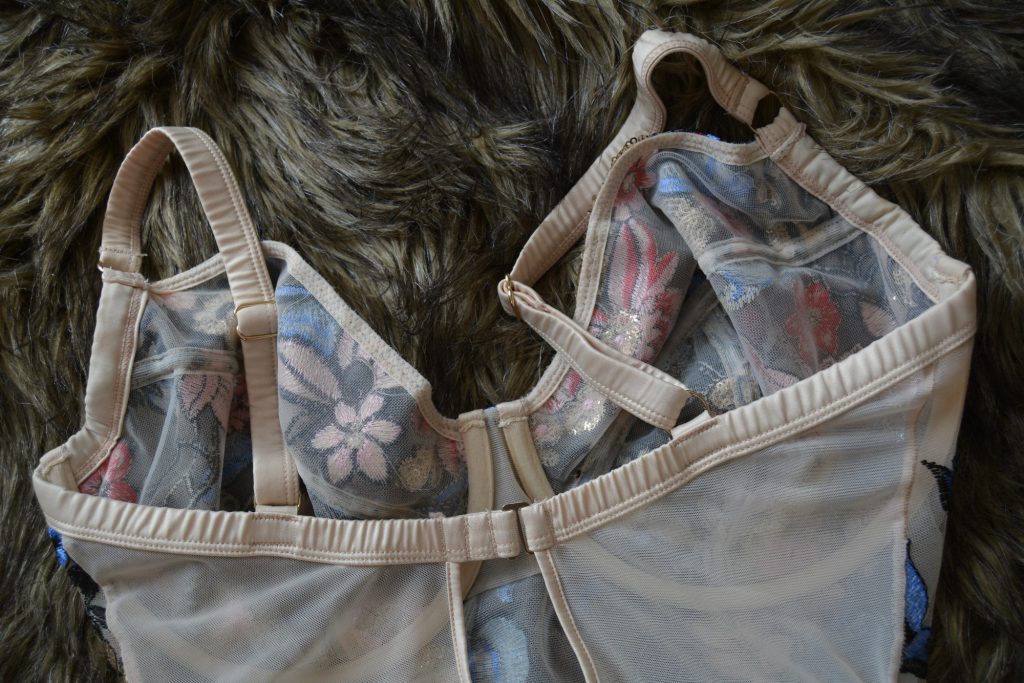 Conclusion
The Eleanor Bodysuit is a piece of effortless beauty. It could be worn with only some high-waist jeans and you would look incredibly stylish in it. However, if you want to buy it for your eyes only I would still highly recommend! It brings me a lot of joy whenever I wear it, and from what I've seen on Playful Promises' Instagram it looks absolutely stunning on all sorts of body types and skin shades.
There are also matching knickers* and a bra*, in both A-D and DD-H constructions, and for any plus size folks the Gabi Fresh Celeste* designs incorporate the same stunning embroidery. As I said before, Playful Promises only do limited editions of most of their designs, so there are only a few sizes left in the fuller bust version of the Eleanor bodysuit, but most sizes are in stock of the core size bodysuit for the moment. If any of these pieces are available in your size, and you'd love to own them, then I highly recommend snapping them up as soon as possible!
Do you wear many bodysuits, or is the fit too difficult to get right? Are you more likely to buy a dress-sized or cup-sized bodysuit?