Disclosure: Links with a * are affiliate links.
December is finally here and if you happen to live in the Northern hemisphere, you probably already wear heavier clothes right now. However, as we are entering the most festive part of the year, cosy and stylish do not have to be antonyms. From classic silhouettes to custom prints, here is a selection of fashionable loungewear pieces that will also bring you comfort during the cold winter months.
IDentity Lingerie is a small, UK-based brand that manufactures ethically in Europe. Their Japanese silk-blend robes and pyjamas (60% real silk) are relatively affordable and a nice classic touch to any 'loungedrobe'. These pieces are available in sizes XS to XXL or in custom sizing and length for an extra £10.
Dunsen Dusen bathrobes are all about fun and comfort. The brand designs clothing with psychology in mind. Their prints are created taking into consideration the brain's reaction to visual stimuli, which makes for a lively result. They also create some home décor and if you like a bit of a hippie vibe, you knocked on the right door. This particular robe is available in sizes XS to 3XL and in three different, reversible colorways.
Nadine Merabi's Darcie silk pyjamas are certainly an ode to the glamorous fashionista. Who doesn't like a bit of feather around the ankles and wrists? The diamanté buttons and discreet piping add a nice finishing touch to this set. Note that these are an 80% silk/20% polyester blend which makes this pyjama a little less expensive than pure silk alternatives on the market. Available in size XS to XXL and in nine colorways, these pyjamas will probably follow you even outside the comfort of your home.
Helen Valk Varavin's Nyx jumpsuit is one interesting piece of loungewear. Made with versatility in mind, this hooded jumpsuit can be your favorite pyjama or a true fashion statement. Available in 19 colourways of pure silk including two custom prints created in collaboration with artist Maria Leonidov, this piece can be made to measure at no extra cost. The core size range of Helen Valk Varavin is XS to XXL, but it's always a good idea to reach out to independent designers to double check the size you should order, as oftentimes things can easily be adapted to your specific needs.
For the antique fashion lovers, L'École des Femmes' Victorian Nightie is an adorable piece of loungewear. Made of cotton voile and featuring lovely lace detailing, this piece is also relatively versatile. Whether you want to sleep in it or use it as a Bardot top under a skirt is totally up to you. It's available in sizes S to L. Fit note: the brand size chart is usually accurate but their clothes fit generously around the chest area. Usually, the bust measurement is larger than the size chart indicates, but you can trust the waist and hip measurements.
Nigerian luxury brand Banke Kuku creates silk loungewear for women and kids as well as fashion accessories. Think west-African prints on silk charmeuse paired with feathers, big tassles, or generous ruffles. Their kaftans are ultra glamorous and seem incredibly comfortable. Available in size S to L, you can easily contact the brand on their WhatsApp number for personal shopping services and information regarding the sizing.
Quilted robes are trending this season and if you wish to have your very own silk cocoon, this Marjolaine robe might be for you. Available in a short and midi length and in a red, purple, black, caramel ("Fauve") or white colourways, the brand really made this piece a staple of their Autumn/Winter collection. Marjolaine is a French brand so the sizing goes from FR 36 to 54 which would be roughly UK 6 to 24.
While Marjolaine is known for their silk and lace appliqué nightwear, the brand also offers other textures and fibers such as this knit rayon nightshirt that seems both durable and glamorous. This piece features many delicate details such as the lovely beige satin piping at the wrist and blue satin at the collar, as well as its contrasting flowery lace. If silk is too high maintenance for you, you might want to look into this Naelys range for your luxury needs. Again, the sizing goes from FR 36 to 54 .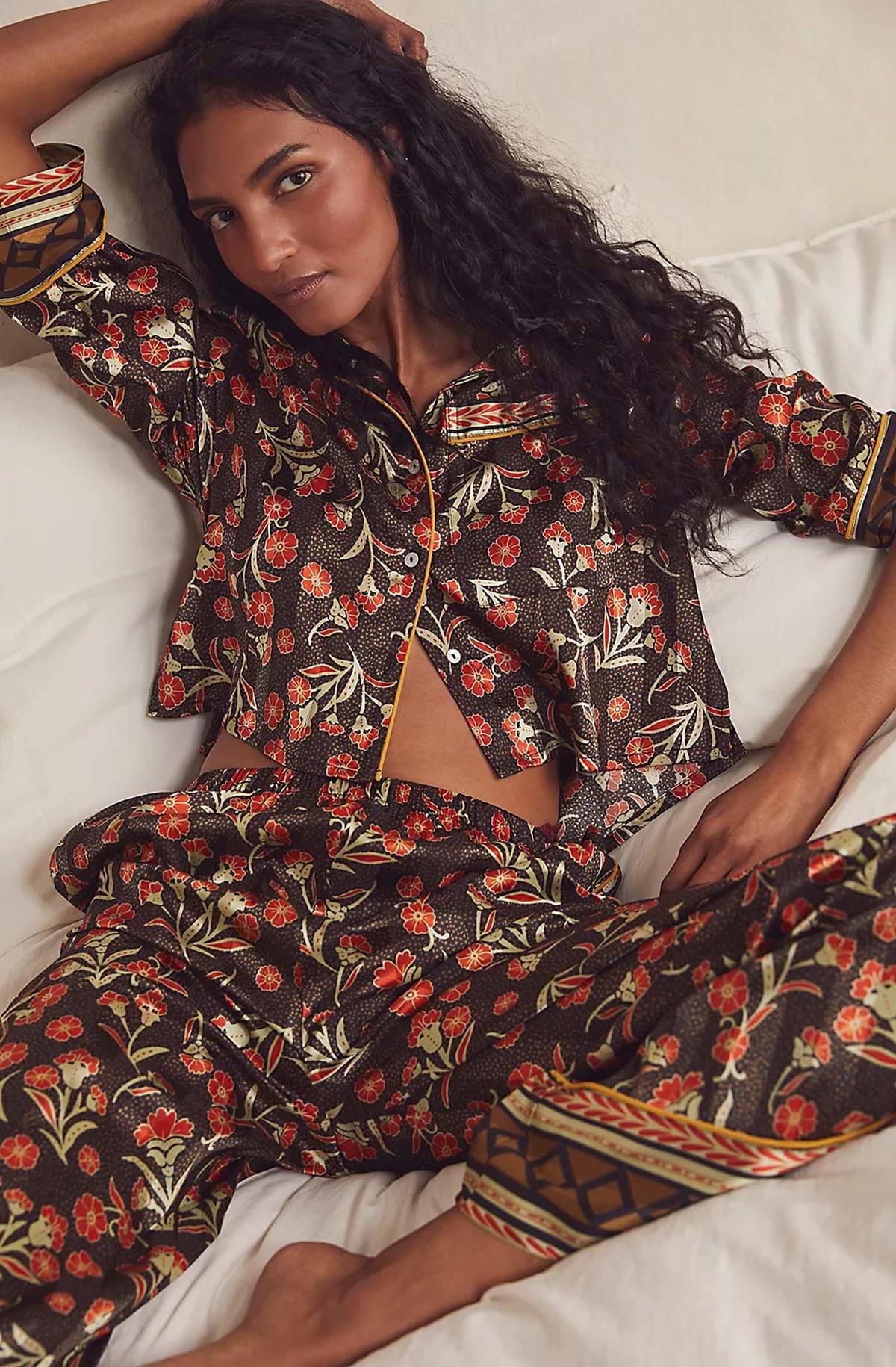 Free People's Pajama Party sleep set is for the floral print lovers. With its cropped top and wide-leg bottoms, there is some youthfulness to this feminine design. If you like the silhouette but not the print, know that the brand is available on several retailers' websites who stock various print options. They also offer a matching robe* to this set. The size range goes from XS to XL.
The Underargument is a sustainable lingerie and loungewear brand that aims to be as inclusive as possible. The Hot Don't Touch bodysuit is available in sizes XS to 4XL and features stretch modal fabric with velvet and mesh detailing. This piece could easily be the extra layer you need under your winter outfit. The warm burgundy colorway is also perfect for the season.
UK luxury designer Jessica Russell Flint offers a beautiful selection of printed silk loungewear and this Lucy's Stars print is joyful and warm enough for every season. If you fancy this print, you'll find it on a great selection of matching items such as pillowcases, scrunchies, sleep masks and other nightwear this season. The pieces are available in sizes UK 8 to 16.
As mentioned before, bodysuits can be great for layering during winter, and Noelle Wolf's Lissom bodysuit is a timeless piece that should follow you for many seasons. Made of a new, innovative Italian cotton rib, this piece offers flexibility of movement and comfort. Featuring French Leavers lace, handmade by a family-owned atelier in Calais, Lissom is a comfortable luxury available in size XS to L.
If you love a comfortable bias cut, this velvet slip from Vietnam-based designer EmSilk can be made to your measurements at no extra cost. The brand has excellent reviews and you can see customer pictures directly on their Etsy shop ackowledging a great fit for a relatively affordable price. The brand has a beautiful selection of nightwear but also sells clothing and even wedding dresses. Their core size range goes from XS to XL.
More Marjolaine to finish! One of the most luxurious details in ready-to-wear fashion is a beautiful printed silk lining close to your skin. Marjolaine's Nurhan collection features winter-appropriate red velvet and a dark floral print on stretch silk. There are several different items in this collection such as a robe, pyjamas and a slip, but this particular jacket is quite a unique garment with its little hood that will cuddle your hair with gorgeous silk. The sizing once again goes from FR 36 to 54.

Do you prefer purely practical garments for the winter season or is style an important consideration?