Disclosure: I received this item as a personal gift (not from the brand).
A couple of months back, my husband very generously offered to treat me to some luxury lingerie of my choosing for my birthday. Almost instantly, I settled on the idea of loungewear – all of this year's quarantining has really renewed my interest in glamorous homewear, and I own very little of it compared to my bra collection. And what could be more glamorous than a full-length silk slip?
I decided to go with a Marjolaine piece for two main reasons: I've long admired the brand but had yet to try them, and I've heard great things about them from other lingerie bloggers. The slip I chose is called the Glycine Long Nightdress in the colour 'Aster', and has unfortunately been removed from the website between me starting and finishing this article. It arrived from France to Spain four days after ordering, and was really nicely packaged in a branded storage box and with a keepsake catalogue. The delivery speed and presentation were exactly what I'd hope for from a luxury shopping experience.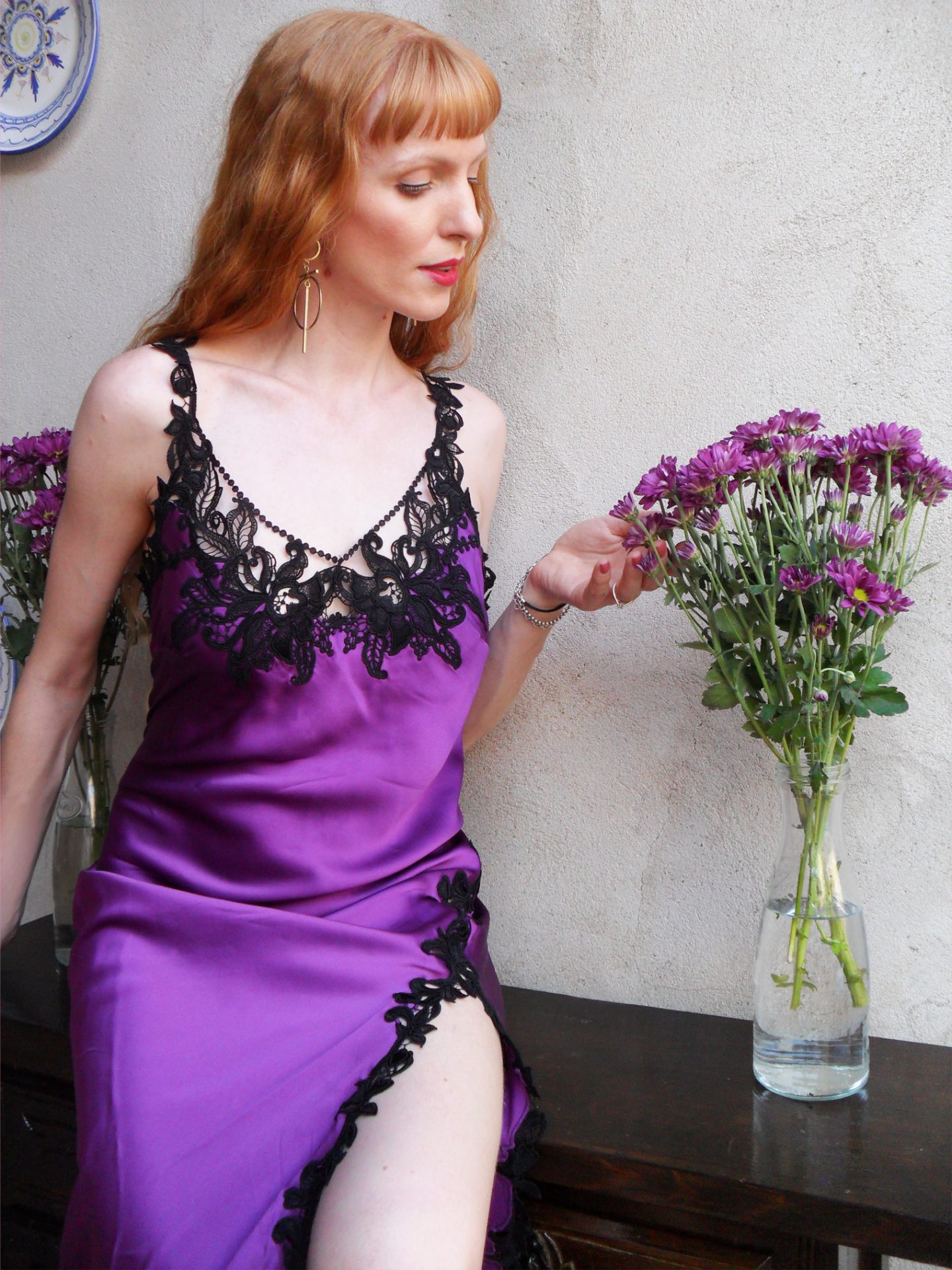 Construction
The Glycine nightdress is made from 100% silk satin, which is cut on the bias (a fabric-intensive and therefore more expensive technique) for a better drape on the body. It's trimmed with guipure, which is one of the primary reasons I chose this piece in particular – although Marjolaine is best known for their frankly breathtaking lace appliqué work, where lace is inserted as organically-shaped, sheer panels onto a silk canvas, it is often done in fine French laces that I unfortunately know from experience are prone to tearing. I was looking for a beautiful loungewear item I wouldn't be too worried about damaging to actually wear, and this thick guipure embroidery is a lot less delicate. Plus, it's easier to invisibly repair if needed.
My favourite detail of all appears where the guipure continues upwards above the thigh slit, wrapping around the body until it reaches the side seam. Unlike at the neckline, where the embroidery is mostly layered over a silk backing, here the silk has been cut away from behind it so that you see little flashes of skin all up the left side of the body.
The guipure has been carefully appliquéd onto the silk with a relatively small stitch length. The silk edges beyond the stitching are fraying in multiple places, which isn't visible from the outside but does make me worry a little about the longevity of this piece. That said, leaving the edges raw is standard practise for this type of appliqué, since the silk needs to be cut into an irregular shape to follow the guipure's leafy pattern.
Throughout the main body of the slip, almost all of the seams are French seams, meaning that the raw edges are completely enclosed. It's another time-consuming technique that gives the interior a very neat and polished look. The only exception is the bust darts, which are sewn with a straight line of stitches and the raw edges then overlocked together – it's a quicker, less secure type of seam, but avoids adding any bulk to this very visible area.
Overall, it's clear that this is a luxury item, and that a lot of work has gone into creating it. It even arrived with a special hang tag informing me of the name of the person who had "meticulously controlled" it for quality – which is why I was so surprised to find a fairly obvious flaw. One of the shoulder straps has been sewn on twisted, with the slide adjuster facing towards the skin instead of away from it. I didn't contact their customer service because it's a fairly minor fix I can do myself, but as a luxury purchase, it was a bit disappointing nonetheless.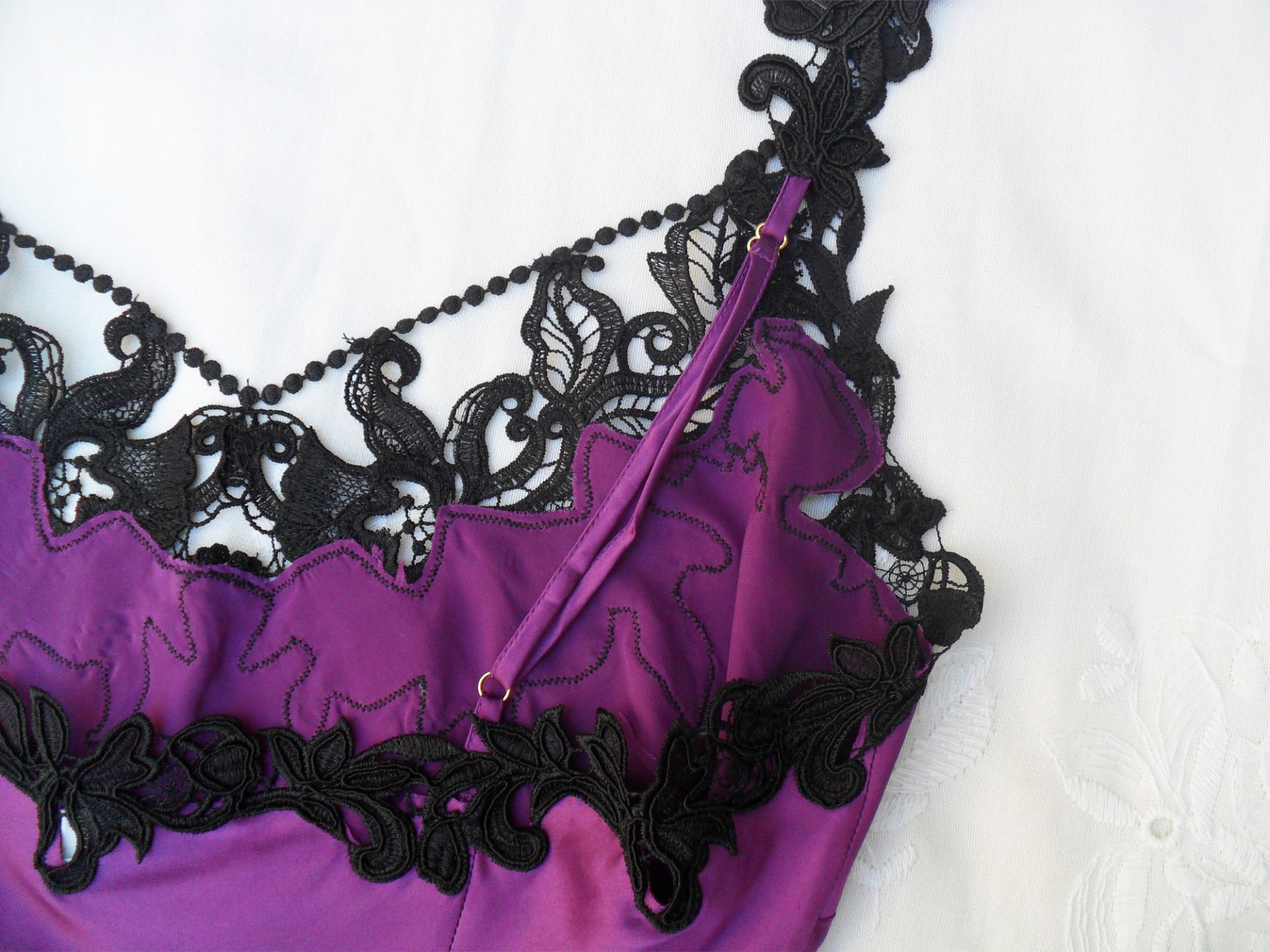 Fit
My measurements put me firmly in a XS on Marjolaine's size chart, except for at the bust where I'm bordering between an XS and S at 82cm. Unfortunately, since I picked this piece out from the sale section, the XS/EU 36 had sold out so I went with an S/EU 38. I figured a little extra roominess wouldn't hurt for something I was going to lounge in, and I loved the design enough to risk it.
As expected, the gown looks a bit looser on me than the gently waist- and hip-hugging fit that was shown on the website model. But it's perfectly wearable! I was most surprised to find that the only place that's obviously too big for me is the bust, since I am technically within the measurements range for that. As you can see in the photo directly below, there's definite gaping at the underarm. All in all, I feel like this piece fits true to size, meaning I will aim to purchase my usual size of XS from Marjolaine in future.
At 5'3, the Glycine long nightdress is also the perfect length for me – past the ankle, but not long enough to touch the floor and get dirty from it. The slit comes pretty high up on my thigh, enhancing the glamorous aesthetic while also making the piece very easy to move around and sit comfortably in.
Value for Money
The Glycine long nightdress originally retailed for 347.50€ (~£309 / ~$412). As a piece made from real silk and with lots of beautiful and time-consuming embroidery work – plus luxury French seaming – I do think it's worth that. It's worth noting that the cost is the same as for the Jasmine long nightdress which features even more intricate appliqué detailing, but maybe the guipure trim used here (of which there is a lot) is particularly expensive. I don't know.
I also love that this piece is hand-washable. I didn't want the fuss or added cost of dry-cleaning, especially given that I intended it to be something I'd wear frequently. The 19-momme, heavier-weight silk feels premium but not overly delicate, and needs minimal ironing as it dries with only slight creasing when hung in the shade.
The faulty strap has been the only blip on an otherwise excellent purchase and shopping experience, and since I have only heard good things about this brand from other people, I am chalking it up to a hopefully-uncustomary oversight. It hasn't put me off buying from Marjolaine again – in fact, I think my husband may have unwittingly started a Marjolaine obsession! I've already been back on their website to browse numerous times, and I've built up quite a wishlist.
Have you ever purchase a Marjolaine lingerie or lounge piece? Would you like to?