Disclosure: I received this robe free of charge to review. Links with a * are affiliate links.
One of the things I wanted for years and yet somehow never got round to buying myself was a full-length robe in sheer lace. They just always catch my eye. Whether it's over bare skin or a slip in a contrasting colour, few pieces of lingerie can show off lace like a long robe can. And you know that I'm a lace fiend!
So when IDentity got in touch offering to send me something, it was an easy choice to select this lacy dressing gown. I went for black which is most my style, but it also comes in white.
IDentity is a family-run business, selling via both Etsy* and its own website. It was set up in London but is about to relocate to the US – more on that later. All of their products (which are mostly their own designs, but also a few by other brands) are made in Europe, although they don't specify which country.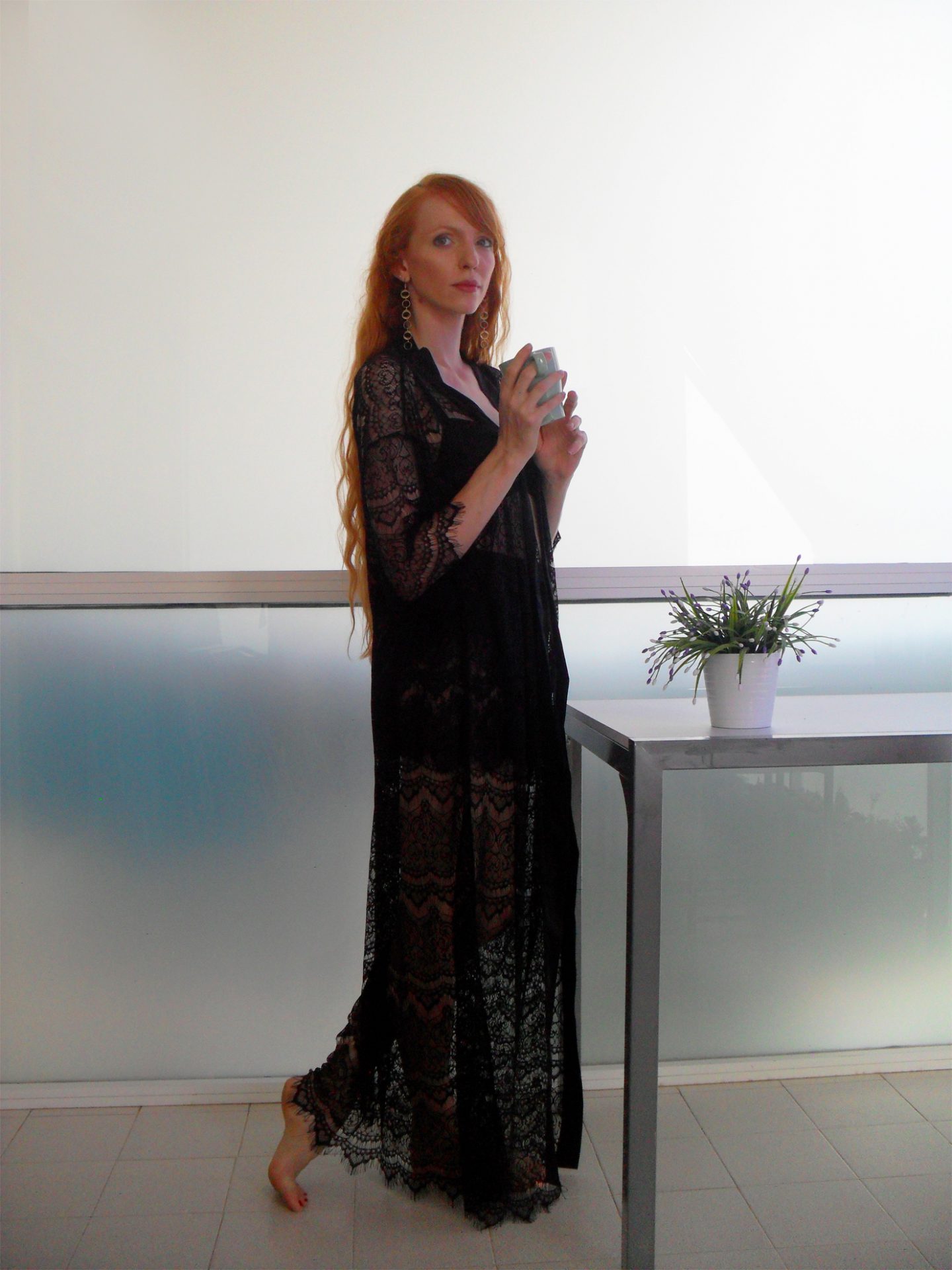 This robe is made entirely from lace except for a satin trim at the front and a satin sash. The construction is fairly simple and boxy – three rectangular blocks make up the body, and each sleeve is a single piece – which gives it a loose, drapey shape and a flexible fit. I'm wearing the size XS-S and I think it could comfortably fit up to a UK 10. The robe is available up to a size XL-2XL.
Speaking of fit, I do appreciate that it has that little inner tie – you know, the one that holds the side sitting closest to your skin in place. I really think that should be a standard feature of wrapover robes, but so many of them come without it! It helps to keep the robe closed – not that this is a robe you'd wear for warmth or coverage of course, but the less adjusting a garment needs through the day, the better.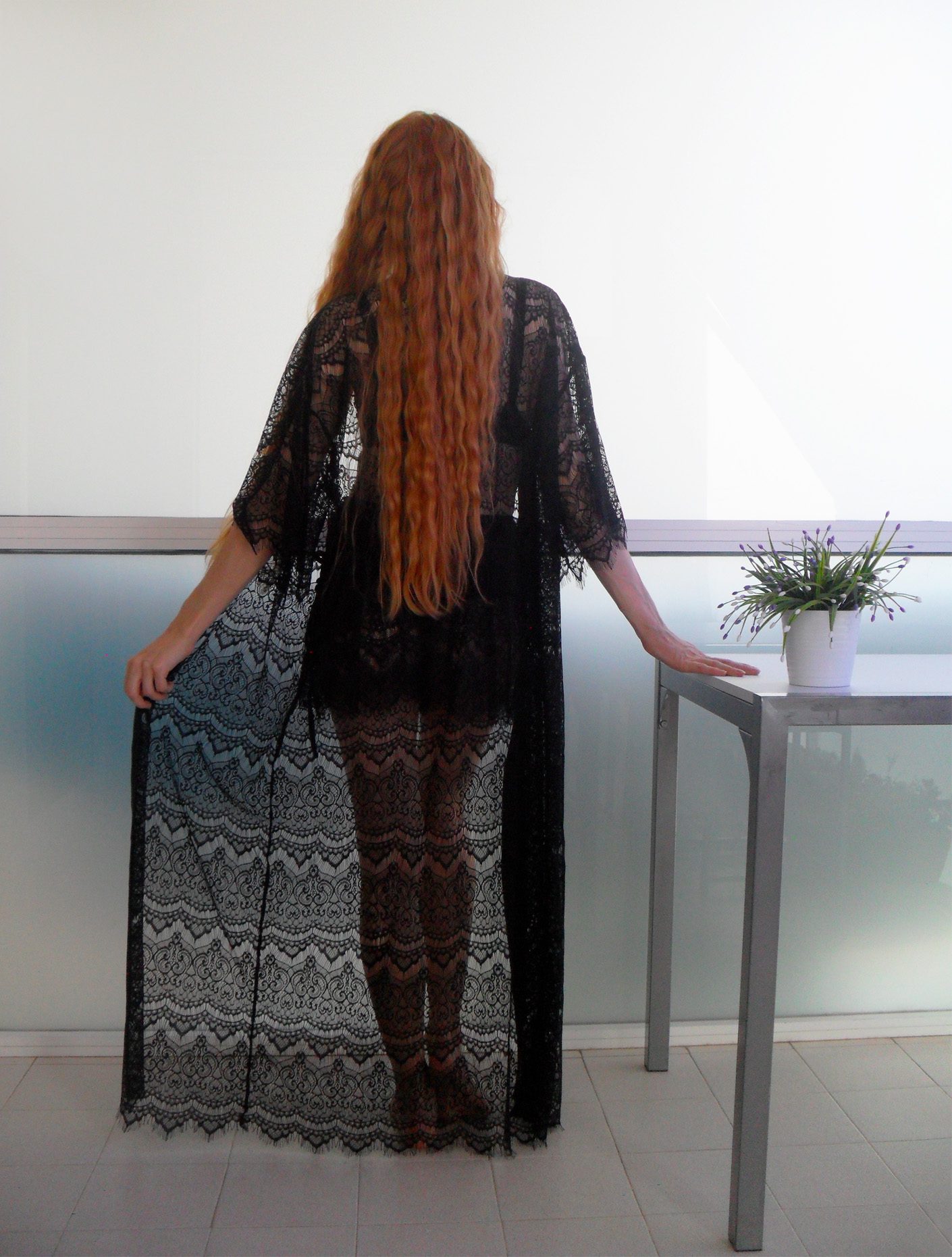 The construction is great – everything looks perfectly neat. The seams are very visible simply due to the sheer nature of the fabric, but I don't think they detract from how it looks. The robe also happens to be the perfect, floor-skimming length for me, but of course if you're taller than 5'3 then it could end up being ankle-length.
The lace is a pretty eyelash one that's soft against the skin and fairly resilient; I've caught the skirt on objects around the house a few times, and (phew!) haven't torn it yet. I love the scalloped trim on the sleeves (and hem), and like that those are elbow-length. While I don't think this was designed to be especially practical, I've been wearing it to mooch about the house and it's definitely easier to get things done without big, lacy sleeves trailing down and catching on everything.
I've tried to think of something negative to say about this robe, but really, I can't fault it. I guess my only criticism is not with the lingerie but with the brand itself, specifically the way they promote themselves as being body-positive. I can see that they have some larger-than-standard models or models of colour on their website and social media, but really, they could be doing a lot more – and should be, if they want to make body-positivity a core value of their business.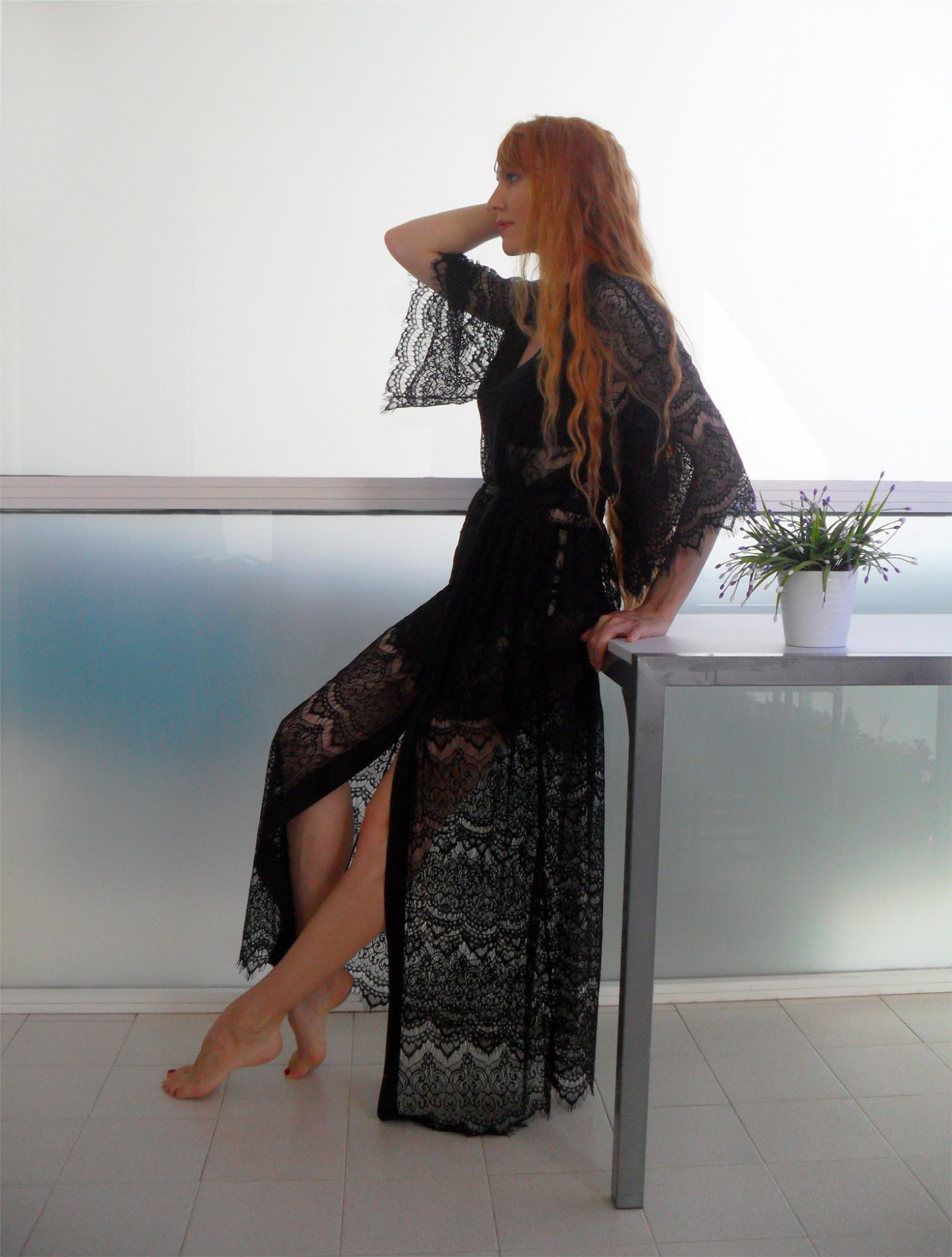 To get back to the robe and summarise: it's an easygoing, glam-but-not-over-the-top piece that's pretty enough for special occasions, but also just great for kicking back at home in. I've definitely gotten some blogging and breakfasting done in it! And the £100 (~$130 / ~116€) price, though a little on the high side, is okay considering that it's well-made and from a smaller, independent brand.
And remember that I mentioned them moving abroad? IDentity is going stateside, and they're having a huge stock clearance sale before they go. Right now, this robe is only £40!* I have no idea how long this discount will last, but it's a steal at that price, and I'm considering picking up the white version too. After all, I'm getting married in January and what's a honeymoon without a white, lacy robe?!
I'd love to hear what you think of IDentity and this lacy dressing gown. Add your thoughts in the comments section below!