Author: Gemma Sly, guest author from Freya Lingerie.
Don't Give Up!
When it comes to buying underwear, many women are often shy about trying garments on in front of their boyfriend, mum, sister or friends and even more so when it comes to talking to the changing room attendant. If something doesn't fit correctly, or look right, it's easy to give up and go home, or they buy the ill-fitting garments in the hope that you'll be able to work it out at home.
However, neither of these situations is ideal and either leaves the shopper with nothing, or underwear that she'll never end up wearing, which is a waste of money. Therefore it's important to know how to fit undergarments and hopefully this article will help many of those women who continually find it a struggle.
Measuring Bras
Around 8 out of 10 women are actually wearing the wrong sized bra and this is often down to buying without trying on! If you don't want to accept help from the store's changing room attendants then you've got to make sure that your bra fits properly yourself.
The most important thing to keep in mind is that the majority of women make the mistake of buying a bra where the cups are too small and band is too large. The band size is the number part, e.g. 36 and the cup size is the letter, e.g. D. Band size is the measurement around your ribcage and under your breasts and is the most important part, providing most of the support, whereas the cup size is there to provide its wearers with increased comfort.
Far too often woman choose the wrong size lingerie, for instance on feeling that a 32C bra is too tight some would choose a 34C bra when they should have picked a 32D instead. If you have been measured at a 32 band size, you should never increase or decrease it unless you are able to fit a few fingers underneath the band, or in other circumstances where you may have gained or lost a lot of weight; in which case you should most definitely get fitted by a specialist again.
Measuring Knickers
The very last thing that you want when wearing knickers is to have them constantly creeping and riding up so that you spend the day squirming around uncomfortably. To find knickers that fit you correctly, you need to know the measurements of your waist and hips. Good quality knickers will specify these measurements in addition to a generic stating of size 6, 8, 10, 12 etc. or the brand will have a size guide where you can find this information.
Once you know your measurements, you'll be able to tell if you have chosen the most suitable size by trying them on and seeing if the crotch fits well against your body. You shouldn't have any excess material bunching at the front or back and the crotch edges should be snug but not digging in. This also applies to the legs, which should be snug so they won't fall down, but shouldn't leave any marks.
If you are trying full knickers on (i.e. not a thong or G-string) then the material should cup your bottom and cover it. There shouldn't be any excess material or areas tighter than others – if there are you need a different size.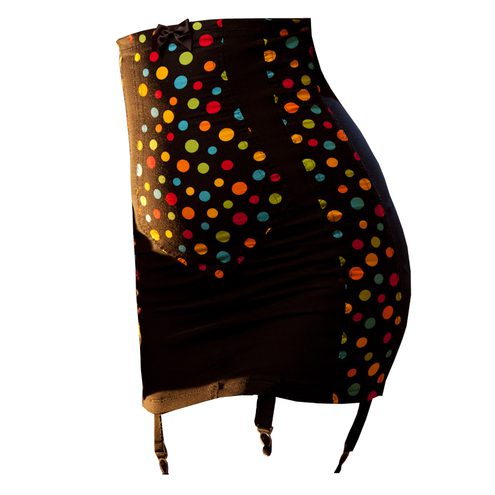 Shapewear
A lot of women make the mistake of wearing too small a size in shapewear and that only serves to make you feel incredibly uncomfortable the entire time. Keep in mind that the size of shapewear that you need will sometimes vary depending on which areas you are trying to shape.
One of the keys things to keep in mind when trying to find shapewear is that when you try it on the waist stays in place. Make sure that you move around in the changing room and if the waist moves, you need to try a different size. You also need to make sure that the shapewear does not cut into your legs, so try sitting down and crossing your legs to see if it's comfy.
If any part of the shapewear does cut in, then perhaps try shapewear which is longer in the leg length, or perhaps a larger size. The purpose of shapewear is to give the wearer a smooth looking body, so if any wrinkles or material bulges are visible then you should try a smaller size of shapewear or that is shorter in length.
You've Got to be Comfortable!
It's really important to make sure that you're comfortable in your lingerie, so it must fit correctly. Be sure to put a lot of effort into choosing the correct sizes and shapes for your body and if you are ever unsure, just ask for help and advice from the changing room attendant, or get a close friend or your partner to take a look and give you their honest opinion.