I've written a lot of fit-focussed articles for other websites lately, which made me realise that our Bra Fit category here is pretty bare. I tend to focus on the fashion of lingerie because it's what interests me most, but I do think it helps to understand at least the basics of bra sizing. After all, it will make shopping for pretty things much easier!
The more you read about bra fitting, the more complex it can seem. I'd like to change that, by breaking down some different aspects of it and explaining them as clearly as possible. First up, a helpful little thing called sister sizing.
What are my bra sister sizes?
Bra sister sizing is the rule that when you go up a band size, you also need to go down a cup size, and vice versa. Occasionally, you may even want to sister size more than once. Here's an example of sister sizing:

What makes sister sizing work?
Now you know how to sister size, but why does this rule exist? Why can't you just move from a 34C to a 36C if the band's too tight? The answer is that a 'C' cup isn't static – it changes size depending on the band size it's attached to.
This is because your cup size is just the difference between your underbust and overbust measurements (1″ difference = A cup, 2″ difference = B cup, and so on). So it indicates how far out your breasts stick from your body, but it says nothing about how wide they are. Someone who is a 40C will have much more breast tissue overall than someone who's a 32C, hence they will need bigger cups that can hold more volume.
Of course, your breast volume is the same regardless of what band size you put on. So another way to define sister sizes is this: the bra sizes that hold the same breast volume across different band sizes.
Still confused? Then thank whoever invented plasticine. Because it's so much easier to understand when you see it in action: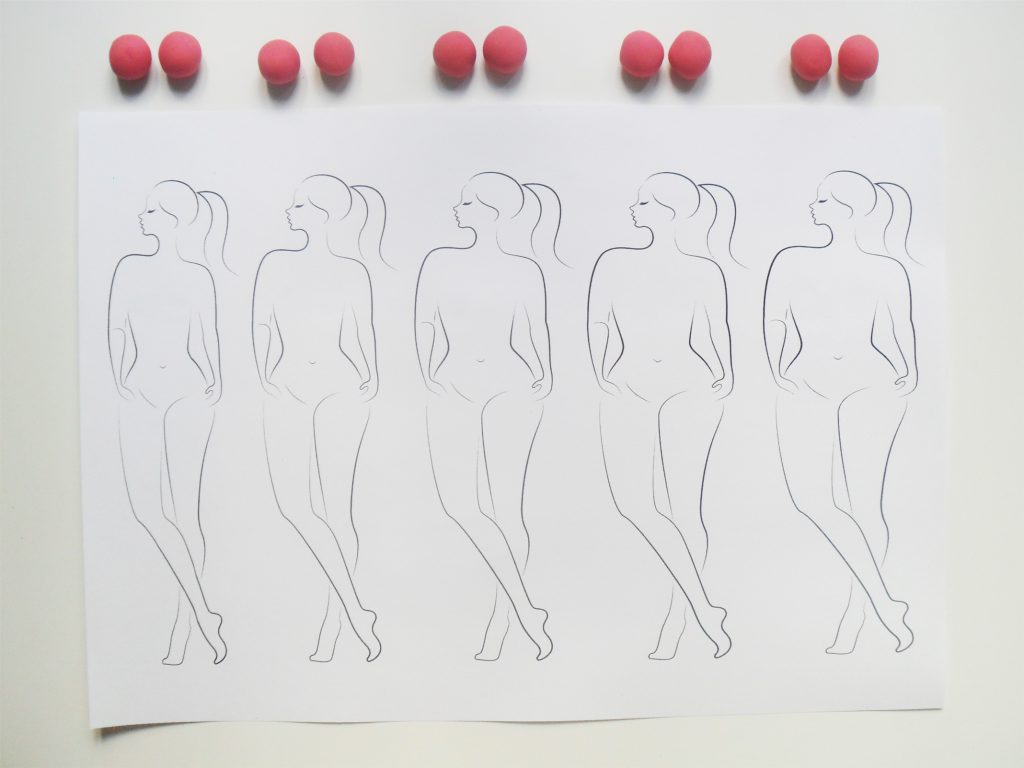 These bodies get gradually wider to represent increasing band sizes. I cut out same-sized cubes of plasticine for each model, so that they would all have the same volume of breast tissue.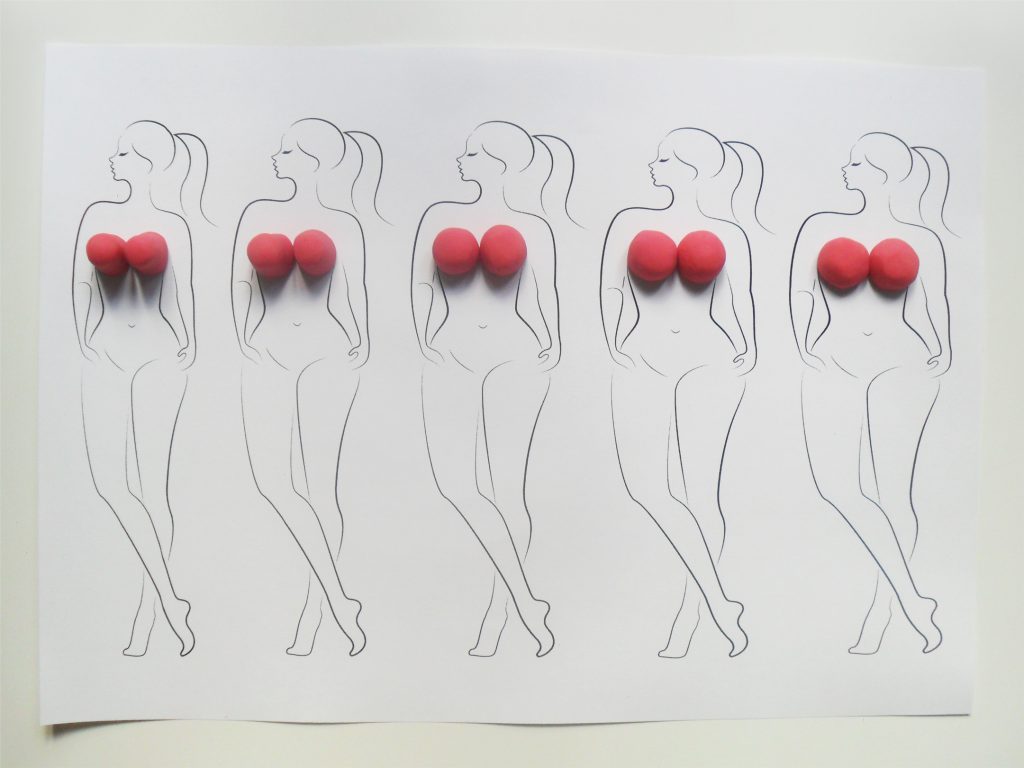 And fashioned them into little busts that filled the width of each torso.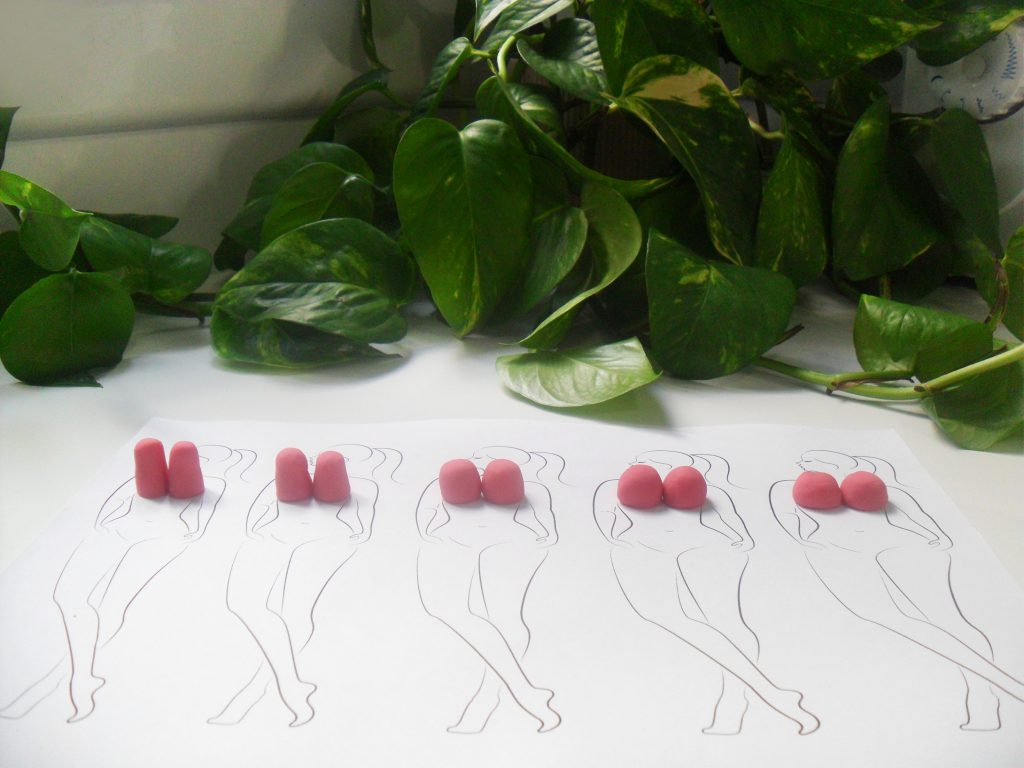 And voilà! As the breasts get wider, they get flatter. And since cup size is the difference between the overbust and underbust measurements, the less they stick out, the smaller the cup size. We could for example call these bra sizes, from left to right, 30DD, 32D, 34C, 36B and 38A. But regardless of the cup letter, they all still have the same volume of breast tissue. They are sister sizes.
Let's say you're the 34C in the middle and want to try a tighter band. You'd need a 32D to ensure the new cups are sized to fit breasts with the same volume. Otherwise, in a 32C, the cups would now be too small and you'd spill out of them.
When is sister sizing useful?
Knowing your bra sister sizes can come in handy in a few situations:
The cups fit well but not the band – sister sizing lets you try on a larger or smaller band size without changing the cup volume, since you've already found a volume that fits.
The brand is known to run small/large – if all of the reviews are telling you that the band fits rather loose, you're more likely to get a good fit if you order a band size smaller than your usual and a cup size larger.
The brand doesn't quite make your size – If you're a DD but the brand tops out at a D (or has just sold out of DDs), you can sister size up into a larger band and smaller cup size, and often still get an okay fit. As a 30DD, I do this myself all the time to be able to shop at brands who start at a 32 band size. Sister sizing gives you more options!
I hope you've found this guide to sister sizing helpful, but if you still have questions then ask away in the comments below. I'd also love to know which other aspects of bra fitting you find confusing and would like to have explained on the blog!