Disclaimer: This blog post contains affiliate links.
Sorry for the lust list being a day late again this week – I was on an aeroplane yesterday! However as they say, good things come to those who wait and this week's selection is definitely a good one…
1. Myla Megan Bra (Was £150, Now £75), Thong (Was £55, Now £27) and Belt (Was £85, Now £42) – pictured above
I featured Myla in last week's lingerie lust list and here they are again – they just don't stop making beautiful stuff! The Megan set is on sale right now so it's the perfect time to buy, not to mention probably your last chance. Just like the Carrie bra I wrote about last week with a string of pearls draped just off the shoulder, the Megan bra has a tasselled trim that is simply beautiful, but also detachable if it's not practical under some outfits.
The belt isn't a suspender belt to hold your stockings up, and it isn't a waspie to cinch your waist in. It's only real job is to look pretty, but I guess not all lingerie has to have a practical use, and look pretty it certainly does! This set is also available in green, including a brief with draped tassels to match the bra.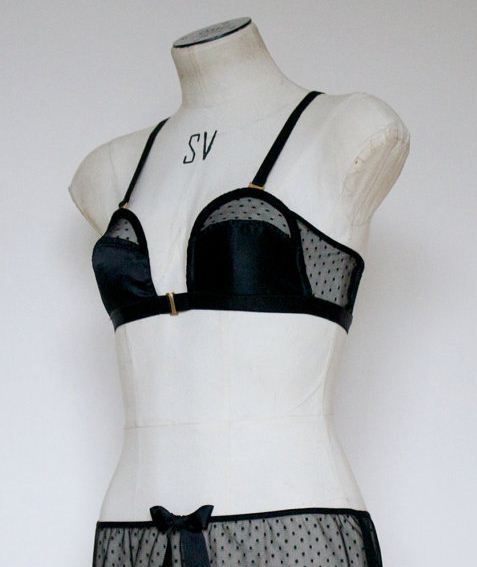 2. Nearer The Moon Overwire Bra (£55) and Peephole Knickers (£30)
I only spotted this bra about half an hour ago on the Nearer The Moon Facebook page and I can't get over how gorgeous it is! Unfortunately it's only available in A-C cup sizes but if the designer is able to do a custom set in my size I will definitely be buying this at some point! I've been meaning to buy an overwire bra for a while now and whilst I have nothing against the vintage-looking ones, this is the first truly modern overwire bra I've come across.
I adore the sheer polkadot detail and the front fastening, not to mention the wide-set cups which is a really unique way to do a plunge bra. The matching knickers are cute too – you can't see from the photo but they have a keyhole back and a gold hook to match the fastening at the front of the bra.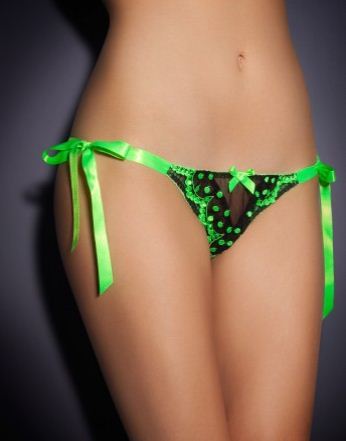 3. Agent Provocateur Penny Tie Side Knickers in green (£45)
Unfortunately there isn't a matching bra for these knickers which is a real shame because I think the whole set would look amazing! There are however frilly knickers and a thong available if the tie-sides aren't your thing, plus all three are also available in a very girly pink version. Personally though, it's the neon green that I really like about these more so than the design, which is pretty but not anything breaktaking.
I probably won't be buying these knickers but if AP do bring out a matching bra, I might just change my mind!
What do you think of this week's selection, any favourites?