It was one of my 2013 lingerie resolutions (the main one, actually) to buy fewer but higher-quality sets this year, so it seemed like a fitting time to review the way I was storing my lingerie. After all, damaging a beautiful £100 bra is far more frustrating than damaging a cheap one!
Up until now, I've kept my bras and basques neatly lined up in drawers, and everything else heaped into one giant box which not only made it difficult to find anything, but also led to suspender hooks getting caught on lacey bits of other items and tearing them. In other words, a pretty terrible way to store lingerie, especially for someone who loves it as much as I do!
So, here are some much better ways to store your smalls…
Clear Boxes
These storage boxes are one of the best things I've ever bought! They're cheap, sturdy, and because they're clear it's easy to find what you're looking for. So long as you fasten the bras and any other hooks before you pop them in the boxes, there's no chance of snagging delicate fabrics so your lingerie will stay in perfect condition!
In case you're interested, I bought these boxes here on eBay. I got 10 for £16.99 but the more you buy, the less you'll pay for each, and I am definitely going to be buying more now that I've know how great they are! The A5 ones (shown above) are the perfect size for a bra set or body and the A4 ones should fit most basques or girdles.
The Original Boxes
If you buy luxury lingerie it typically comes in a box as standard, but even high-street stores usually offer some sort of gift-wrapping option. Ask the cashier to see one of their gift boxes and if it looks sturdy, it might be worth paying for even though the lingerie is for yourself. More than a functional storage item, there's just something indulgent about opening a pretty box when you go to get your lingerie out!
However some brands will use cheap cardboard that bends easily (even the luxury ones – my Agent Provocateur box was more of a one-time wrapping solution than long-term storage) so if it looks at all flimsy, it might be better to buy your own gift boxes. Although you can't see what's inside, if you'll be storing them in a way that you can see the sides of each box (such as stacked up in your wardrobe), you can print labels or stick photographs to the side that show what's in the box.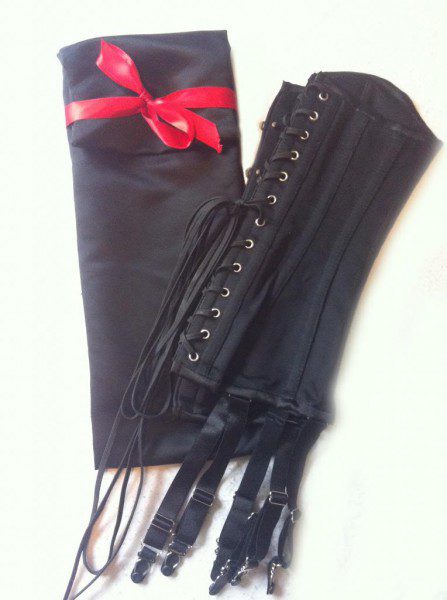 Lingerie Bags, Pouches and Cases
Whilst boxes are great, they do take up a bit of space. If you're looking for a lingerie storage solution that protects your garments but still lets you pile lots of them into a drawer, why not try a fabric bag or case?
We've got a great brand coming to Esty Lingerie in just a few days that specialises in handmade lingerie cases, which again stop items snagging on each other. The only downside is that you can't see what's inside, but if you're lucky enough to find a wide selection (or can sew them yourself) you can buy lingerie bags in different colours or prints to match what's inside.
Other Lingerie Storage Ideas
The three storage solutions listed above are how I store my lingerie, but there are other ways to do it:
Tie them with ribbons – I love this idea from lingerie blogger Mira who wrapped her hosiery up into neat little parcels tied with colourful ribbons. It won't protect them from damage, but it does keep everything organised and that's especially helpful for stockings where you want to keep the two together.
Hang them up – if you've got the space, you can store your lingerie on a rail. Bras and basques should be put onto skirt hangers or hung the way they do in shops because simply hooking the straps over a regular hanger can stretch them over time and they'll lose their elasticity. Corsets should ideally be opened and draped over a hanger with the lacing at the centre, and knickers can stored on skirt hangers too.
Divide your drawers – drawer dividers like this are popular and a great idea if you can find one with the right dimensions for your drawer, but they're only space-efficient if you have shallow drawers (I'll be stacking my new boxes one on top of the other).
Have any other ideas on how to store your lingerie? I'd love to hear them!