Disclosure: I purchased this lingerie myself.
Yeha Leung is easily one of my favourite designers. Initially, it was her photoshoots that caught my eye and drew me to her brand, Creepyyeha. If you haven't seen photos of her work, check out how skilfully she promotes her lingerie on her Instagram page, using knives, roses, and fishnets as props to create a dramatic atmosphere for her designs to thrive in.
I fell in love with the dark, otherwordly air of Creepyyeha's designs, and knew I had to have the Ravish Me set. It's one of her classics, and I loved it from the moment I put it on. It comes in black and white, but I chose the black version for the way it contrasts with my skin tone.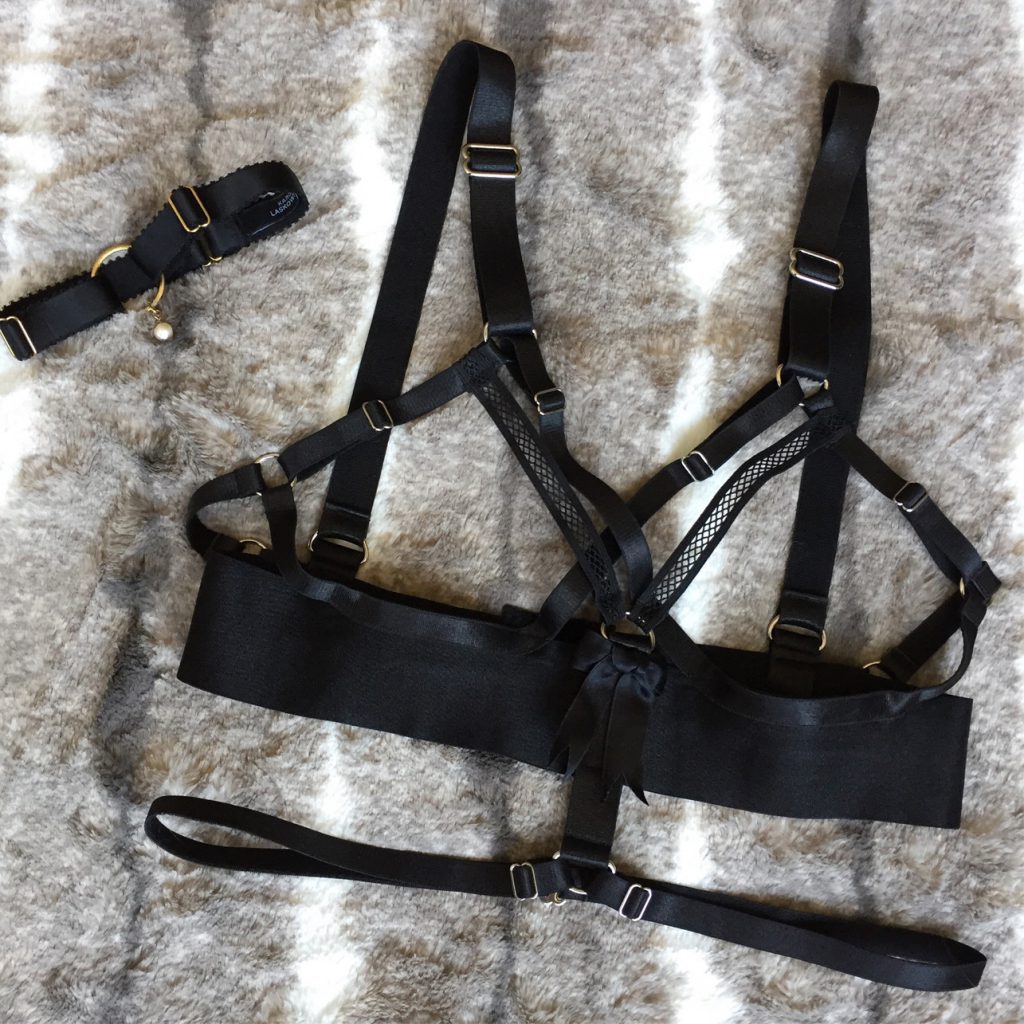 Appearance
My favourite thing about this set is how it is designed to frame your curves. While some lingerie is made to hide some parts of your body, I love how the Ravish Me set fosters sensuality by accentuating your own features, rather than covering them up.
I'm particularly impressed by the innovative strip of black elastic on the side of the open-cup bralette. You can see this little piece of elastic in the above photo, diagonally across from the strip of fishnet, meeting the other elastic straps at the O-ring hardware. This is such a small piece of elastic, one I barely noticed before I wore this set, but now it's one of my favourite features because of how flatteringly it pushes my chest up and together, framing my curves.
I also like that the satin elastic strap for the garter belt is relatively thick, as it makes the belt fall at a very flattering part of my midriff. Overall, this set does a great job of complementing my figure.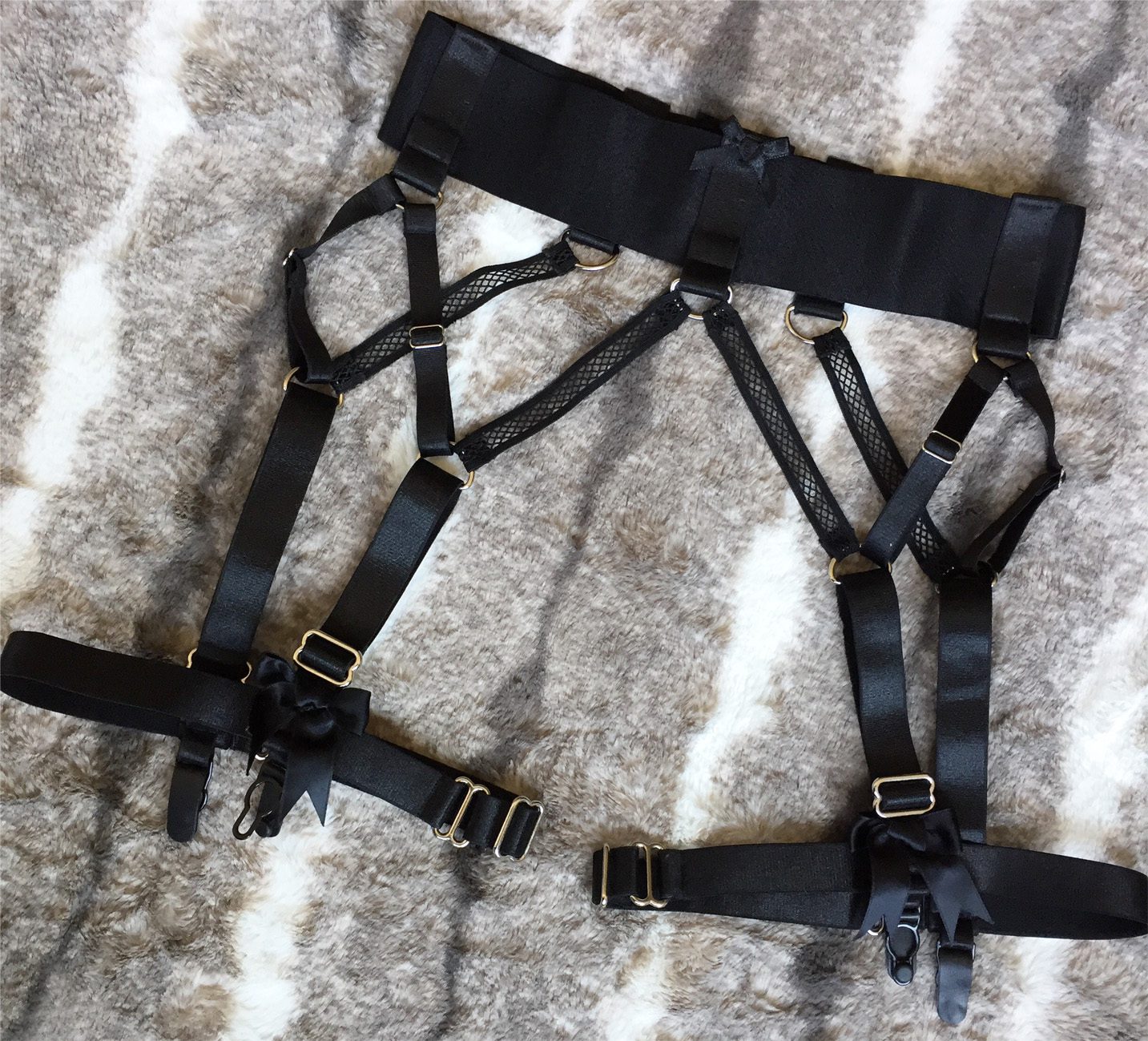 Construction/Quality
As I gleefully discovered with this first purchase from her, Creepyyeha's festish-inspired designs are not only sexy and dangerous, but also incredibly durable and well-made. The satin and mesh elastic are very comfortable with no pieces digging into my skin, and I love the thick shoulder straps as well.
As delicate as the straps and bows may seem, this set is far from fragile. It's one of my most-worn sets, one I've put through some abuse, and it's held up extremely well. I hand wash it very gently in cool water, removing the detachable garter straps as suggested, and I haven't run into any problems with the fabric bleeding or fraying. In the year that I've owned it, the fabric looks and feels basically brand new. The worst that has happened is a thread that holds the metal label in place has come loose.
It's clear how carefully this set has been constructed. It really is one of the most durable lingerie sets I've owned. If you're looking for some kinky lingerie to put through the BDSM wringer, this is it!
Fit
Because all Creepyyeha products are made-to-measure, I was able to supply my measurements for a set that fits like a charm. Leung has stated that body positivity is an important part of her brand, and she is willing to create custom lingerie for any size.
Value for Money
The Ravish Me set costs $200 (~£152 / ~171€). Leung notes in most of her interviews that many people don't understand the effort that goes into independent fashion designers, and I'll admit I'm not an expert on the topic. But given that Creepyyeah's unique designs are all completely original, handmade in New York City, and made from high-quality fabric and hardware, this set is definitely worth buying.
Sales at Creepyyeha are extremely rare, and the shop often takes breaks when it has reached its order capacity, so I would take advantage of the time the shop is open to place an order!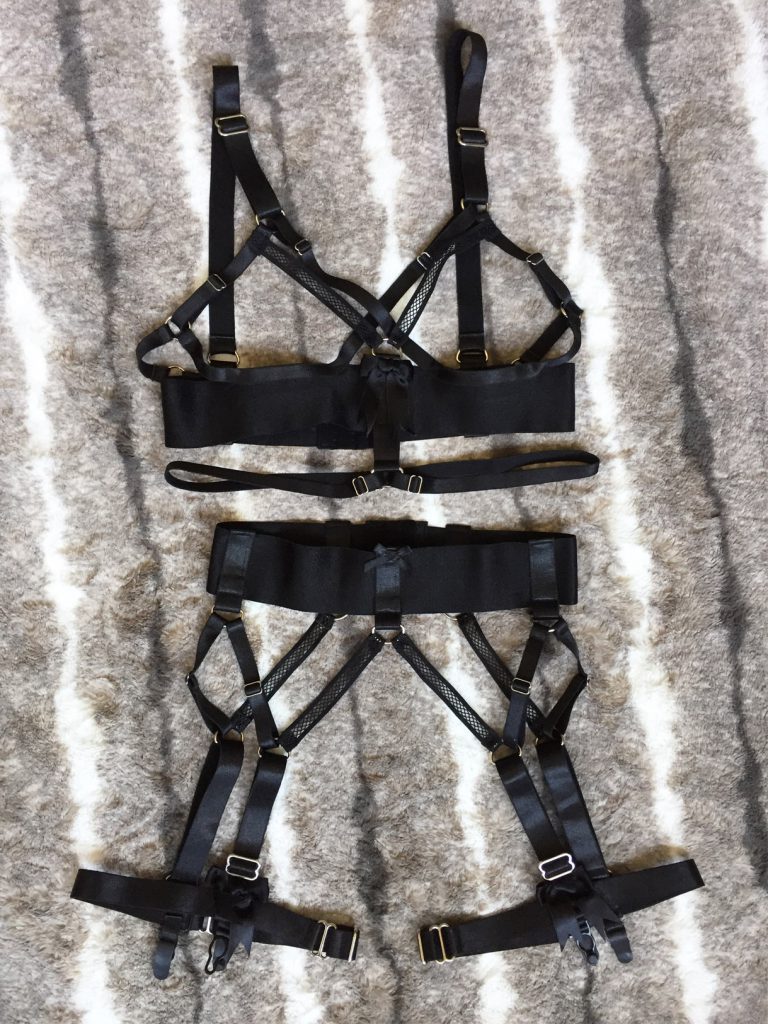 The Ravish Me set brings more than high-quality lingerie to your boudoir. Just like I wanted when I purchased this set, it brings with it the dark, mystical air of Leung's photography. I love that Leung promotes female empowerment and body positivity while creating lingerie that brilliantly captures the delicate balance between light and dark, delicacy and strength that comes with BDSM play.
I've seen a lot of imitations of Creepyyeha designs in the last few years, but none hold up to the originality and high quality of the brand itself. The Ravish Me set is truly one of a kind.
What do you think of Creepyyeha's designs? Do her photoshoots draw you in as much as they do for me? How would you style her designs, under clothing or as outerwear?