Disclaimer: This blog post contains affiliate links.
It's been a while since we've run a giveaway on the blog, but with Christmas just around the corner I thought it would be a great time to give one of our readers the chance to win a lovely little gift for someone else or themselves. Bonmarché have kindly offered up this gorgeous rose-print kimono robe in black and cream satin, from their David Emanuel nightwear range.
Everyone has a favourite type of lingerie item – for many people it's corsets – and for me, that's long robes. They're just so glamorous! Not to mention incredibly comfortable for lounging around the house in too. I picked this David Emanuel robe out to give away to one of our blog readers because I loved the delicate rose print and cream piping detail that makes it look more luxurious and even a little bit oriental.
Bonmarché also have a really pretty matching nightdress available for £20, and a matching chemise for £14.
I'll admit I've never shopped in Bonmarché before – I used to walk past a store regularly before I moved house, but because they're branded as a plus size retailer and I'm not plus-sized, I've never thought to go in. Looking through their website however, it seems they don't just cater to the plus-sized market. The sizing on this David Emanuel kimono for example starts at a UK 8-10 (and goes up to a UK 24-26), and their bras start from a 34B.
As for pricing, Bonmarché's lingerie is definitely affordable! Their pieces are in the same price band as places like New Look, Primark and H&M; bras range from £6 (but £8 or £9 for the pretty ones) to £12, and knickers range from just £4 to £8. These are some of my favourite pieces: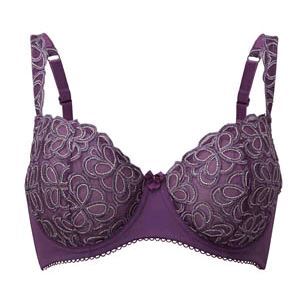 David Emanuel Purple Corded Lace Bra, £12, 38DD – 44D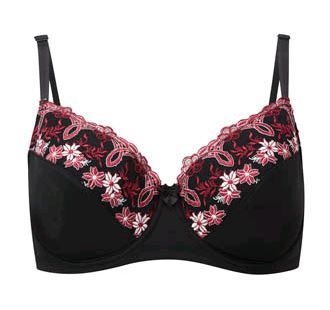 David Emanuel Black & Pink Embroidered Bra, £12, 34B – 40D
Black & White Floral Bra, £9, 40B – 44D
So, onto the giveaway! Simply enter as described below and be sure to check back on 15th December to find out if you've won! If you subscribe to the Esty Lingerie newsletter, we'll contact you by email too if you're the lucky winner to be sure you won't miss it.