Disclaimer: This blog post contains affiliate links.
It's been a long time since the last Lust List! I have a habit of keeping tabs open on my browser every time I stumble across an incredible new piece of lingerie and there are so many open now my computer is close to crashing, so I thought it was about time I shared some of my favourites with you.
Here are some of the very best, and expect another Lingerie Lust List very soon…
1. Agent Provocateur Petunia corset (£395) – pictured above
I would say that Agent Provocateur never fails to amaze me, but actually their most recent collection and the second offering from L'Agent, their diffusion line, have been pretty boring on the whole. Still, this is Agent Provocateur we're talking about and there had to be some good pieces in there – like this stunning, sheer-tulle corset with embroidered flowers!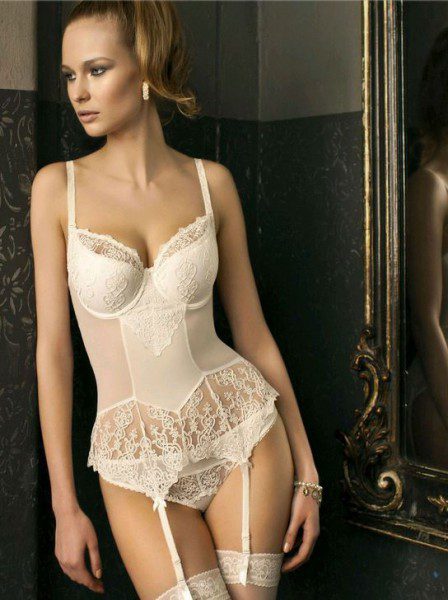 2. Dalia Lingerie Stella basque
 (£82.49, reduced from £164.99)
Dalia Lingerie is a Polish brand that I'd never heard of until I spotted this beautiful basque on eBay. It's being sold by the seller aurelliecom
 and seems to be the only place I can find Dalia Lingerie for sale online. The embroidery detail is amazing, and fans of small-back-large-cup brands will be glad to know that this item is currently available from a 28E to a 32H! I would absolutely buy it, if only I didn't have a huge baby bump that means corsets and basques are out of the question for me right now.
3. Augustine London Marlene Rayonne bra and knicker set (£67.00)
Augustine London is another brand I only heard about recently, and I love what they're doing! This bra has to be my favourite piece on their site right now – I'm obsessed with bras that have lace shoulder details (that's why I designed this bra, now sold out) and this one is absolutely gorgeous. Sadly it's only available in 32 and 34 A-D but if your size is in that range it seems like a great deal at this price.
Which is your favourite design from these three?
P.S. Follow this board on Pinterest to stay up to date with all the gorgeous lingerie featured in the weekly Lingerie Lust List.